Rhodoptilometrin, a Crinoid-Derived Anthraquinone, Induces Cell Regeneration by Promoting Wound Healing and Oxidative Phosphorylation in Human Gingival Fibroblast Cells
1
Department of Marine Biotechnology and Resources, National Sun Yat-sen University, Kaohsiung 80424, Taiwan
2
Department of Dentistry, Zuoying Branch of Kaohsiung Armed Forces General Hospital, Kaohsiung 81357, Taiwan
3
Department of Orthopedics, Kaohsiung Veterans General Hospital, Kaohsiung 81362, Taiwan
4
Department of Stomatology, Kaohsiung Veterans General Hospital, Kaohsiung 81362, Taiwan
5
Graduate Institute of Marine Biology, National Dong Hwa University, Pingtung 944, Taiwan
6
National Museum of Marine Biology and Aquarium, Pingtung County 94450, Taiwan
7
Department of Orthopedic Surgery, Ping-Tung Christian Hospital, Pingtung 90059, Taiwan
8
Doctoral Degree Program in Marine Biotechnology, National Sun Yat-sen University, Kaohsiung 80424, Taiwan
9
Center for Neuroscience, National Sun Yat-sen University, Kaohsiung 80424, Taiwan
10
Institute of Biomedical Sciences, National Sun Yat-sen University, Kaohsiung 80424, Taiwan
*
Authors to whom correspondence should be addressed.
†
These authors contributed equally to this work.
Received: 8 February 2019 / Revised: 15 February 2019 / Accepted: 22 February 2019 / Published: 27 February 2019
Abstract
Gingival recession (GR) potentially leads to the exposure of tooth root to the oral cavity microenvironment and increases susceptibility to dental caries, dentin hypersensitivity, and other dental diseases. Even though many etiological factors were reported, the specific mechanism of GR is yet to be elucidated. Given the species richness concerning marine biodiversity, it could be a treasure trove for drug discovery. In this study, we demonstrate the effects of a marine compound, (+)-rhodoptilometrin from crinoid, on gingival cell migration, wound healing, and oxidative phosphorylation (OXPHOS). Experimental results showed that (+)-rhodoptilometrin can significantly increase wound healing, migration, and proliferation of human gingival fibroblast cells, and it does not have effects on oral mucosa fibroblast cells. In addition, (+)-rhodoptilometrin increases the gene and protein expression levels of focal adhesion kinase (FAK), fibronectin, and type I collagen, changes the intracellular distribution of FAK and F-actin, and increases OXPHOS and the expression levels of complexes I~V in the mitochondria. Based on our results, we believe that (+)-rhodoptilometrin might increase FAK expression and promote mitochondrial function to affect cell migration and promote gingival regeneration. Therefore, (+)-rhodoptilometrin may be a promising therapeutic agent for GR.
View Full-Text
►

▼

Figures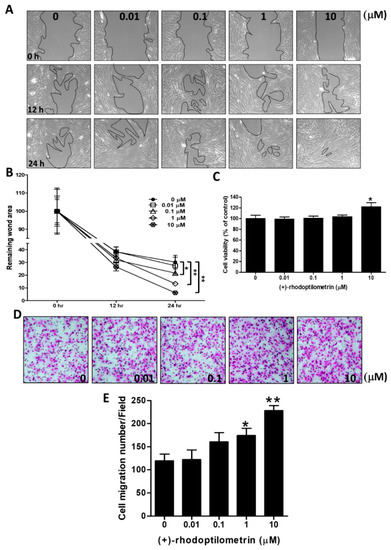 Figure 1
This is an open access article distributed under the
Creative Commons Attribution License
which permits unrestricted use, distribution, and reproduction in any medium, provided the original work is properly cited (CC BY 4.0).

Share & Cite This Article
MDPI and ACS Style
Tseng, C.-C.; Lai, Y.-C.; Kuo, T.-J.; Su, J.-H.; Sung, P.-J.; Feng, C.-W.; Lin, Y.-Y.; Chen, P.-C.; Tai, M.-H.; Cheng, S.-Y.; Kuo, H.-M.; Wen, Z.-H. Rhodoptilometrin, a Crinoid-Derived Anthraquinone, Induces Cell Regeneration by Promoting Wound Healing and Oxidative Phosphorylation in Human Gingival Fibroblast Cells. Mar. Drugs 2019, 17, 138.
Note that from the first issue of 2016, MDPI journals use article numbers instead of page numbers. See further details here.
Related Articles
Comments
[Return to top]