Anti-Obesity Effect of Chitosan Oligosaccharide Capsules (COSCs) in Obese Rats by Ameliorating Leptin Resistance and Adipogenesis
1
School of Pharmaceutical Sciences, Sun Yat-Sen University, Guangzhou 510006, China
2
Guangdong Engineering Research Center of Natural Products and New Drugs, Guangdong Provincial University Engineering Technology Research Center of Natural Products and Drugs, Guangdong Pharmaceutical University, Guangzhou 510006, China
3
Guangdong Metabolic Diseases Research Center of Integrated Chinese and Western Medicine, Guangdong Pharmaceutical University, Guangzhou 510006, China
4
Guangdong Food and Drug Vocational Technical School, Guangzhou 510663, China
*
Authors to whom correspondence should be addressed.
†
The authors have equally contributed to this work and should be considered co-first authors.
Received: 16 April 2018 / Revised: 20 May 2018 / Accepted: 1 June 2018 / Published: 5 June 2018
Abstract
Obesity is a global disease that causes many metabolic disorders. However, effective agents for the prevention or treatment of obesity remain limited. This study investigated the anti-obesity effect and mechanism of chitosan oligosaccharide capsules (COSCs) on rats suffering from obesity induced by a high-fat diet (HFD). After the eight-week administration of COSCs on obese rats, the body weight gain, fat/body ratio, and related biochemical indices were measured. The hepatic expressions of the leptin signal pathway (JAK2-STAT3) and gene expressions of adipogenesis-related targets were also determined. Our data showed that COSCs can regulate body weight gain, lipids, serum alanine aminotransferase, and aspartate aminotransferase, as well as upregulate the hepatic leptin receptor-b (LepRb) and the phosphorylation of JAK2 and STAT3. Meanwhile, marked increased expressions of liver sterol regulatory element-binding protein-1c, fatty acid synthase, acetyl-CoA carboxylase, 3-hydroxy-3-methylglutaryl-CoA reductase, adiponectin, adipose peroxisome proliferator-activated receptor γ, CCAAT-enhancer binding protein α, adipose differentiation-related protein, and SREBP-1c were observed. The results suggested that COSCs activate the JAK2-STAT3 signaling pathway to alleviate leptin resistance and suppress adipogenesis to reduce lipid accumulation. Thus, they can potentially be used for obesity treatment.
View Full-Text
►

▼

Figures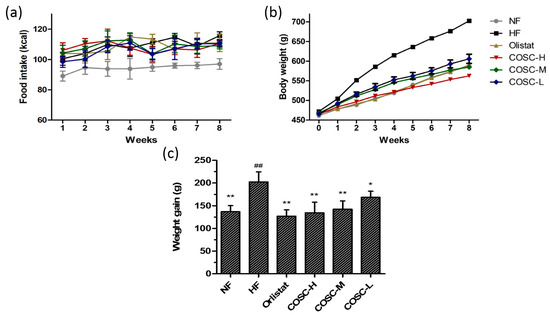 Figure 1
This is an open access article distributed under the
Creative Commons Attribution License
which permits unrestricted use, distribution, and reproduction in any medium, provided the original work is properly cited (CC BY 4.0).

Share & Cite This Article
MDPI and ACS Style
Pan, H.; Fu, C.; Huang, L.; Jiang, Y.; Deng, X.; Guo, J.; Su, Z. Anti-Obesity Effect of Chitosan Oligosaccharide Capsules (COSCs) in Obese Rats by Ameliorating Leptin Resistance and Adipogenesis. Mar. Drugs 2018, 16, 198.
Note that from the first issue of 2016, MDPI journals use article numbers instead of page numbers. See further details here.
Related Articles
Comments
[Return to top]