Targeting Hepatic Protein Carbonylation and Oxidative Stress Occurring on Diet-Induced Metabolic Diseases through the Supplementation with Fish Oils
1
Instituto de Investigaciones Marinas, Consejo Superior de Investigaciones Científicas (IIM-CSIC), E-36208 Vigo, Spain
2
Instituto de Química Avanzada de Catalunya, Consejo Superior de Investigaciones Científicas (IQAC-CSIC) Jordi Girona 18-26, E-08034 Barcelona, Spain
3
Unidad de Farmacología, Facultad de Medicina, Universidad Rovira i Virgili, Sant Llorenç 21, E-43201 Reus, Spain
*
Author to whom correspondence should be addressed.
Received: 4 August 2018 / Revised: 20 September 2018 / Accepted: 25 September 2018 / Published: 26 September 2018
Abstract
The present study addressed the ability of long-chain ω-3 polyunsaturated fatty acids (ω-3 PUFA), i.e., eicosapentaenoic acid (EPA) and docosahexaenoic acid (DHA), to ameliorate liver protein damage derived from oxidative stress and induced by consumption of high-caloric diets, typical of Westernized countries. The experimental design included an animal model of Sprague-Dawley rats fed high-fat high-sucrose (HFHS) diet supplemented with ω-3 EPA and DHA for a complete hepatic proteome analysis to map carbonylated proteins involved in specific metabolic pathways. Results showed that the intake of marine ω-3 PUFA through diet significantly decreased liver protein carbonylation caused by long-term HFHS consumption and increased antioxidant system. Fish oil modulated the carbonylation level of more than twenty liver proteins involved in critical metabolic pathways, including lipid metabolism (e.g., albumin), carbohydrate metabolism (e.g., pyruvate carboxylase), detoxification process (e.g., aldehyde dehydrogenase 2), urea cycle (e.g., carbamoyl-phosphate synthase), cytoskeleton dynamics (e.g., actin), or response to oxidative stress (e.g., catalase) among others, which might be under the control of diet marine ω-3 PUFA. In parallel, fish oil significantly changed the liver fatty acid profile given by the HFHS diet, resulting in a more anti-inflammatory phenotype. In conclusion, the present study highlights the significance of marine ω-3 PUFA intake for the health of rats fed a Westernized diet by describing several key metabolic pathways which are protected in liver.
View Full-Text
►

▼

Figures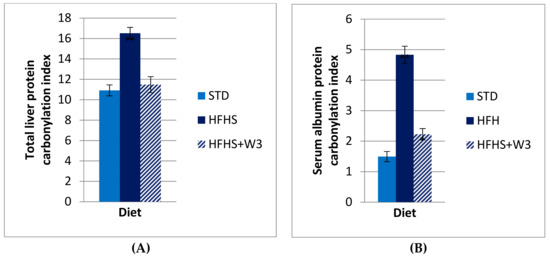 Figure 1
This is an open access article distributed under the
Creative Commons Attribution License
which permits unrestricted use, distribution, and reproduction in any medium, provided the original work is properly cited (CC BY 4.0).

Share & Cite This Article
MDPI and ACS Style
Muñoz, S.; Méndez, L.; Dasilva, G.; Torres, J.L.; Ramos-Romero, S.; Romeu, M.; Nogués, M.R.; Medina, I. Targeting Hepatic Protein Carbonylation and Oxidative Stress Occurring on Diet-Induced Metabolic Diseases through the Supplementation with Fish Oils. Mar. Drugs 2018, 16, 353.
Note that from the first issue of 2016, MDPI journals use article numbers instead of page numbers. See further details here.
Related Articles
Comments
[Return to top]