The Bioactive Extract of
Pinnigorgia

sp. Induces Apoptosis of Hepatic Stellate Cells via ROS-ERK/JNK-Caspase-3 Signaling

1

Graduate Institute of Clinical Medical Sciences, College of Medicine, Chang Gung University, Taoyuan 333, Taiwan

2

Department of General Surgery, Chang Gung Memorial Hospital, Chiayi 613, Taiwan

3

Graduate Institute of Natural Products, College of Medicine, Chang Gung University, Taoyuan 333, Taiwan

4

Chinese Herbal Medicine Research Team, Healthy Aging Research Center, Chang Gung University, Taoyuan 333, Taiwan

5

Graduate Institute of Marine Biology, National Dong Hwa University, Pingtung 944, Taiwan

6

National Museum of Marine Biology and Aquarium, Pingtung 944, Taiwan

7

Chinese Medicine Research and Development Center, China Medical University Hospital, Taichung 404, Taiwan

8

Graduate Institute of Natural Products, Kaohsiung Medical University, Kaohsiung 807, Taiwan

9

Department of Marine Biotechnology and Resources, National Sun Yat-sen University, Kaohsiung 804, Taiwan

10

Doctoral Degree Program in Marine Biotechnology, National Sun Yat-sen University & Academia Sinica, Kaohsiung 804, Taiwan

11

Research Center for Chinese Herbal Medicine, Research Center for Food and Cosmetic Safety, Graduate Institute of Health Industry Technology, College of Human Ecology, Chang Gung University of Science and Technology, Taoyuan 333, Taiwan

12

Department of Anaesthesiology, Chang Gung Memorial Hospital, Taoyuan 333, Taiwan

*

Author to whom correspondence should be addressed.

†

These authors contributed equally to this work.

Received: 4 December 2017 / Revised: 30 December 2017 / Accepted: 6 January 2018 / Published: 9 January 2018
Abstract
The activation of hepatic stellate cells (HSCs) is a significant phenomenon during the pathogenesis of liver disorders, including liver cirrhosis and fibrosis. Here, we identified that the extract from a gorgonian coral
Pinnigorgia
sp. (Pin) induced apoptosis of HSC-T6 cells. Pin inhibited the viability of HSC-T6 cells and increased their subG1 population, DNA fragmentation, caspase-3 activation, and reactive oxygen species (ROS) production in a concentration-dependent manner. The Pin-induced ROS generation and apoptotic effects were significantly reversed by a thiol antioxidant,
N
-acetylcysteine (NAC). Additionally, Pin induced ERK/JNK phosphorylation and pharmacological inhibition of ERK/JNK rescued the Pin-induced cell death. Pin-activated ERK/JNK were significantly reduced after the administration of NAC; however, the inhibition of ERK/JNK failed to change the Pin-induced ROS production. Similarly, pinnigorgiol A, a pure compound isolated from Pin, elicited ROS production and apoptosis in HSC-T6 cells. The pinnigorgiol A-induced apoptosis was retrained by NAC. Together, it appears that Pin leads to apoptosis in HSC-T6 cells through ROS-mediated ERK/JNK signaling and caspase-3 activation. Pinnigorgiol A serves as a bioactive compound of Pin and may exhibit therapeutic potential by clearance of HSCs.
View Full-Text
►

▼

Figures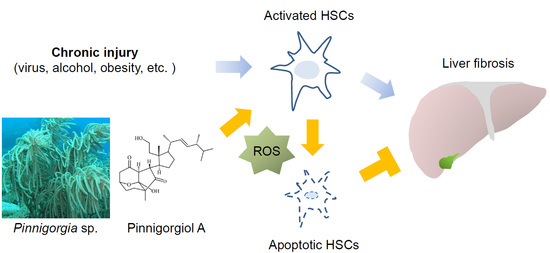 Graphical abstract
This is an open access article distributed under the
Creative Commons Attribution License
which permits unrestricted use, distribution, and reproduction in any medium, provided the original work is properly cited (CC BY 4.0).

Share & Cite This Article
MDPI and ACS Style
Kuo, L.-M.; Chen, P.-J.; Sung, P.-J.; Chang, Y.-C.; Ho, C.-T.; Wu, Y.-H.; Hwang, T.-L. The Bioactive Extract of Pinnigorgia sp. Induces Apoptosis of Hepatic Stellate Cells via ROS-ERK/JNK-Caspase-3 Signaling. Mar. Drugs 2018, 16, 19.
Note that from the first issue of 2016, MDPI journals use article numbers instead of page numbers. See further details here.
Related Articles
Comments
[Return to top]