Anti-Obesity and Anti-Diabetic Effect of Neoagarooligosaccharides on High-Fat Diet-Induced Obesity in Mice
1
Department of Biological Science and Bioinformatics, Myongji University, 116 Myongji-Ro, Cheoin-gu, Yongin, Gyeonggido 17058, Korea
2
Dynebio Inc., B-B205 Woolimlions Valley II, 45 Sagimagil-Ro, Jungwon-Gu, Seongnam-Si, Gyeonggi-Do 13209, Korea
*
Author to whom correspondence should be addressed.
Received: 9 December 2016 / Revised: 9 March 2017 / Accepted: 16 March 2017 / Published: 23 March 2017
Abstract
Neoagarooligosaccharides (NAOs), mainly comprising neoagarotetraose and neoagarohexaose, were prepared by hydrolyzing agar with β-agarase DagA from Streptomyces coelicolor, and the anti-obesity and anti-diabetic effects of NAOs on high-fat diet (HFD)-induced obesity in mice were investigated after NAOs-supplementation for 64 days. Compared to the HFD group, the HFD-0.5 group that was fed with HFD + NAOs (0.5%, w/w) showed remarkable reduction of 36% for body weight gain and 37% for food efficiency ratios without abnormal clinical signs. Furthermore, fat accumulation in the liver and development of macrovesicular steatosis induced by HFD in the HFD-0.5 group were recovered nearly to the levels found in the normal diet (ND) group. NAOs intake could also effectively reduce the size (area) of adipocytes and tissue weight gain in the perirenal and epididymal adipose tissues. The increased concentrations of total cholesterol, triglyceride, and free fatty acid in serum of the HFD group were also markedly ameliorated to the levels found in serum of the ND group after NAOs-intake in a dose dependent manner. In addition, insulin resistance and glucose intolerance induced by HFD were distinctly improved, and adiponectin concentration in the blood was notably increased. All these results strongly suggest that intake of NAOs can effectively suppress obesity and obesity-related metabolic syndromes, such as hyperlipidemia, steatosis, insulin resistance, and glucose intolerance, by inducing production of adiponectin in the HFD-induced obese mice.
View Full-Text
►

▼

Figures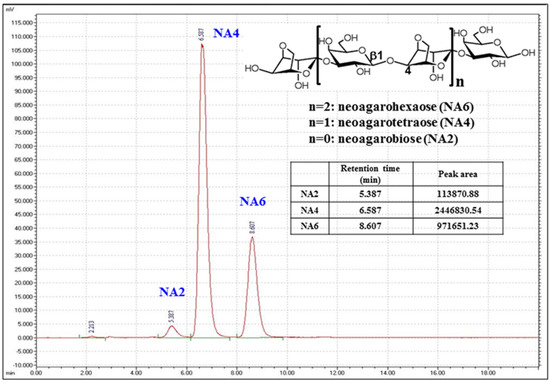 Figure 1
This is an open access article distributed under the
Creative Commons Attribution License
which permits unrestricted use, distribution, and reproduction in any medium, provided the original work is properly cited (CC BY 4.0).

Share & Cite This Article
MDPI and ACS Style
Hong, S.J.; Lee, J.-H.; Kim, E.J.; Yang, H.J.; Park, J.-S.; Hong, S.-K. Anti-Obesity and Anti-Diabetic Effect of Neoagarooligosaccharides on High-Fat Diet-Induced Obesity in Mice. Mar. Drugs 2017, 15, 90.
Note that from the first issue of 2016, MDPI journals use article numbers instead of page numbers. See further details here.
Related Articles
Comments
[Return to top]