Prospecting Biotechnologically-Relevant Monooxygenases from Cold Sediment Metagenomes: An In Silico Approach
1
Laboratorio de Microbiología Ambiental, Centro para el Estudio de Sistemas Marinos, CONICET, Puerto Madryn, Chubut U9120ACD, Argentina
2
Área Biología Molecular, Departamento de Ciencias Biológicas, Facultad de Ciencias Bioquímicas y Farmacéuticas, Universidad Nacional de Rosario, CONICET, Suipacha 531 S2002LRK Rosario, Argentina
3
Instituto Antártico Argentino, Ciudad Autónoma de Buenos Aires C1010AAZ, Argentina
4
Instituto de Nanobiotecnología (NANOBIOTEC), CONICET—Universidad de Buenos Aires, Ciudad Autónoma de Buenos Aires C1113AAD, Argentina
5
Earth and Biological Sciences Directorate, Pacific Northwest National Laboratory, Richland, WA 99352, USA
6
School of Natural Sciences and Environmental Studies, Södertörn University, 141 89 Huddinge, Sweden
7
Akvaplan-niva, Fram—High North Research Centre for Climate and the Environment, NO-9296 Tromsø, Norway
8
ARCEx—Research Centre for Arctic Petroleum Exploration, Department of Geosciences, UiT The Arctic University of Norway, N-9037 Tromsø, Norway
*
Author to whom correspondence should be addressed.
Academic Editors: Vassilios Roussis, Efstathia Ioannou and Peer B. Jacobson
Received: 31 January 2017 / Revised: 20 March 2017 / Accepted: 23 March 2017 / Published: 9 April 2017
Abstract
The goal of this work was to identify sequences encoding monooxygenase biocatalysts with novel features by in silico mining an assembled metagenomic dataset of polar and subpolar marine sediments. The targeted enzyme sequences were Baeyer–Villiger and bacterial cytochrome P450 monooxygenases (CYP153). These enzymes have wide-ranging applications, from the synthesis of steroids, antibiotics, mycotoxins and pheromones to the synthesis of monomers for polymerization and anticancer precursors, due to their extraordinary enantio-, regio-, and chemo- selectivity that are valuable features for organic synthesis. Phylogenetic analyses were used to select the most divergent sequences affiliated to these enzyme families among the 264 putative monooxygenases recovered from the ~14 million protein-coding sequences in the assembled metagenome dataset. Three-dimensional structure modeling and docking analysis suggested features useful in biotechnological applications in five metagenomic sequences, such as wide substrate range, novel substrate specificity or regioselectivity. Further analysis revealed structural features associated with psychrophilic enzymes, such as broader substrate accessibility, larger catalytic pockets or low domain interactions, suggesting that they could be applied in biooxidations at room or low temperatures, saving costs inherent to energy consumption. This work allowed the identification of putative enzyme candidates with promising features from metagenomes, providing a suitable starting point for further developments.
View Full-Text
►

▼

Figures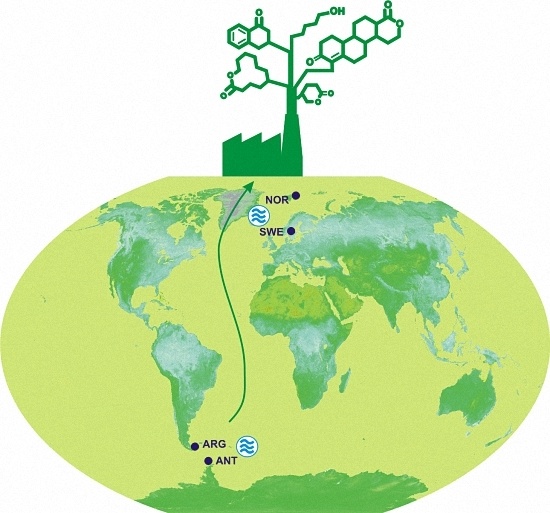 Graphical abstract
This is an open access article distributed under the
Creative Commons Attribution License
which permits unrestricted use, distribution, and reproduction in any medium, provided the original work is properly cited (CC BY 4.0).

Share & Cite This Article
MDPI and ACS Style
Musumeci, M.A.; Lozada, M.; Rial, D.V.; Mac Cormack, W.P.; Jansson, J.K.; Sjöling, S.; Carroll, J.; Dionisi, H.M. Prospecting Biotechnologically-Relevant Monooxygenases from Cold Sediment Metagenomes: An In Silico Approach. Mar. Drugs 2017, 15, 114.
Note that from the first issue of 2016, MDPI journals use article numbers instead of page numbers. See further details here.
Related Articles
Comments
[Return to top]