Zosteropenillines: Polyketides from the Marine-Derived Fungus
Penicillium thomii
1
Elyakov Pacific Institute of Bioorganic Chemistry, Far Eastern Branch of Russian Academy of Sciences, 159 Prospect 100‐letiya Vladivostoka, Vladivostok 690022, Russia
2
School of Natural Science, Far Eastern Federal University, 8 Sukhanova St., Vladivostok 690090, Russia
3
Institute of Chemistry, Far Eastern Branch of Russian Academy of Sciences, 159 Prospect 100‐letiya Vladivostoka, Vladivostok 690022, Russia
4
Laboratory of Experimental Oncology, Department of Oncology, Hematology and Bone Marrow Transplantation with Section Pneumology, Hubertus Wald‐Tumorzentrum, University Medical Center, 20246 Hamburg, Germany
*
Authors to whom correspondence should be addressed.
Received: 28 December 2016 / Accepted: 13 February 2017 / Published: 17 February 2017
Abstract
Twelve new polyketides, zosteropenillines A–L (1–12), together with known polyketide pallidopenilline A (13), were isolated from the ethylacetate extract of the fungus Penicillium thomii associated with the seagrass Zostera marina. Their structures were established based on spectroscopic methods. The absolute configuration of zosteropenilline A (1) as 4R, 5S, 8S, 9R, 10R, and 13S was determined by a combination of the modified Mosher's method, X‐ray analysis, and NOESY data. Absolute configurations of zosteropenillines B–D (2–4) were determined by timedependent density functional theory (TD‐DFT) calculations of ECD spectra. The effect of compounds 1–3, 7, 8, 10, and 11 on the viability of human drug‐resistant prostate cancer cells PC3 as well as on autophagy in these cancer cells and inhibitory effects of compounds 1, 2, and 8–10 on NO production in LPS‐induced RAW 264.7 murine macrophages were examined.
View Full-Text
►

▼

Figures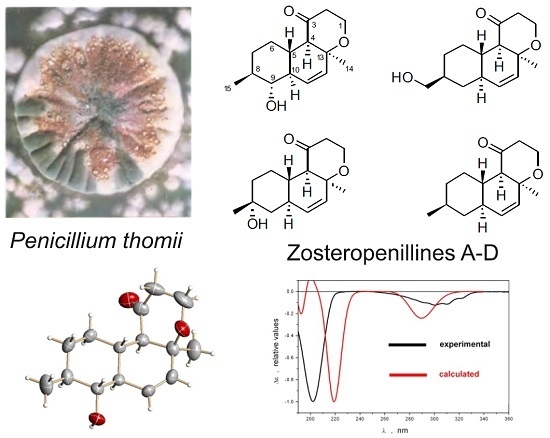 Graphical abstract
This is an open access article distributed under the
Creative Commons Attribution License
which permits unrestricted use, distribution, and reproduction in any medium, provided the original work is properly cited (CC BY 4.0).

Share & Cite This Article
MDPI and ACS Style
Afiyatullov, S.S.; Leshchenko, E.V.; Berdyshev, D.V.; Sobolevskaya, M.P.; Antonov, A.S.; Denisenko, V.A.; Popov, R.S.; Pivkin, M.V.; Udovenko, A.A.; Pislyagin, E.A.; Von Amsberg, G.; Dyshlovoy, S.A. Zosteropenillines: Polyketides from the Marine-Derived Fungus Penicillium thomii. Mar. Drugs 2017, 15, 46.
Note that from the first issue of 2016, MDPI journals use article numbers instead of page numbers. See further details here.
Related Articles
Comments
[Return to top]