Propylene Glycol Alginate Sodium Sulfate Alleviates Cerulein‐Induced Acute Pancreatitis by Modulating the MEK/ERK Pathway in Mice
1
Department of Gastroenterology, the Tenth People's Hospital of Shanghai, Tongji University, Shanghai 200072, China
2
Department of Gastroenterology, the Shidong Hospital of Shanghai, Shanghai 200072, China
*
Authors to whom correspondence should be addressed.
Received: 29 November 2016 / Accepted: 17 January 2017 / Published: 17 February 2017
Abstract
Previous studies have focused on the effects of propylene glycol alginate sodium sulfate (PSS) against thrombosis, but the anti‐inflammatory potential is unknown. Therefore, we specifically focused on the protective effects of PSS on cerulein‐induced acute pancreatitis (AP) using a mouse model, and investigated the mechanism of PSS on autophagy and apoptosis via the Mitogen‐activated protein kinase (MEK)/extracellular signal‐regulated kinase (ERK) pathway. Cerulein (100 ug/kg) was used to induce AP by ten intraperitoneal injections at hourly intervals in Balb/C mice. Pretreatment with vehicle or PSS was carried out 1 h before the first cerulein injection and two doses (25 mg/kg and 50 mg/kg) of PSS were injected intraperitoneally. The severity of AP was assessed by pathological score, biochemistry, pro‐inflammatory cytokine levels, myeloperoxidase (MPO) activity and MEK/ERK activity. Furthermore, pancreatic histological scores, serum amylase and lipase activities, tumor necrosis factor‐α (TNF‐α), interleukin (IL)‐1β interleukin (IL)‐6 levels, and MPO activity were significantly reduced by PSS via up‐regulated MEK/ERK activity. The representative molecules of apoptosis and autophagy, such as Bcl‐2, Bax, Lc‐3, Beclin‐1, P62, were remarkably reduced. Taken together, these results indicate that PSS attenuates pancreas injury by inhibiting autophagy and apoptosis through a mechanism involving the MEK/ERK signaling pathway.
View Full-Text
►

▼

Figures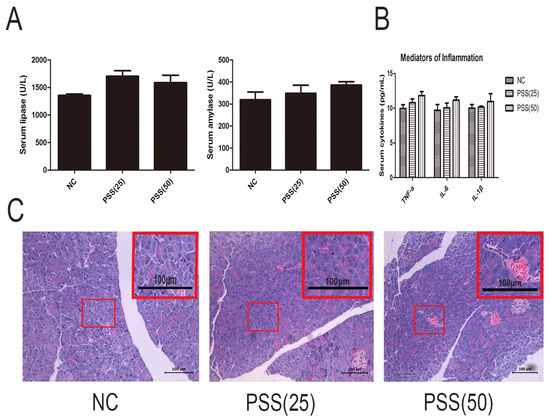 Figure 1
This is an open access article distributed under the
Creative Commons Attribution License
which permits unrestricted use, distribution, and reproduction in any medium, provided the original work is properly cited (CC BY 4.0).

Share & Cite This Article
MDPI and ACS Style
Zhang, H.; Li, Y.; Li, L.; Liu, H.; Hu, L.; Dai, Y.; Chen, J.; Xu, S.; Chen, W.; Xu, X.; Xu, X. Propylene Glycol Alginate Sodium Sulfate Alleviates Cerulein‐Induced Acute Pancreatitis by Modulating the MEK/ERK Pathway in Mice. Mar. Drugs 2017, 15, 45.
Note that from the first issue of 2016, MDPI journals use article numbers instead of page numbers. See further details here.
Related Articles
Comments
[Return to top]