Evidence for a Saponin Biosynthesis Pathway in the Body Wall of the Commercially Significant Sea Cucumber
Holothuria scabra
1
Genecology Research Center, Faculty of Science, Health, Engineering and Education, University of the Sunshine Coast, Maroochydore DC 4558, Queensland, Australia
2
CSIRO Agriculture and Food, St Lucia, Brisbane 4067, Queensland, Australia
3
School of Pharmacy, The University of Queensland, Brisbane 4067, Queensland, Australia
*
Author to whom correspondence should be addressed.
Received: 9 August 2017 / Revised: 30 October 2017 / Accepted: 31 October 2017 / Published: 7 November 2017
Abstract
The sea cucumber (phylum Echinodermata) body wall is the first line of defense and is well known for its production of secondary metabolites; including vitamins and triterpenoid glycoside saponins that have important ecological functions and potential benefits to human health. The genes involved in the various biosynthetic pathways are unknown. To gain insight into these pathways in an echinoderm, we performed a comparative transcriptome analysis and functional annotation of the body wall and the radial nerve of the sea cucumber
Holothuria scabra
; to define genes associated with body wall metabolic functioning and secondary metabolite biosynthesis. We show that genes related to signal transduction mechanisms were more highly represented in the
H. scabra
body wall, including genes encoding enzymes involved in energy production. Eight of the core triterpenoid biosynthesis enzymes were found, however, the identity of the saponin specific biosynthetic pathway enzymes remains unknown. We confirm the body wall release of at least three different triterpenoid saponins using solid phase extraction followed by ultra-high-pressure liquid chromatography-quadrupole time of flight-mass spectrometry. The resource we have established will help to guide future research to explore secondary metabolite biosynthesis in the sea cucumber.
View Full-Text
►

▼

Figures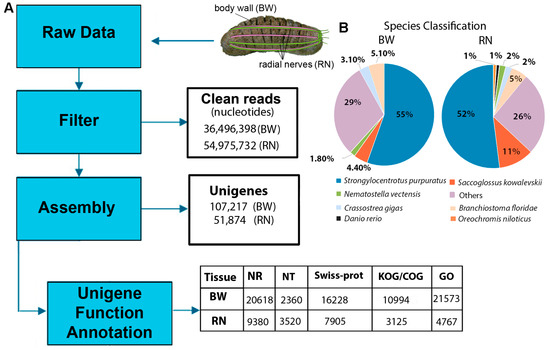 Figure 1
This is an open access article distributed under the
Creative Commons Attribution License
which permits unrestricted use, distribution, and reproduction in any medium, provided the original work is properly cited (CC BY 4.0).

Share & Cite This Article
MDPI and ACS Style
Mitu, S.A.; Bose, U.; Suwansa-ard, S.; Turner, L.H.; Zhao, M.; Elizur, A.; Ogbourne, S.M.; Shaw, P.N.; Cummins, S.F. Evidence for a Saponin Biosynthesis Pathway in the Body Wall of the Commercially Significant Sea Cucumber Holothuria scabra. Mar. Drugs 2017, 15, 349.
Note that from the first issue of 2016, MDPI journals use article numbers instead of page numbers. See further details here.
Related Articles
Comments
[Return to top]