Hierridin B Isolated from a Marine Cyanobacterium Alters VDAC1, Mitochondrial Activity, and Cell Cycle Genes on HT-29 Colon Adenocarcinoma Cells
1
Interdisciplinary Center of Marine and Environmental Research (CIIMAR/CIMAR), University of Porto, Rua dos Bragas 289, 4050-123 Porto, Portugal
2
Health and Environmental Research Center (CISA), School of Apllied Health Sciences of Porto, Polytechnic Porto, Rua Valente Perfeito 322, 4400-330 Vila Nova de Gaia, Portugal
3
Department of Biology, Faculty of Sciences, University of Porto, Rua do Campo Alegre, Edifício FC4, 4169-007 Porto, Portugal
4
Institute for Molecular and Cell Biology (IBMC), University of Porto, Rua do Campo Alegre 823, 4150-180 Porto, Portugal
5
Department of Medical Sciences, Institute of Biomedicine—iBiMED, University of Aveiro, 3810-193 Aveiro, Portugal
6
Department of Physiology and Cardiothoracic Surgery, Faculty of Medicine, University of Porto, 4200-319 Porto, Portugal
*
Author to whom correspondence should be addressed.
Academic Editor: Keith B. Glaser
Received: 17 June 2016 / Revised: 1 August 2016 / Accepted: 24 August 2016 / Published: 31 August 2016
Abstract
Background: Hierridin B was isolated from a marine cyanobacterium
Cyanobium
sp. strain and induced cytotoxicity selectively in HT-29 adenocarcinoma cells. The underlying molecular mechanism was not yet elucidated. Methods: HT-29 cells were exposed to the IC
50
concentration of hierridin B (100.2 μM) for 48 h. Non-targeted proteomics was performed using 2D gel electrophoresis and MALDI-TOF/TOF mass spectrometry. The mRNA expression of apoptotic and cell cycle genes were analyzed by real-time PCR. Automated quantification of 160 cytoplasm and mitochondrial parameter was done by fluorescence microscopy using CellProfiler software. Results: Proteomics identified 21 significant different proteins, which belonged to protein folding/synthesis and cell structure amongst others. Increase of VDAC1 protein responsible for formation of mitochondrial channels was confirmed by mRNA expression. A 10-fold decrease of cytoskeleton proteins (STMN1, TBCA) provided a link to alterations of the cell cycle. CCNB1 and CCNE mRNA were decreased two-fold, and P21CIP increased 10-fold, indicative of cell cycle arrest. Morphological analysis of mitochondrial parameter confirmed a reduced mitochondrial activity. Conclusion: Hierridin B is a potential anticancer compound that targets mitochondrial activity and function.
View Full-Text
►

▼

Figures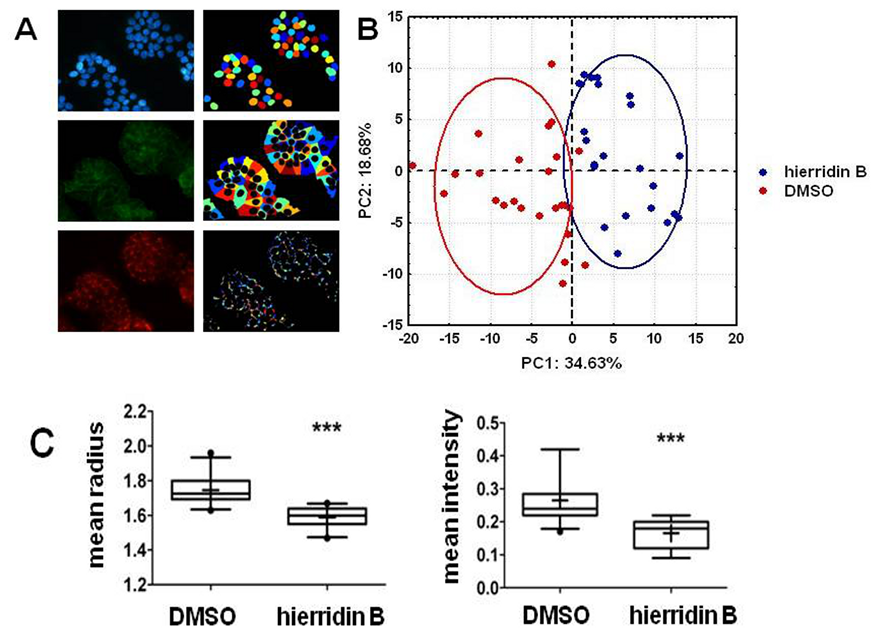 Graphical abstract
This is an open access article distributed under the
Creative Commons Attribution License
which permits unrestricted use, distribution, and reproduction in any medium, provided the original work is properly cited (CC BY 4.0).

Share & Cite This Article
MDPI and ACS Style
Freitas, S.; Martins, R.; Costa, M.; Leão, P.N.; Vitorino, R.; Vasconcelos, V.; Urbatzka, R. Hierridin B Isolated from a Marine Cyanobacterium Alters VDAC1, Mitochondrial Activity, and Cell Cycle Genes on HT-29 Colon Adenocarcinoma Cells. Mar. Drugs 2016, 14, 158.
Note that from the first issue of 2016, MDPI journals use article numbers instead of page numbers. See further details here.
Related Articles
Comments
[Return to top]