A Coral-Derived Compound Improves Functional Recovery after Spinal Cord Injury through Its Antiapoptotic and Anti-Inflammatory Effects
1
Doctoral Degree Program in Marine Biotechnology, National Sun Yat-Sen University, Kaohsiung 80424, Taiwan
2
Doctoral Degree Program in Marine Biotechnology, Academia Sinica, Taipei 11529, Taiwan
3
Division of Neurosurgery, Department of Surgery, Kaohsiung Armed Forces General Hospital, Kaohsiung 80284, Taiwan
4
Department of Neurological Surgery, Tri-Service General Hospital, National Defense Medical Center, Taipei 11490, Taiwan
5
Department of Obstetrics and Gynecology, Kaohsiung Veterans General Hospital, Kaohsiung 81362, Taiwan
6
Department of Obstetrics and Gynecology and Institute of Clinical Medicine, National Yang-Ming University, Taipei 11221, Taiwan
7
Department of Pharmacy and Graduate Institute of Pharmaceutical Technology, Tajen University, Pingtung County 90741, Taiwan
8
Department of Marine Biotechnology and Resources, National Sun Yat-Sen University, Kaohsiung 80424, Taiwan
9
National Museum of Marine Biology & Aquarium, Pingtung 94450, Taiwan
10
Graduate Institute of Marine Biology, National Dong Hwa University, Pingtung 94450, Taiwan
11
Department of Neurosurgery, Kaohsiung Chang Gung Memorial Hospital and Chang Gung University College of Medicine, Kaohsiung 83301, Taiwan
*
Authors to whom correspondence should be addressed.
Academic Editor: Keith B. Glaser
Received: 14 June 2016 / Revised: 22 August 2016 / Accepted: 26 August 2016 / Published: 2 September 2016
Abstract
Background: Our previous in vitro results demonstrated that 11-dehydrosinulariolide significantly reduced 6-hydroxydopamine-induced cytotoxicity and apoptosis in a human neuroblastoma cell line, SH-SY5Y, and suppressed the expression of inducible NO synthase (iNOS) and cyclooxygenase 2 in lipopolysaccharide-stimulated macrophage cells. The neuroprotective and anti-inflammatory effects of 11-dehydrosinulariolide may be suitable for treating spinal cord injury (SCI). Methods: In the present study, Wistar rats were pretreated with 11-dehydrosinulariolide or saline through intrathecal injection after a thoracic spinal cord contusion injury induced using a New York University (NYU) impactor. The apoptotic cells were assessed using the terminal deoxynucleotidyl transferase dUTP nick end labeling (TUNEL) assay. The expression and localization of proinflammatory, apoptosis-associated and cell survival-related pathway proteins were examined through immunoblotting and immunohistochemistry. Results: 11-Dehydrosinulariolide attenuated SCI-induced cell apoptosis by upregulating the antiapoptotic protein Bcl-2 and cell survival-related pathway proteins p-Akt and p-ERK, 8 h after SCI. Furthermore, the transcription factor p-CREB, which regulates Bcl-2 expression, was upregulated after 11-dehydrosinulariolide treatment. On day 7 after SCI, 11-dehydrosinulariolide exhibited an anti-inflammatory effect, attenuating SCI-induced upregulation of the inflammatory proteins iNOS and tumor necrosis factor-α. 11-Dehydrosinulariolide also induced an increase in the expression of arginase-1 and CD206, markers of M2 microglia, in the injured spinal cord on day 7 after SCI. Thus, the anti-inflammatory effect of 11-dehydrosinulariolide may be related to the promotion of an alternative pathway of microglia activation. Conclusion: The results show that 11-dehydrosinulariolide exerts antiapoptotic effects at 8 h after SCI and anti-inflammatory effects at 7 days after SCI. We consider that this compound may be a promising therapeutic agent for SCI.
View Full-Text
►

▼

Figures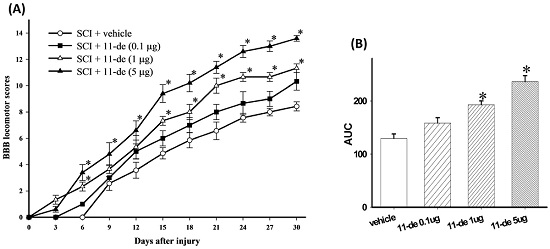 Graphical abstract
This is an open access article distributed under the
Creative Commons Attribution License
which permits unrestricted use, distribution, and reproduction in any medium, provided the original work is properly cited (CC BY 4.0).

Share & Cite This Article
MDPI and ACS Style
Chen, C.-H.; Chen, N.-F.; Feng, C.-W.; Cheng, S.-Y.; Hung, H.-C.; Tsui, K.-H.; Hsu, C.-H.; Sung, P.-J.; Chen, W.-F.; Wen, Z.-H. A Coral-Derived Compound Improves Functional Recovery after Spinal Cord Injury through Its Antiapoptotic and Anti-Inflammatory Effects. Mar. Drugs 2016, 14, 160.
Note that from the first issue of 2016, MDPI journals use article numbers instead of page numbers. See further details here.
Related Articles
Comments
[Return to top]