Mechanistic Insight into the Elastin Degradation Process by the Metalloprotease Myroilysin from the Deep-Sea Bacterium
Myroides

profundi

D25

1

State Key Laboratory of Microbial Technology, Marine Biotechnology Research Center, Shandong University, Jinan 250100, China

2

Marine Biotechnology Research Center, Shandong University, Jinan 250100, China

3

Department of Pathogenic Biology, Binzhou Medical University, Shandong Province, Yantai 264003, China

4

School of Molecular Bioscience, The University of Sydney, NSW 2006, Australia

*

Author to whom correspondence should be addressed.

†

These authors contributed equally to this work.

Academic Editor: Takao Ojima

Received: 21 October 2014 / Accepted: 10 March 2015 / Published: 18 March 2015
Abstract
Elastases have been widely studied because of their important uses as medicine and meat tenderizers. However, there are relatively few studies on marine elastases. Myroilysin, secreted by
Myroides profundi
D25 from deep-sea sediment, is a novel elastase. In this study, we examined the elastin degradation mechanism of myroilysin. When mixed with insoluble bovine elastin, myroilysin bound hydrophobically, suggesting that this elastase may interact with the hydrophobic domains of elastin. Consistent with this, analysis of the cleavage pattern of myroilysin on bovine elastin and recombinant tropoelastin revealed that myroilysin preferentially cleaves peptide bonds with hydrophobic residues at the P1 and/or P1′ positions. Scanning electron microscopy (SEM) of cross-linked recombinant tropoelastin degraded by myroilysin showed preferential damages of spherules over cross-links, as expected for a hydrophobic preference. The degradation process of myroilysin on bovine elastin fibres was followed by light microscopy and SEM, revealing that degradation begins with the formation of crevices and cavities at the fibre surface, with these openings increasing in number and size until the fibre breaks into small pieces, which are subsequently fragmented. Our results are helpful for developing biotechnological applications for myroilysin.
View Full-Text
►

▼

Figures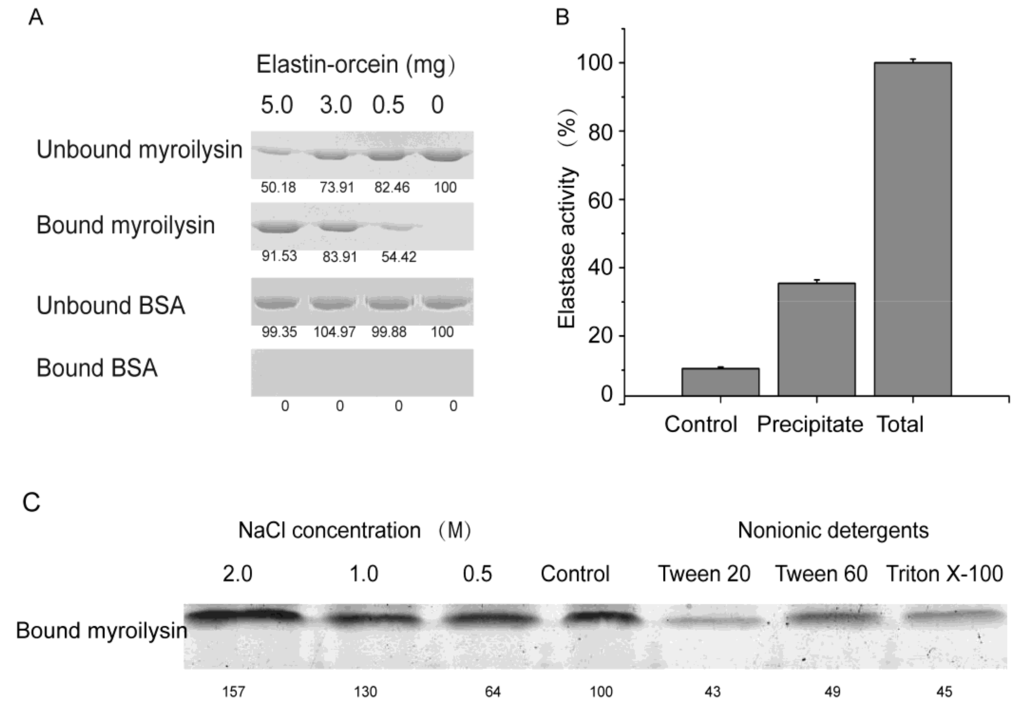 Figure 1
This is an open access article distributed under the
Creative Commons Attribution License
which permits unrestricted use, distribution, and reproduction in any medium, provided the original work is properly cited (CC BY 4.0).

Share & Cite This Article
MDPI and ACS Style
Yang, J.; Zhao, H.-L.; Tang, B.-L.; Chen, X.-L.; Su, H.-N.; Zhang, X.-Y.; Song, X.-Y.; Zhou, B.-C.; Xie, B.-B.; Weiss, A.S.; Zhang, Y.-Z. Mechanistic Insight into the Elastin Degradation Process by the Metalloprotease Myroilysin from the Deep-Sea Bacterium Myroides profundi D25. Mar. Drugs 2015, 13, 1481-1496.
Related Articles
Comments
[Return to top]