MytiLec, a Mussel R-Type Lectin, Interacts with Surface Glycan Gb3 on Burkitt's Lymphoma Cells to Trigger Apoptosis through Multiple Pathways
1
Department of Life and Environmental System Science, Graduate School of NanoBio Sciences, Yokohama City University, 22-2 Seto, Kanazawa-ku, Yokohama 236-0027, Japan
2
Department of Biochemistry and Molecular Biology, Faculty of Science, University of Rajshahi, Rajshahi-6205, Bangladesh
3
Division of Cell Recognition Study, Institute of Molecular Biomembrane and Glycobiology, Tohoku Pharmaceutical University, 4-4-1 Komatsushima, Aoba-ku, Sendai 981-8558, Japan
4
Department of Pharmacy, Faculty of Pharmaceutical Science, Nagasaki International University, 2825-7 Huis Ten Bosch, Sasebo, Nagasaki 859-3298, Japan
5
Graduate School of Medical Life Science, Yokohama City University, 1-7-29 Suehiro-cho, Tsurumi-ku, Yokohama 230-0045, Japan
6
Graduate School of Agricultural Science, Tohoku University, 1-1 Amamiya-machi, Tsutsumidori, Aoba-ku, Sendai 230-0045, Japan
7
Department of Natural Science, Varendra University, Rajshahi-6204, Bangladesh
8
Department of Chemistry, Faculty of Sciences, University of Chittagong, Chittagong-4331, Bangladesh
9
Department of Biology, School of Health Sciences, Fujita Health University, Toyoake, Aichi 470-1192, Japan
*
Author to whom correspondence should be addressed.
†
These two authors contributed equally to the study and should be considered co-first authors.
Academic Editor: Antonio Trincone
Received: 1 October 2015 / Revised: 30 November 2015 / Accepted: 2 December 2015 / Published: 14 December 2015
Abstract
MytiLec; a novel lectin isolated from the Mediterranean mussel (
Mytilus galloprovincialis
); shows strong binding affinity to globotriose (Gb3: Galα1-4Galβ1-4Glc). MytiLec revealed β-trefoil folding as also found in the ricin B-subunit type (R-type) lectin family, although the amino acid sequences were quite different. Classification of R-type lectin family members therefore needs to be based on conformation as well as on primary structure. MytiLec specifically killed Burkitt's lymphoma Ramos cells, which express Gb3. Fluorescein-labeling assay revealed that MytiLec was incorporated inside the cells. MytiLec treatment of Ramos cells resulted in activation of both classical MAPK/ extracellular signal-regulated kinase and extracellular signal-regulated kinase (MEK-ERK) and stress-activated (p38 kinase and JNK) Mitogen-activated protein kinases (MAPK) pathways. In the cells, MytiLec treatment triggered expression of tumor necrosis factor (TNF)-α (a ligand of death receptor-dependent apoptosis) and activation of mitochondria-controlling caspase-9 (initiator caspase) and caspase-3 (activator caspase). Experiments using the specific MEK inhibitor U0126 showed that MytiLec-induced phosphorylation of the MEK-ERK pathway up-regulated expression of the cyclin-dependent kinase inhibitor p21, leading to cell cycle arrest and TNF-α production. Activation of caspase-3 by MytiLec appeared to be regulated by multiple different pathways. Our findings, taken together, indicate that the novel R-type lectin MytiLec initiates programmed cell death of Burkitt's lymphoma cells through multiple pathways (MAPK cascade, death receptor signaling; caspase activation) based on interaction of the lectin with Gb3-containing glycosphingolipid-enriched microdomains on the cell surface.
View Full-Text
►

▼

Figures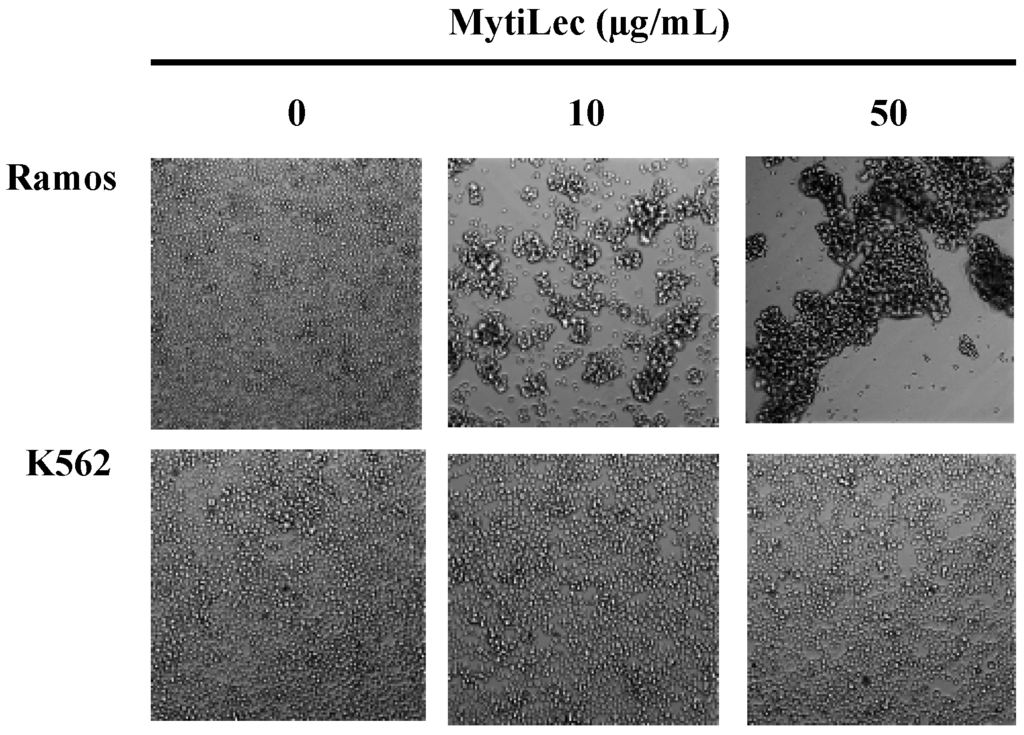 Figure 1
This is an open access article distributed under the
Creative Commons Attribution License
which permits unrestricted use, distribution, and reproduction in any medium, provided the original work is properly cited (CC BY 4.0).

Share & Cite This Article
MDPI and ACS Style
Hasan, I.; Sugawara, S.; Fujii, Y.; Koide, Y.; Terada, D.; Iimura, N.; Fujiwara, T.; Takahashi, K.G.; Kojima, N.; Rajia, S.; Kawsar, S.M.A.; Kanaly, R.A.; Uchiyama, H.; Hosono, M.; Ogawa, Y.; Fujita, H.; Hamako, J.; Matsui, T.; Ozeki, Y. MytiLec, a Mussel R-Type Lectin, Interacts with Surface Glycan Gb3 on Burkitt's Lymphoma Cells to Trigger Apoptosis through Multiple Pathways. Mar. Drugs 2015, 13, 7377-7389.
Related Articles
Comments
[Return to top]