Marennine, Promising Blue Pigments from a Widespread Haslea Diatom Species Complex
1
FR CNRS 3473 IUML, Mer-Molécules-Santé (MMS), Université du Maine, Ave O. Messiaen, 72085 Le Mans cedex 9, France
2
Institut des Sciences de la mer de Rimouski, Université du Québec à Rimouski, 310 des Ursulines, Rimouski, QC G5L 3A1, Canada
3
EA 1157, Laboratoire de Biologie et Pathologie Végétales (LBPV), Université de Nantes, SFR 4207 QUASAV, 44322 Nantes, France
4
FR CNRS 3473 IUML, Mer-Molécules-Santé (MMS), Université de Nantes, 44322 Nantes, France
5
FR CNRS 3473 IUML, UMR-CNRS 6144 (GEPEA), Université de Nantes, CRTT 37 Bd de l'Université, F-44602 Saint-Nazaire, France
6
UMR CNRS 6283, Institut des Molécules et Matériaux du Mans (IMMM), Université du Maine, Ave O. Messiaen, 72085 Le Mans cedex 9, France
7
Department of Chemistry, Université du Québec à Montréal, P.O. Box 8888, Downtown Station, Montréal, QC H3C 3P8, Canada
8
Université de Bretagne-Sud, Laboratoire de Biotechnologie et Chimie Marines, Campus de Tohannic, F-56017 Vannes, France
9
Karadag Nature Reserve of the National Academy of Sciences, p/o Kurortnoe, Feodosiya 98188, Crimea, Ukraine
10
Department of Biology, Marine Biological Section, University of Copenhagen, Øster Farimagsgade 2D, 1353 Copenhagen, Denmark
*
Author to whom correspondence should be addressed.
Received: 19 March 2014 / Revised: 29 April 2014 / Accepted: 29 April 2014 / Published: 28 May 2014
Abstract
In diatoms, the main photosynthetic pigments are chlorophylls
a
and
c
, fucoxanthin, diadinoxanthin and diatoxanthin. The marine pennate diatom
Haslea ostrearia
has long been known for producing, in addition to these generic pigments, a water-soluble blue pigment, marennine. This pigment, responsible for the greening of oysters in western France, presents different biological activities: allelopathic, antioxidant, antibacterial, antiviral, and growth-inhibiting. A method to extract and purify marennine has been developed, but its chemical structure could hitherto not be resolved. For decades,
H. ostrearia
was the only organism known to produce marennine, and can be found worldwide. Our knowledge about
H. ostrearia-
like diatom biodiversity has recently been extended with the discovery of several new species of blue diatoms, the recently described
H. karadagensis
,
H. silbo
sp. inedit. and
H. provincialis
sp. inedit. These blue diatoms produce different marennine-like pigments, which belong to the same chemical family and present similar biological activities. Aside from being a potential source of natural blue pigments,
H. ostrearia-
like diatoms thus present a commercial potential for aquaculture, cosmetics, food and health industries.
View Full-Text
►

▼

Figures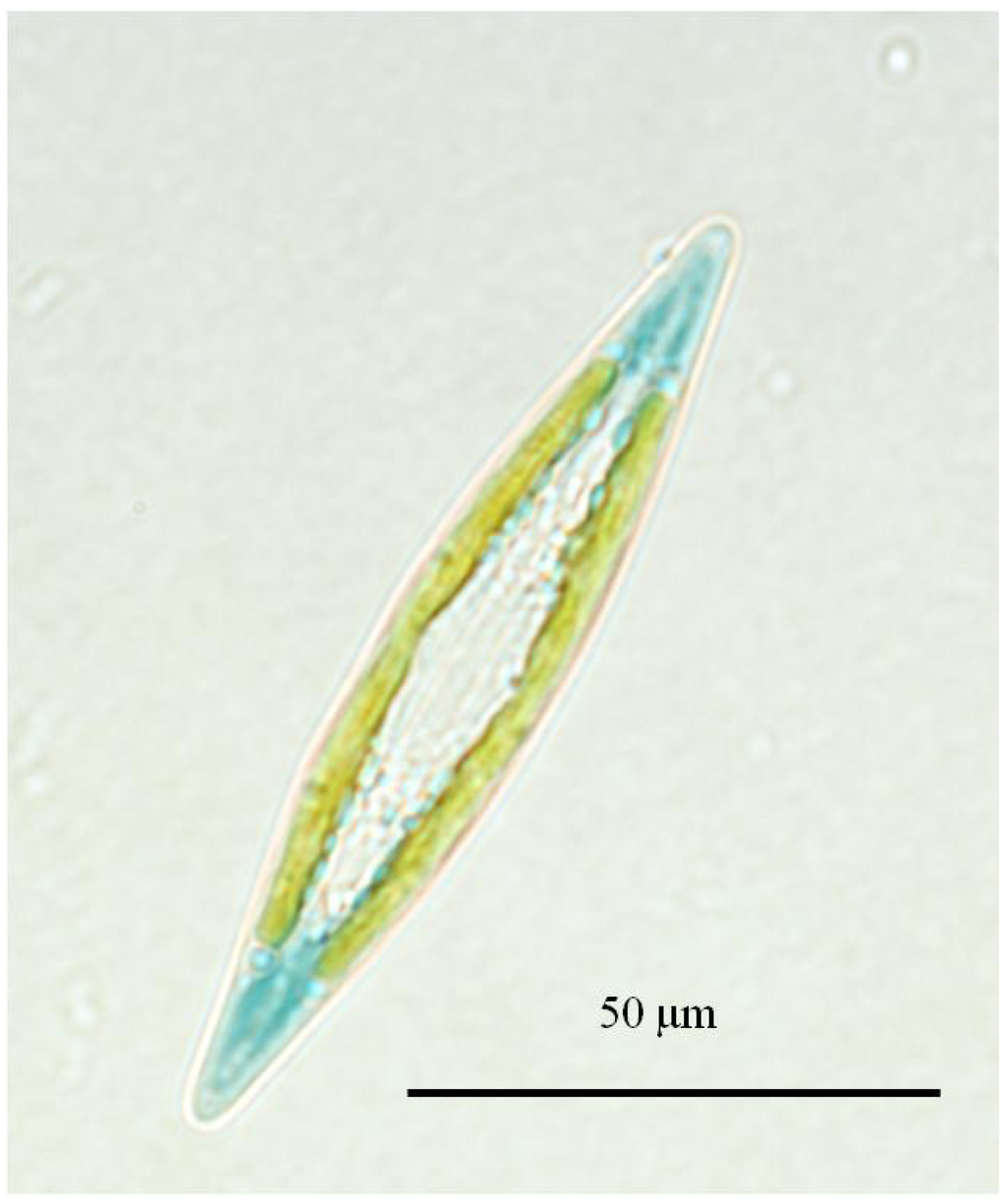 Figure 1

Share & Cite This Article
MDPI and ACS Style
Gastineau, R.; Turcotte, F.; Pouvreau, J.-B.; Morançais, M.; Fleurence, J.; Windarto, E.; Prasetiya, F.S.; Arsad, S.; Jaouen, P.; Babin, M.; Coiffard, L.; Couteau, C.; Bardeau, J.-F.; Jacquette, B.; Leignel, V.; Hardivillier, Y.; Marcotte, I.; Bourgougnon, N.; Tremblay, R.; Deschênes, J.-S.; Badawy, H.; Pasetto, P.; Davidovich, N.; Hansen, G.; Dittmer, J.; Mouget, J.-L. Marennine, Promising Blue Pigments from a Widespread Haslea Diatom Species Complex. Mar. Drugs 2014, 12, 3161-3189.
Related Articles
Comments
[Return to top]