Open Access This article is
freely available
re-usable
Review
Sea Anemone (Cnidaria, Anthozoa, Actiniaria) Toxins: An Overview
1
CIMAR/CIIMAR, Centro Interdisciplinar de Investigação Marinha e Ambiental, Universidade do Porto, Rua dos Bragas 177, 4050-123 Porto, Portugal
2
Departamento de Biologia, Faculdade de Ciências, Universidade do Porto, Rua do Campo Alegre, 4169-007 Porto, Portugal
*
Author to whom correspondence should be addressed.
Received: 31 May 2012; in revised form: 9 July 2012 / Accepted: 25 July 2012 / Published: 22 August 2012
Abstract
:
The Cnidaria phylum includes organisms that are among the most venomous animals. The Anthozoa class includes sea anemones, hard corals, soft corals and sea pens. The composition of cnidarian venoms is not known in detail, but they appear to contain a variety of compounds. Currently around 250 of those compounds have been identified (peptides, proteins, enzymes and proteinase inhibitors) and non-proteinaceous substances (purines, quaternary ammonium compounds, biogenic amines and betaines), but very few genes encoding toxins were described and only a few related protein three-dimensional structures are available. Toxins are used for prey acquisition, but also to deter potential predators (with neurotoxicity and cardiotoxicity effects) and even to fight territorial disputes. Cnidaria toxins have been identified on the nematocysts located on the tentacles, acrorhagi and acontia, and in the mucous coat that covers the animal body. Sea anemone toxins comprise mainly proteins and peptides that are cytolytic or neurotoxic with its potency varying with the structure and site of action and are efficient in targeting different animals, such as insects, crustaceans and vertebrates. Sea anemones toxins include voltage-gated Na+ and K+ channels toxins, acid-sensing ion channel toxins, Cytolysins, toxins with Kunitz-type protease inhibitors activity and toxins with Phospholipase A2 activity. In this review we assessed the phylogentic relationships of sea anemone toxins, characterized such toxins, the genes encoding them and the toxins three-dimensional structures, further providing a state-of-the-art description of the procedures involved in the isolation and purification of bioactive toxins.
Keywords:
Cnidaria; sea anemone; phylogeny; toxin; toxin gene
1. Introduction
Cnidarians are simple animals with radial symmetry that contain two layers of cells, ectoderm and endoderm. Mesoglea, a non-cellular matrix, is present between the two layers. Cnidarians are mostly predators but certain species may also scavenge dead animals or obtain nourishment from intracellular, photosynthetic unicellular algae, named zooxanthellae.
At least four toxic living classes of cnidarians are currently recognized by most systematists: Anthozoa, Hydrozoa, Scyphozoa and Cubozoa. Molecular phylogenetic methodologies based on DNA sequencing, allowed to determine that the Anthozoa are the basal group of cnidarians [
1
] (
Figure 1
). In fact, Anthozoa has a circular mitochondrial DNA, while Hydrozoa, Scyphozoa and Cubozoa have a linear molecule. Likewise the polyp preceded the medusoid form in the course of evolution [
2
].


There are two main types of life cycles in cnidarians. In Anthozoans, the polyp is the gamete-producing form and the cycle is embryo > larva > polyp. Medusozoans generally have an embryo > larva > polyp > medusa life cycle, in which the medusa is typically the sexual form.
Figure 2
shows a typical life cycle of Anthoza [
1
].
Cnidaria feeding success relies on the presence of specialized poisonous cells, the nematocysts. These organisms have specialized subcellular organelles called cnidae with several structures and functions. Cnidae can be classified into three types: nematocysts, spirocysts, and ptychocysts. Nematocysts deliver the venom through the skin, whereas spirocysts are adhesive and ptychocysts are involved in protection. While Anthozoans have the three types of cnidae, medusozoans (Scyphozoans and Cubozoans) contain only nematocysts. The biological roles of toxins delivered by nematocysts include the capture and killing of prey, digestion, repelling of predators and intraspecies spatial competition [
5
]. Cnidarians are not just studied by their toxins and venoms, they are a source of marine natural compounds with therapeutically properties, namely antitumor activity [
6
]. Furthermore, voltage-gated ion channels toxins are studied as an inspiration for drugs design, not only therapeutic but also as insecticides [
7
].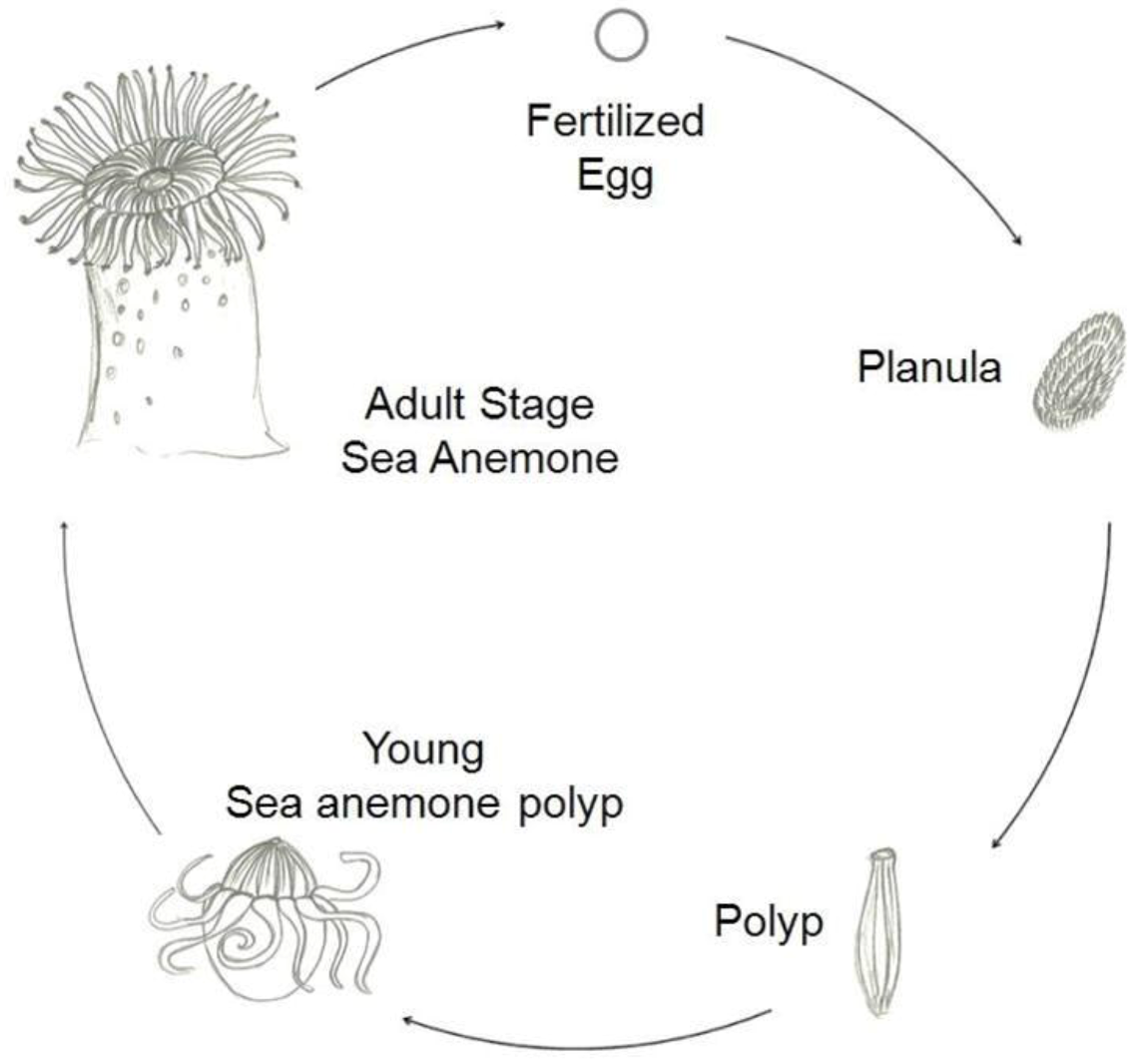 The composition of cnidarian venoms is not known in detail, but they appear to contain a variety of proteinaceous (peptides, proteins, enzymes and proteinase inhibitors) and non-proteinaceous substances (purines, quaternary ammonium compounds, biogenic amines and betaines) [
8
]. As an example, palytoxin is a polyether from
Palythoa
, and caissarone is an iminopurine from
Bunodosoma caissarum
[
9
].
The venom is spread all over the body, in a mucous coat, that also protects them from predators, or it is located in the nematocysts. In a recent work, Moran and co-workers, reported that neurotoxin 1 from
Nematostella vectensis
is confined to ectodermal gland cells. Moreover, in
Anthopleura elegantissima
this toxin also appears in gland cells, whereas in
Anemonia viridis
is associated with both nematocytes and ectodermal gland cells [
10
]. Previously, Honma and co-workers also gave a hint for the same phenomenon when describing that gigantoxins were mostly derived from unknown organelles other than nematocysts [
11
]. Nematocysts are found mostly on the tentacles, but also exist in other organs such as in acrorhagi and acontia, particularly in certain species of the Actiniidae family, where they are used to fight with nonspecific non-clonemates or for purposes of defence or predation, respectively. Acrorhagi are located in a ring around the base of the tentacles (
Figure 3
a). Acontia are thin white or color threads attached at one end to the borders of the mesenteries. They can be protruded through the mouth, and in some cases through special pores (cinclides) in the body-wall, for purposes of defence or paralyses of prey (
Figure 3
b).
The Anthozoa class include sea anemones, and other anemone-like groups with skeletons (such as the "stony" scleractinian corals) and without skeletons (such as tube anemones), as well as sea pens, sea fans, blue corals, and black corals. The word Anthozoa comes from greek
anthos
, flower +
zoon
, animal, as sea anemones resemble flowers (
Figure 3
c).

Figure 3.
General aspects of the sea anemone morphology. (
a
) Acrorhagi, the blue vesicles in
Actinia equina
, green variety (also called
Actinia prasina
), are used to fight against space towards other individuals (see arrow); (
b
) Acontia, the white threads secreted by
Calliactis parasitica
are used as defensive organs when disturbed (see arrow); (
c
)
Bunodactis verrucosa
specimens with tentacles retracted and fully expanded, illustrating the characteristic column with adhesive verrucae and short tentacles.

Nematocysts possess a high concentration of polypeptides and proteins that act as neurotoxins, hemolysins and enzymes, which are responsible for a variety of harmful effects to humans. These toxins/venoms are only injected in the prey or predator after a mechanical or chemical stimulation [
12
]. In humans, toxins cause cardiotoxicity, dermatitis, local itching, swelling, erythema, paralysis, pain and necrosis [
8
].
In vivo
effects of sea anemone toxins include neurotoxicity and cardiotoxicity.
Summarily, the cnidarians venom includes 3.5–6.5 kDa voltage-gated sodium (Na
V
) channels toxins and 3–5 kDa voltage-gated potassium (K
V
) channel toxins and ~20 kDa pore-forming toxins. The first type prevents inactivation of Na
V
channels by stabilizing the open state conformations. This fact is due to the binding of the toxin to neurotoxin receptor site 3 [
13
]. K
V
channel toxins reversible blocks potassium current and can block acid-sensing ion channels, which are permeable to several cations. The cardiotoxic effects of toxins includes arrhythmias, triggered by early after depolarizations resulting from incomplete Na
V
channel inactivation, and systolic arrest due to myocardial cell calcium ion overloading [
9
].
Besides toxins, there are several other non-toxic proteins from sea anemones that are studied by its biological activities, such as fluorescent properties [
14
], but they will not be included in this review. However, we will discuss the importance of protease inhibitors as they adopt a structure that inhibits potassium channels.
In this review, we begin with a brief description of the Anthozoa phylogeny, followed by a general characterization of the sea anemone toxins and afterwards we focus on the major groups of toxins. We then refer to the state of the art techniques used for venom extraction. Afterwards we present the structure of the genes involved in toxin production and the three-dimensional (3D) structures of cnidarian toxins described to date. This review will be solely focused in the molecular diversity of sea anemone toxins. Other cnidarian toxins, as those from coral or jellyfish, will not be considered. More comprehensive information is available in a number of specific papers for jellyfish [
15
,
16
], cnidarians in general [
2
,
5
,
17
,
18
] and sea anemones [
13
,
19
,
20
].
2. Phylogenetic Relationships of Anthozoa and Sea Anemone Toxins
Cnidarians are scattered around the world and have around 10,000 estimated species. The majority of the phylogenetic studies classified cnidarians based on morphological characters [
21
]. At the molecular level, the classification of cnidarians is not yet well established, namely for the order Actiniaria. The phylogeny of Actiniaria is at a suboptimal estimation level [
3
] and has been retrieved from the sequencing analyses of
12SrRNA
,
16SrRNA
,
18SrRNA
,
28SrRNA
and COIII genes [
22
,
23
,
24
,
25
]. As referred by Turk and Kem [
2
], the comprehension of the phylogenetic relationships among Anthozoa members will give insights into the evolution of theirs toxins. Thus, a review about sea anemone toxins could not be dissociated from the Anthozoa phylogenetic characterization.
Besides the few studies on the phylogeny of Actiniaria, some other studies have also been done on the population genetics of these animals. Nonetheless, the majority of those works focus on other Orders, especially on corals. Indeed, few studies were done at the intraspecific level on Actiniaria. Population genetics of
Actinia
spp. assessed with enzyme electrophoresis showed that
Actinia nigropunctata
from Madeira Island (Portugal) is in fact a different species from all the others in the study, as well as
Actinia equina
from Africa [
26
]. Darling and co-workers in 2006 studied the
Nematostella vectensis
introduced along the Pacific coast of North America and the southeast coast of England, using 10 polymorphic microsatellite loci, and find high variability from Hardy-Weinberg equilibrium as a result of population genetic structure and reproductive plasticity [
27
].
Considering the molecular markers surveyed in Cnidarians until now, the variation in mitochondrial Citochrome Oxidase I (
COI
), within and between species, is much lower in Anthozoa compared to Medusozoa. Low identification success and substantial overlap between intra- and interspecific
COI
distances render the Anthozoa unsuitable for DNA barcoding [
28
], with
COI
p-distances among Anthozoa species being equal to 1% [
29
]. Shearer and co-workers [
30
] showed that nuclear markers in Anthozoa have much higher substitution rates and therefore should be used instead of mitochondrial genes.
The reduce knowledge on sea anemones phylogeny make it difficult a direct comparison with the toxin genes phylogeny. While previous studies showed a reduced level of congruence between species phylogeny and the toxin gene phylogeny, further research is needed to better clarify this pattern. Such findings may not be unusual due to distinct patterns of toxin gene evolution (e.g., gene duplication/gene loss, horizontal gene transfer, and lineage sorting and diversification). However, future studies are needed to better elucidate the phenomena behind the acquisition and evolution of the toxin genes in Anthozoa.
Concerning the phylogeny of toxins, we assessed the phylogenetic relationships of Na
V
channel and K
V
channel toxins. In order to systematize the information, we have assessed a phylogenetic tree of cytolysins using only Actinoporins with evidence at transcript level and with full-length sequences. A multiple sequence alignment of amino acids with 533 sites, was made with WebPrank [
31
] followed by an analysis to choose the best fit model for protein evolution with ProtTest [
31
], that gave WAG model. A Maximum Likelihood tree reconstruction was made in Mega 5 [
32
] using 100 bootstrap inferences. A discrete Gamma distribution was used to model evolutionary rate differences among sites (4 categories),
Figure 4
. (The alignment is available upon request to the corresponding author.)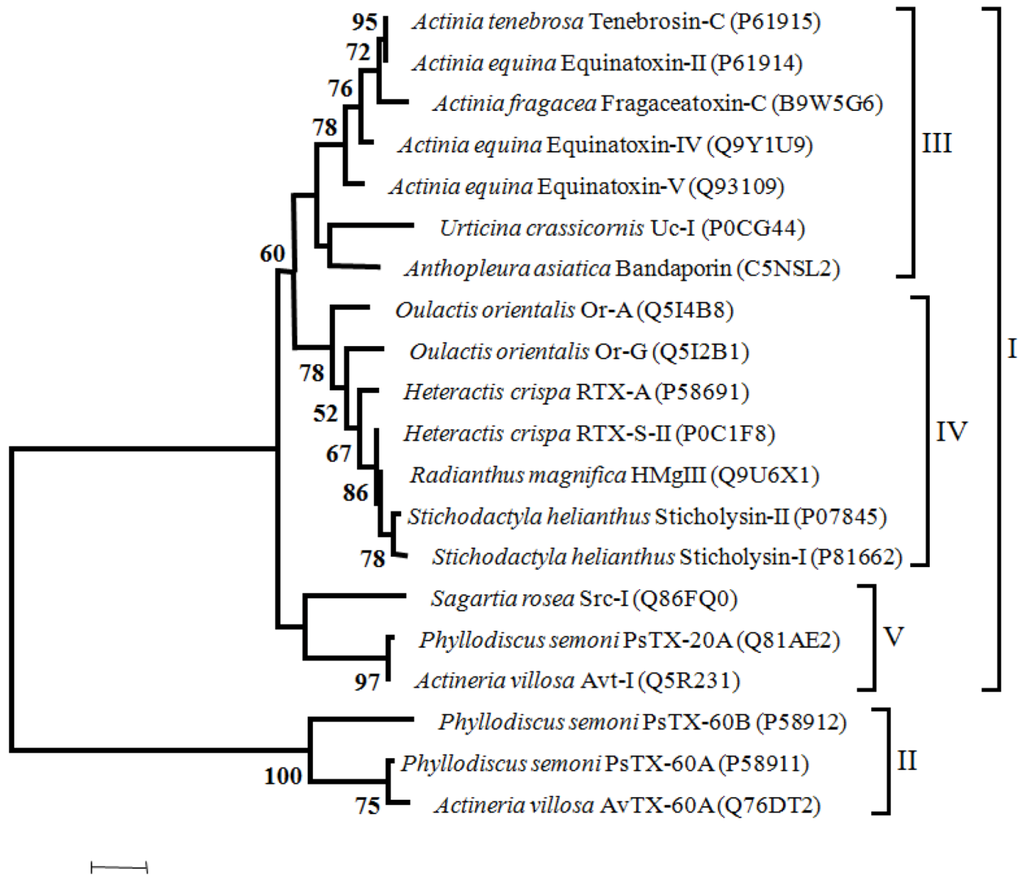 Figure 4.
Maximum likelihood tree of Cytolysins with 100 bootstrap replicates (only bootstrap values > 50 are shown). I—proteins without the MACPF domain, II—proteins with the MACPF domain, III—toxins from Actiniidae family members, IV—toxins from Stichodactilidae family members and
Oulactis orientalis
(Actiniidae ), V—toxins from Sagartiidae and and Alisiidae family members. Toxins are also referred on the Cytolysins chapter.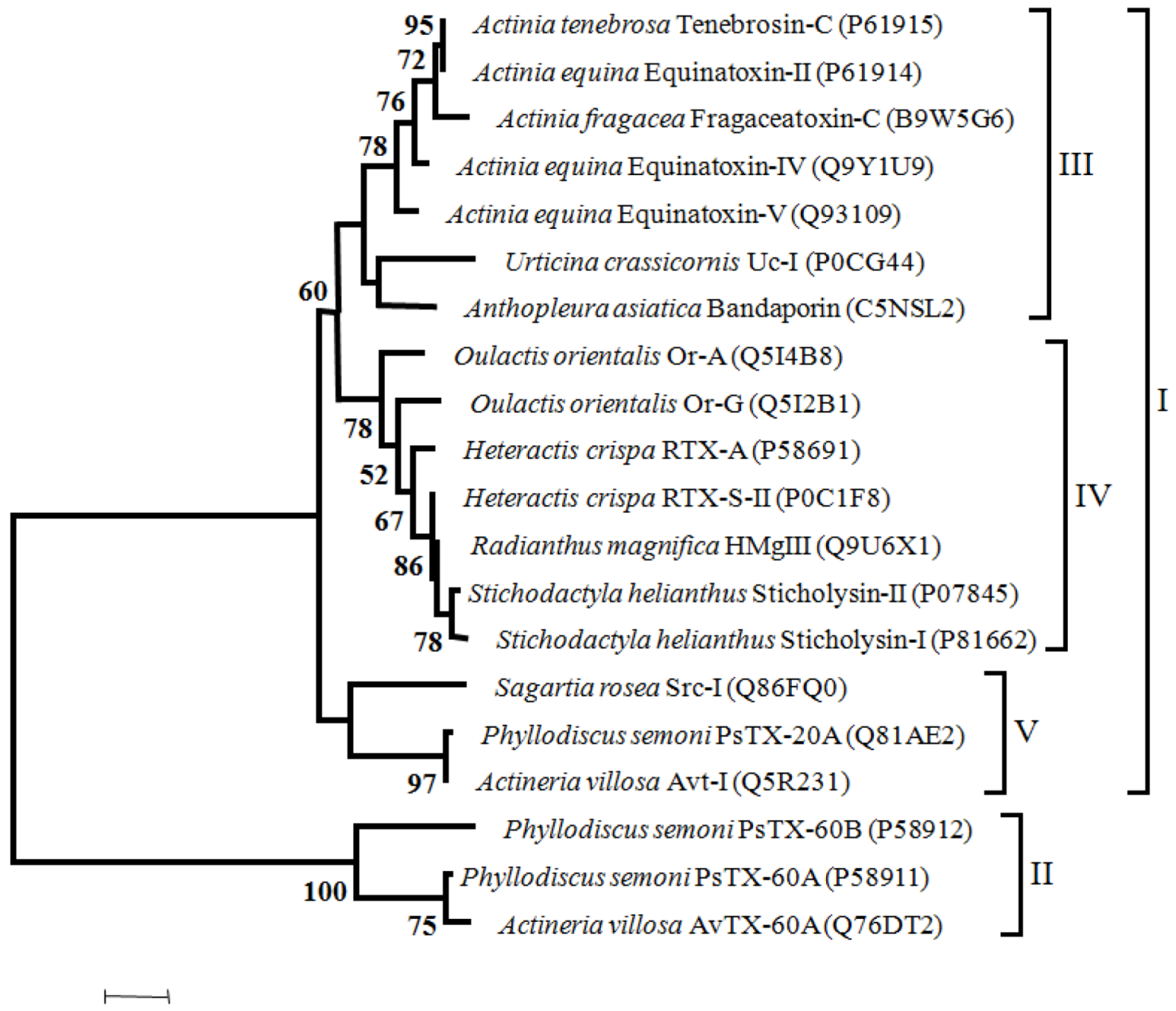 Considering the phylogenetic tree of cytolysis, two major groups can be defined; one including the proteins without the MACPF domain (I) and the other comprehending those with the MACPF domain (II). Within the major group "I" three clusters can be identified (III to V). Toxins from Actiniidae family members are clustered in group III. In Group IV cluster toxins from Stichodactilidae family members and toxins from
Oulactis orientalis
, (Actiniidae). In fact, toxins from
Oulactis
are more closely related to Stichodactilidae than to Actiniidae toxins. As mentioned previously, Or-A and Or-G and RTX-S-II and RTX-A from
Hecteractis crispa
have in common (albeit others characteristics), the substitution of a Trp by a Leu in the position Trp
112
of Equinatoxin-II. Moreover, the conserved RGD sequence that occurs in Sticholysin-II, RTX-A and Equinatoxin-II, in the toxins from
Oulactis
is replaced by the GGD sequence. The cluster V includes the Src-I and the toxins from Alisiidae family. The only member of Sagartiidae family (Src-I), has the EGD sequence instead of the RGD motif. Toxins of Alisiidae family members, share a similar gene organization with three exons (two introns). In addition the RGD motif is replaced by the KPS tripeptides in PsTX-20A and Avt.
Regarding the sea anemones phospholipases toxins, the study of Romero and co-workers [
33
] comparing PLA2 from
Condylactis gigantea
(Actiniidae family member), CgPLA2, with the other PLA2s from five animal phyla, suggested that sea anemones PLA2s form a monophyletic group. Within this group, CgPLA2 showed to be closer to the
Adamsia carcinoapados
(Hormathiidae family member) PLA2, AcPLA2, than to others of
Nematostella vectensis
, suggesting a significant divergence from the latter.
3. General Aspects of Sea Anemone Toxins
In the first decades of the 20th century, it was practically impossible to isolate and chemically characterize venom compounds, as the biochemical techniques for isolating such natural products hardly existed [
2
]. However, nowadays scientists developed several techniques to obtain the venom of particular structures such as acrorhagi or nematocysts, and to separate the venom into fractions. In this sense, there has been an increase in the number of publications on the subject of "cnidarian toxins".
Figure 5
shows the number of publications in Pubmed, retrieved using the query "Cnidaria toxins" on 5 March 2012. In fact, it is expectable that with the deep sequence platforms, much more data will become available at genomic level allowing to better understand the evolution of cnidarians toxins and the discover of the pharmaceutic and therapeutic properties of such compounds. Deep sequencing transcriptomics is the sequencing of the complete set of cellular transcripts at a specific stage or condition, and in that sense Johansen and co-workers [
34
] and Rodríguez and co-workers [
35
], pioneered the use of cDNA high-throughput sequencing with 454 pyrosequencing in the discovery of new toxins. The first publications on "cnidarian toxins" were about crude extracts (e.g., jellyfish crude extracts) and not about isolated toxins. In the following years, sea anemones toxins started to gain some relevance. A partial purification of a toxin from the tentacles of
Condylactis gigantea
was made by gel filtration [
36
]. Afterwards, three neurotoxic peptides were isolated from
Anemonia viridis
by cm-cellulose and sephadex chromatography [
37
]. The ATX-II amino acid sequence published by Wunderer and co-workers was the first cnidarian toxin to be determined [
38
]. At same time, in another laboratory, peptides from
Anthopleura
were also studied [
2
].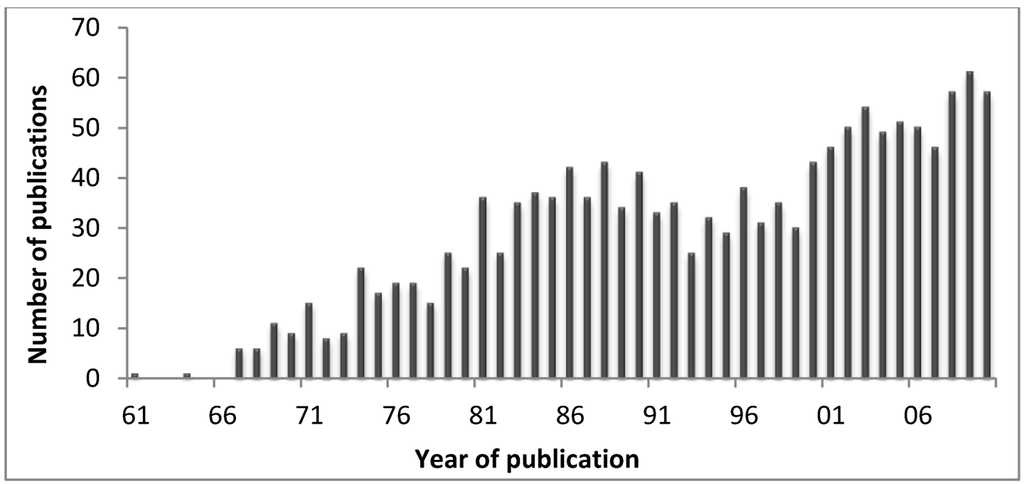 Figure 5. Number of publications from 1961 to date on cnidarians toxins (retrieved from the Pubmed in May 2012).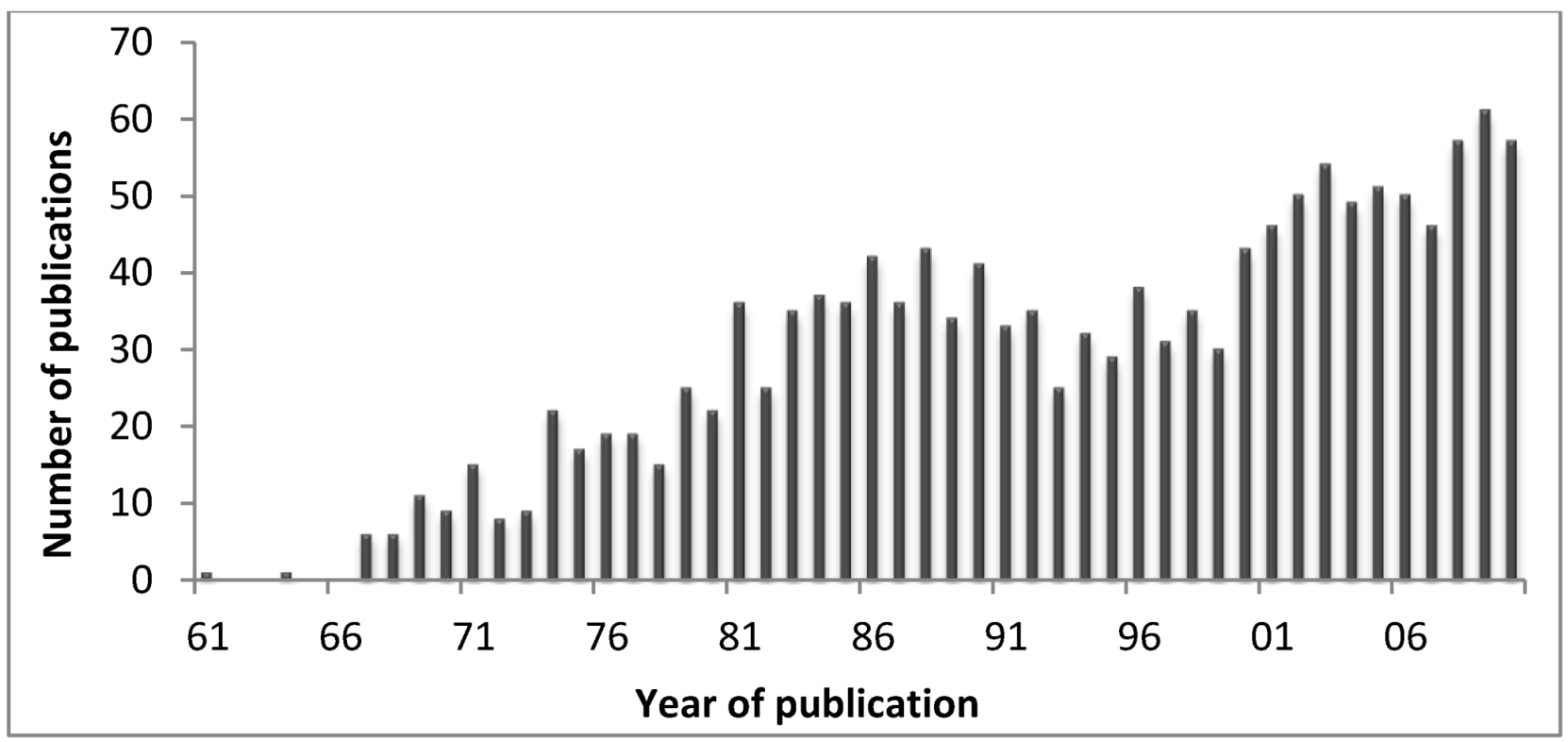 Voltage-gated ion channels underlie electrical excitability in cells, and they also play important roles in non-excitable cells. Voltage-gated channels open in response to changes in membrane potential, allowing ions to flow down the electrochemical gradient across the cell membrane, being thus gated (by voltage) and forming an ion-selective pore [
17
]. Voltage‑gated channels are critical to normal neuromuscular transmission and disruption of their normal function can lead to rapid paralysis. Toxins that target these components [
17
], are a valuable tool for understanding the structure and function of ion channels [
13
]. In this review, we will only refer to K
V
and Na
V
channel toxins, from all the ion channel toxins known.
Besides neurotoxins, cytolytic sea anemone toxins attracted considerable interest starting in the 1970s. The first report was of a phospholipase A in
Aiptasia pallida
venom [
39
]. Equinatoxin (Eqt), named following its source, the sea anemone
Actinia equina
[
40
], was the first actinoporin described in cnidarians.
As referred previously, not all the toxins are related to nematocyst [
10
,
11
]. According to Anderluh and co-workers [
41
], those that are, have a common signal directing them to a maturing cnidocyst [
41
]. Between the signal peptide and mature region, toxins contain a propart of 9–17 residues long, always ending with Lys-Arg [
41
]. The propart is composed mainly of polar and negatively charged amino acids, having the role to conduct the toxin to the nematocyst. However, in more recent works it was showed that Nv1 from
Nematostella vectensis
[
42
] and
Anthopleura elegantissima
toxins have proparts that also end in a Lys-Arg tandem but are not localized in the nematocysts. This suggests that the propart may have another role other than conducting toxins to the nematocysts. In another work, it was found that this cleavage sequence is not always conserved. Indeed, in the AvTX-20 (belonging to Cytolysins Type II) from
Actineria villosa
the propart terminate with a Lys-Lys sequence [
43
].
3.3. Cytolysins
Based on their primary structure and functional properties, Cytolysins have been classified in four polypeptide groups. Type I, consists of 5–8 kDa peptides that form pores in phosphatidylcholine containing membranes and have antihistamine activity.
3.4. PLA2 Toxins
Phospholipases A2 (PLA2s) catalyze the hydrolysis of 2-acyl ester bonds of 3-
sn
-phospholipids producing fatty acids and lysophospholipids. These enzymes have several important roles in the dietary lipid catabolism, in cell membrane metabolism and inflammatory diseases [
33
]. They can be associated with the toxicity of several animal groups, such as snakes, insects, mollusks, cnidarians and sponges [
128
]. PLA2 are presynaptic neurotoxins, blocking nerve terminals by binding to the nerve membrane and hydrolyzing stable membrane lipids. The products of the hydrolysis cannot form bilayers leading to a change in membrane conformation and ultimately blocking the release of neurotransmitters. PLA2 may form dimers or oligomers.
There is a family of secreted PLA2s comprising low molecular weight (13–15 kDa) disulfide-linked proteins that depend on Ca
2+
-ion for enzymatic activity. PLA2s secreted by the pancreas function as digestive enzymes, while others PLA2 are components of venoms. In addition to secreted PLA2s, there are cytosolic Ca
2+
-dependent and independent PLA2-proteins. Based on the molecular structure, PLA2s are classified into various groups numbered from I to XIV and numerous subgroups [
5
]. Additional types of Phospholipases include phospholipase A1, phospholipase B, phospholipase C, and phospholipase D.
Albeit PLA2s venom properties have been reported for several cnidarians [
5
], only in a few cases they have been deeply studied. In
Table 4
, we show all the PLA2 that have the amino acid sequence described.
Table 4. Sea anemone PLA2 toxins, accession number and reference.

| Species | Toxin | UniProt/GenBank Accession Number | Reference |
| --- | --- | --- | --- |
| Adamsia palliata | AcPLA2 | Q8WS88/AF347072 | [132] |
| Bunodosoma caissarum | Cationic protein C1 | P0C2M4/- | [8] |
| Condylactis gigantea | Phospholipase A2 | D2X8K2/GU046515 | [33] |
| Urticina crassicornis | UcPLA2 | A7LCJ2/EU003992 | [128] |
The first cnidarians PLA2 fully sequenced was published in 2002 for
Adamsia carcinoapados
, AcPLA2 [
132
]. Although AcPLA2 share common features with others PLA2s, such as the
N
-terminal, 12 Cys for putative disulfide formation, and conserved residues found in the sites of activity and Ca
2+
-binding in the catalytically actives PLA2s, it differs in others, lacking two extra Cys (specific structural features of group I) and the
C
-terminal extension (of group II and X). Curiously, it resembles group V PLA2 in respect to the number of Cys and the absence of the
C
-terminal extension, but it does contain a
N
-terminal prepropeptide not found in group V. Additionally, a unique Phe is found in the active site instead of Tyr [
132
].
The PLA2 from
Bunodosoma caissarum
has a high amino acid sequence identity to the PLA2 group III proteins isolated from the Mexican lizard and the honey bee [
8
].
UcPLA2 is a PLA2 belonging to group I, isolated from
Urticina crassicornis
inhabiting the northern Pacific Ocean. It is homologous to the AcPLA2, and similar to the Elapidae snake neurotoxic PLAs, suggesting an identical functional role in snake and cnidarians venoms. However, UcPLA2 has some unusual structural features, most notably an Asn at position 27 (instead of a Cys), which is present in the majority of known group I and group II PLA2s. This replacement is rare in invertebrate PLA2s, and has not been found yet in vertebrate toxic and nontoxic PLA2s of group I and group II, with the single exception of the sea lamprey PLA2, which has an Asn at position 27. Also, in UcPLA2 there is a
C
-terminal truncation of six amino acids, including a Cys, so the usual pairing between Cys
27
and Cys
126
is not possible. Recently, several similar proteins were also detected in the
Nematostella vectensis
, implying that this type of PLA2 might be more widespread among cnidarians [
128
].
Recently it was found a PLA2 in
Condylactis gigantea
from Cuba, which is 84% and 61% similar to the
Adamsia carcinoapados
and the
Nematostella vectensis
PLAs, respectively [
33
].
The toxins from
Condylactis gigantea
and
Adamsia carcinoapados
are more closely related to each other, compared to toxins from
Condilactis
and
Urticina crassicornis
, both belonging to the Actiniidae family, although
Condylactis
and
Adamsia
belong to different superfamilies, Endomyaria (namely Actiniidae family) and Acontiaria (namely Hormathiidae family), respectively. In this sense the phylogeny of the species may not be congruent with its toxins phylogeny, as previously mentioned.
3.5. Other Toxins
Besides the toxins described above, some others have not been yet fully characterized, and so the classification types previously referred are not yet known for such toxins.
4. Isolation and Purification of Bioactive Toxins
While there have not been any paper evaluating the technique's merit, the procedures that do not injury the animal are better for the obvious reason plus the venom seem to be better in terms of purity and it can be achieved also in good amounts. Moreover, frozen the specimens at −20 °C is also practicable, and good results have been obtained even without using −80 °C freezers, so this conservation method would be a good starting point. Using water as a solvent and a blender, followed by centrifugation, is an easy technique not time consuming nor demanding in terms of materials or skills, thus can be also used as a starting point for venom extraction. Regarding the toxins extraction only from the nematocysts, this can be accomplished if subjecting these structures to sonication or freeze-thaw cycles to burst and release the content.
5. Toxin Genes
Genes and transcripts of toxins are determined by PCR and degenerate primers by RACE, usually from the cDNA sequence and cloning.
6. Three-Dimensional Toxins Structures
7. Conclusions
In spite of the recent increasing effort to study cnidarians venoms, much more is yet to be done to characterize these compounds in this diverse group of animals. The venom from each species of cnidarians is supposed to contain around 100 compounds, but not more that 1% is currently known even in the better studied species. Indeed, a recent work described 156 peptide venom compounds in a single species [
35
]. In this sense, toxins such as Actinoporins or PLA2s could be particularly interesting. First, they are less studied than other toxins in cnidarians and second, concerning PLA2s, they are a wide group of toxins also encountered in other animals, as in the better studied snakes. However, much more effort is also needed to pursue the study of ion channel toxins, which will allow a better understanding, not only of the diversity of those toxins, but also of the function of ion channels.
Another field starting to gain relevance is toxin gene detection. The increase in availability of genome sequences for venomous animals or cnidarians in general, added to the development of deep sequencing technology, will enable in depth study of genes encoding toxins. Such genomic studies will not only shed light on the evolutionary mechanisms influencing venom evolution but also, more broadly, on the genetic processes that underline the evolution of novel functionalities.
Cnidarians have impressive strategies for locomotion, feeding and reproduction. Its detailed study may allow unraveling the key for new medical drugs, as well as better understand the diversification of the molecular novelties of these unique metazoan species. For all such reasons, the study of cnidarians in whatever field is of great importance. From genetic and ecological studies to more applied pharmacological and toxicological assessments, these soft body animals should be a target of future scientific research.
Acknowledgments
Bárbara Frazão was supported by a PhD grant (SFRH/BD/48184/2008) from FCT (Fundação para a Ciência e a Tecnologia). This research was in part funded by the FCT project PTDC/AAC-AMB/104983/2008 (FCOMP-01-0124-FEDER-008610) and PTDC/AAC-AMB/121301/2010 (FCOMP-01-0124-FEDER-019490). We are thankful to Fernando Tuya, Departamento de Biología, Facultad de Ciencias del Mar, Universidad de Las Palmas de Gran Canaria, Spain, for the provided
Figure 1
d, Allen G. Collins, from the Smithsonian National Museum of Natural History, Washington, USA, for the contribution of
Figure 1
c and Margarida Mónica for the illustration of
Figure 2
.
Samples Availability:

Available from the authors.
© 2012 by the authors; licensee MDPI, Basel, Switzerland. This article is an open-access article distributed under the terms and conditions of the Creative Commons Attribution license (http://creativecommons.org/licenses/by/3.0/).