Hitting the Bull's-Eye in Metastatic Cancers—NSAIDs Elevate ROS in Mitochondria, Inducing Malignant Cell Death
1
School of Medical Science, Griffith University, Griffith Health Institute, Parklands Drive, Southport, Gold Coast, Queensland 4222, Australia
2
Instituto Nacional de Cardiología, Departamento de Bioquímica, Tlalpan, México D.F., Mexico
3
Instituto Nacional de Cancerología, Laboratorio de Medicina Translacional, Tlalpan, México D.F., Mexico
*
Author to whom correspondence should be addressed.
Academic Editor: Philip Hogg
Received: 11 November 2014 / Revised: 8 January 2015 / Accepted: 5 February 2015 / Published: 13 February 2015
Abstract
Tumor metastases that impede the function of vital organs are a major cause of cancer related mortality. Mitochondrial oxidative stress induced by hypoxia, low nutrient levels, or other stresses, such as genotoxic events, act as key drivers of the malignant changes in primary tumors to enhance their progression to metastasis. Emerging evidence now indicates that mitochondrial modifications and mutations resulting from oxidative stress, and leading to OxPhos stimulation and/or enhanced reactive oxygen species (ROS) production, are essential for promoting and sustaining the highly metastatic phenotype. Moreover, the modified mitochondria in emerging or existing metastatic cancer cells, by their irreversible differences, provide opportunities for selectively targeting their mitochondrial functions with a one-two punch. The first blow would block their anti-oxidative defense, followed by the knockout blow—promoting production of excess ROS, capitulating the terminal stage—activation of the mitochondrial permeability transition pore (mPTP), specifically killing metastatic cancer cells or their precursors. This review links a wide area of research relevant to cellular mechanisms that affect mitochondria activity as a major source of ROS production driving the pro-oxidative state in metastatic cancer cells. Each of the important aspects affecting mitochondrial function are discussed including: hypoxia, HIFs and PGC1 induced metabolic changes, increased ROS production to induce a more pro-oxidative state with reduced antioxidant defenses. It then focuses on how the mitochondria, as a major source of ROS in metastatic cancer cells driving the pro-oxidative state of malignancy enables targeting drugs affecting many of these altered processes and why the NSAIDs are an excellent example of mitochondria-targeted agents that provide a one-two knockout activating the mPTP and their efficacy as selective anticancer metastasis drugs.
View Full-Text
►

▼

Figures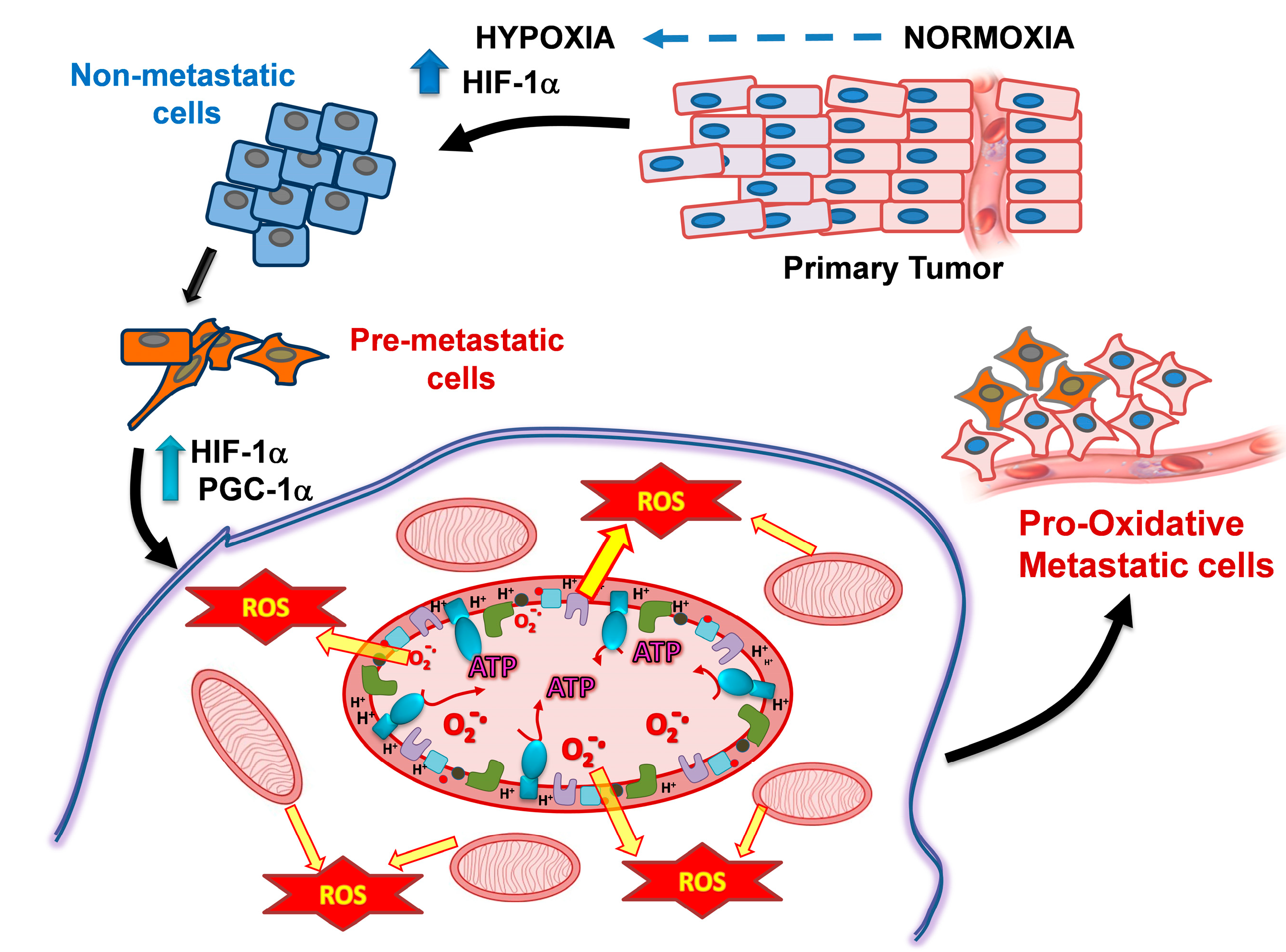 Figure 1
This is an open access article distributed under the
Creative Commons Attribution License
which permits unrestricted use, distribution, and reproduction in any medium, provided the original work is properly cited (CC BY 4.0).

Share & Cite This Article
MDPI and ACS Style
Ralph, S.J.; Pritchard, R.; Rodríguez-Enríquez, S.; Moreno-Sánchez, R.; Ralph, R.K. Hitting the Bull's-Eye in Metastatic Cancers—NSAIDs Elevate ROS in Mitochondria, Inducing Malignant Cell Death. Pharmaceuticals 2015, 8, 62-106.
Related Articles
Comments
[Return to top]