Open Access This article is
freely available
re-usable
Review
Targeted Therapy of Cancer Using Photodynamic Therapy in Combination with Multi-faceted Anti-Tumor Modalities
1
National Cancer Centre Singapore, 11 Hospital Drive, 169610, Singapore
2
Singapore Bioimaging Consortium, Biomedical Sciences Institutes, 11 Biopolis Way, #02-02 Helios, 138667, Singapore
3
School of Physics, National University of Ireland, Galway, Ireland
4
Department of Pharmacy, National University of Singapore, No. 18 Science Drive 4, Block S4, 117543, Singapore
*
Author to whom correspondence should be addressed.
†
These two authors contributed equally to this work.
Received: 3 March 2010; in revised form: 28 April 2010 / Accepted: 11 May 2010 / Published: 14 May 2010
Abstract
:
Photodynamic therapy (PDT) has emerged as one of the important therapeutic options in the management of cancer and other diseases. PDT involves a tumor-localized photosensitizer (PS), which when appropriately illuminated by visible light converts oxygen into cytotoxic reactive oxygen species (ROS), that attack key structural entities within the targeted cells, ultimately resulting in necrosis or apoptosis. Though PDT is a selective modality, it can be further enhanced by combining other targeted therapeutic strategies that include the use of synthetic peptides and nanoparticles for selective delivery of photosensitizers. Another potentially promising strategy is the application of targeted therapeutics that exploit a myriad of critical pathways involved in tumorigenesis and metastasis. Vascular disrupting agents that eradicate tumor vasculature during PDT and anti-angiogenic agents that targets specific molecular pathways and prevent the formation of new blood vessels are novel therapeutic approaches that have been shown to improve treatment outcome. In addition to the well-documented mechanisms of direct cell killing and damage to the tumor vasculature, PDT can also activate the body's immune response against tumors. Numerous pre-clinical studies and clinical observations have demonstrated the immuno-stimulatory capability of PDT. Herein, we aim to integrate the most important findings with regard to the combination of PDT and other novel targeted therapy approaches, detailing its potential in cancer photomedicine.
Keywords:
photodynamic therapy (PDT); targeted therapy; peptides; nanoparticles; vascular PDT; anti-angiogenesis; immune response
1. Introduction
We have organized this review into four sections: (1) synthetic peptides in targeted photodynamic therapy; (2) nanoparticle based drug delivery and targeting in PDT; (3) vascular and anti-angiogenesis targeted photodynamic therapy and (4) photodynamic therapy-mediated immune response. Within each section the different targeting approaches have been discussed.
2. Synthetic Peptides in Targeted Photodynamic Therapy
Peptides are short biopolymers consisting of up to 50 amino acids in length, linked through peptide or amide bonds. Peptides generally do not possess a well-defined 3-dimensional or tertiary structure. Thus, their simple structure and smaller size make them good candidates for de novo synthesis as novel molecules. Moreover, they can be easily modified chemically and linked to spacers, water solubilising chelating moieties or radiolabels. Short synthetic peptides have the advantages of increased tissue permeability, rapid internalization capacity, effective receptor binding, rapid clearance and very mild antigenicity, which makes them ideal for the targeted delivery of photosensitizer through a receptor-mediated targeting approach.
A photosensitizer-peptide conjugate can be designed by direct covalent linkage of the peptide to the photosensitizers [
14
,
15
] or several peptides and photosensitizer molecules could be conjugated to a polymer scaffold [
16
]. Furthermore, liposomes encapsulating photosensitizers can be modified by coupling with peptides (
Figure 1
) [
17
,
18
].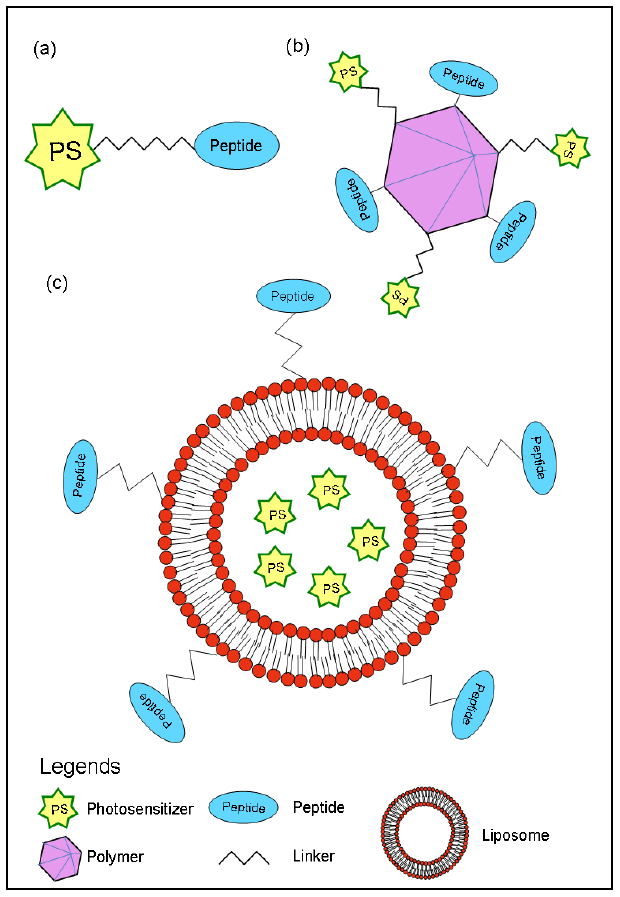 Figure 1. Design of photosensitizer conjugate: (a) peptides covalently attached to a photosensitizer via linker, (b) several peptides as well as photosensitizer molecules conjugated to a polymer scaffold, and (c) peptides covalently coupled to liposomes encapsulating PS.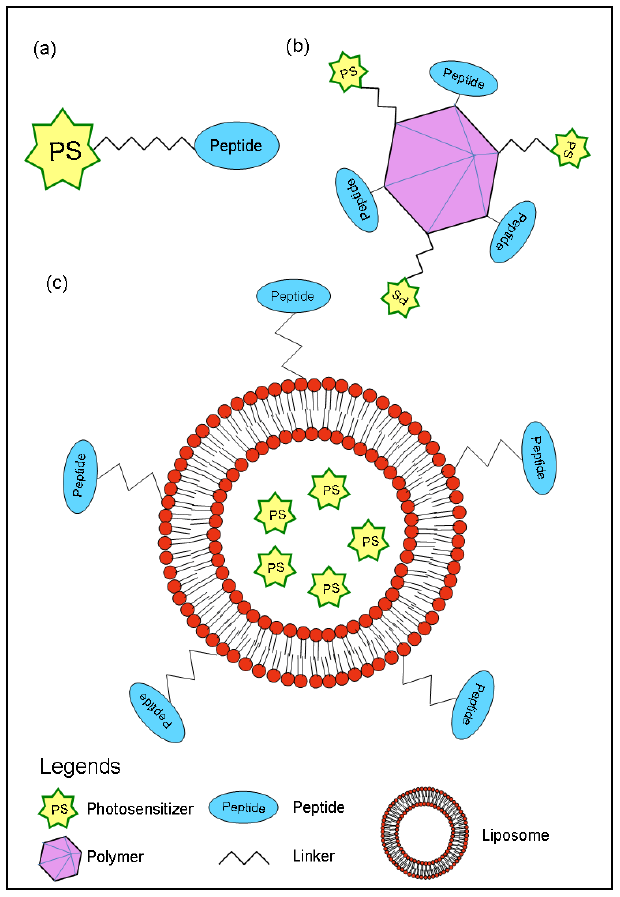 2.1. Cellular-targeted PDT with synthetic peptides
2.2. Vascular-targeted PDT with synthetic peptides
Development of peptide-PS conjugates targeting tumor vasculature is another approach of achieving targeted PDT by potentiating the vascular effects of PDT, which is thought to play a major role in tumor eradication. Vascular endothelial growth factor (VEGF) plays an important role in the process of angiogenesis. It stimulates vascular endothelial cell growth, facilitates survival of existing vessels and the proliferation and migration of endothelial cells [
39
]. VEGF binds to kinase receptors such as VEGFR-1 and -2, expressed on vascular endothelial cells; as well as neuropilins, NRP-1 and -2, expressed both on vascular endothelial cells and some tumor cells [
40
]. A photosensitizer 5-(4-carboxyphenyl)-10,15,20-triphenyl-chlorin (TPC), was coupled to a VEGF receptor-specific heptapeptide, H-Ala-Thr-Trp-Leu-Pro-Pro-Arg-OH (ATWLPPR), via a spacer (6-aminohexanoic acid, Ahx) [
41
]. TPC–Ahx–ATWLPPR bound exclusively to NRP-1, accumulated up to 25-fold more in HUVEC compared to free TPC over a 24 h period, thus exhibiting 10.4-fold enhanced
in vitro
photodynamic activity compared to free TPC.
In vivo
experiments using U87 human malignant glioma cells xenografted nude mice revealed significant tumor to normal ratios as early as 1 h after intravenous injection of TPC–Ahx–ATWLPPR. Taken together, TPC–Ahx–ATWLPPR is a much more potent PS
in vitro
than TPC, in NRP-1-expressing cells.
Frochot
et al
. compared the
in vitro
selectivity and photodynamic activity of the PS (5-(4-carboxyphenyl)-10,15,20-triphenylchlorin or porphyrin coupled with linear RGD triad or cyclic RGD motif in αvβ3-positive human umbilical vein endothelial cells (HUVEC) and αvβ3-negative murine mammary carcinoma cells (EMT-6) [
23
]. Their results showed that RGD-containing linear or cyclic peptide targeted tetraphenylchlorin were incorporated in HUVEC up to 98- and 80-fold more, respectively, than the unconjugated PS over 24 h. However, a non-specific cellular uptake by EMT-6 lacking αvβ3 receptors was also observed. Survival measurements clearly demonstrated superior sensitivity of HUVEC to peptide conjugate-mediated PDT than the unconjugated PS, due to its higher cellular uptake. Thus, a PS with linear or cyclic RGD motif not only has the potential to target tumor endothelial cells for efficient PDT, but the peptidic moiety also introduces a hydrophilic/hydrophobic balance thus exhibiting excellent water solubility and weak tendency to form aggregates.
Thus, targeted-PDT via receptor specific synthetic peptides has made reasonable progress in the recent years to achieve a certain degree of selectivity by site-specifically confining the PS, and thereby increasing the efficacy of PDT.
3. Nanoparticle-Based Drug Delivery and Targeting in PDT
Since most of the photosensitizers employed in PDT are hydrophobic and show poor water solubility. This makes it difficult to administer these drugs for
in vivo
applications [
42
]. In addition to this, the low selectivity of the drug to the tumor site makes it difficult to use the PS in a clinical set up. In this context, nanoparticle based approaches have been utilized in selective introduction of the PS to cancerous cells. In this emerging mode of delivery, a PS is encapsulated or immobilized on the nanoparticle surface using covalent/noncovalent interactions. The advantage of this approach is that the PS is delivered to the tumor site in a more selective manner with low toxicity, rendering minimal damage to the normal tissues [
10
]. In this approach, nanoparticles can be used as drug carriers where the drug is either dissolved in the matrices or adsorbed on the surface. This approach has been gaining attention in the recent years because of the tunability of size, surface characteristics and high drug loading capability of the nanoparticles [
43
]. Other kinds of PS-loaded nanoparticles, such as fullerene based, liposome based and dendrimer based nanoparticles that are reviewed by Toru Oba [
44
] are not discussed in this section. Nanoparticles can be biodegradable polymer based, such as chitosan [
45
] and poly lactic acid derived [
46
] or inorganic particles such as silica [
47
] or gold [
48
] and quantam dots [
49
].
3.1. Cellular-targeted nanotherapy
In summary, nanoparticles offer a versatile platform for PDT drug delivery by targeting and with additional advantages such as enhanced light penetration. This section describes the various nanoparticle based drug deliveries in targeted PDT using biodegradable and non-biodegradable nanoparticles. Upconverting nanoparticles provide an advantage by converting low energy radiation to high-energy emission thereby facilitating the use of these particles for PDT in deep-seated tumors. Gold nanoparticles with PEG shielding provide stable particles that can have longer circulation times in the body. Thus by choosing suitable nanoparticles, this approach could be used not only in improving the efficacy of PDT but also extended to enhance diagnosis and imaging.
4. Vascular and Anti-Angiogenesis Targeted Photodynamic Therapy
Destruction of functional vasculature is essential for efficient tumor eradication by PDT. Abnormally enhanced neovascularization is a hallmark of tumor progression and this has led to the concept of targeting the tumor vasculature as a therapeutic strategy. Therefore, either selectively targeting existing blood vessels and/or inhibiting the formation of new blood vessels can improve treatment efficacy [
58
]. In recent years, vascular-targeted PDT has received considerable attention as a promising strategy in cancer treatment and vascular-targeting PSs such as TOOKAD and verteporfin are currently in clinical development [
59
,
60
]. In this section, we will discuss the use of vascular disrupting and anti-angiogenic agents that have significantly contributed to the final outcome of PDT.
4.1. Vascular-targeted PDT
Vascular-targeting PDT (VTP) is characterized by a short drug to light interval (DLI), typically 0 to 30 minutes, when the PS is confined within the tumor vasculature. Following PS accumulation and irradiation, damage to sensitive sites within the microvasculature causes increases in vascular permeability and vessel constriction thus resulting in tumor destruction by vascular collapse, blood flow stasis and tissue hemorrhages (
Figure 2
a) [
61
]. Vascular targeting can be passive when the injected PS is largely confined in the blood vessels and reaches peak plasma concentration, thus providing a therapeutic window for vascular treatment. Active vascular targeting PDT, on the other hand is the delivery of photosensitizing compounds that selectively accumulates in the targeted neovascular components thus eliciting a preferential vascular response [
62
].
Vascular effects of PDT can differ greatly based on the different PSs and the drug-light interval administered. Tumor cell death after photoradiation with hematoporphyrin derivatives is caused by vasoconstriction and complete stasis that occurs secondary to destruction of the microvasculature [
63
]. Morphological changes after hematoporphyrin derivative PDT led to the absence of the endocapillary layer and mitochondrial degeneration, thus enhancing tumor destruction [
64
]. On the other hand, VTP with verteporfin is known to causes a dose- and time-dependent increase in vascular permeability and decrease in blood perfusion. The correlation between the timing for vascular damage and cure implies that blood flow stasis plays a significant role in PDT-induced tumor destruction. Verteporfin VTP has also been shown to permeabilize blood vessels through the formation of endothelial intercellular gaps thus triggering the loss of endothelial barrier function that leads to tumor vascular shutdown [
65
,
66
]. Photofrin PDT has been shown to induce changes in vessel constriction, vessel leakage and thrombus formation [
67
] and PDT with higher Photofrin dosage causes vessel constriction and changes in permeability during PDT [
68
]. PDT with certain phthalocyanine derivatives leads to vascular leakage [
69
] and mono-L-aspartyl chlorin e6 (NPe6) PDT has shown to cause blood flow stasis.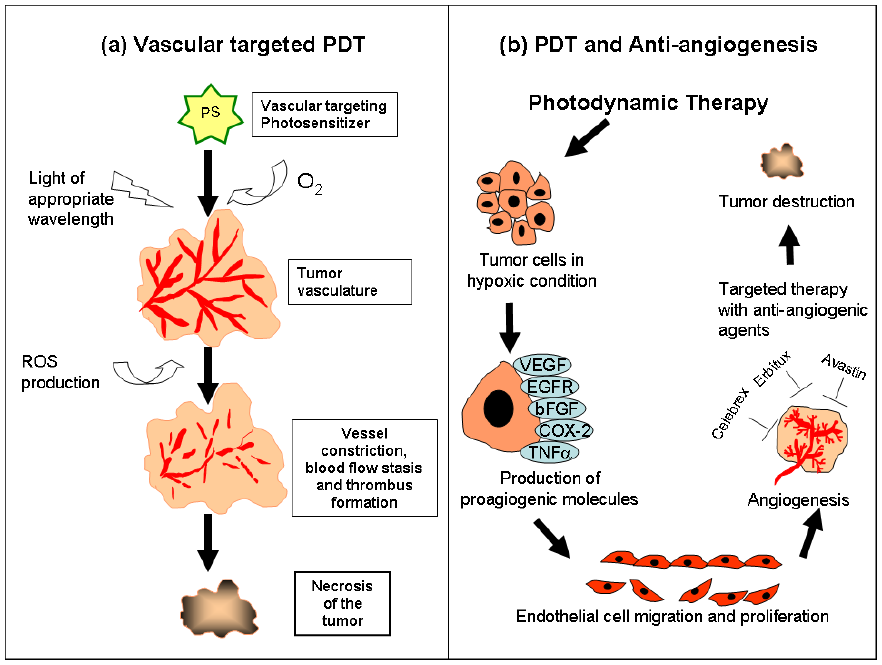 Figure 2. (a) Vascular-targeting PDT (VTP) is performed when the PS is confined within the tumor vasculature. Following VTP, the sensitive sites within the microvasculature are damaged thus causing vessel constriction, blood flow stasis and thrombus formation that finally leads to tumor destruction. (b) PDT induced oxidative stress causes hypoxia within the tumor tissue that triggers the release of angiogenic growth factors that include VEGF, COX-2 and EGFR. These pro-angiogenic factors facilitate endothelial cell proliferation and migration thus initiating angiogenesis and tumor growth. Administration of angiogenic inhibitors that specifically target these growth factors in combination with PDT has shown to be effective in suppressing angiogenesis and preventing tumor regrowth.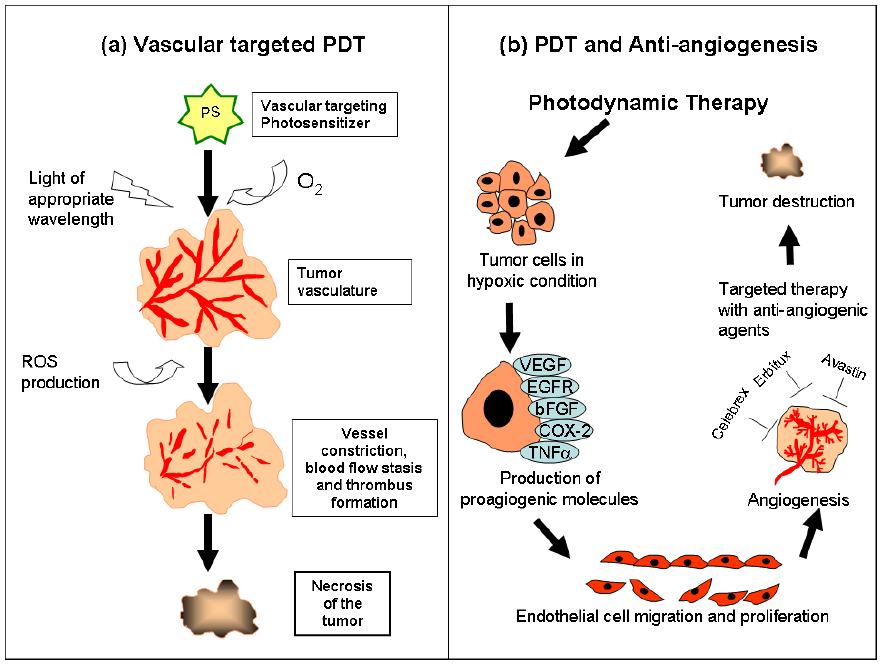 Combretastatin A4 phosphate (CA4P), a blood flow inhibitor has also exhibited potential as a vascular-targeting PDT agent by significantly increasing endothelial cell apoptosis thus enhancing the therapeutic effect [
70
]. VPT with BF2-chelated Tetraaryl-Azadipyrromethene agents, an emerging class of non-porphyrin PDT agent, in an
in vivo
mammary tumor model showed a decrease in tumor vascular perfusion and concomitant reduction in tumor metabolism over time after treatment [
71
]. Another potent vascular targeting agent, 5,6-Dimethylxanthenone-4-acetic acid (DMXAA) has been shown to be effective against a variety of experimental rodent tumors and xenografts and is currently undergoing clinical evaluation. In an
in vivo
Colon-26 tumor model, it was demonstrated that the combination of PDT and low-dose DMXAA causes selective tumor vascular response by increasing vessel permeability, leading to cell damage and loss of blood flow and thus resulting in >70% cure rate [
72
]. PDT with a novel PS MV6401 in a mammary tumor (MCaIV) caused dose-dependent blood flow stasis and long-term vascular shutdown, caused by thrombus formation [
73
]. Hypericin, a perylenequinone, has shown potential as a vascular targeting agent by improving cure rates in radiation-induced fibrosarcoma-1 solid tumors when short drug-light interval PDT was administered [
74
]. VTP with WST11, a water-soluble palladium-bacteriochlorophyll derivative, was able to produce long-lasting systemic anti-tumor immunity involving both cellular and humoral components, which could enhance host anti-tumor immunity for better disease control.
4.2. Cellular-targeted PDT and anti-angiogenesis therapy
In conclusion, targeting tumor vasculature with vascular and anti-angiogenic agents along with PDT is a promising treatment modality that can destroy tumor cells. An essential prerequisite to target vasculature is a photophysically defined PS localizing in the intravascular space and a specifically targeted angiogenic inhibitor with minimal toxicity.
5. Photodynamic Therapy-Mediated Immune Response
In addition to direct tumor cell killing and causing damage to tumor vasculature as discussed in the preceding sections, PDT has been shown to activate an anti-tumor immune response (reviewed in [
5
] and [
6
]). Thus a local treatment of tumors may lead to a systemic immune response against tumors outside of the treatment field. In recent years, there has been growing interest on this third aspect of PDT-mediated tumor destruction, as a combination of all three PDT mechanisms may lead to longer-term tumor control via anti-tumor action against both the primary and metastatic tumors [
1
,
2
,
5
,
6
]. PDT-activated immunity may therefore play an important role in determining the long-term treatment outcome. In this section, we will provide a brief overview of the PDT-mediated immune response as demonstrated in both pre-clinical and clinical studies.
5.1. Pre-clinical studies
Numerous pre-clinical studies have demonstrated the immuno-stimulatory capability of PDT and only a few will be highlighted here to illustrate the point. A study comparing the long-term effects of PDT between immuno-competent and immuno-deficient mice showed that the activity of host lymphoid populations was essential in preventing recurrence of tumors following PDT and that PDT-induced immune response contributed to the overall cure rate [
94
]. PDT has also been shown to result in the generation of tumor-sensitized immune cells that assert immune memory and that can be recovered from distant lymphoid sites even after long intervals following PDT [
95
]. In another study, antigen-presenting cells (APCs) isolated from PDT-treated mice were reported to exhibit an enhanced ability to stimulate T cell proliferation and T cell secretion of interferon-γ [
96
]. The results suggested that APC activity is increased following PDT. A more recent study showed that local PDT of tumors resulted in an enhanced anti-tumor immune memory, leading to CD8+ T cell control of tumors that were outside of the treatment field [
97
].
5.2. PDT-generated anti-tumor vaccines
In addition to the role of PDT in stimulating the host immune response, there's also interest in the potential of using PDT to generate anti-tumor vaccines. Gollnick
et al
reported that PDT-generated tumor cell lysates are strongly immunogenic and are effective anti-tumor vaccines [
98
]. Likewise, Korbelik
et al
successfully generated vaccines using PDT on both squamous cell carcinoma (SCC) cells
in vitro
and
ex vivo
SCC tumors. Such approaches point the way to PDT-generated vaccines targeting specific antigens of the patient's tumor, and hence are tailored to individual patients [
99
]. A Phase I clinical trial is currently underway to study the clinical efficacy of PDT-generated vaccines to activate immune responses to melanoma [
6
]. In this study, autologous vaccines generated by PDT treatment of surgically removed melanomas will be used to treat patients with advanced stage II in transit melanoma.
5.3. Clinical studies
In summary, PDT-activated anti-tumor immunity holds potential for the clinical treatment of both local and distant disease. Results from both pre-clinical and clinical studies show that it might be possible to modulate the PDT-mediated immune response via optimisation of the fluence rate or fluence rate in combination with the light fluence. The careful design of a PDT treatment regime leading to enhanced anti-tumor immunity thus offers the prospect of longer-term clinical tumor control.
6. Conclusions
This review highlights the recent diverse strategies to achieve targeted PDT by developing improved PSs or by combining PDT with vascular and anti-angiogenic agents, as well as by modulating PDT-mediated immune response. Careful selection of the PS, rational design and synthesis of the targeting moieties against specific receptors, design and development of efficient delivery vehicles and strategic incorporation of the PS into the delivery vehicles are critical for further improving and creating a PDT paradigm based on these targeted approaches. These targeted approaches along with appropriate combination of vascular and anti-angiogenic agents and tactical fine-tuning of light dosimetry to elicit an effective immune response could bring PDT to the forefront of cancer therapeutics.
© 2010 by the authors; licensee MDPI, Basel, Switzerland. This article is an open-access article distributed under the terms and conditions of the Creative Commons Attribution license (http://creativecommons.org/licenses/by/3.0/).