Open Access This article is
freely available
re-usable
Review
Mitogen-Activated Protein Kinase Inhibitors and T-Cell-Dependent Immunotherapy in Cancer
1
Department of Surgery, Division of Surgical Oncology, University of Illinois at Chicago, IL 60612, USA
2
Jesse Brown VA Medical Center, Chicago, IL 60612, USA
3
Medical Scientist Training Program, University of Illinois College of Medicine, Chicago, IL 60612, USA
4
University of Illinois Hospital & Health Sciences System Cancer Center, University of Illinois at Chicago, Chicago, IL 60612, USA
*
Author to whom correspondence should be addressed.
Received: 23 December 2019 / Accepted: 4 January 2020 / Published: 7 January 2020
Abstract
:
Mitogen-activated protein kinase (MAPK) signaling networks serve to regulate a wide range of physiologic and cancer-associated cell processes. For instance, a variety of oncogenic mutations often lead to hyperactivation of MAPK signaling, thereby enhancing tumor cell proliferation and disease progression. As such, several components of the MAPK signaling network have been proposed as viable targets for cancer therapy. However, the contributions of MAPK signaling extend well beyond the tumor cells, and several MAPK effectors have been identified as key mediators of the tumor microenvironment (TME), particularly with respect to the local immune infiltrate. In fact, a blockade of various MAPK signals has been suggested to fundamentally alter the interaction between tumor cells and T lymphocytes and have been suggested a potential adjuvant to immune checkpoint inhibition in the clinic. Therefore, in this review article, we discuss the various mechanisms through which MAPK family members contribute to T-cell biology, as well as circumstances in which MAPK inhibition may potentiate or limit cancer immunotherapy.
Keywords:
cancer; mitogen-activated protein kinase; T cells; Programmed cell death protein 1; Programmed death-ligand 1; cytotoxic T-lymphocyte-associated protein 4; T-cell anergy; immunotherapy
Author Contributions
S.K. and A.R.: manuscript writing and final approval of the manuscript; D.R.P. and G.S.: manuscript editing; S.K.S., N.V. and B.R.: manuscript writing. All authors have read and agreed to the published version of the manuscript.
Funding
We acknowledge funding supports from Veterans Affairs Merit Award and NCI/NIH grants: BX002703, CA 216410 and CA 176846 to A.R., and, BX003296 and CA 178063 to B.R. Additionally, D.R.P. is supported by NIH fellowship (1F30CA236031).
Acknowledgments
The authors would like to acknowledge Enrico Benedetti for providing access to departmental resources and financial support.
Conflicts of Interest
The authors declare no conflict of interest.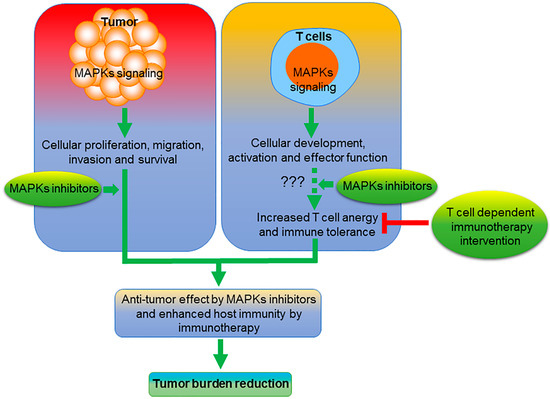 Figure 1. Schema describing the potential interaction between MAPK inhibitors and cancer immunotherapy. In the proposed model, we suggest that MAPK inhibition may function through two distinct mechanisms. While blockade of various MAPKs limits the proliferation of tumor cells and promotes apoptosis, they may also precipitate T-cell exhaustion and/or anergy, which may potentially be reversed through the use of selective immunotherapies.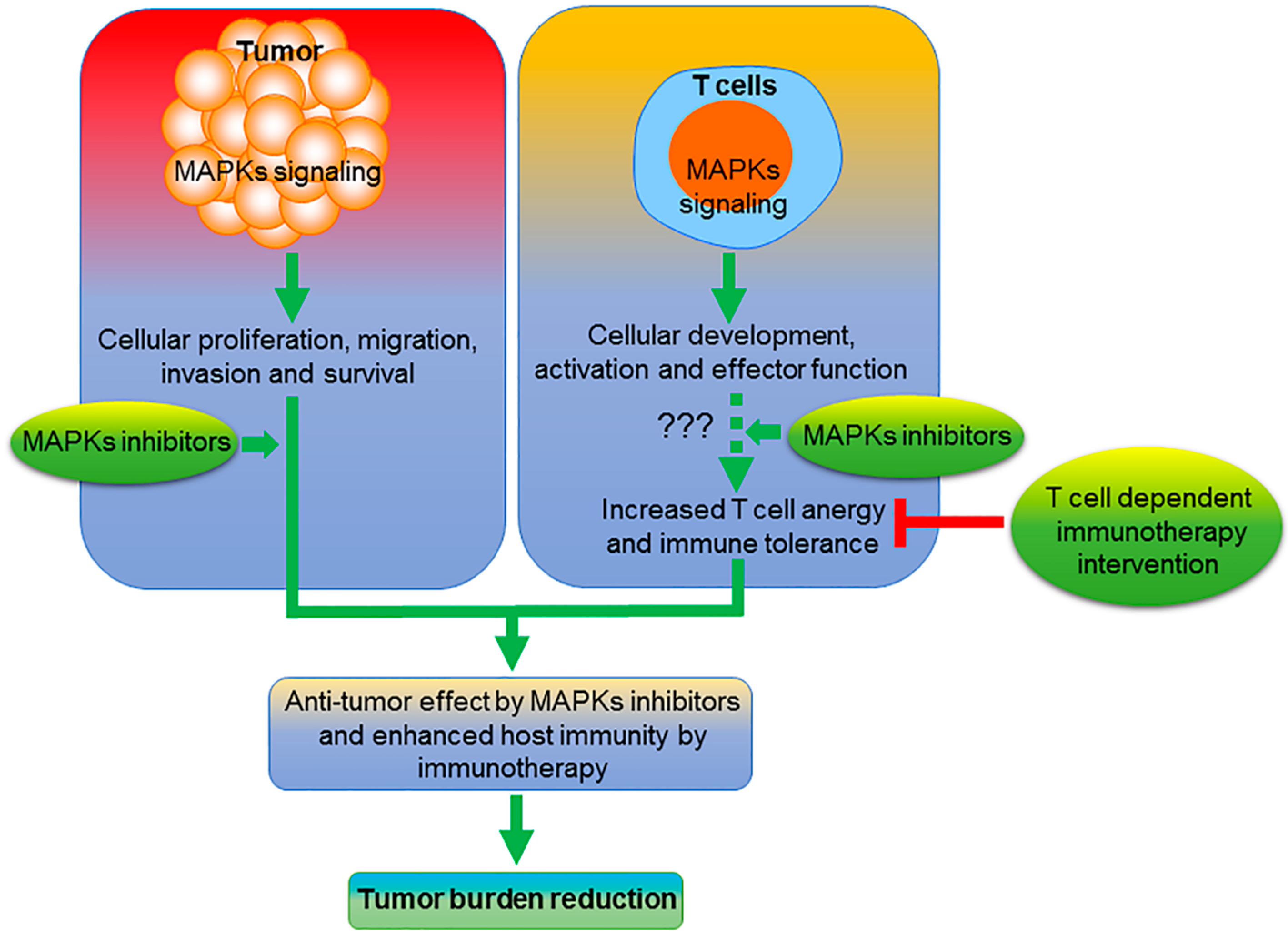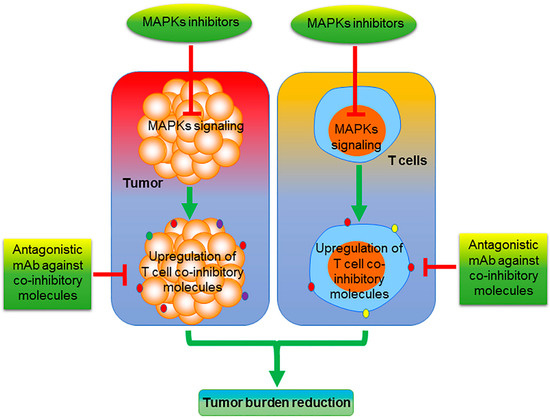 Figure 2. Schema describing the potential induction of T-cell coinhibitory molecules as an unintended consequence of MAPK inhibition. In the proposed model, we suggest that MAPK inhibition may lead to the unintended upregulation of coinhibitory, immune checkpoint molecules on the surface of cancer and T cells alike, which may facilitate tumor escape from immune surveillance. mAb, monoclonal antibody.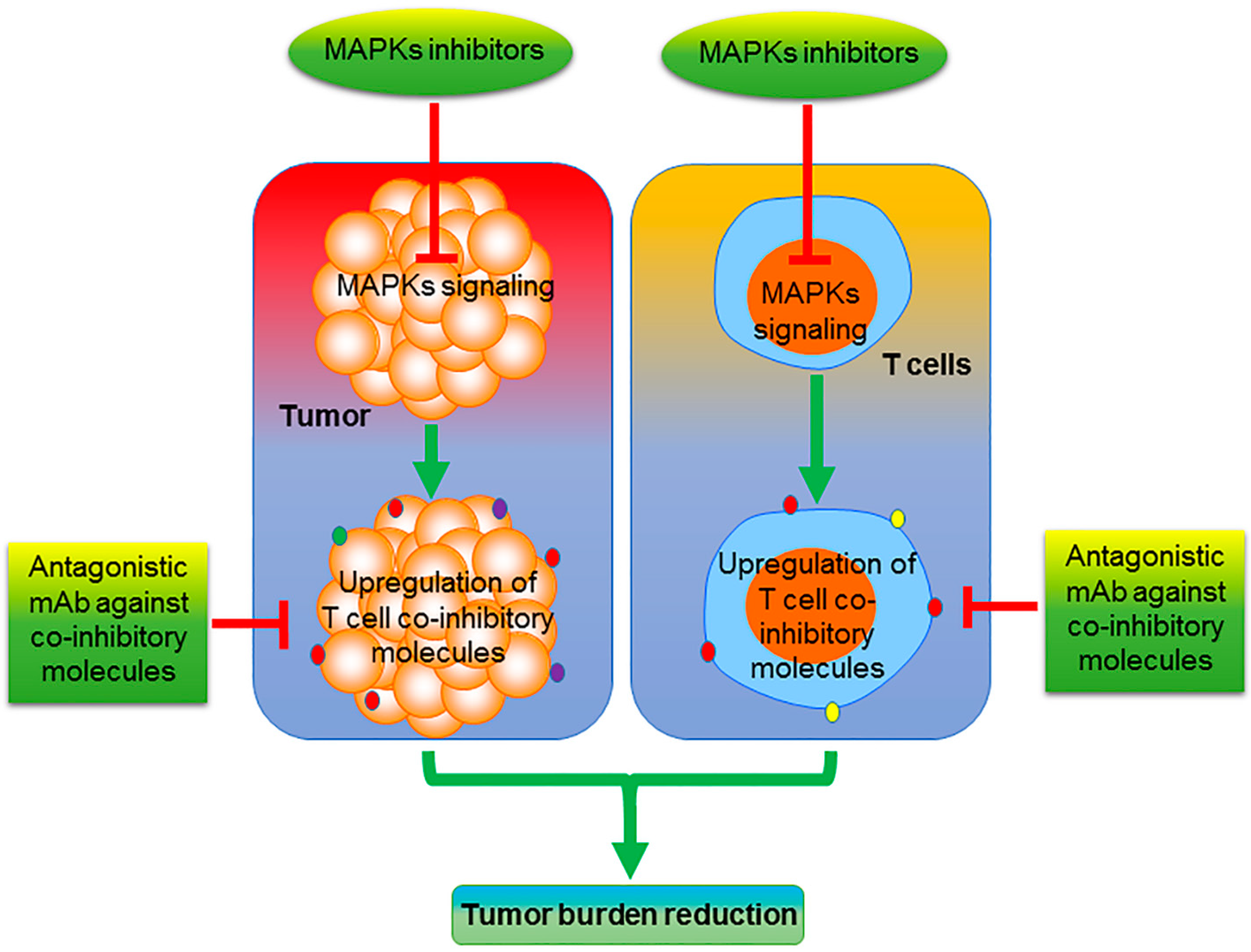 MEK/ERK Member
Inhibitor
Combination with Immunotherapy
Cancer Type
MEK1/2
Trametinib
4-1BB and OX40 agonist antibodies
Breast cancer [19]
Selumetinib
Anti-EGFR antibody
Lung adenocarcinoma [39]
G-38963
Anti-PD-L1 antibody
Colon carcinoma [40]
ERK1/2
BVD523
Positive outcomes in patients previously treated with immunotherapy
NRAS-, BRAF V600–, and non–V600 BRAF-mutant solid tumors [29]

© 2020 by the authors. Licensee MDPI, Basel, Switzerland. This article is an open access article distributed under the terms and conditions of the Creative Commons Attribution (CC BY) license (http://creativecommons.org/licenses/by/4.0/).