Open Access This article is
freely available
re-usable
Communication
Electron Microscopy of In-Plaque Phage T3 Assembly: Proposed Analogs of Neurodegenerative Disease Triggers
1
Department of Biochemistry and Structural Biology, The University of Texas Health Science Center, San Antonio, TX 78229–3900, USA
2
Department of Pathology, The University of Texas Health Science Center, San Antonio, TX 78229–3900, USA
*
Author to whom correspondence should be addressed.
Received: 19 December 2019 / Accepted: 15 January 2020 / Published: 18 January 2020
Abstract
:
Increased knowledge of virus assembly-generated particles is needed for understanding both virus assembly and host responses to virus infection. Here, we use a phage T3 model and perform electron microscopy (EM) of thin sections (EM-TS) of gel-supported T3 plaques formed at 30 °C. After uranyl acetate/lead staining, we observe intracellular black particles, some with a difficult-to-see capsid. Some black particles (called LBPs) are larger than phage particles. The LBP frequency is increased by including proflavine, a DNA packaging inhibitor, in the growth medium and increasing plaque-forming temperature to 37 °C. Acidic phosphotungstate-precipitate (A-PTA) staining causes LBP substitution by black rings (BRs) that have the size and shape expected of hyper-expanded capsid containers for LBP DNA. BRs are less frequent in liquid cultures, suggesting that hyper-expanded capsids evolved primarily for in-gel (e.g., in-biofilm) propagation. BR-specific A-PTA staining and other observations are explained by α-sheet intense structure of the major subunit of hyper-expanded capsids. We hypothesize that herpes virus triggering of neurodegenerative disease occurs via in-gel propagation-promoted (1) generation of α-sheet intense viral capsids and, in response, (2) host production of α-sheet intense, capsid-interactive, innate immunity amyloid protein that becomes toxic. We propose developing viruses that are therapeutic via detoxifying interaction with this innate immunity protein.
Keywords:
assembly-generated particles; obscure; phage capsids; protein staining; protein structure; thin sections
Author Contributions
Conceptualization, P.S.; methodology, B.H. and E.T.W; resources, B.H.; data curation, P.S.; writing—original draft preparation, P.S.; project administration, P.S.; funding acquisition, P.S. All authors have read and agreed to the published version of the manuscript.
Funding
This research was funded by the Welch Foundation, grant number AQ-764, and the San Antonio Area Foundation, Grant number 2018.
Conflicts of Interest
The authors declare no conflict of interest. The funders had no role in the design of the study; in the collection, analyses, or interpretation of data; in the writing of the manuscript, or in the decision to publish the results.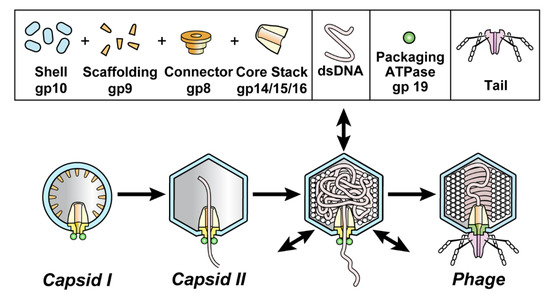 Figure 1. DNA packaging of the related phages, T3 and T7. Capsid I (left image) is assembled and then starts to package DNA while converting to capsid II (next image) and ultimately becomes a phage particle capsid (right image). The particles investigated here are dynamic capsid II expansion products that potentially mature to become capsids of phages; arrows in the third image from the left indicate expansion/contraction dynamism. Although pictured here as intermediates, intermediate status not been biochemically demonstrated for particles generated by shell dynamism. A detailed hypothesis is in reference 12.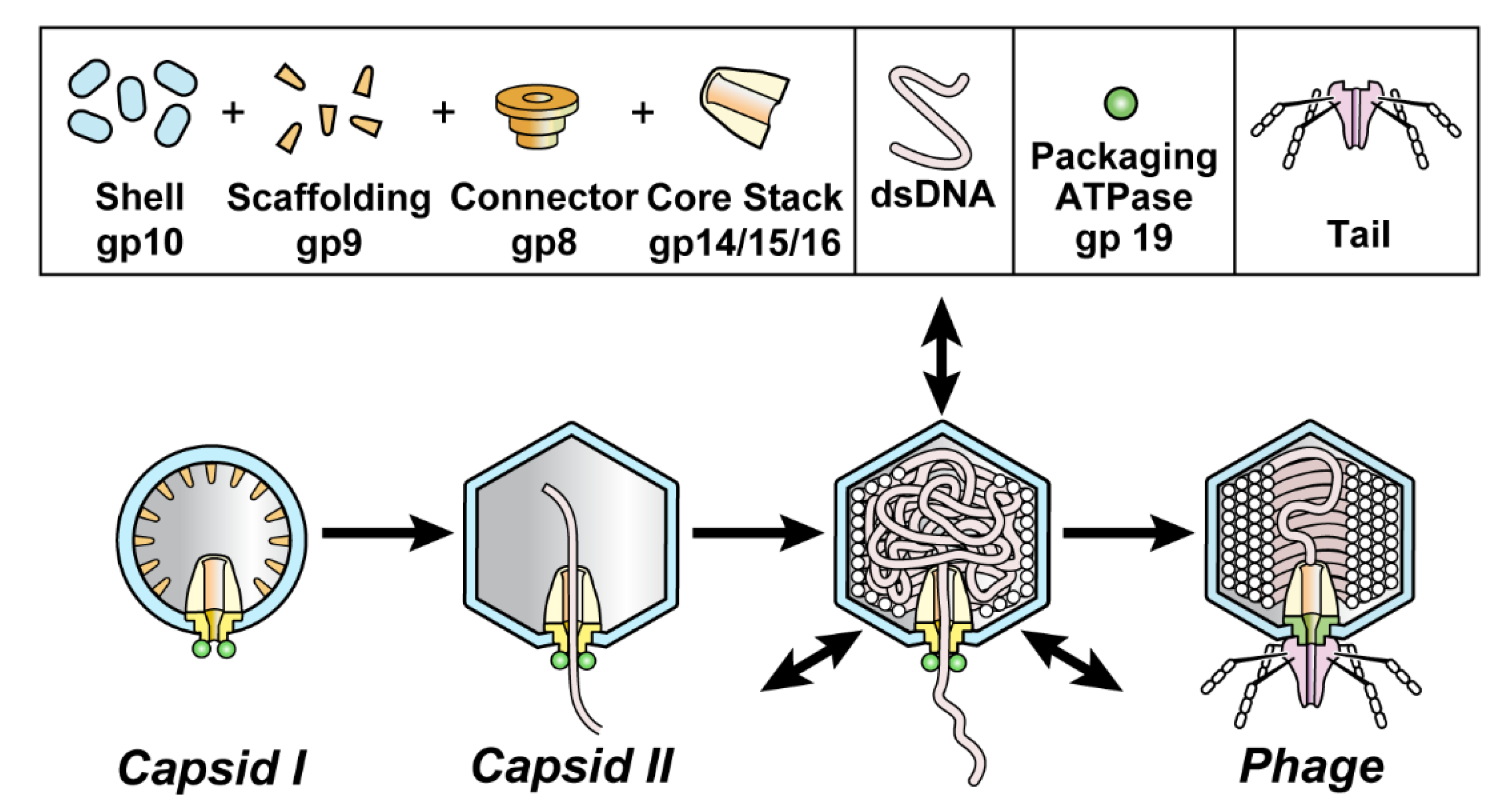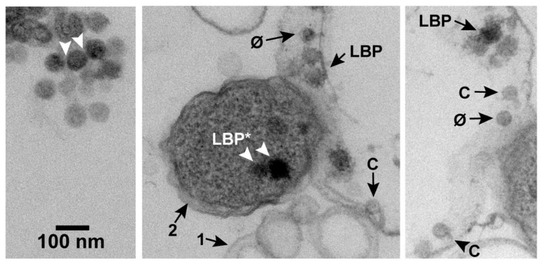 Figure 2. An image obtained by EM-TS of a phage T3 plaque. Annotations are described in the text. Uranyl acetate/lead staining was used. C, capsid; φ, phage; LBP, larger-than-phage black particle.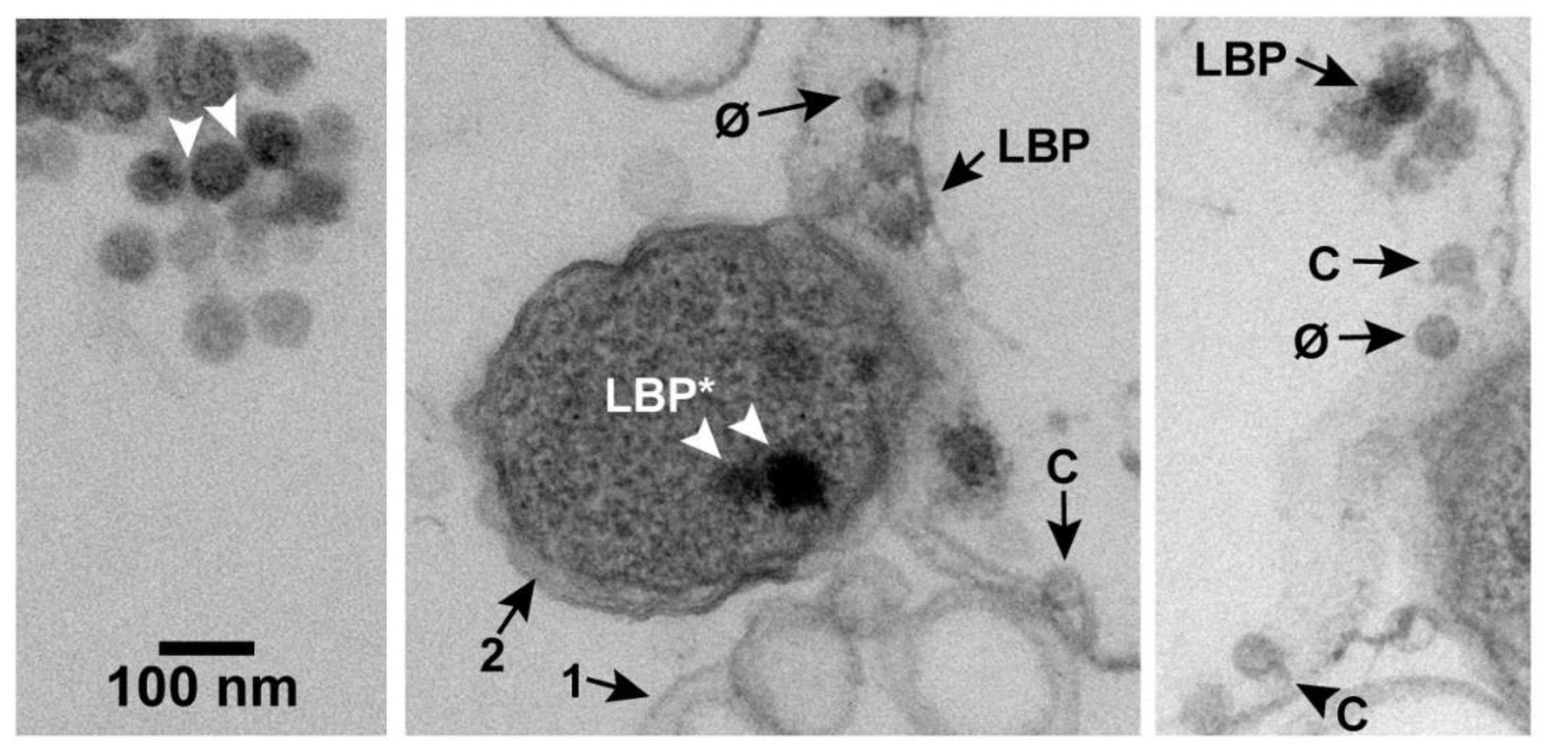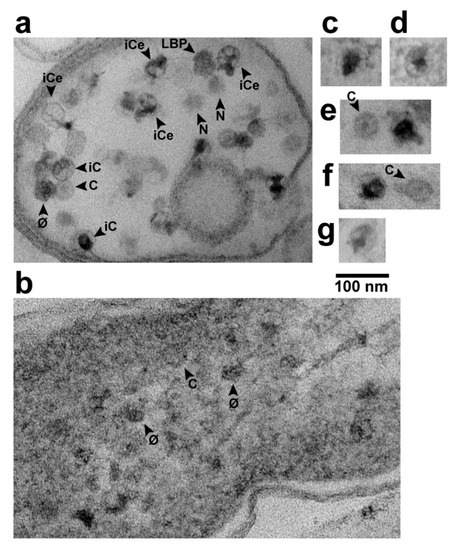 Figure 3. Phage assembly-generated particles seen in different contexts by in-plaque EM-TS. (a) the interior of a sub-cellular vesicle generated by cellular lysis and loss of cytoplasmic content, (b) the interior of an infected cell that has retained its cytoplasm with an end of the DNA-containing nucleoid at the upper right corner, (c–g) selected capsids with a hyper-expanded shell. Uranyl acetate/lead staining was used. φ, phage; C, capsid; iC, capsid with internal DNA; iCe, capsid with internal and external DNA; LBP, larger-than-phage black particle; N, LBP or φ, with equator not in the section.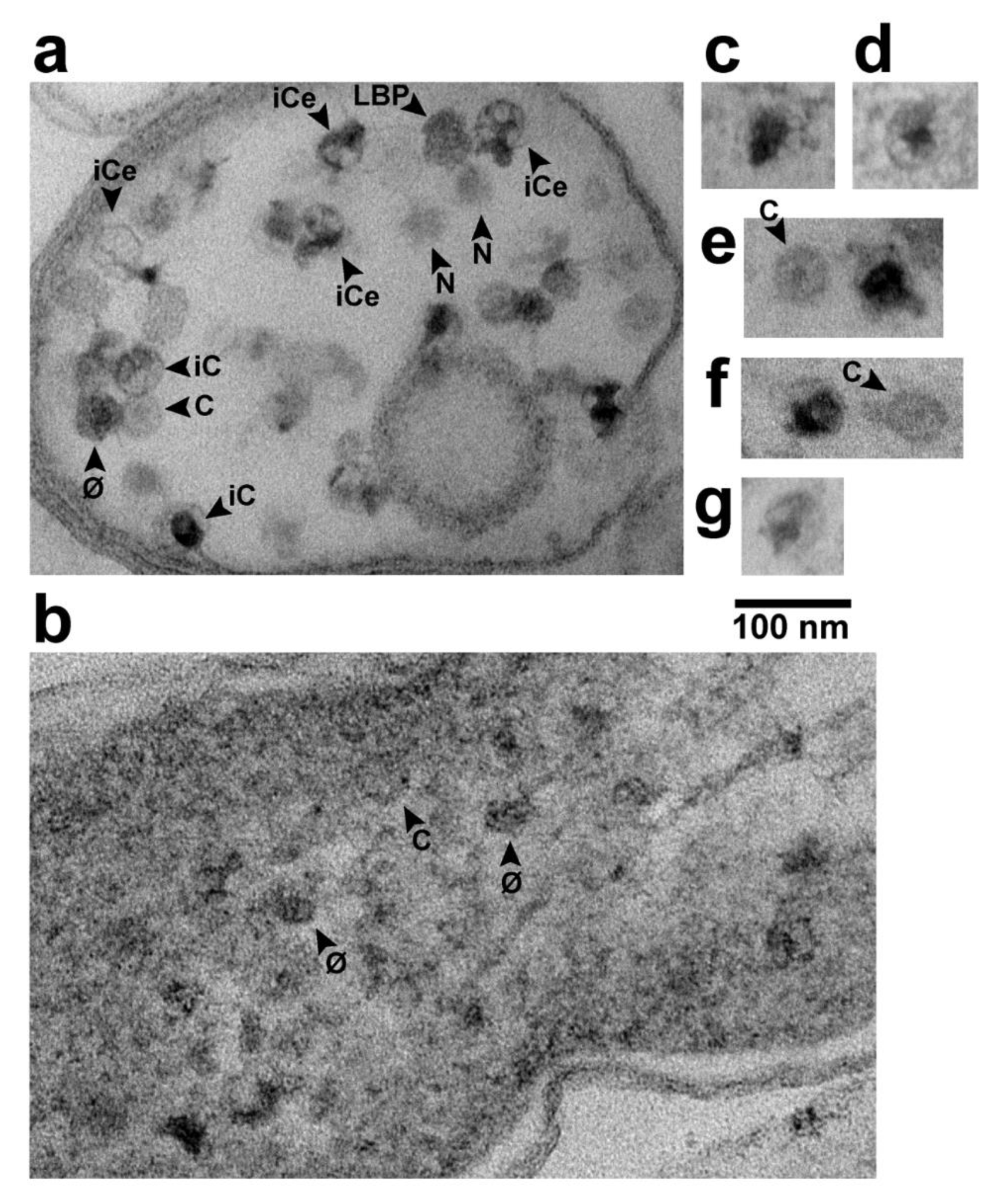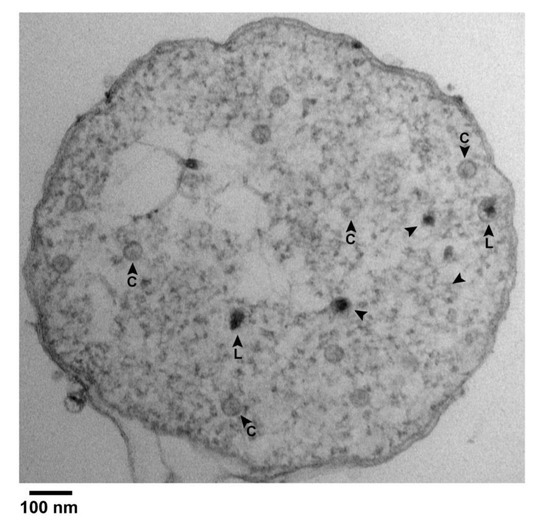 Figure 4. Black particles in a cell with partially leaked cytoplasm. Uranyl acetate/lead staining was used. An image is shown of the entire cross section of an infected cell. Arrowhead, black particle; C, capsid; L, large.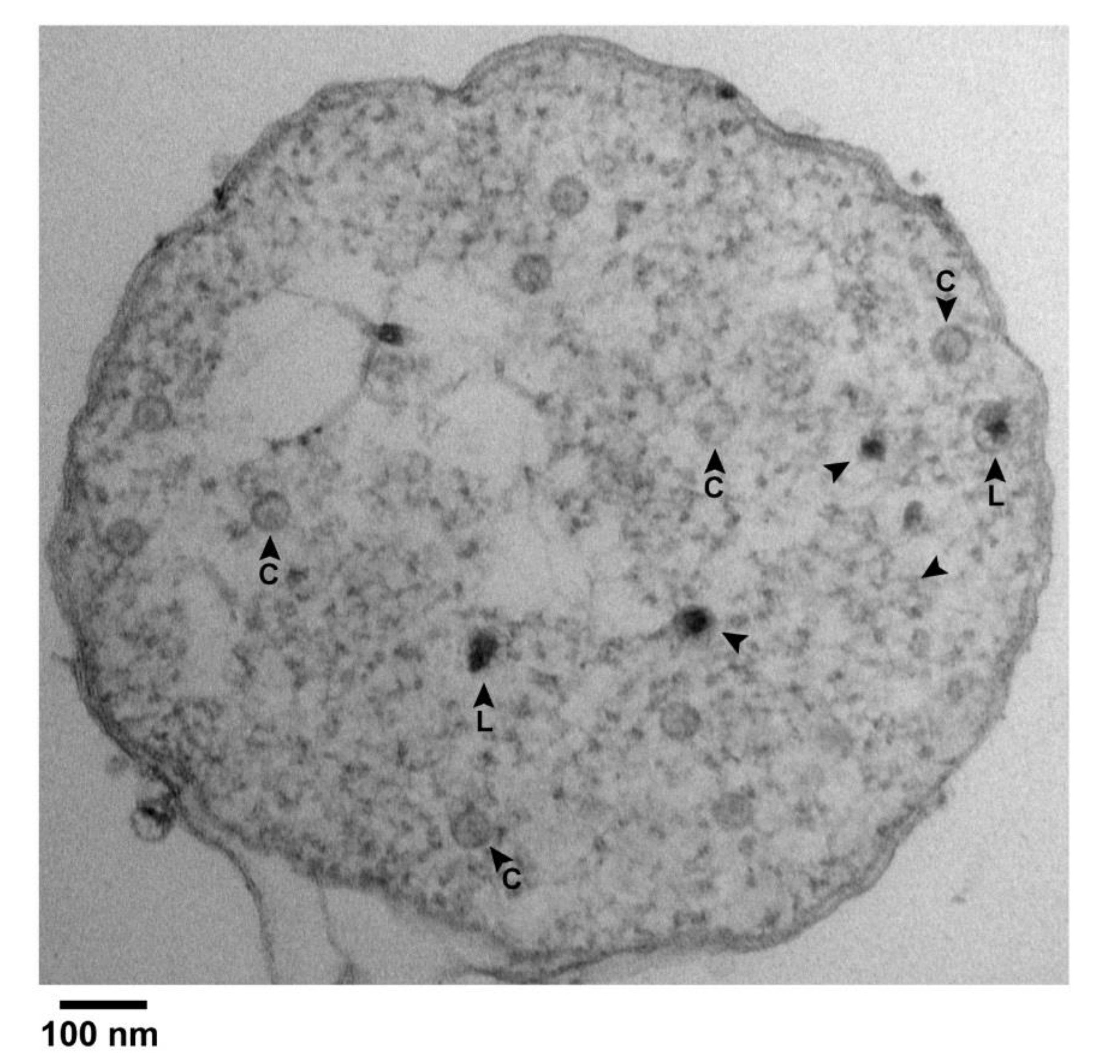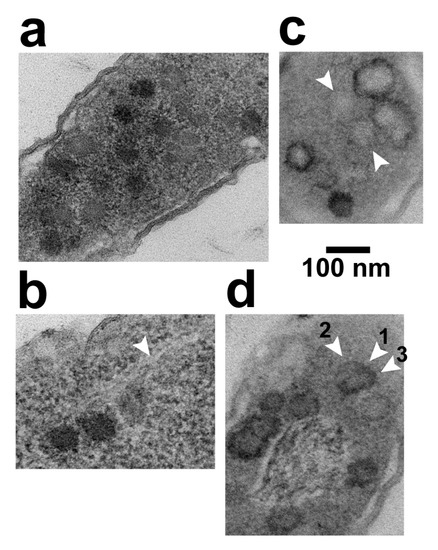 Figure 5. LBP*s and their shells. (a), (b) LBP*s in cells stained with uranyl acetate/lead; (c) as in (a,b) with A-PTA staining substituted for staining with lead/uranyl acetate; (d) as in (a), (b) with A-PTA staining after staining with lead/uranyl acetate.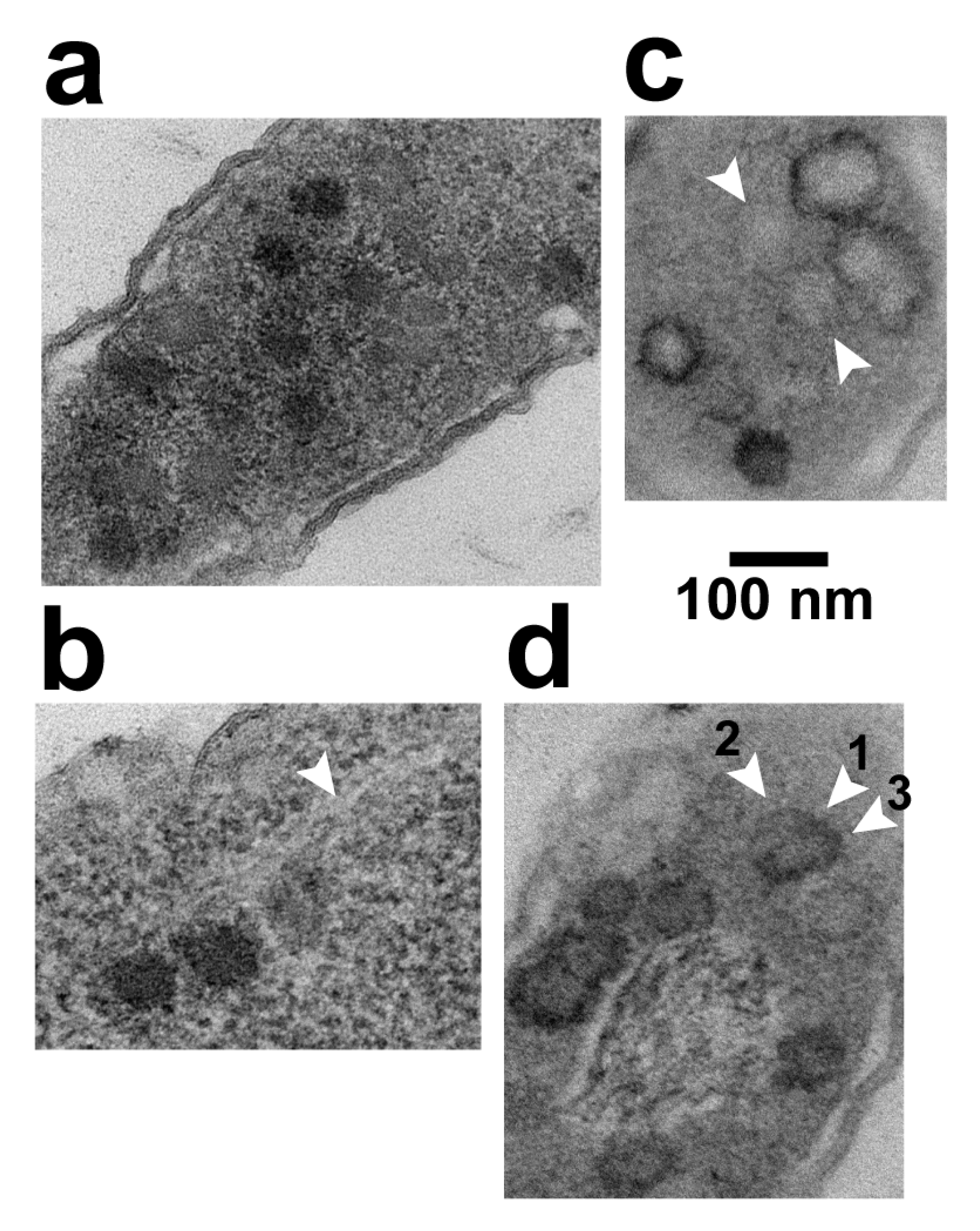 © 2020 by the authors. Licensee MDPI, Basel, Switzerland. This article is an open access article distributed under the terms and conditions of the Creative Commons Attribution (CC BY) license (http://creativecommons.org/licenses/by/4.0/).