Lipid Metabolism as a Source of Druggable Targets for Antiviral Discovery against Zika and Other Flaviviruses
Department of Biotechnology, Instituto Nacional de Investigación y Tecnología Agraria y Alimentaria (INIA), 28040 Madrid, Spain
*
Author to whom correspondence should be addressed.
Received: 14 May 2019 / Revised: 14 June 2019 / Accepted: 19 June 2019 / Published: 21 June 2019
Abstract
The Zika virus (ZIKV) is a mosquito-borne flavivirus that can lead to birth defects (microcephaly), ocular lesions and neurological disorders (Guillain-Barré syndrome). There is no licensed vaccine or antiviral treatment against ZIKV infection. The effort to understand the complex interactions of ZIKV with cellular networks contributes to the identification of novel host-directed antiviral (HDA) candidates. Among the cellular pathways involved in infection, lipid metabolism gains attention. In ZIKV-infected cells lipid metabolism attributed to intracellular membrane remodeling, virion morphogenesis, autophagy modulation, innate immunity and inflammation. The key roles played by the cellular structures associated with lipid metabolism, such as peroxisomes and lipid droplets, are starting to be deciphered. Consequently, there is a wide variety of lipid-related antiviral strategies that are currently under consideration, which include an inhibition of sterol regulatory element-binding proteins (SREBP), the activation of adenosine-monophosphate activated kinase (AMPK), an inhibition of acetyl-Coenzyme A carboxylase (ACC), interference with sphingolipid metabolism, blockage of intracellular cholesterol trafficking, or a treatment with cholesterol derivatives. Remarkably, most of the HDAs identified in these studies are also effective against flaviviruses other than ZIKV (West Nile virus and dengue virus), supporting their broad-spectrum effect. Considering that lipid metabolism is one of the main cellular pathways suitable for pharmacological intervention, the idea of repositioning drugs targeting lipid metabolism as antiviral candidates is gaining force.
View Full-Text
►

▼

Figures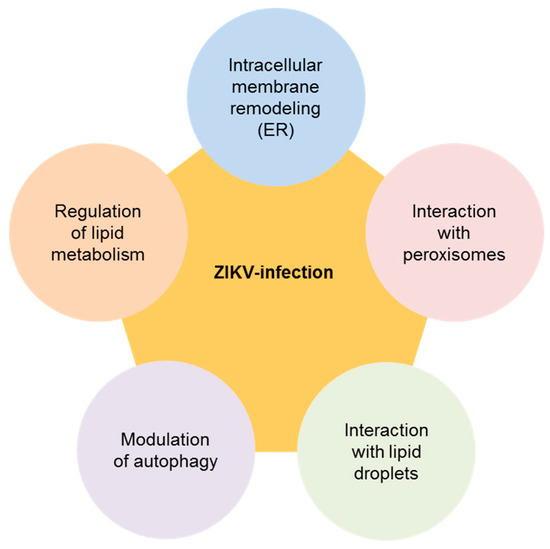 Figure 1
This is an open access article distributed under the
Creative Commons Attribution License
which permits unrestricted use, distribution, and reproduction in any medium, provided the original work is properly cited (CC BY 4.0).

Share & Cite This Article
MDPI and ACS Style
Martín-Acebes, M.A.; Jiménez de Oya, N.; Saiz, J.-C. Lipid Metabolism as a Source of Druggable Targets for Antiviral Discovery against Zika and Other Flaviviruses. Pharmaceuticals 2019, 12, 97.
Note that from the first issue of 2016, MDPI journals use article numbers instead of page numbers. See further details here.
Related Articles
Comments
[Return to top]