Open Access This article is
freely available
re-usable
Review
Endocannabinoids in Body Weight Control
Institute of Anatomy, Medical Faculty, University of Leipzig, 04103 Leipzig, Germany
†
These authors contributed equally.

Received: 28 April 2018 / Accepted: 28 May 2018 / Published: 30 May 2018
Abstract
:
Maintenance of body weight is fundamental to maintain one's health and to promote longevity. Nevertheless, it appears that the global obesity epidemic is still constantly increasing. Endocannabinoids (eCBs) are lipid messengers that are involved in overall body weight control by interfering with manifold central and peripheral regulatory circuits that orchestrate energy homeostasis. Initially, blocking of eCB signaling by first generation cannabinoid type 1 receptor (CB1) inverse agonists such as rimonabant revealed body weight-reducing effects in laboratory animals and men. Unfortunately, rimonabant also induced severe psychiatric side effects. At this point, it became clear that future cannabinoid research has to decipher more precisely the underlying central and peripheral mechanisms behind eCB-driven control of feeding behavior and whole body energy metabolism. Here, we will summarize the most recent advances in understanding how central eCBs interfere with circuits in the brain that control food intake and energy expenditure. Next, we will focus on how peripheral eCBs affect food digestion, nutrient transformation and energy expenditure by interfering with signaling cascades in the gastrointestinal tract, liver, pancreas, fat depots and endocrine glands. To finally outline the safe future potential of cannabinoids as medicines, our overall goal is to address the molecular, cellular and pharmacological logic behind central and peripheral eCB-mediated body weight control, and to figure out how these precise mechanistic insights are currently transferred into the development of next generation cannabinoid medicines displaying clearly improved safety profiles, such as significantly reduced side effects.
Keywords:
body weight; obesity; anorexia; cancer cachexia; endocannabinoids; cannabinoid type 1 receptor; CB1; allosteric CB1 ligands
Author Contributions
M.K. conceptualized, supervised and edited the manuscript. H.H., B.B., L.D. and M.K. wrote the manuscript and designed the figures.
Acknowledgments
This work was supported by the Deutsche Forschungsgemeinschaft CRC obesity mechanisms (1052/A7).
Conflicts of Interest
The authors declare no conflict of interest.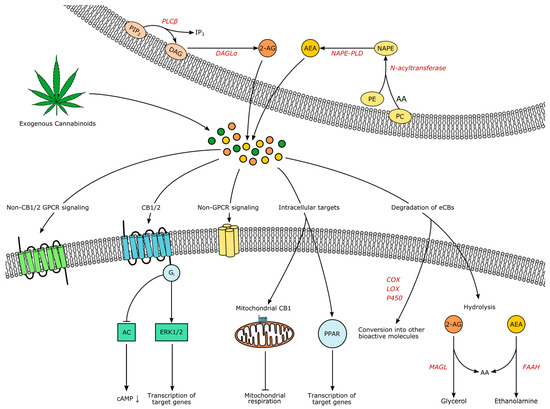 Figure 1.
The endocannabinoids (eCBs) AEA and 2-AG are produced on demand from lipid precursors and released to the extracellular space. Endogenous and exogenous cannabinoids act through the same signaling systems: Binding to Gi-coupled receptors CB1 or CB2 modulates intracellular cascades and leads for example to the inhibition of adenylyl cyclase (AC) or the regulation of transcription through extracellular signal-regulated kinases (ERKs). Alternative receptors are non-CB1/2 GPCRs, non-GPCRs like TRPV1 and, intracellularly, mitochondrial CB1 (mtCB1) and peroxisome proliferator-activated receptors (PPARs). Signaling is terminated through hydrolysis, but eCBs might also serve as substrates for cyclooxygenases (COXs), lipoxygenases (LOXs) or cytochromes P450 (P450), yielding additional bioactive compounds. Note that all illustrated processes do not have to take place in distinct cells as autocrine eCB signaling has been shown as well. Abbreviations: PIP2 phosphatidylinositol 4,5-bisphosphate, IP3 inositol-1,4,5-trisphosphat, DAG Diacylglycerol, PLC phospholipase C, DAGL diacylglycerol lipase, 2-AG 2-arachidonylglycerol, PC phosphatidylcholine, PE phosphatidylethanolamine, AA arachidonic acid, NAPE
N
-arachidonoyl phosphatidylethanolamine, NAPE-PLD NAPE-specific phospholipase D, MAGL monoacylglycerol lipase, FAAH fatty acid amide hydrolase.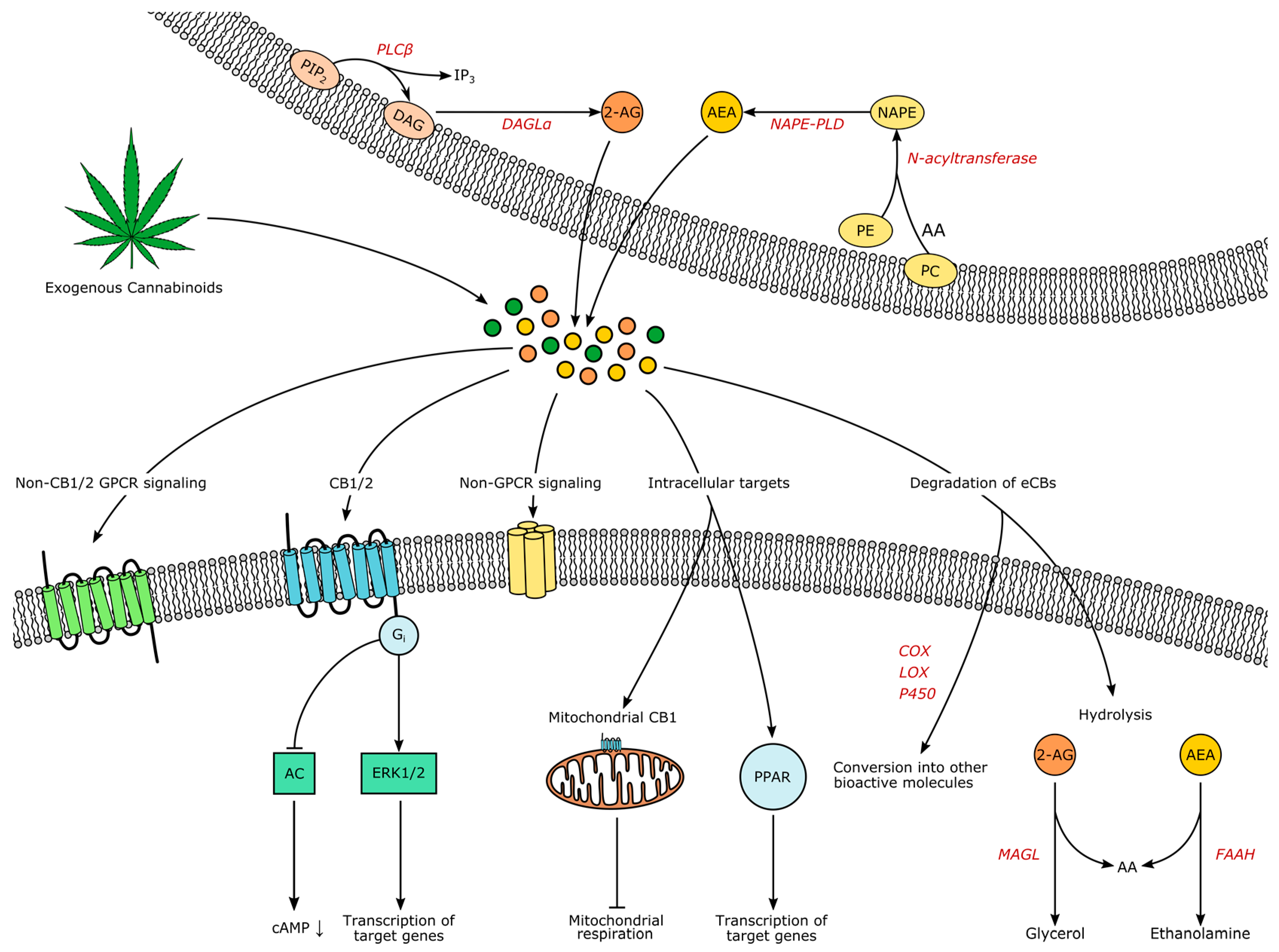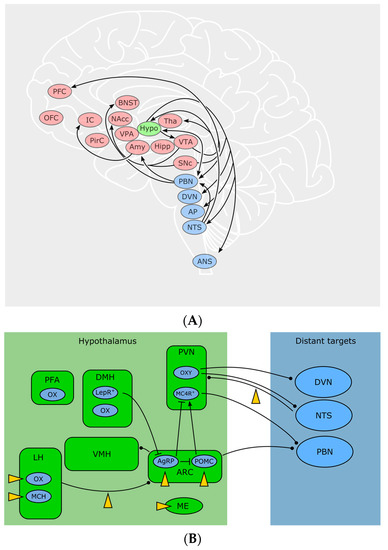 Figure 2. (A) Brain regions where the ECS influences different aspects of feeding. Blue: autonomous "hotspots" that convey sensory and visceral information from the periphery to the CNS and vice versa. Green: the hypothalamus is of pivotal significance for the integration of humoral and neuronal signals that evaluate the calorie supply of the whole body. Red: areas especially important for motivation, decision-making, emotion and reward—influencing complex behaviors such as foraging and the choice of food. Abbreviations: PFC prefrontal cortex, OFC orbitofrontal cortex, IC insular cortex, PirC piriform cortex, BNST bed nucleus of the stria terminalis, NAcc nucleus accumbens, VPA ventral pallidum, Amy amygdala, Hypo hypothalamus, Tha thalamus, Hipp hippocampus, VTA ventrotegmental area, SNc substantia nigra, pars compacta, PBN parabrachial nucleus, DVN dorsal nucleus of the vagus nerve, AP area postrema, NTS Nucleus of the solitary tract, ANS autonomic nervous system. (B) Pathways and cell types of hypothalamic circuits and their distant connections with the autonomous system. endocannabinoid system (ECS) targets marked by yellow arrowheads. Abbreviations: PFA perifornical area, LH lateral hypothalamus, DMH dorsomedial hypothalamus, VMH ventromedial hypothalamus, PVN paraventricular nucleus, ARC arcuate nucleus, ME median eminence, OX orexin, MCH melanin-concentrating hormone, LEPR leptin receptor, OXY oxytocin, MCR4 melanocortin type 4 receptor, DVN dorsal nucleus of the vagus nerve, NTS nucleus of the solitary tract, PBN parabrachial nucleus.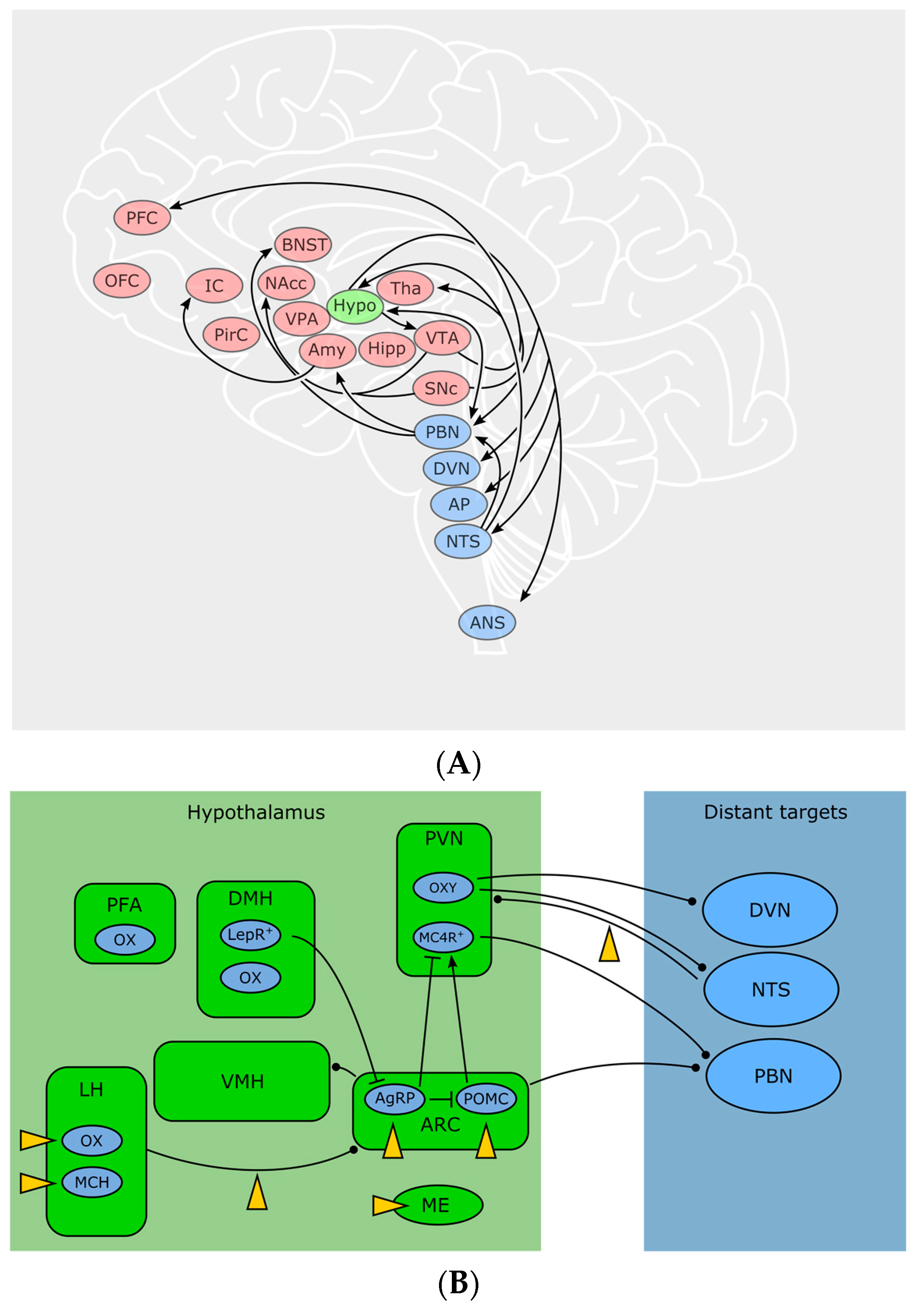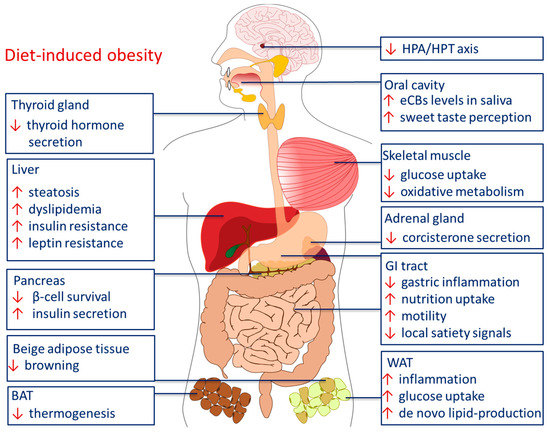 Figure 3. Peripheral effects of the ECS in diet-induced obesity. Abbreviations: BAT brown adipose tissue, HPA hypothalamic pituitary adrenal axis, HPT hypothalamic pituitary thyroid axis, GI gastrointestinal, WAT white adipose tissue.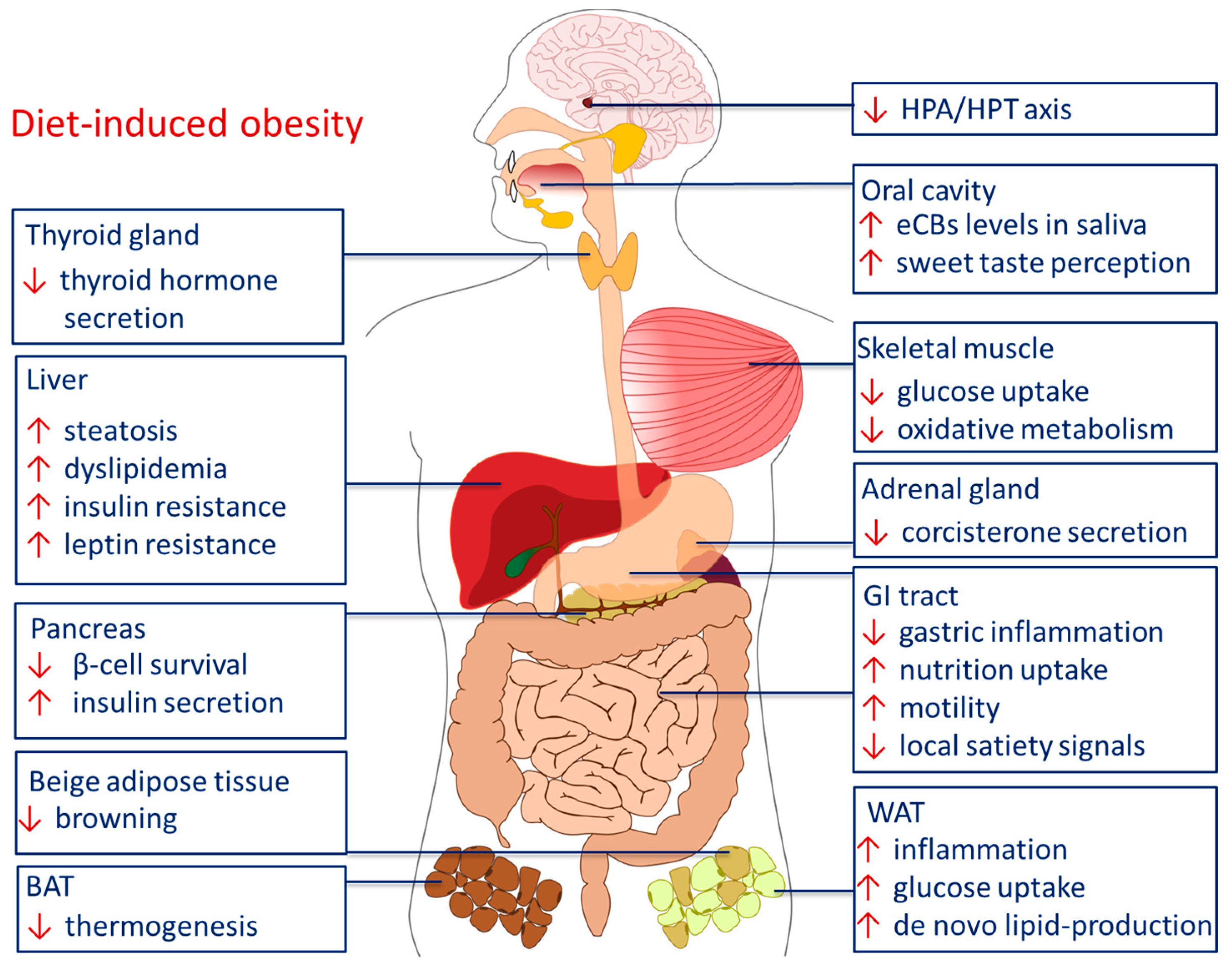 © 2018 by the authors. Licensee MDPI, Basel, Switzerland. This article is an open access article distributed under the terms and conditions of the Creative Commons Attribution (CC BY) license (http://creativecommons.org/licenses/by/4.0/).