Open Access This article is
freely available
re-usable
Review
The Role of TRP Channels in the Metastatic Cascade
Institut für Physiologie II, Robert-Koch-Str. 27b, 48149 Münster, Germany
*
Author to whom correspondence should be addressed.
Received: 20 April 2018 / Accepted: 16 May 2018 / Published: 17 May 2018
Abstract
:
A dysregulated cellular Ca2+ homeostasis is involved in multiple pathologies including cancer. Changes in Ca2+ signaling caused by altered fluxes through ion channels and transporters (the transportome) are involved in all steps of the metastatic cascade. Cancer cells thereby "re-program" and "misuse" the cellular transportome to regulate proliferation, apoptosis, metabolism, growth factor signaling, migration and invasion. Cancer cells use their transportome to cope with diverse environmental challenges during the metastatic cascade, like hypoxic, acidic and mechanical cues. Hence, ion channels and transporters are key modulators of cancer progression. This review focuses on the role of transient receptor potential (TRP) channels in the metastatic cascade. After briefly introducing the role of the transportome in cancer, we discuss TRP channel functions in cancer cell migration. We highlight the role of TRP channels in sensing and transmitting cues from the tumor microenvironment and discuss their role in cancer cell invasion. We identify open questions concerning the role of TRP channels in circulating tumor cells and in the processes of intra- and extravasation of tumor cells. We emphasize the importance of TRP channels in different steps of cancer metastasis and propose cancer-specific TRP channel blockade as a therapeutic option in cancer treatment.
Keywords:
metastatic cascade; TRP channels; tumor microenvironment; transportome
2. TRP Channels in Cancer Cell Migration and Invasion
Cell migration involves a large variety of temporally and spatially coordinated processes ranging from cell polarization, adhesion/de-adhesion to/from the surrounding matrix and/or neighboring cells, as well as extensive cytoskeletal and membrane dynamics [
70
,
71
,
72
]. Many components of the migration machinery are Ca
2+
-sensitive, including myosin-II [
73
], focal adhesions [
74
] or Ca
2+
-sensitive ion channels [
72
]. Hence, the intracellular Ca
2+
concentration of migrating tumor (stroma) cells is tightly regulated, both spatially and temporally [
75
]. In fact, it is widely accepted that ion transport across the plasma membrane via numerous Na
+
, Ca
2+
and K
+
channels and transporters is crucial for cell migration [
7
,
72
,
76
]. Additionally, ion and H
2
O fluxes strongly depend on an appropriate plasma membrane potential (V
m
). V
m
as a key biophysical signal thereby regulates e.g., cell volume and migration and provides the driving force for Ca
2+
influx. Hyperpolarization and depolarization can directly affect normal cell as well as cancer cell function. A depolarized V
m
in many cancer types could be linked to e.g., cancer cell proliferation (reviewed in [
77
]). The following chapter will focus on the role of TRP channels in cancer cell migration and invasion.
Before summarizing recent findings in the field, we would like to critically discuss the experimental approaches. The gold standard is intravital microscopy because cells are migrating in their complex physiological environment. But it is not trivial to control and manipulate individual components of the tumor microenvironment such as pH or mechanical properties. Controlling the ambient conditions is more easily achieved in an in vitro setting, yet in a reductionist fashion. Boyden chambers for example are popular for in vitro assays of tumor cell invasion. A frequently used protocol is to coat the filter membranes with matrix proteins and induce "invasion" by applying a chemotactic gradient. However, under such experimental conditions it is impossible to distinguish "invasion" from chemotaxis. Inhibiting chemotaxis will lead to the same readout as inhibiting "invasion" since the steering mechanisms can be affected without impairing the migration motor [
78
,
79
]. Inhibiting either mechanism will lead to a reduced number of cells reaching the lower compartment of the Boyden chamber. Unfortunately, the proper control experiments, i.e., the use of Boyden chambers in the absence of chemotactic gradients are not always performed. Wound healing assays are also often used for migration analysis and can be a suitable approach to evaluate directionality of cell movement. Migration analysis within a 3D matrix as well can be a useful tool to analyze the matrix invasion of tumor cells; here, translocation as well as matrix digestion via e.g., MMP secretion should be taken into account. The papers cited below are mainly limited to studies considering the above-mentioned criteria.
3. Influence of the Tumor Microenvironment on TRP Channels
The initial step of cancer cell invasion and migration out of the primary tumor is strongly regulated by a variety of tumor microenvironmental factors like pH, hypoxia, matrix stiffness, cytokines and the infiltrating cellular components such as fibroblasts and immune cells. The following chapter will link these factors to TRP channel function in tumor progression and invasion.
3.1. pH
3.3. Cytokines
The tumor microenvironment is a rich source of cytokines and growth factors secreted by tumor cells, stromal cells and infiltrating immune cells. Cytokine and growth factor receptors frequently trigger TRP channel-dependent signaling cascades [
137
]. In addition, TRP channels can also modify cytokine secretion of cancer and stroma cells and thereby modify the composition of the tumor microenvironment. However, it must be stated at this point that many of the studies investigating the role of TRP channels in cytokine secretion were not made with tumor cells. Nonetheless, they can be taken as proof-of-principle and studies made with immune cells are highly relevant because of the consistent immune cell infiltration of the tumor stroma.
TRPM2 is important for secretion of IL-2, IFNү and IL-17 in T-lymphocytes [
138
] as well as for IL-8 secretion in monocytes [
139
]. Stimulation of TRPM3 channels leads to activation of extracellular signal-regulated protein kinase (ERK1/2) and transcription of IL-8, a proinflammatory CXC chemokine important for proliferation, survival and migration of cancer cells in lung cancer and PDAC [
140
,
141
,
142
,
143
]. TRPM8 inhibition in murine peritoneal macrophages leads to a pro-inflammatory cytokine profile with increased TNFα and decreased IL-6 secretion [
144
]. TRPM8 activators like eucalyptol inhibit secretion of TNFα, IL-1β, IL-6 and IL-8 in monocytes [
145
]. In lung epithelial cells, TRPM8 activation increases transcription of IL-1α, IL-1β, IL-4, IL-6, IL-8, IL-13 and TNFα [
146
].
Ca
2+
entry through TRPV2 was shown to be involved in IL-6 secretion in RAW264 and murine macrophages [
147
]. IL-8 secretion in human non-melanoma skin cancer can be stimulated by TRPV4, thereby leading to a possibly inhibitory autocrine circuitry, because IL-8 induces the downregulation of TRPV4 channels [
148
]. In human airway epithelial NCI-H292 cells, TRPV4 activation triggers Ca
2+
entry and release of IL-8 and prostaglandin E
2
(PGE
2
) in vitro and increases KC levels in in vivo murine bronchoalveolar lavage fluids [
149
].
3.4. Mechanical Properties of Tumor Cells and the Tumor Microenvironment
3.5. Stroma Cells
Taken together, the tumor microenvironment encompasses a wealth of different stimuli that shape cancer and stromal cell behavior. TRP channels are not only the sensors for these stimuli, they are also involved in transducing these external stimuli to altered cellular behavior and finally modify the tumor microenvironment by inducing e.g., cytokine secretion.
4. TRP Channels in Tumor Vascularization
Tumor cells must have access to blood or lymph vessels in order to spread within the body. They can either enter already existing vessels in the host organ, or they can enter newly formed vessels within the tumor. Thus, tumor angiogenesis is generally a prerequisite for metastasis. Tumor angiogenesis is initiated among others by growth factors secreted by tumor cells into the hypoxic tumor microenvironment such as VEGF, EGF and many others [
95
]. It strongly relies on intracellular Ca
2+
signaling which may in part be mediated by TRP channels (reviewed in [
95
,
182
,
183
]). However, there are discrepancies between in vitro and in vivo studies. While the former reveal a participation of TRPC1 and TRPC6 channels in endothelial tube formation [
184
,
185
], the respective knockout mice appear to have a normal vasculature [
3
,
186
]. On the other hand, modulating TRPV4 channel activity pharmacologically (4α-PDD; [
187
]) or mechanically [
188
] elicits concordant effects in vivo and in vitro. It is interesting to note that altered expression of TRP channels is also observed in tumor-derived endothelial cells. This has been well documented for TRPV4 channels in breast cancer and prostate cancer-derived endothelial cells [
167
,
189
,
190
].
5. Extravasation of Tumor Cells
6. Pharmacologic Targeting of TRP Channels in Cancer
This review emphasizes the therapeutic potential of targeting TRP channels in cancer. TRP channels can already be used as prognostic and predictive clinical markers because TRP channel expression strongly correlates with patient survival (e.g., [
205
,
206
,
207
,
208
,
209
]). The pharmacological targeting of TRP channels offers the advantage that tumor, stroma and immune cells can be targeted simultaneously with potentially only one drug. For example, TRPC6 channels are expressed in hepatocellular carcinoma cells [
210
], in hepatic stellate cells [
127
], endothelial cells [
203
] and in neutrophil granulocytes [
79
]. Moreover, their inhibition is at least partially effective in tumors that are resistantt to chemotherapy [
210
]. Thus, TRP channel blockade may not only interrupt the mutual activation of tumor and stroma cells. When combined with conventional chemotherapeutics it also offers the opportunity to reduce their dosage and thereby lessen the severity of side effects. The challenge will be to selectively target TRP channel modulators to the tumor in order to avoid systemic side effects. We refer to the review by Gautier and colleagues for an overview of the pharmacological approach of targeting TRP channels in cancer [
211
].
Some approaches use the fact that TRP channels are upregulated in tumorigenic cells, so that targeted TRP channel activation leads to Ca
2+
and Na
+
influx, disruption of the ionic homeostasis and subsequent cell death. For the TRPM8 activator D3263, a clinical Phase 1 dose escalation study (NCT00839631) led to disease stabilization in prostate cancer patients. Another TRPM8 activator, WS-12, may be used as a diagnostic marker for prostate cancer by incorporating radiohalogens [
212
,
213
]. Another example is the Phase 1 trial of SOR-C13 (NCT01578564), a TRPV6 inhibitor. TRPV6 inhibition aims to suppress Ca
2+
-mediated cancer proliferation and metastasis e.g., in SCLC, prostate or pancreas cancer [
66
,
214
,
215
].
For ion channel inhibitors, the possible target is typically located in plasma membrane. The drug must only diffuse through the capillaries and the tissue to reach its target. Disease- and drug-derived factors (e.g., interstitial pH) significantly contribute to the differential distribution in the tissues. Therefore, relying solely on total drug concentration has the potential to introduce significant errors into the interpretation of drug delivery mechanisms. To assess the pharmacokinetic properties of potential drugs, it is crucial to also assess the free, unbound drug concentration, which refers to compounds that are for example not bound to plasma proteins [
216
]. In case of TRP channel inhibitors, it is still necessary to assess the amount of unbound drug concentration in the vicinity of the migrating cancer cells.
However, most of the cancer-associated TRP channels are far away from being targeted in clinical trials and developing suitable TRP channel modulators in combination with cancer-specific applications is urgently needed.
7. Conclusions and Open Questions
Recapitulating our knowledge on TRP channel regulation and function, it becomes obvious, that they play an important role in the dissemination of cancer cells and in disease progression (see
Figure 1
). In our view their contribution to cancer progression can be attributed at least in part to the fact that they are multimodal sensors and transducers/effectors of microenvironmental cues encountered by cancer cells during the metastatic cascade. They respond to many of the chemico-physical stimuli that are relevant for the metastatic spread of cancer cells. In light of the prognostic relevance of metastases, it is not surprising that there are strong correlations between TRP channel expression in tumors and the overall survival of the diseased patients. This review also shows that TRP channel functions in metastasis and cancer in general are still far from being fully understood. Many studies do not provide a detailed look on the mechanistic steps and signaling cascades regulated by TRP channels. Moreover, there is an almost complete lack of knowledge concerning the role of TRP channels in the processes of intra- and extravasation. It is equally unknown whether they play a role in circulating tumor cells. Circulating tumor cells are exposed to a massive mechanical stress so that one can expect a strong activation of mechanosensitive TRP and PIEZO channels potentially leading to a Ca
2+
overload. While the overexpression of many TRP channels involved in mechano-signaling promotes aggressive tumor cell behavior, this may not be the case for the "success" of circulating tumor cells.
During the metastatic cascade, cancer cells have to respond to various chemico-physical stimuli such as changes in pH, hypoxia, ROS, mechanical cues and growth factor and cytokine gradients. Cancer cells use TRP channels to sense, modify and regulate these stimuli during the different steps of the metastatic cascade/during tumor progression. This figure highlights important TRP channels within the metastatic cascade. Open questions are stressed with question marks.
There are clearly two major quests for the field of TRP channels in cancer. One is to delineate in more detail the contribution of TRP channels to the metastatic cascade. A molecular understanding of the role of TRP channels therein is a prerequisite for developing new (TRP channel-targeting) therapeutic concepts. Novel microfluidic techniques as well as biophysical techniques such as atomic force microscopy will be valuable approaches for deciphering the role of TRP channels in intra- and extravasation of tumor cells and also in circulating tumor cells. The second challenge is to continue the development of new and specific TRP channel modulators so that the therapeutic potential of aberrant TRP channel function in the metastatic cascade can be evaluated pharmacologically and eventually be translated clinically. In our view, the responsiveness of TRP channels to cues from the tumor microenvironment makes them very attractive targets. Their attractiveness is reinforced by the fact that they allow simultaneous targeting of both tumor and stromal cells. Moreover, there is growing evidence that TRP channel modulation constitutes a new approach to overcome resistance to "conventional" cancer therapeutics (e.g., [
210
,
217
]). Thereby, the vicious cycle of mutual activation of tumor and stromal cells can potentially be interrupted.
Acknowledgement
The authors wish to thank past and present members of their laboratory whose enthusiastic work contributed largely to developing the concepts described in this review. A.S. acknowledges support from the Deutsche Forschungsgemeinschaft (DFG; SCHW 407/17-1), Cells-in-Motion Cluster of Excellence (EXC 1003-CiM), University of Münster, Germany and IZKF Münster (Schw2/020/18). B.F. received support from Cells-in-Motion Cluster of Excellence (EXC 1003-CiM; PP 2016-12).
Conflicts of Interest
The authors declare no conflict of interest.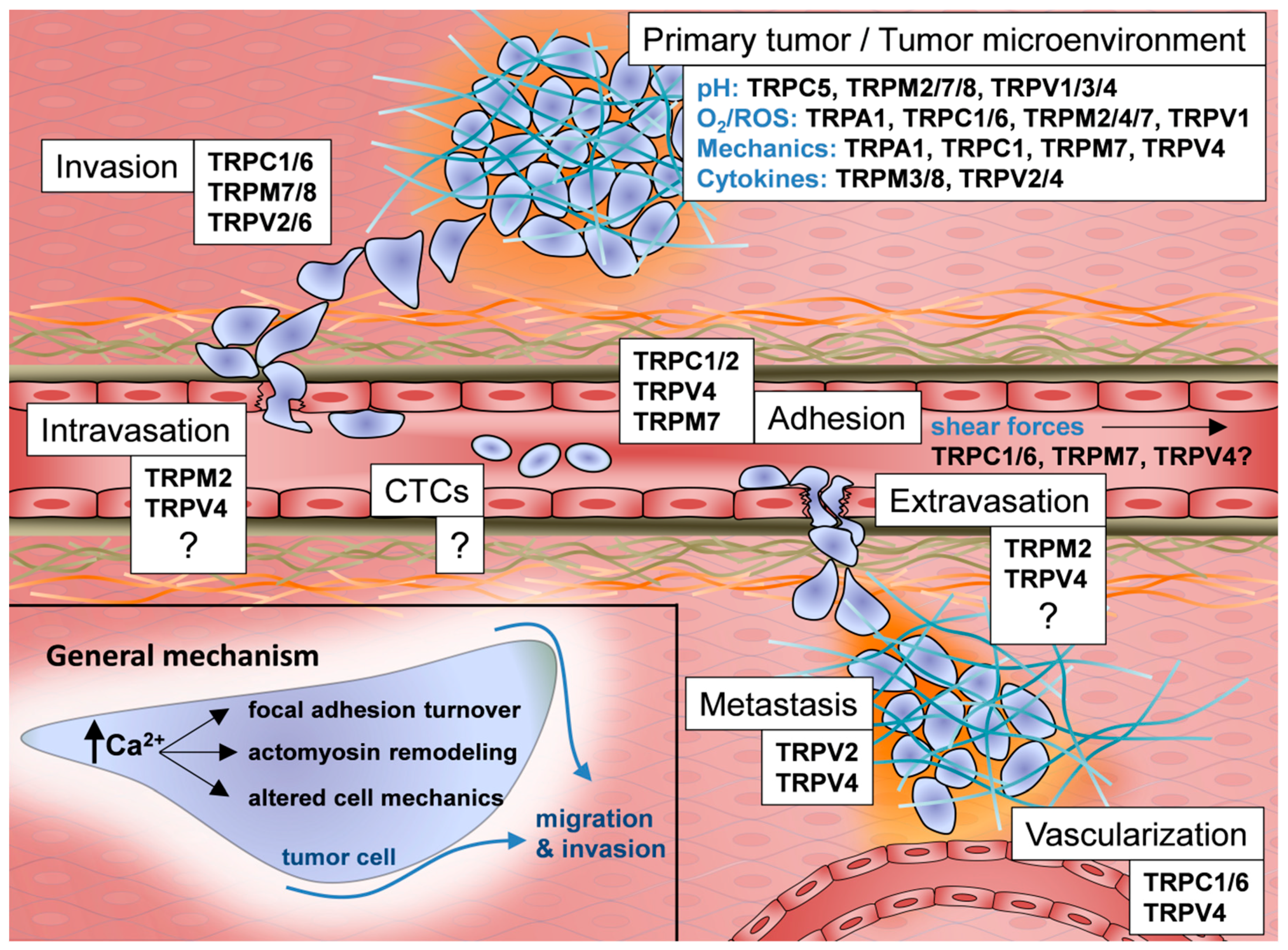 Channel
Cancer Type
Cell line/Tissue
Function/Phenotype
Ref.
TRPA1
Lewis Lung carcinoma
LLC-2
adhesion
[33]
TRPC1
Breast cancer
MDA-MB-231/MCF-10A
migration
proliferation
[34]
[35]
Pancreatic cancer
PDAC
BxPc3
Capan-1
migration
[36]
Non-small cell lung cancer (NSCLC)
A549/H1299
proliferation
[37]
Nasopharyngeal carcinoma
CNE2
adhesion
[38]
Glioblastoma
U251
migration
[39]
Thyroid cancer
ML-1
migration, invasion
[40]
TRPC4
Medulloblastoma
DAOY, ONS76, UW228-1
migration
[41]
TRPC5
Colon cancer
SW620/HT29/tissue
proliferation, migration, invasion
[42]
TRPC6
Glioblastoma
U373MG
tumor growth, invasion, angiogenesis
[43]
NSCLC
A549
proliferation, invasion
[44]
Prostate cancer
tissue
expression in metastatic tissues
[45]
Liver cancer
Huh-7/tissue
proliferation, expression
[46]
TRPM7
Pancreatic cancer
PDAC
Panc-1/MiaPaCa2/tissue
proliferation, invasion
[28,47]
NSCLC
A549
migration
[48]
Breast cancer
MDA-MB-231/tissue
MDA-MB-231
MDA-MB-435 *
MDA-MB-468
migration, adhesion, cell tension, lung metastasis
migration, expression in invasive ER- ductal carcinoma tissue
migration, EMT transition
[49]
[50]
[51]
[52]
Nasopharyngeal carcinoma
NPC SUNE1/5-8F
migration
[53]
Ovarian cancer
SKVO-3
migration, adhesion, colony formation
[54]
TRPM8
Oral squamous cell carcinoma
HSC3/4
migration, MMP
[55]
Breast cancer
MCF-7/MDA-MB-231
migration
[56]
Lewis Lung cancer
LLC-2
adhesion
[33]
Glioblastoma
U-87MG/T98G
migration/chemotaxis
[57]
Pancreatic cancer
Panc-1
migration, invasion
[58]
Prostate cancer
PC-3
LNCaP
migration
cell survival
[59]
[60]
TRPV2
Prostate cancer
PC-3
migration
[61]
Breast cancer
MCF-7/MDA-MB-231
migration
[62]
TRPV4
Breast cancer
MDA-MB-435s *
migration, invasion, metastasis, transendothelial migration
[26,63]
Gastric cancer
MKN45 and SGC-7901
proliferation, migration
[64]
TRPV6
Breast cancer
MCF-7/MDA-MB-231/tissue
migration/chemotaxis
expression in invasive areas
[65]
Pancreatic cancer
Pancreatic cancer
cells/tissue
proliferation, migration, invasion
[66]
* Recently recognized as of melanoma origin [67].

Table 2. TRP channel expression in different cancer types and its correlation with patient prognosis.
Channel
Cancer Type
Expression
Prognosis
Ref.
TRPC1
Breast cancer
Basal tumors/lymph nodes
high
poor
[25]
TRPC5
Colon cancer
high
poor
[42]
TRPC6
Glioblastoma
high
no information
[43]
Prostate cancer
high
no information
[45]
Esophageal squamous cell carcinoma
high
poor
[68]
TRPM2
Breast cancer
low
poor
[27]
TRPM7
Pancreatic cancer
PDAC/lymph nodes
high
poor
[28,47,69]
Breast cancer
Negative (ER(-)) invasive ductal carcinoma/lymph nodes
high
high
poor
poor
[49]
[50,51]
TRPM8
Urothelial carcinoma of bladder
high
poor
[29]
Osteosarcoma
high
poor
[30]
TRPV2
Prostate cancer
high
poor
[61]
Breast cancer
high
better
[31]
Esophageal squamous cell carcinoma
high
poor
[32]
TRPV4
Breast cancer
high
poor
[26,63]
Gastric cancer
high
poor
[63]
Ovarian cancer
high
poor
[63]
TRPV6
Breast cancer
high
poor
[65]
Pancreatic cancer
high
no information
[66]

© 2018 by the authors. Licensee MDPI, Basel, Switzerland. This article is an open access article distributed under the terms and conditions of the Creative Commons Attribution (CC BY) license (http://creativecommons.org/licenses/by/4.0/).