Effects of Gold Nanoparticles on the Response of Phenol Biosensor Containing Photocurable Membrane with Tyrosinase
School of Chemical Sciences and Food Technology, Faculty of Science and Technology, Universiti Kebangsaan Malaysia, 43600 Bangi, Selangor, Malaysia
*
Author to whom correspondence should be addressed.
Received: 14 April 2008 / Revised: 27 September 2008 / Accepted: 13 October 2008 / Published: 16 October 2008
Abstract
The role of incorporation of gold nanoparticles (50-130 nm in diameter) into a series of photocurable methacrylic-acrylic based biosensor membranes containing tyrosinase on the response for phenol detection was investigated. Membranes with different hydrophilicities were prepared from 2-hydroxyethyl methacrylate and n-butyl acrylate via direct photocuring. A range of gold nanoparticles concentrations from 0.01 to 0.5 % (w/w) was incorporated into these membranes during the photocuring process. The addition of gold nanoparticles to the biosensor membrane led to improvement in the response time by a reduction of approximately 5 folds to give response times of 5-10 s. The linear response range of the phenol biosensor was also extended from 24 to 90 mM of phenol. The hydrophilicities of the membrane matrices demonstrated strong influence on the biosensor response and appeared to control the effect of the gold nanoparticles. For less hydrophilic methacrylic-acrylic membranes, the addition of gold nanoparticles led to a poorer sensitivity and detection limit of the biosensor towards phenol. Therefore, for the application of gold nanoparticles in the enhancement of a phenol biosensor response, the nanoparticles should be immobilized in a hydrophilic matrix rather than a hydrophobic material.
View Full-Text
►

▼

Figures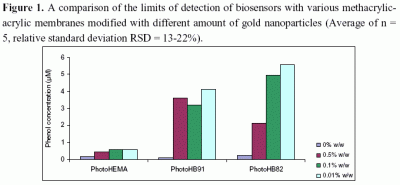 Graphical abstract

Share & Cite This Article
MDPI and ACS Style
Sharina, A.H.; Lee, Y.H.; Musa, A. Effects of Gold Nanoparticles on the Response of Phenol Biosensor Containing Photocurable Membrane with Tyrosinase. Sensors 2008, 8, 6407-6416.
Related Articles
Comments
[Return to top]