Oviposition Decision of the Weevil
Exapion ulicis

on

Ulex europaeus

Depends on External and Internal Pod Cues

1

ECOBIO, CNRS/Université de Rennes 1/ueb, Bt 14A, Campus de Beaulieu, Rennes Cedex 35042, France

2

Institut de Biologie Intégrative et des Systèmes, 1030 Avenue de la Médecine, PQ G1V 0A6, Canada

*

Author to whom correspondence should be addressed.

Received: 15 June 2013 / Revised: 13 August 2013 / Accepted: 13 September 2013 / Published: 30 September 2013
Abstract
Understanding mechanisms underlying insects' host choice and plant susceptibility is important to the study of plant-insect interactions in general, and in the context of plant invasions. This study investigates the oviposition and feeding choices of the specialist weevil
Exapion ulicis
on the invasive plant species
Ulex europaeus
, gorse. To do so, we studied the oviposition and feeding preferences of the weevil in choice experiments, using pods and flowers, respectively, from gorses grown in a common garden. The plants used came from regions with different infestation histories: Brittany and Scotland belong to the native range, where the weevil is present, while Reunion and New Zealand belong to the invasive range, where the weevil was not initially introduced with gorse. Results of these experiments suggest that the oviposition choice of
E
.
ulicis
females is driven by cues located at the surface of pods and inside them, including pod size and pod seed content. Feeding-choice experiments showed a different pattern of preference compared to oviposition. Taken together with previous studies, our results reveal that
E
.
ulicis
uses several traits to choose its host, including whole-plant traits, flower traits and pod traits.
View Full-Text
►

▼

Figures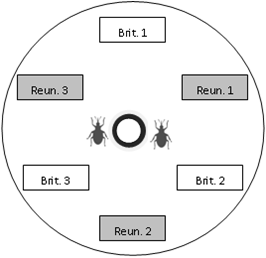 Graphical abstract

Share & Cite This Article
MDPI and ACS Style
Hornoy, B.; Tarayre, M.; Pierre, J.-S.; Atlan, A. Oviposition Decision of the Weevil Exapion ulicis on Ulex europaeus Depends on External and Internal Pod Cues. Diversity 2013, 5, 734-749.
Related Articles
Comments
[Return to top]