The Polyextreme Ecosystem, Salar de Huasco at the Chilean Altiplano of the Atacama Desert Houses Diverse
Streptomyces

spp. with Promising Pharmaceutical Potentials

1

Laboratory of Microbial Complexity and Functional Ecology, Centre for Biotechnology and Bioengineering-CeBiB, University of Antofagasta, Av. Angamos, Antofagasta 601, Chile

2

Department of Biotechnology, Faculty of Marine Science and Biological Resources, University of Antofagasta, Av. Angamos, Antofagasta 601, Chile

3

Centre for Biotechnology and Bioengineering—CeBiB, Department of Chemical Engineering and Biotechnology, University of Chile, Beauchef, Santiago 851, Chile

4

School of Natural and Environmental Sciences, Newcastle University, Newcastle upon Tyne NE1 7RU, UK

5

GEOMAR Helmholtz-Zentrum für Ozeanforschung Kiel, Düsternbrooker Weg 20, D-24105 Kiel, Germany

*

Authors to whom correspondence should be addressed.

Received: 18 February 2019 / Revised: 22 April 2019 / Accepted: 24 April 2019 / Published: 28 April 2019
Abstract
Salar de Huasco at the Chilean Altiplano of the Atacama Desert is considered a polyextreme environment, where solar radiation, salinity and aridity are extremely high and occur simultaneously. In this study, a total of 76 bacterial isolates were discovered from soil samples collected at two different sites in the east shoreline of Salar de Huasco, including H0 (base camp next to freshwater stream in the north part) and H6 (saline soils in the south part). All isolated bacteria were preliminarily identified using some of their phenotypic and genotypic data into the genera
Streptomyces
(86%),
Nocardiopsis
(9%),
Micromonospora
(3%),
Bacillus
(1%), and
Pseudomonas
(1%).
Streptomyces
was found dominantly in both sites (H0 = 19 isolates and H6 = 46 isolates), while the other genera were found only in site H0 (11 isolates). Based on the genotypic and phylogenetic analyses using the 16S rRNA gene sequences of all
Streptomyces
isolates, 18% (12 isolates) revealed <98.7% identity of the gene sequences compared to those in the publicly available databases and were determined as highly possibly novel species. Further studies suggested that many
Streptomyces
isolates possess the nonribosomal peptide synthetases-coding gene, and some of which could inhibit growth of at least two test microbes (i.e., Gram-positive and Gram-negative bacteria and fungi) and showed also the cytotoxicity against hepatocellular carcinoma and or mouse fibroblast cell lines. The antimicrobial activity and cytotoxicity of these
Streptomyces
isolates were highly dependent upon the nutrients used for their cultivation. Moreover, the HPLC-UV-MS profiles of metabolites produced by the selected
Streptomyces
isolates unveiled apparent differences when compared to the public database of existing natural products. With our findings, the polyextreme environments like Salar de Huasco are promising sources for exploring novel and valuable bacteria with pharmaceutical potentials.
View Full-Text
►

▼

Figures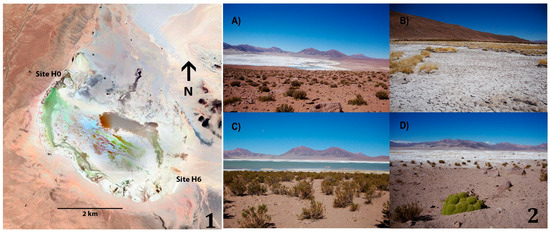 Figure 1
This is an open access article distributed under the
Creative Commons Attribution License
which permits unrestricted use, distribution, and reproduction in any medium, provided the original work is properly cited (CC BY 4.0).

Share & Cite This Article
MDPI and ACS Style
Cortés-Albayay, C.; Silber, J.; Imhoff, J.F.; Asenjo, J.A.; Andrews, B.; Nouioui, I.; Dorador, C. The Polyextreme Ecosystem, Salar de Huasco at the Chilean Altiplano of the Atacama Desert Houses Diverse Streptomyces spp. with Promising Pharmaceutical Potentials. Diversity 2019, 11, 69.
Note that from the first issue of 2016, MDPI journals use article numbers instead of page numbers. See further details here.
Related Articles
Comments
[Return to top]