A Brief Review of Non-Avian Reptile Environmental DNA (eDNA), with a Case Study of Painted Turtle (
Chrysemys picta

) eDNA Under Field Conditions

1

Department of Anatomy, University of Otago, Dunedin, Otago 9016, New Zealand

2

Department of Ecology, Evolution, and Organismal Biology, Iowa State University, Ames, IA 50010, USA

3

Department of Zoology, Southern Illinois University, Carbondale, IL 62901, USA

*

Author to whom correspondence should be addressed.

Received: 26 February 2019 / Revised: 24 March 2019 / Accepted: 26 March 2019 / Published: 29 March 2019
Abstract
Environmental DNA (eDNA) is an increasingly used non-invasive molecular tool for detecting species presence and monitoring populations. In this article, we review the current state of non-avian reptile eDNA work in aquatic systems, and present a field experiment on detecting the presence of painted turtle (
Chrysemys picta
) eDNA. Thus far, turtle and snake eDNA studies have shown mixed results in detecting the presence of these animals under field conditions. However, some instances of low detection rates and non-detection occur for these non-avian reptiles, especially for squamates. We explored non-avian reptile eDNA quantification by sampling four lentic ponds with different densities (0 kg/ha, 6 kg/ha, 9 kg/ha, and 13 kg/ha) of painted turtles over three months to detect differences in eDNA using a qPCR assay amplifying the
COI
gene of the mtDNA genome. Only one sample of the highest-density pond amplified eDNA for a positive detection. Yet, estimates of eDNA concentration from pond eDNA were rank-order correlated with turtle density. We present the "shedding hypothesis"—the possibility that animals with hard, keratinized integument do not shed as much DNA as mucus-covered organisms—as a potential challenge for eDNA studies. Despite challenges with eDNA inhibition and availability in water samples, we remain hopeful that eDNA can be used to detect freshwater turtles in the field. We provide key recommendations for biologists wishing to use eDNA methods for detecting non-avian reptiles.
View Full-Text
►

▼

Figures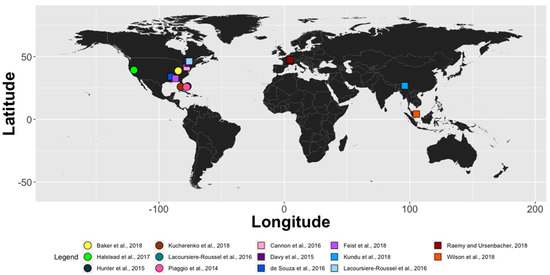 Figure 1
This is an open access article distributed under the
Creative Commons Attribution License
which permits unrestricted use, distribution, and reproduction in any medium, provided the original work is properly cited (CC BY 4.0).

Share & Cite This Article
MDPI and ACS Style
Adams, C.I.M.; Hoekstra, L.A.; Muell, M.R.; Janzen, F.J. A Brief Review of Non-Avian Reptile Environmental DNA (eDNA), with a Case Study of Painted Turtle (Chrysemys picta) eDNA Under Field Conditions. Diversity 2019, 11, 50.
Note that from the first issue of 2016, MDPI journals use article numbers instead of page numbers. See further details here.
Related Articles
Comments
[Return to top]