Open Access This article is
freely available
re-usable
Article
The Spider Anatomy Ontology (SPD)—A Versatile Tool to Link Anatomy with Cross-Disciplinary Data
1
Division of Arachnology, Museo Argentino de Ciencias Naturales—CONICET, Buenos Aires C1405DJR, Argentina
2
Zoologisches Institut und Museum, Universität Greifswald, 17489 Greifswald, Germany
*
Authors to whom correspondence should be addressed.
Received: 27 September 2019 / Accepted: 18 October 2019 / Published: 22 October 2019
Abstract
:
Spiders are a diverse group with a high eco-morphological diversity, which complicates anatomical descriptions especially with regard to its terminology. New terms are constantly proposed, and definitions and limits of anatomical concepts are regularly updated. Therefore, it is often challenging to find the correct terms, even for trained scientists, especially when the terminology has obstacles such as synonyms, disputed definitions, ambiguities, or homonyms. Here, we present the Spider Anatomy Ontology (SPD), which we developed combining the functionality of a glossary (a controlled defined vocabulary) with a network of formalized relations between terms that can be used to compute inferences. The SPD follows the guidelines of the Open Biomedical Ontologies and is available through the NCBO BioPortal (ver. 1.1). It constitutes of 757 valid terms and definitions, is rooted with the Common Anatomy Reference Ontology (CARO), and has cross references to other ontologies, especially of arthropods. The SPD offers a wealth of anatomical knowledge that can be used as a resource for any scientific study as, for example, to link images to phylogenetic datasets, compute structural complexity over phylogenies, and produce ancestral ontologies. By using a common reference in a standardized way, the SPD will help bridge diverse disciplines, such as genomics, taxonomy, systematics, evolution, ecology, and behavior.
Keywords:
morphology; taxonomy; systematics; Araneae; semantic network
Author Contributions
Conceptualization, M.J.R. and P.M.; building of ontology, M.J.R. and P.M.; writing—original draft preparation, M.J.R.; writing—review & editing, P.M.; visualization, P.M. and M.J.R.
Funding
This research was funded by PICT-2015-0283, 2017-2689. Additional support was provided by the National Evolutionary Synthesis Center (NESCent) and the Phenotype Ontology Research Coordination Network, NSF-DEB-0956049,
http://www.phenotypercn.org/
to MJR.
Acknowledgments
We benefited from discussions and advice from Paula Mabee, Matt Yoder, Jim Balhoff, Todd Vision, and Lars Vogt. Two anonymous reviewers contributed valuable comments to an earlier version of the manuscript.
Conflicts of Interest
The authors declare no conflict of interest.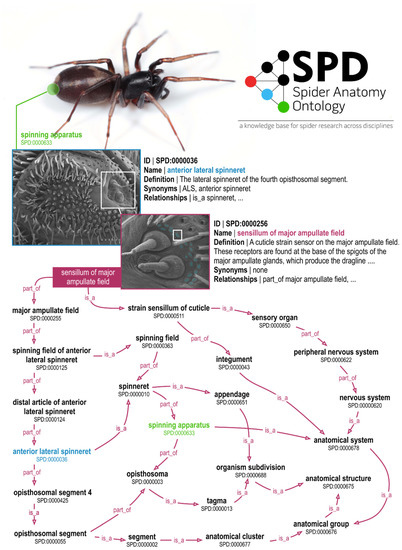 Figure 1. The Spider Anatomy Ontology (SPD) at a glance showing examples for individual entries (SPD:0000036 and SPD:0000256) as well demonstrating the relationships ('is a' and 'part of') between terms.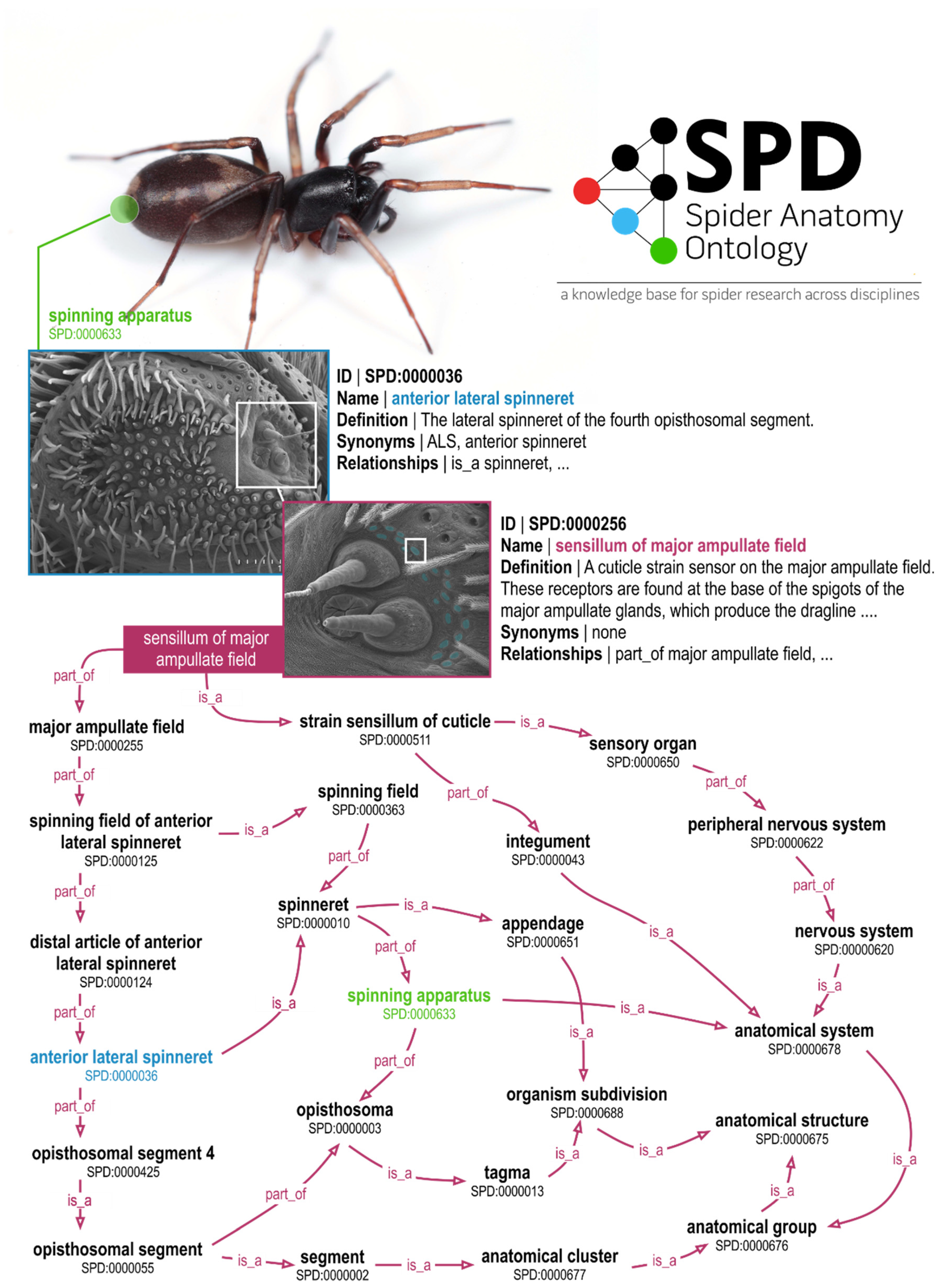 © 2019 by the authors. Licensee MDPI, Basel, Switzerland. This article is an open access article distributed under the terms and conditions of the Creative Commons Attribution (CC BY) license (http://creativecommons.org/licenses/by/4.0/).