Open Access This article is
freely available
re-usable
Article
Muddy Boots Beget Wisdom: Implications for Rare or Endangered Plant Species Distribution Models
1
Centro de Investigación de la Biodiversidad y Cambio Climático, y Carrera de Ingeniería en Biodiversidad y Recursos Genéticos, Facultad de Ciencias del Medio Ambiente, Universidad Tecnológica Indoamérica, Machala y Sabanilla, Quito EC170301, Ecuador
2
Department of Biological Sciences, International Center for Tropical Botany, Cuban Research Institute, and Kimberly Green Latin American and Caribbean Center, Florida International University, Miami, FL 33199, USA
3
Kushlan Tropical Science Institute, Fairchild Tropical Botanic Garden, Coral Gables, FL 33156, USA
4
Department of Biology, University of Miami, Coral Gables, FL 33146, USA
5
Centro Universitario de Mérida, Universidad de Extremadura, 06800 Mérida, Spain
6
Real Jardín Botánico (RJB-CSIC), 28014 Madrid, Spain
7
National Germplasm Repository, Agricultural Research Service−Subtropical Horticultural Research Station United States Department of Agriculture, Miami, FL 33158, USA
8
Department of Earth and Environment, Florida International University, Miami, FL 33199, USA
*
Author to whom correspondence should be addressed.
Received: 7 December 2018 / Accepted: 9 January 2019 / Published: 15 January 2019
Abstract
:
Species distribution models (SDMs) are popular tools for predicting the geographic ranges of species. It is common practice to use georeferenced records obtained from online databases to generate these models. Using three species of
Phaedranassa
(Amaryllidaceae) from the Northern Andes, we compare the geographic ranges as predicted by SDMs based on online records (after standard data cleaning) with SDMs of these records confirmed through extensive field searches. We also review the identification of herbarium collections. The species' ranges generated with corroborated field records did not agree with the species' ranges based on the online data. Specifically, geographic ranges based on online data were significantly inflated and had significantly different and wider elevational extents compared to the ranges based on verified field records. Our results suggest that to generate accurate predictions of species' ranges, occurrence records need to be carefully evaluated with (1) appropriate filters (e.g., altitude range, ecosystem); (2) taxonomic monographs and/or specialist corroboration; and (3) validation through field searches. This study points out the implications of generating SDMs produced with unverified online records to guide species-specific conservation strategies since inaccurate range predictions can have important consequences when estimating species' extinction risks.
Keywords:
conservation; georeferencing error; Northern Andes;
Phaedranassa
; species occurrence data; taxonomy
Author Contributions
Conceptualization, N.H.O., J.G., and K.J.F.; methodology, N.H.O., J.F., and K.J.F.; formal analysis, N.H.O., J.F., and K.J.F.; investigation, N.H.O., J.F., K.J.F., J.G., A.W.M., and J.F.-O.; data curation, N.H.O; writing—original draft preparation; N.H.O., J.F., K.J.F., J.G., A.W.M., and J.F.-O.; supervision: J.F.-O. and A.W.M; writing—review and editing, N.H.O., J.F., K.J.F., J.G., A.W.M., and J.F.-O.
Funding
This research was funded by the National Science Foundation (Grant DEB 0129179 to AWM); the Judith Evans Parker Travel Grant Program at Florida International University (to NO); the Dissertation Evidence Acquisition Fellowship at Florida International University (to NO); the South Florida Chapter of The Explorers Club (to NO); and the Universidad Tecnológica Indoamérica (Grant 207–2011 to NO).
Acknowledgments
This publication represents a chapter of the dissertation submitted in partial fulfillment of the requirements for the degree of Doctor of Philosophy in Biological Sciences at Florida International University [
42
] by NO under the supervision of JFO and AWM. The authors thank all of the botanists who deposit vouchers of collections from the Andes in herbaria and museums. This study was made possible by their work. We thank the GBIF and other similar efforts for compiling valuable species data and making it accessible on the web. We thank also the Missouri Botanical Garden, especially Carmen Ulloa-Ulloa, for providing access to records in the TROPICOS database. We thank Rubén G. Mateo for valuable discussions that improved this manuscript. This paper is contribution 362 from the Tropical Biology Program at Florida International University (FIU).
Conflicts of Interest
The authors declare no conflict of interest. The funders had no role in the design of the study; in the collection, analyses, or interpretation of data; in the writing of the manuscript, or in the decision to publish the results.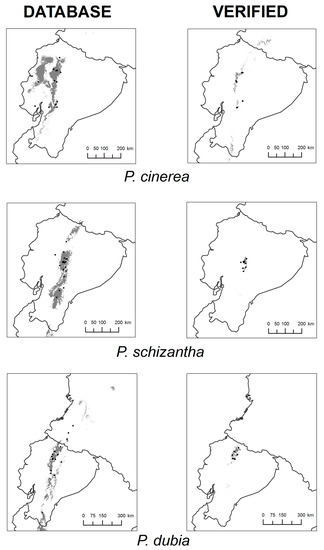 Figure 1.
Distribution maps for
Phaedranassa cinerea
,
P. dubia
, and
P. schizantha
(Amaryllidaceae) in Ecuador. Darker areas indicate predicted potential ranges based on online database records (left) and verified records (right). Points show the actual species distribution.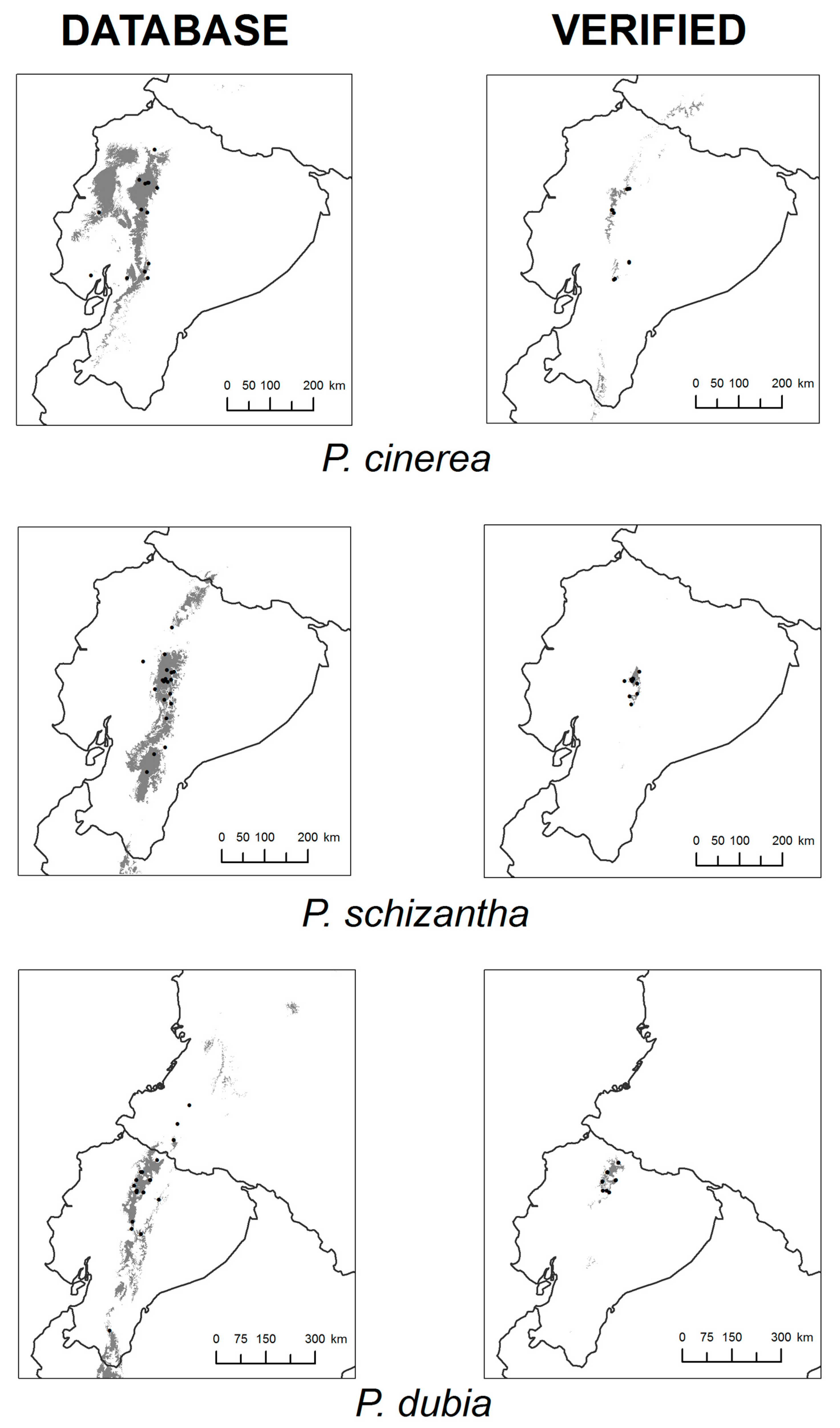 Table 1.
Comparison between outcomes of species distribution model predictions for three species of the plant genus
Phaedranassa
.
Species
N
TSS
AUC
Boyce Index

p

-Value *
Altitude (Min)
Altitude (Max)
Distribution Range Area

P. cinerea

1
13
0.89
0.99
0.85
0.00
25
3964
20536

P. cinerea

2
10
0.90
1.00
0.65
0.03
1010
3252
2584

P. dubia

1
27
0.86
0.98
0.73
0.00
1623
6169
20416

P. dubia

2
14
0.88
1.00
1.00
0.00
1566
3844
2508

P. schizantha

1
20
0.91
0.99
0.90
0.00
1623
6169
17481

P. schizantha

2
10
0.92
1.00
0.90
0.00
1730
3826
859
Notes: Number of records (N), true skill statistics (TSS), area under the curve (AUC), *

p

-value [54], minimum altitude in meters (Min), maximum altitude in meters (Max). Altitude values in meters (m), distribution range area in square kilometers (km2). 1 Database records, 2 verified records.

© 2019 by the authors. Licensee MDPI, Basel, Switzerland. This article is an open access article distributed under the terms and conditions of the Creative Commons Attribution (CC BY) license (http://creativecommons.org/licenses/by/4.0/).