Trophic Diversity of Plankton in the Epipelagic and Mesopelagic Layers of the Tropical and Equatorial Atlantic Determined with Stable Isotopes
1
Instituto Español de Oceanografía, Centro Oceanográfico de A Coruña, Apdo 130, 15080 A Coruña, Spain
2
Instituto de Oceanografía y Cambio Global (IOCAG), Universidad de las Palmas de Gran Canaria, Campus de Taliarte, Telde, Gran Canaria, 35214 Islas Canarias, Spain
*
Author to whom correspondence should be addressed.
Received: 30 April 2018 / Revised: 25 May 2018 / Accepted: 12 June 2018 / Published: 13 June 2018
Abstract
Plankton living in the deep ocean either migrate to the surface to feed or feed in situ on other organisms and detritus. Planktonic communities in the upper 800 m of the tropical and equatorial Atlantic were studied using the natural abundance of stable carbon and nitrogen isotopes to identify their food sources and trophic diversity. Seston and zooplankton (>200 µm) samples were collected with Niskin bottles and MOCNESS nets, respectively, in the epipelagic (0–200 m), upper mesopelagic (200–500 m), and lower mesopelagic layers (500–800 m) at 11 stations. Food sources for plankton in the productive zone influenced by the NW African upwelling and the Canary Current were different from those in the oligotrophic tropical and equatorial zones. In the latter, zooplankton collected during the night in the mesopelagic layers was enriched in heavy nitrogen isotopes relative to day samples, supporting the active migration of organisms from deep layers. Isotopic niches showed also zonal differences in size (largest in the north), mean trophic diversity (largest in the tropical zone), food sources, and the number of trophic levels (largest in the equatorial zone). The observed changes in niche size and overlap (up to 71% between the mesopelagic layers but <50% between the epipelagic and upper mesopelagic layers) support the prevalence of in situ feeding at deep layers in tropical and equatorial zooplankton.
View Full-Text
►

▼

Figures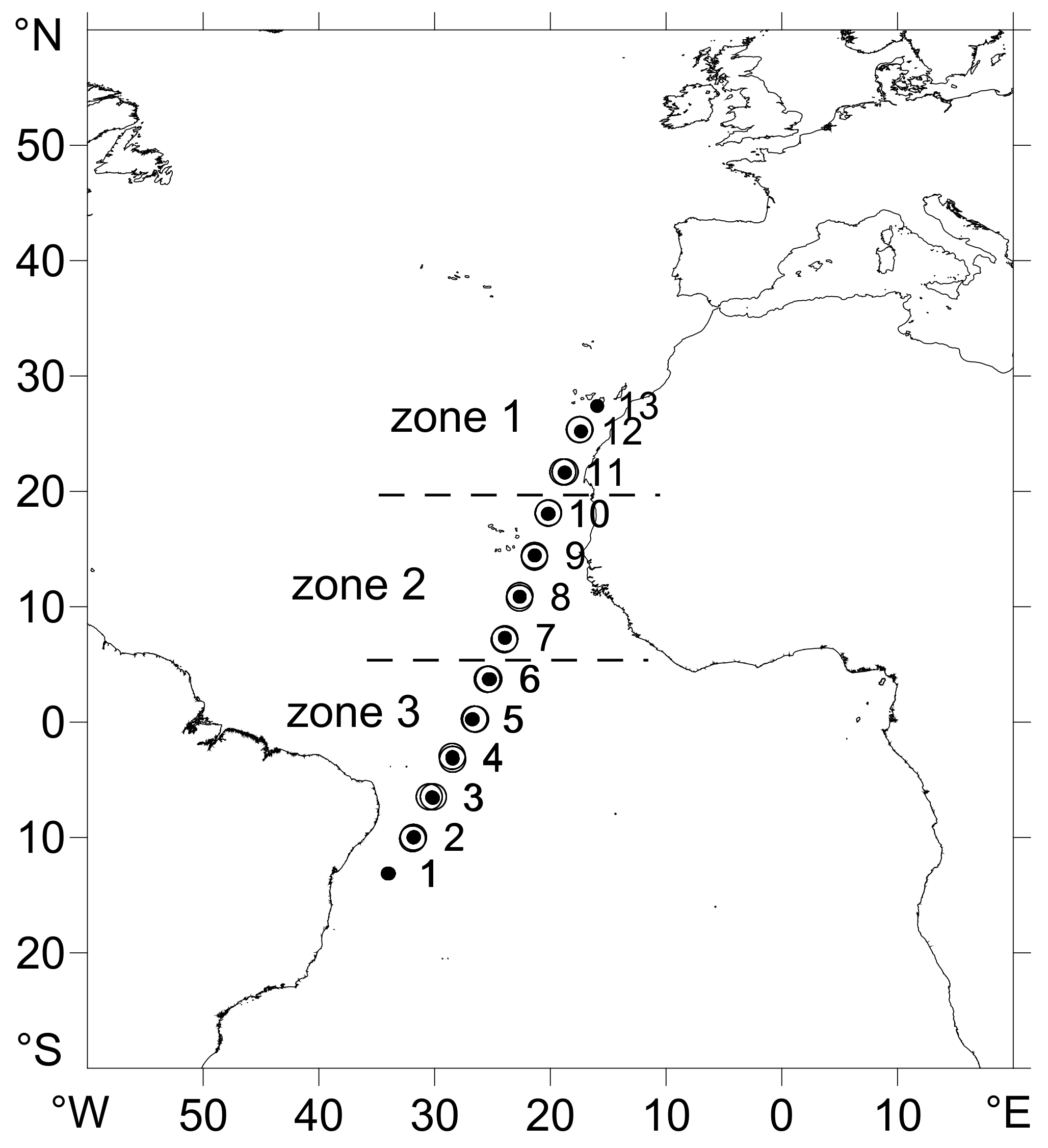 Figure 1
This is an open access article distributed under the
Creative Commons Attribution License
which permits unrestricted use, distribution, and reproduction in any medium, provided the original work is properly cited (CC BY 4.0).
Supplementary materials
Supplementary File 1:

PDF-Document (PDF, 326 KB)

Externally hosted supplementary file 1
Doi: doi:10.1594/PANGAEA.890257
Link: https://doi.pangaea.de/10.1594/PANGAEA.890257
Description: Trophic diversity of plankton in epipelagic and mesopelagic layers of the tropical and equatorial Atlantic determined with stable isotopes. Supplementary tables.

Share & Cite This Article
MDPI and ACS Style
Bode, A.; Hernández-León, S. Trophic Diversity of Plankton in the Epipelagic and Mesopelagic Layers of the Tropical and Equatorial Atlantic Determined with Stable Isotopes. Diversity 2018, 10, 48.
Note that from the first issue of 2016, MDPI journals use article numbers instead of page numbers. See further details here.
Related Articles
Comments
[Return to top]