Open Access This article is
freely available
re-usable
Article
Trophic Diversity of Plankton in the Epipelagic and Mesopelagic Layers of the Tropical and Equatorial Atlantic Determined with Stable Isotopes
1
Instituto Español de Oceanografía, Centro Oceanográfico de A Coruña, Apdo 130, 15080 A Coruña, Spain
2
Instituto de Oceanografía y Cambio Global (IOCAG), Universidad de las Palmas de Gran Canaria, Campus de Taliarte, Telde, Gran Canaria, 35214 Islas Canarias, Spain
*
Author to whom correspondence should be addressed.
Received: 30 April 2018 / Accepted: 12 June 2018 / Published: 13 June 2018
Abstract
:
Plankton living in the deep ocean either migrate to the surface to feed or feed in situ on other organisms and detritus. Planktonic communities in the upper 800 m of the tropical and equatorial Atlantic were studied using the natural abundance of stable carbon and nitrogen isotopes to identify their food sources and trophic diversity. Seston and zooplankton (>200 µm) samples were collected with Niskin bottles and MOCNESS nets, respectively, in the epipelagic (0–200 m), upper mesopelagic (200–500 m), and lower mesopelagic layers (500–800 m) at 11 stations. Food sources for plankton in the productive zone influenced by the NW African upwelling and the Canary Current were different from those in the oligotrophic tropical and equatorial zones. In the latter, zooplankton collected during the night in the mesopelagic layers was enriched in heavy nitrogen isotopes relative to day samples, supporting the active migration of organisms from deep layers. Isotopic niches showed also zonal differences in size (largest in the north), mean trophic diversity (largest in the tropical zone), food sources, and the number of trophic levels (largest in the equatorial zone). The observed changes in niche size and overlap (up to 71% between the mesopelagic layers but <50% between the epipelagic and upper mesopelagic layers) support the prevalence of in situ feeding at deep layers in tropical and equatorial zooplankton.
Keywords:
zooplankton; stable isotopes; isotopic niche; vertical migration; tropical; subtropical; Atlantic; in situ feeding
1. Introduction
The objectives of the present study are (1) to identify differences in the sources of carbon and nitrogen for regional plankton food webs, and (2) to analyze the isotopic niche characteristics of plankton in the epipelagic and mesopelagic layers across the tropical and equatorial Atlantic in the context of trophic migrations. Specifically, the size and overlap between niche estimations in the different layers and zones are examined to ascertain whether local plankton food webs share the same resources (that is, large niche size and overlap) or are the result of local feeding (that is, small niche size and overlap).
3. Results
3.1. Oceanographic Zones
The sampled transect was characterized by marked thermohaline stratification, with high surface temperature, deep fluorescence maxima, and low POC concentrations in most stations (
Figure 2
). The exceptions were the northernmost three stations (particularly St. 11) with surface temperature values below 20 °C and high surface fluorescence and POC.
Based on previous interpretations of the oceanographic conditions and, particularly, taking into account the mean values of temperature, POC, PON, and fluorescence in the epipelagic layer (
Supplementary Table S1
), the plankton sampling stations were grouped in three zones. Zone 1 included the stations with high surface POC and fluorescence (St. 11 and 12). Zone 2 comprised the tropical zone (St. 7, 8, 9, and 10) characterized by a sharp thermal gradient between the surface and ca. 50 m depth, where there were weak fluorescence and POC maxima. Zone 3 included the equatorial domain and stations near South America (St. 6, 5, 4, 3, and 2); all characterized by very low fluorescence and POC values.
3.2. Zonal Variability of Carbon and Nitrogen Sources
In the epipelagic layer, there were no significant differences in the mean δ
15
N of seston among zones (
Figure 3
). However, herbivorous copepods showed a lower δ
15
N mean in zone 1, lower indeed than the corresponding mean in seston. It must be noted that all δ
15
N values were positive, with mean values >4‰. In turn, the mean δ
13
C for both seston and copepods in zones 2 and 3 were lower than in zone 1.
3.3. Day-Night Variability of Nitrogen Isotopes Among Plankton Guilds
Values of δ
15
N of all plankton guilds increased with depth in all zones (
Figure 4
). Such an increase was significant for all layers considered (ANOVA,
p
< 0.001, n = 631). Chaetognaths had always had the highest values but the lowest values were not always observed in herbivorous copepods. Additionally, there was a large overlap in the ranges observed for the pre-defined guilds. Within the layer day and night samples, similar δ
15
N means for all guilds in zones 1 and 2 were shown but there were significant differences in the means for the upper and lower mesopelagic layers in zone 3 (
Figure 4
c). In the latter case, δ
15
N measured in night samples was higher than the values measured in day samples, while no differences were observed in the epipelagic zone for any guild.
3.4. Isotopic Niche Estimations
Supplementary Materials
The following are available online at
https://www.mdpi.com/1424-2818/10/2/48/s1
, Table S1: Mean values of temperature, fluorescence, POC and PON across zones and layers. Table S2: Summary of samples collected for stable isotope determinations. Table S3: ANOVA of seston C: N ratio across zones and depth layers. Table S4: ANOVA of Bayesian estimates of standard ellipse areas by zones and layers.
Author Contributions
S.H.-L. conceived the study and leaded the cruise. A.B. designed the plankton sampling and analyzed stable isotope data. A.B. wrote the paper with contributions of S.H.-L.
Funding
This research has been funded by the Spanish Ministerio de Economía y Competitividad through projects CTM2012–39587–C04 and CTM2016–78853–R.
Acknowledgments
The authors are most grateful to the captain, crew, scientists, and technicians who worked with them on board the RV "Hesperides". Special mention is due to M. Teresa Álvarez-Ossorio and M. Luz Fernández de Puelles for their help with the plankton samples, and to Ángel F. Lamas, Elena Rey and Gelines Louro for the preparation of isotope samples.
Conflicts of Interest
The authors declare no conflict of interest. The founding sponsors had no role in the design of the study; in the collection, analyses, or interpretation of data; in the writing of the manuscript, and in the decision to publish the results.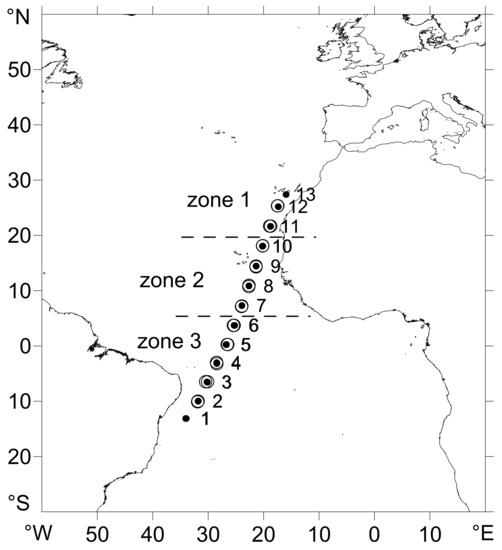 Figure 1.
The position of the studied stations in April 2015. Dots indicate conductivity-temperature-depth (CTD) profiles and bottle casts and circles the stations where plankton samples were collected. Stations were grouped in three zones according to the distribution of hydrographic and chemical variables (see
Figure 2
and
Supplementary Table S1
).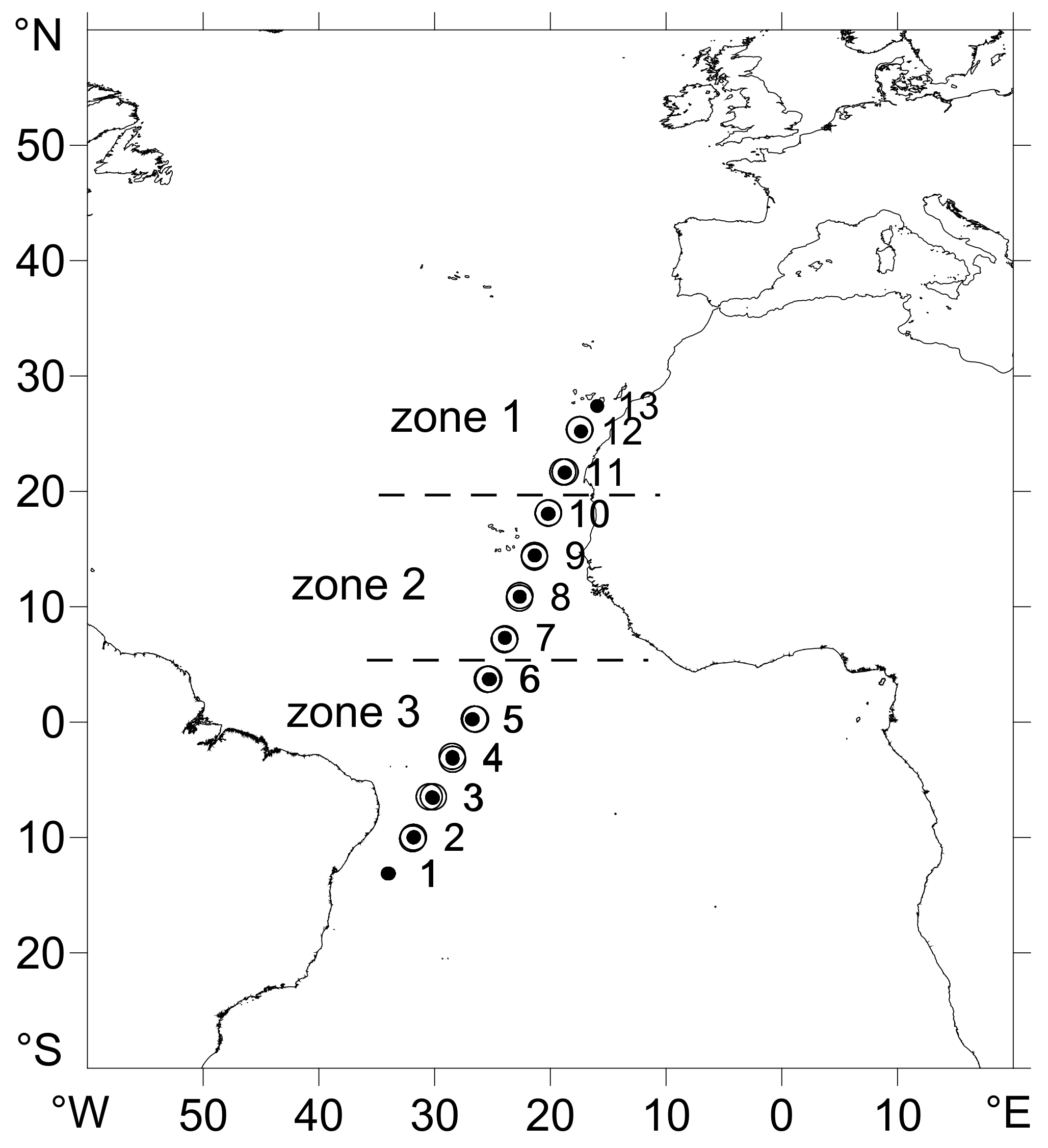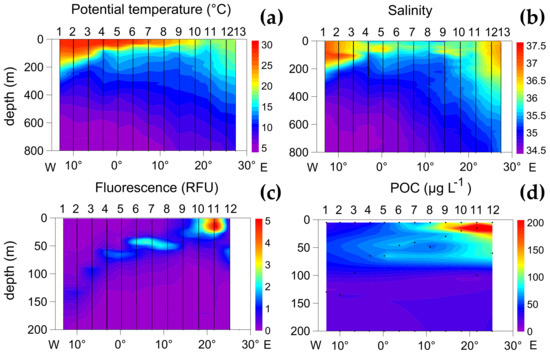 Figure 2. The surface to 800 m sections of potential temperature (°C) (a), salinity (b), surface to 200 m profiles of fluorescence (RFU: relative fluorescence units) (c) and particulate organic carbon (POC, µg L−1) (d). Station numbers are indicated in the upper axis of each panel.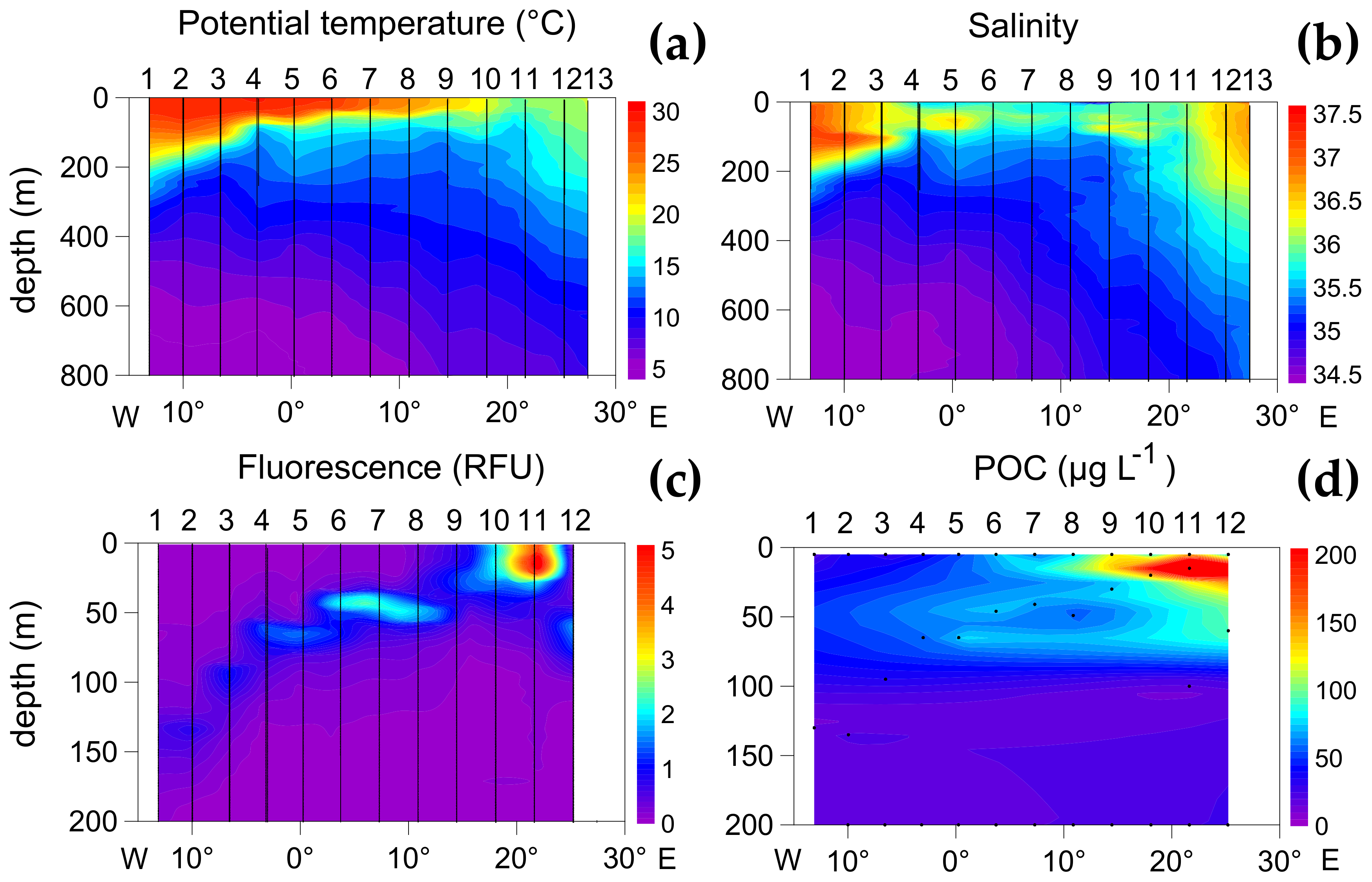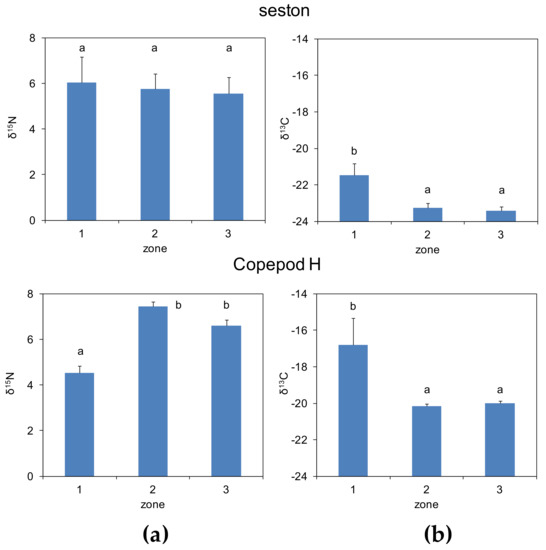 Figure 3.
The mean ± SE (
a
) δ
15
N and (
b
) δ
13
C of seston and herbivorous copepods (Copepod H) in the epipelagic layer (surface to 200 m) for the three zones marked in
Figure 1
. Different letters indicate significantly different zonal means (ANOVA and Dunnett-C post hoc tests,
p
< 0.05).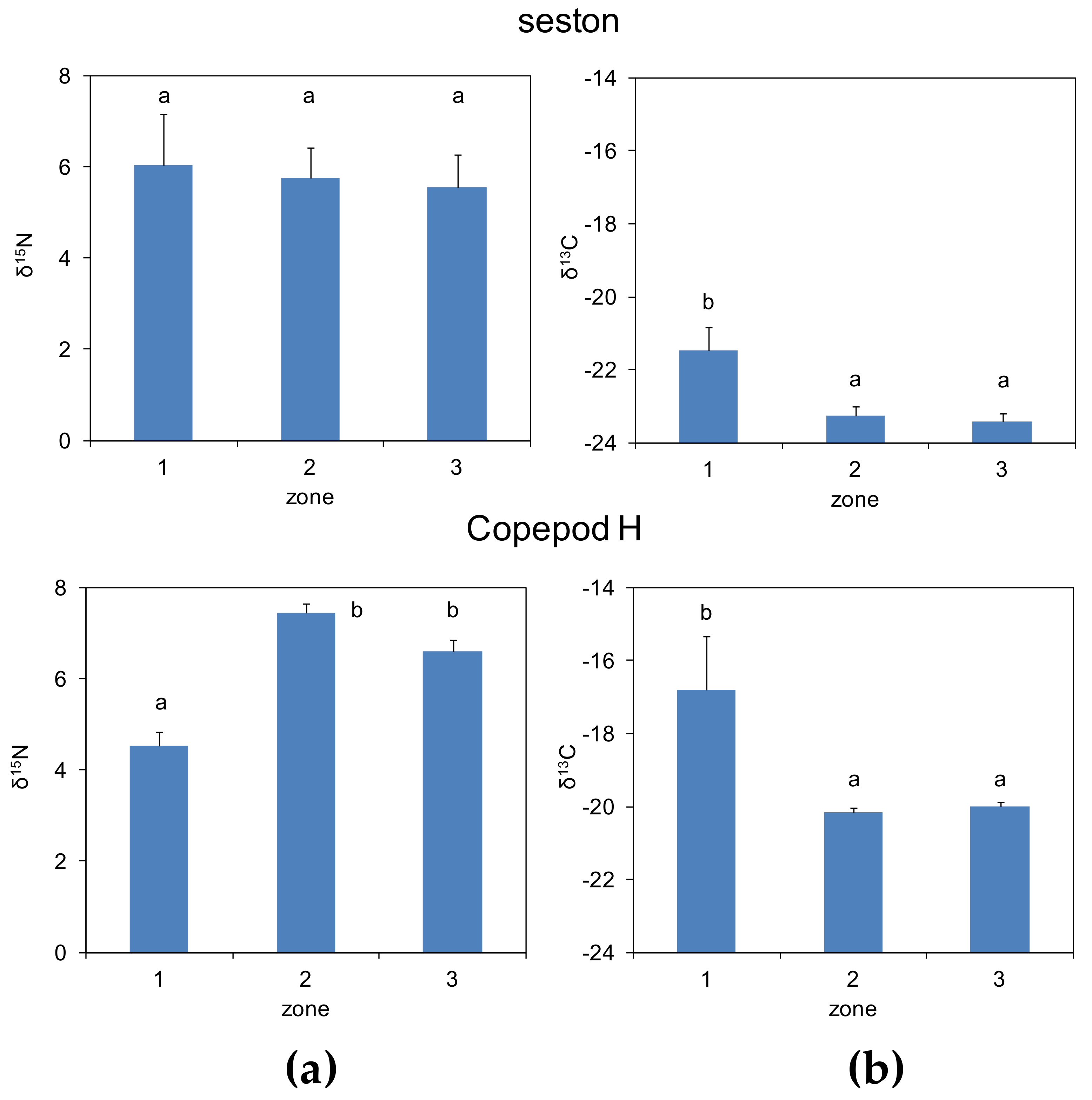 Figure 4.
The mean (± se) δ
15
N of plankton guilds (H: herbivores, OC: omnivores-carnivores) for the epipelagic (E, 0–200 m), upper mesopelagic (UM, 200–500 m), and lower mesopelagic (LM, 500–900 m) layers in (
a
) zone 1, (
b
) zone 2 and (
c
) zone 3 for day (white bars) and night (grey bars) samples. Asterisks indicate significant differences (ANOVA,
p
< 0.05) between day and night samples at each layer.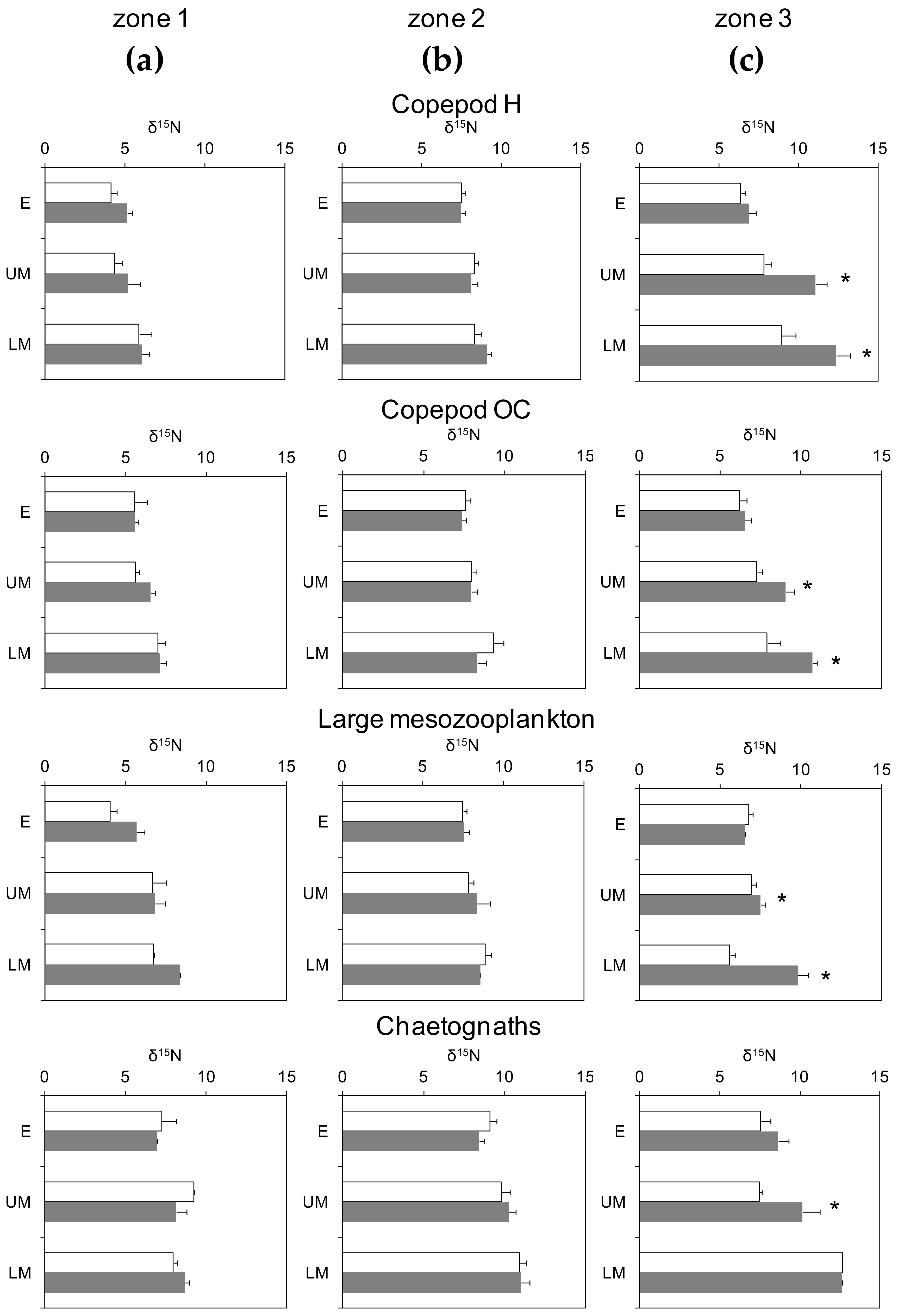 Figure 5. The depth layer isospaces of δ13C and δ15N including individual sample measurements for seston and plankton for (a) zone 1, (b) zone 2, and (c) zone 3. The maximum likelihood estimates of standard ellipse areas (thick lines) for each layer are indicated.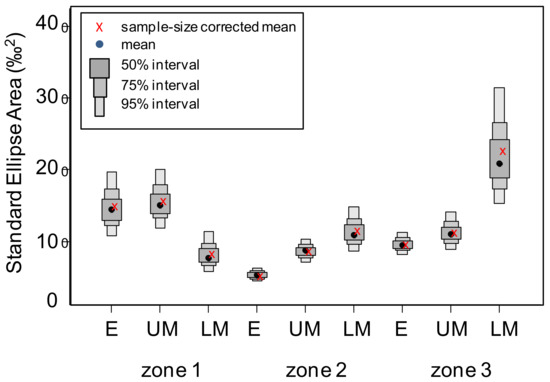 Figure 6.
The standard ellipse areas for the food webs observed in the epipelagic (E), upper mesopelagic (UM), and lower mesopelagic (LM) layers of the zones marked in
Figure 1
computed from the Bayesian multivariate normal distributions fitted to the original isotope data. The uncorrected (black dots) and sample–size corrected mode values (red crosses), along with the intervals encompassing 50%, 75%, and 95% of the estimations (shaded boxes) are indicated.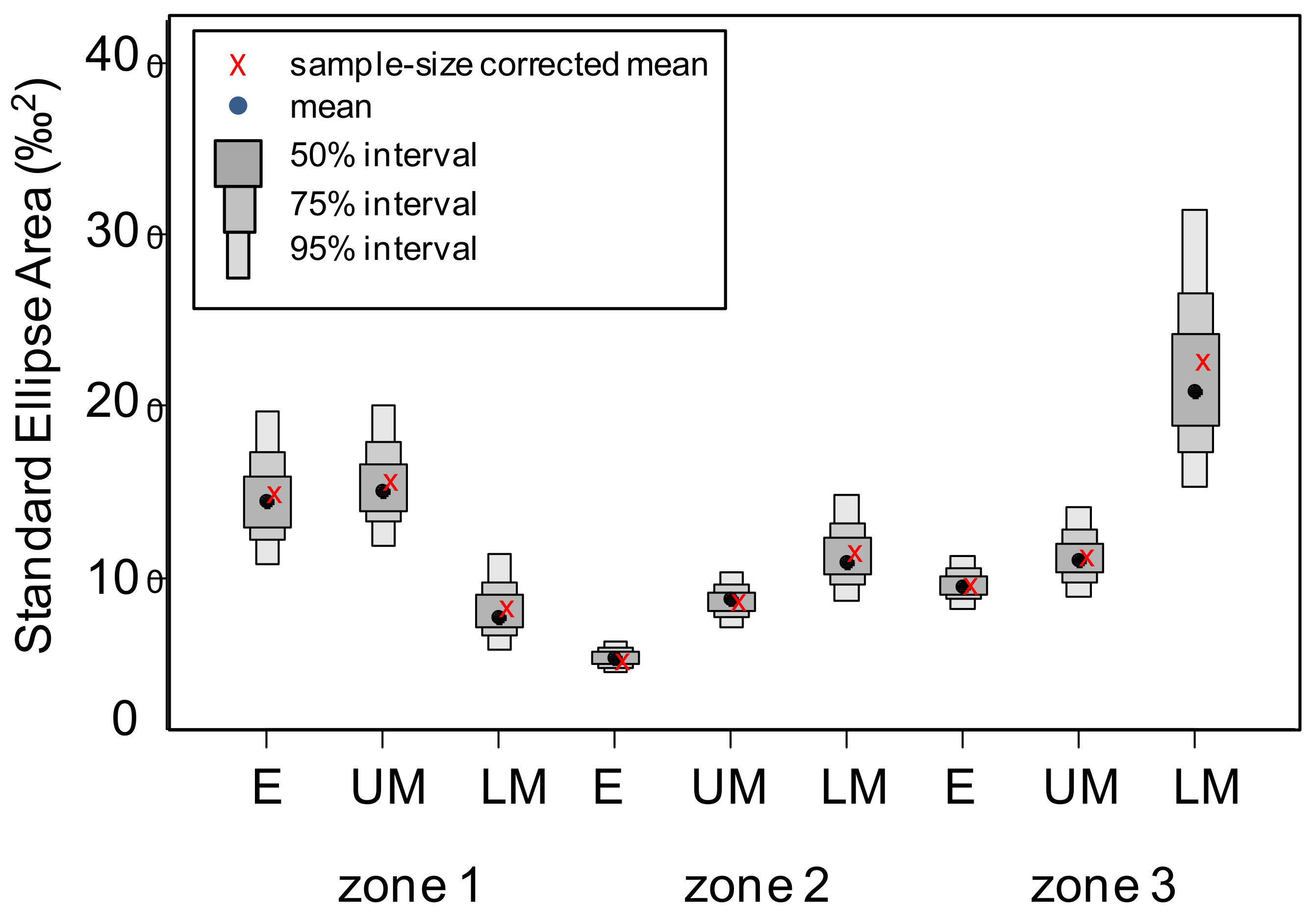 Table 1.
The mean and standard error (SE) of Layman metrics of the Bayesian estimates of the areas defined by δ
15
N and δ
13
C of seston and plankton for each zone identified in
Figure 1
(all depth layers combined). NR: δ
15
N range, CR: δ
13
C range, TA: total area of the convex hull, CD: mean distance to the centroid, MNND: mean distance to the nearest neighbor, SDNND: standard deviation of the distance to the nearest neighbor. All metrics are expressed as ‰, except for TA, which corresponds to standardized values.
Zone 1
Zone 2
Zone 3
Metric
Mean
SE
Mean
SE
Mean
SE
NR
1.716
0.004
1.706
0.003
2.504
0.003
CR
1.095
0.003
1.703
0.003
0.714
0.003
TA
0.711
0.003
0.155
0.002
0.154
0.002
CD
0.819
0.001
0.854
0.001
0.914
0.001
MNND
1.161
0.003
1.170
0.002
1.271
0.002
SDNND
0.220
0.002
0.169
0.002
0.148
0.002

Table 2.
The mean and standard error (SE) overlap of Bayesian ellipses between layers by the zones marked in
Figure 1
. Overlap is expressed as a fraction (%) of the non-overlapping area. E: epipelagic layer, UM: upper mesopelagic layer, LM: lower mesopelagic layer.
E
UM
Zone
Layer
Mean
SE
Mean
SE
zone 1
UM
27.94
0.33
---
---
LM
47.17
0.45
54.46
0.54
zone 2
UM
38.70
0.38
---
---
LM
43.93
0.39
70.98
0.71
zone 3
UM
43.88
0.52
---
---
LM
33.94
0.57
52.16
1.01

© 2018 by the authors. Licensee MDPI, Basel, Switzerland. This article is an open access article distributed under the terms and conditions of the Creative Commons Attribution (CC BY) license (http://creativecommons.org/licenses/by/4.0/).