Open Access This article is
freely available
re-usable
Full Research Paper
A Study on Physical and Chemical Properties of Cellulose Paper Immersed in Various Solvent Mixtures
Suleyman Demirel University, Forestry Faculty, Department of Forest Products Engineering, 32260 Isparta, Turkey.
*
Author to whom correspondence should be addressed.
Received: 7 December 2007 / Accepted: 10 January 2008 / Published: 25 January 2008
Abstract
:
The cellulose paper treated in proportional mixture systems showed higher liquid absorption compare to only EtOH and MeOH treatments. It was approximately 40–70% and 50–91% higher for EtOH-NaOH and MeOH-NaOH treated papers, respectively. All conditions apparently bring about an effect of decreased strength for papers. The lowest tensile strength of 13.0 N/mm was found with EtOH and NaOH treated samples after 5th repeating wetting-drying stage. But, some conditions gave approximately 21–59.5% higher stretch than untreated samples. The pore size distributions of papers were evaluated with Simons stain procedure and experimental results usually consisted with sorption data. The less intense CH2–CH2- vibrations (1450–1700 cm−1) and C-C and C-O-C peak areas in FTIR spectra indicates lowering H-bonds in solvent treated and dried paper network structure.
Keywords:
Paper; sheet network; cellulose; sorption; solvent treatment; simons stain
1. Introduction
A paper based product typically contains 90–99% cellulose fibers which are the primary structural element and the most important component influencing end use properties. A network of self-bonding cellulose fibers within network structure affects chemical and physical characteristics of the paper products. However, the chemical structure of cellulose is now well established and consists β-anhydroglucose units with dominant hydroxyl groups, which are appropriate groups for reactions. These are mainly due to the one primary and two secondary hydroxyl groups in each monomer unit in polymer structure [
1
,
2
]. Each of anhydroglucose units are linked together by β-1-4 glycosidic bonds. Due to specific chemical arrangements of cellulose, it is completely linear homopolysacharide and has the ability to form extensive intra and intermolecular hydrogen bonds [
1
].
Because, paper network is composed from randomly laid fibrous (cellulose) and non-fibrous (fillers) materials, it contains a complicated set of cavity pore channels with a variety of capillary dimensions. Hence, it is readily permeable to liquids. However, the structure of paper can be modified during contact of liquids because it disrupts hydrogen bonds, relaxes fibers, and produces dimensional changes in pores and capillaries. If the effect of external pressure is neglected, the
Washburn equation
could be used to describe the rate of capillary rise of fluids into paper.
Where dl/dt is the rate of penetration of the capillary, l is the distance penetrated into a cylindrical capillary of radius r, in time t, θ angle between liquid and surface, by a liquid with surface tension γ
lv
and viscosity η [
3
,
4
].
A number of studies have been conducted on the reasonably explanation for paper-liquid interactions. However, most studies have shown that the chemical and physical properties of fibers (cellulose) are reduced upon rewetting. Consistently, the decrease of the absorption and strength properties of rewetted fibers because of changes in the basic structure during swelling and reducing fiber bonding potential [
5
–
7
]. It was speculated that during drying, cellulose lose both free and bound water and start to shrink. It has modified to hard and stiff state (hardening) that have not reswell properly compare to never dried state [
8
–
10
]. The mechanism of cellulose hardening is complicated and probably related with removal of bound water, lowers the distance between microfibrils and reducing the elasticity of fibrils. As a result of these modifications, the hydrogen bond cross-links could be formed between adjacent microfibrils in cellulose structure. This specific structure is usually called hornification of cellulose fibers [
11
].
The hydrophilic natures of the cellulose within paper structure are very important for good fiber-fiber bonding. However, the challenging aspects for wetting of papers understand how to increase and control fibers wetting and bonding. It is believed that repeating wetting and drying brings about irreversible changes in cellulose bonding potential. Therefore, there is a need to understand more clearly the changes that take place in the rewetted cellulose fibers [
6
–
9
]. These may open the possibility to increase recycling of cellulose based products (e.g. paper and paperboards). Moreover, new modified processes, involve various type of organosolv pulping approaches can also be required more detailed information on the effect of solvent systems on cell wall chemical constituents especially on cellulose.
The objective of this study is to investigate the influence of various solvent formulations over repeating drying and wetting paper, composed only cellulose, in terms of evaluating chemical and physical properties. The experiments were conducted to ascertain the effect of various solvent formulations on liquid absorption, chemical and strength properties as well as capillary pore structure of papers.
2. Experimental Section
Whatman filter paper, composed only from cellulose fibers, has completely free of all additives and fillers, was utilized as paper source under laboratory conditions. The Whatman filter papers (no: 1) and the chemicals with a purity of 97–99%, used in this study were purchased from Yildiz Kimya Ltd (Ankara-Turkey) and utilized as received.
The solvent treatments are designed to evaluate liquid sorption capacity through chemical modification and pore size distribution in paper network after continuously repeating drying and wetting cycles. Four different solvents and their appropriate proportion mixtures were utilized in treatments: water (H
2
O), ethanol (EtOH), methanol (MeOH), sodium hydroxide (NaOH). The constituents of solvent mixtures that paper samples treated at atmospheric conditions are presented in
Table 1
.
Five repeating wetting-drying stages were carried out to evaluate some chemical and physical paper properties. The sheets were soaked in the solvents at the atmospheric conditions for 8 hours. At the end of each wetting stage, the sheets were dried in an oven at 105°C for 6 hours.
The sorption properties of the samples were determined in conformity with Tappi test method T 441. But longer time was used to calculate liquid sorption as well as strength properties of samples. The tensile strength and stretch properties were conducted with Lloyd-Lrk 5plus strength testing machine following Tappi standards T-494.
Simons stain technique was used for evaluating the capillary pore structure of sheets. This technique was based on the differences between the two type dyes (Direct Blue I and Fast Orange 15) molecular size and affinity for cellulose. The dyes were purchased from Pylam Products Co., Inc., Tepme, AZ, under the commercial names of Pontamine Fast Sky Blue 6BX and Pontamine Fast Orange 6RN, respectively. The dyes were used as received, without further purification. The 1 g Orange and Blue dye were dissolved in 100 ml distilled water then the dye solutions mixed in a ratio of 1:1 by volume. The small samples (1x1 cm) were first soaked in dye solutions for 1 min and then 1 min in water. After that, they were put on a slide and dried at 75°C, examined under a light microscope.
Direct Blue I has a defined chemical structure with a molecular diameter of 1 nm. Fast Orange 15 dye is a condensation product of 5-nitro-o-toluenesulfonic acid in aqueous alkali solution and its formula and structure are not well defined. However, It was proposed that the purified Fast Orange 15 dye has a molecular diameter in the range of 5–36 nm, which is much larger than the Direct Blue I molecular size [
13
,
14
].
A Shimadzu IR Prestige-21 series IR spectrophotometer was used to evaluate the chemical groups on the untreated and solvent treated papers. The data were collected in the range of 4000–400 cm−1.
3. Results and Discussion
The strength developments as well as physical behavior of papers are very complicated and depend on many factors such as structure of cellulose especially on crystalline region, and H-bonding of randomly laid network elements. But in brief, it is apparent that the strength properties of sheets considerably decrease with liquid treatments especially in acidic environment (B and C) but the addition of alkali (NaOH) to both ethanol and methanol solvents seems to have less effect on strength loss, even some level improvement on stretch of papers realized in various conditions.
4. Conclusions
A number of solvent treatment conditions were utilized for evaluating cellulose paper in terms of liquid absorption, strength as well as sheet network structure of papers.
It can be revealed that repeating drying and wetting usually affects on decreasing liquid absorption and strength of cellulose papers. These can be attributed to a change in the fiber polymer structure especially elimination of H-bonding sites for liquids. However, liquid absorption was significantly improved by alkali addition to both MeOH and EtOH solvent systems. Simons stain results were usually correlated with strength and sorption properties of papers. FTIR measurements indicated some modification had taken place during solvent diffusion and solvent induced chain modification occurred in cellulose structure.
Acknowledgements
Authors wish to thank the financial support received for this research from SDU Bilimsel Araştýrmalar Proje birimi (BAP), Project number: 965-M-04.
References
Fengel, D; Wegener, G.

Wood Chemistry Ultrastructure Reactions

; Walter de Gruyter: Berlin, Germany, 1984. [Google Scholar]
Sjostrom, E.

Wood Chemistry

; Academic Press: New York, 1993. [Google Scholar]
Neimo, L. Neimo, L, Ed.; Atlanta, GA, 1999; pp. 151–203.
Roberts, CJ.

Interactive Paper Proceedings of SPIE

1996,

3227

, 20–49.
Ellis, RL; Sedlachek, KM.

Secondary Fiber Recycling

; Spangenberg, RJ, Ed.; Tappi Press: Atlanta, GA, 1993; p. 7. [Google Scholar]
Wistara, N; Young, RA. Properties and Treatments of Pulps from Recycled Paper. Part I. Physical and Chemical Properties of Pulps.

Cellulose

1999,

6

(4), 291–324. [Google Scholar]
Scallan, AM; Tigerstrom, AC. Swelling and Elasticity of the Cell Walls of Pulp Fibers.

J Pulp and Paper Sci

1992,

J18

(5), J188–J193. [Google Scholar]
Young, RA. Comparison of the Properties of Chemical Cellulose Pulps.

Cellulose

1994,

1

(2), 107–130. [Google Scholar]
Sahin, HT. Strength developments of recyled pulp fibers. unpublished results; University of Wisconsin-Madison: WI, 1996. [Google Scholar]
Weise, U; Paulapuro, H. Relation between Fibre Shrinkage and Hornification.

Papier

1996,

50

(6), 328–333. [Google Scholar]
Weise, U. Hornification - mechanisms and terminology.

Paperi Jaa Puu-Paper and Timber

1998,

80

(2), 110–115. [Google Scholar]
Atalla, RH.

Material Interaction Relevant to Recycling of Wood-Based Material

. Proceedings of the Mat. Res. Soc. Symp., San Francisco, CA.
Yu, X; Minor, JL; Atalla, RH. Mechanism of Action of Simons' Stain.

Tappi J

1995,

78

(6), 175–179. [Google Scholar]
Yu, X; Atalla, RH. A Staining Technique for Evaluating the Pore Structure Variations of Microcrystalline Cellulose Powders.

Powder Techn

1998,

98

, 135–138. [Google Scholar]
Rowell, RM.

Handbook of Wood Chemistry and Wood Composites

; Rowell, RM, Ed.; CRC Press, Inc.: Boca Raton, FL, 2005; Chapter 4. [Google Scholar]
Das, M; Chakraborty, D. Influence of Alkali Treatment on the Fine Structure and Morphology of Bamboo Fibers.

J Appl Polym Sci

2006,

102

(5), 5050–5056. [Google Scholar]
Watanabe, A; Morita, S; Ozaki, Y. A study on Water Adsorption onto Microcrystalline Cellulose by Near-infrared Spectroscopy with Two-dimensional Correlation Spectroscopy and Principal Component Analysis.

Applied Spectroscopy

2006,

60

(9), 1054–1061. [Google Scholar]
Akhtar, M; Blanchette, RA; Burnes, TA. Using Simons Stain to Predict Energy Savings during Biomechanical Pulping.

Wood and Fiber Science

1995,

27

(3), 258–264. [Google Scholar]
Halder, E; Chattoraj, DK; Das, KP. Adsorption of Biopolymers at Hydrophilic Cellulose water Interface.

Biopolymers

2005,

77

, 286–295. [Google Scholar]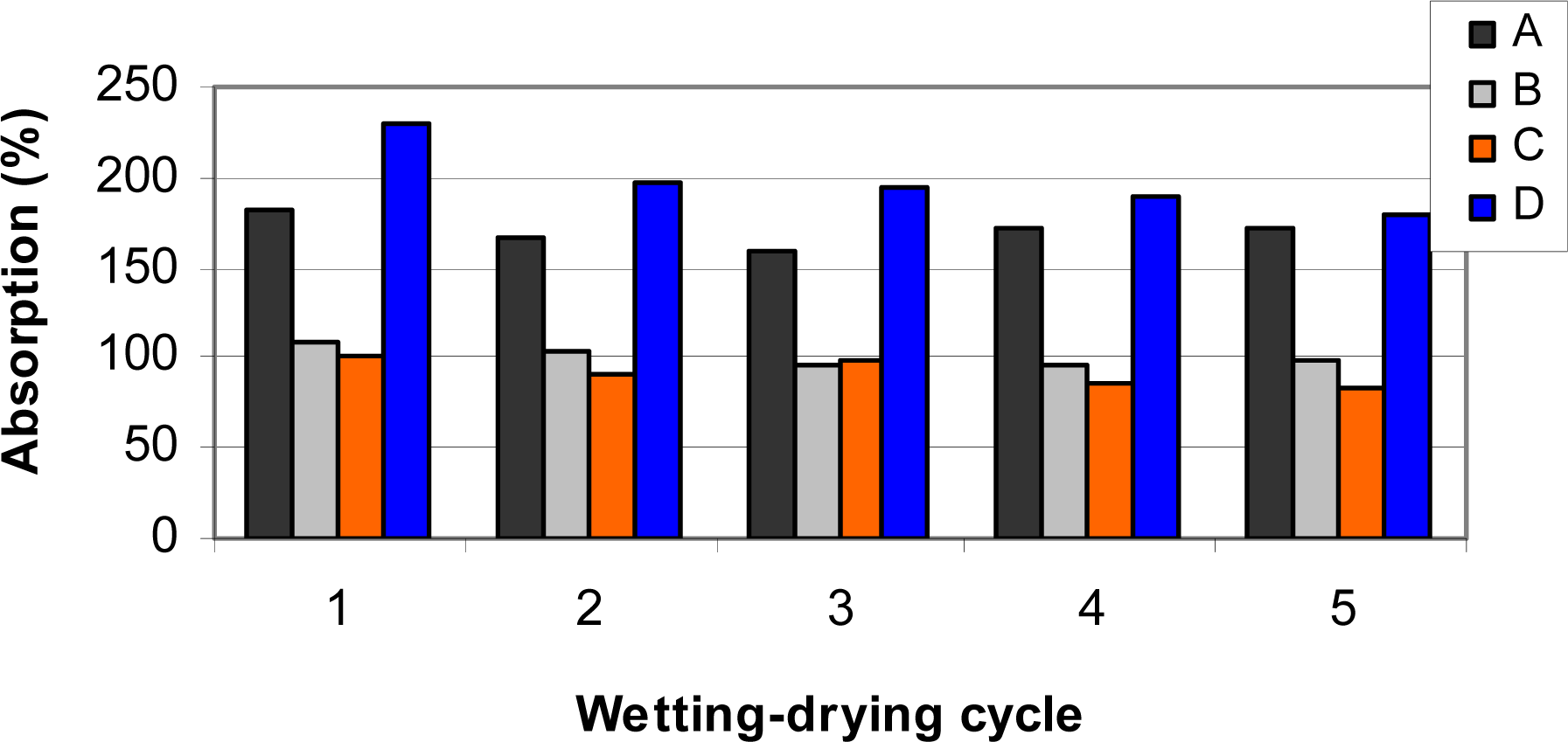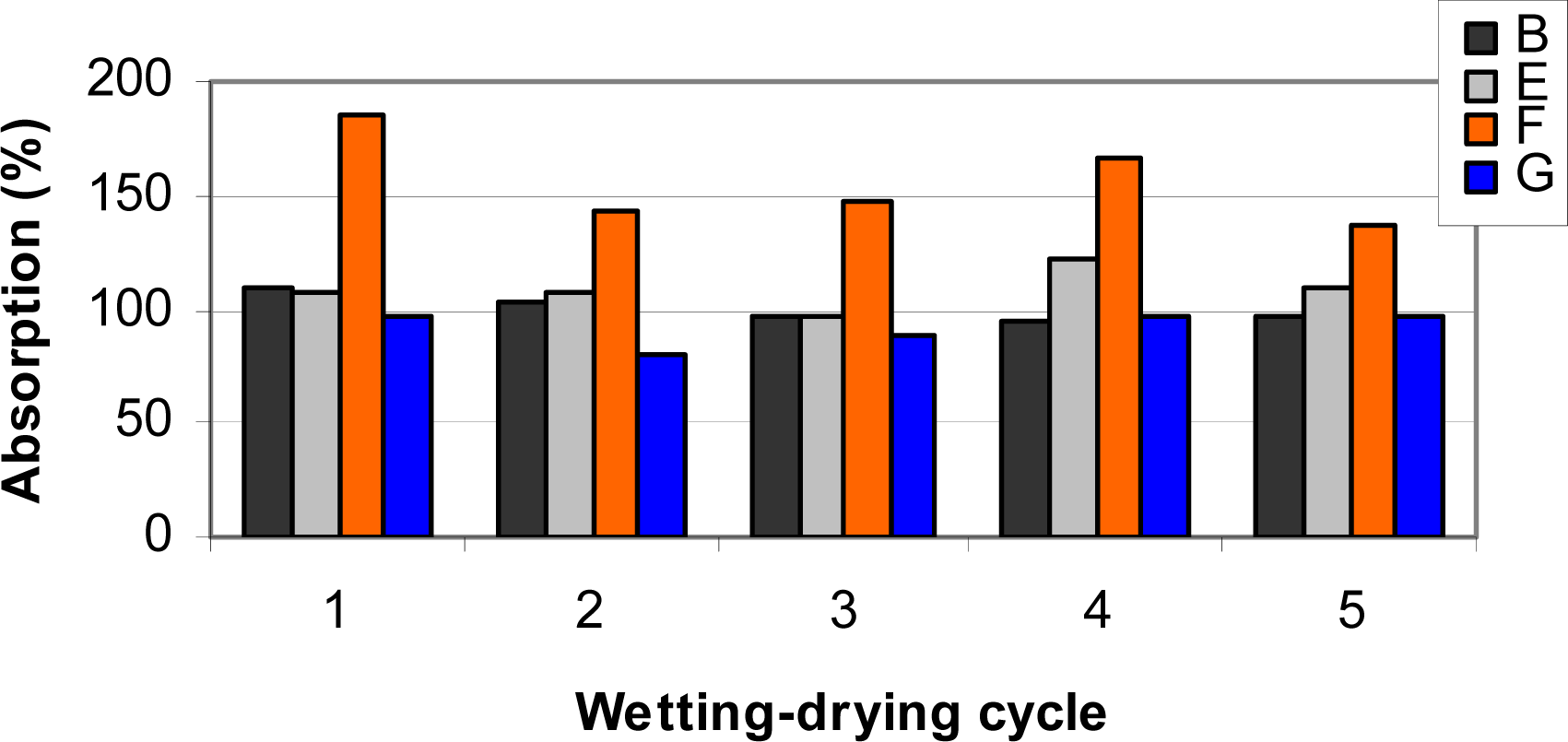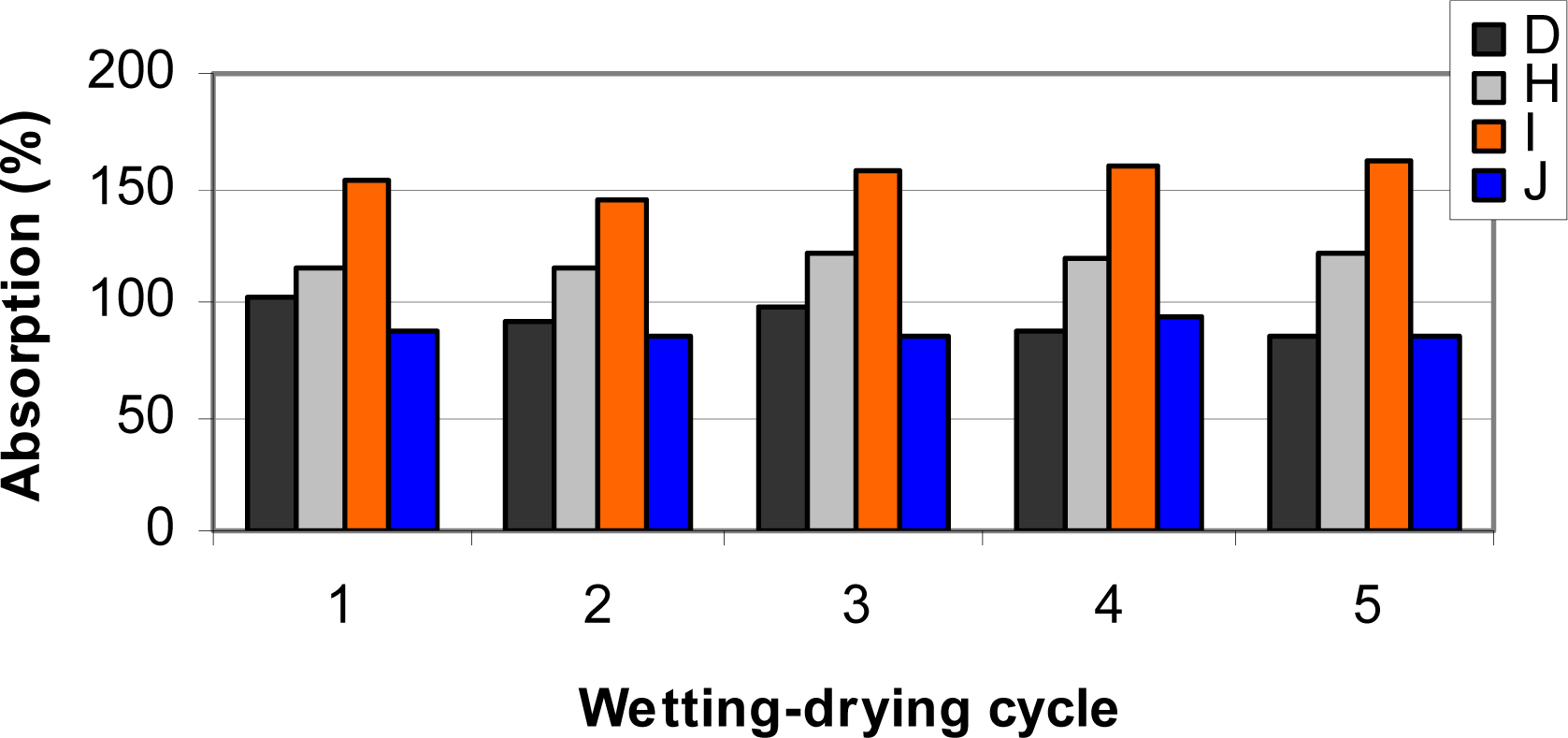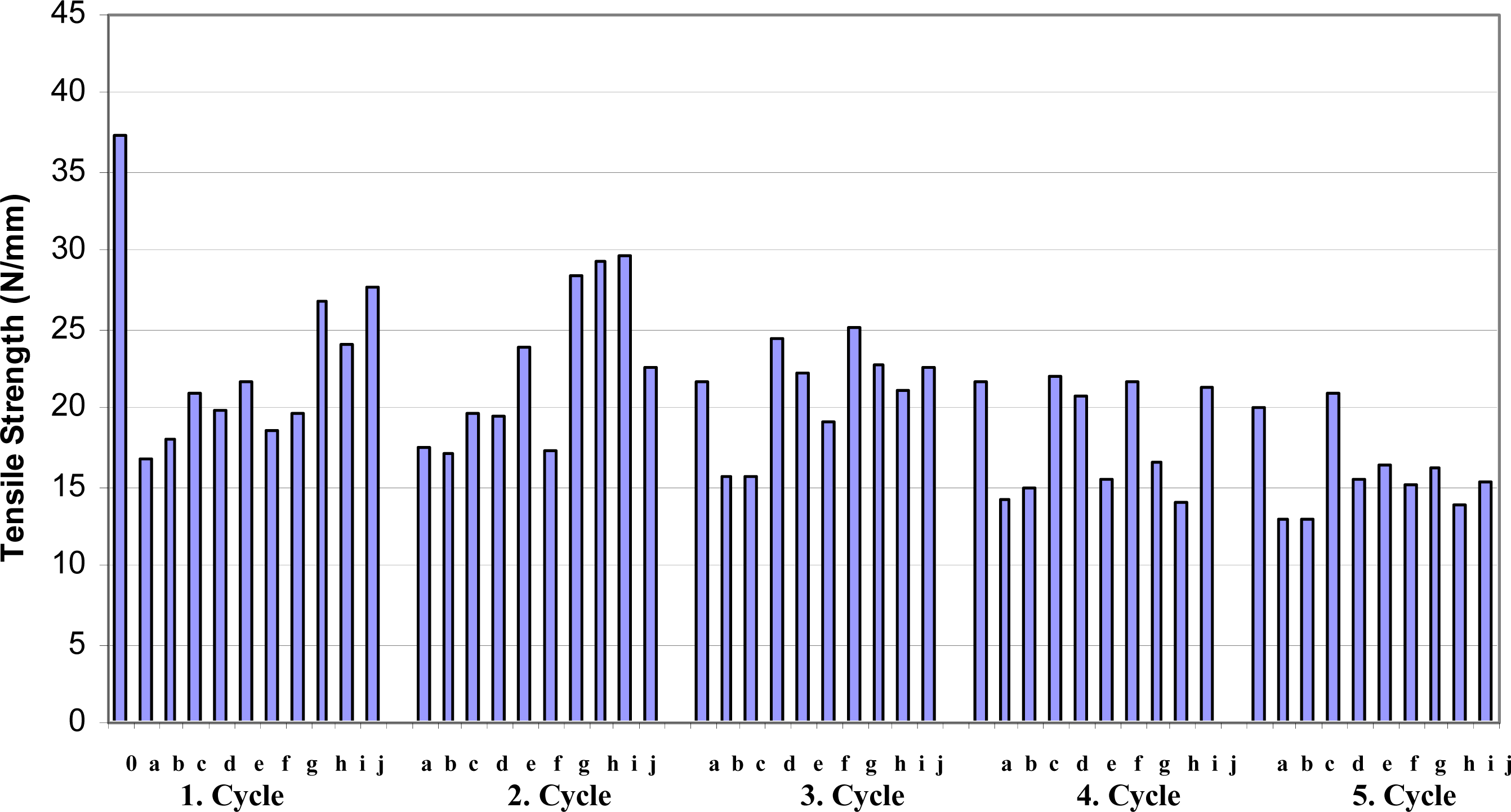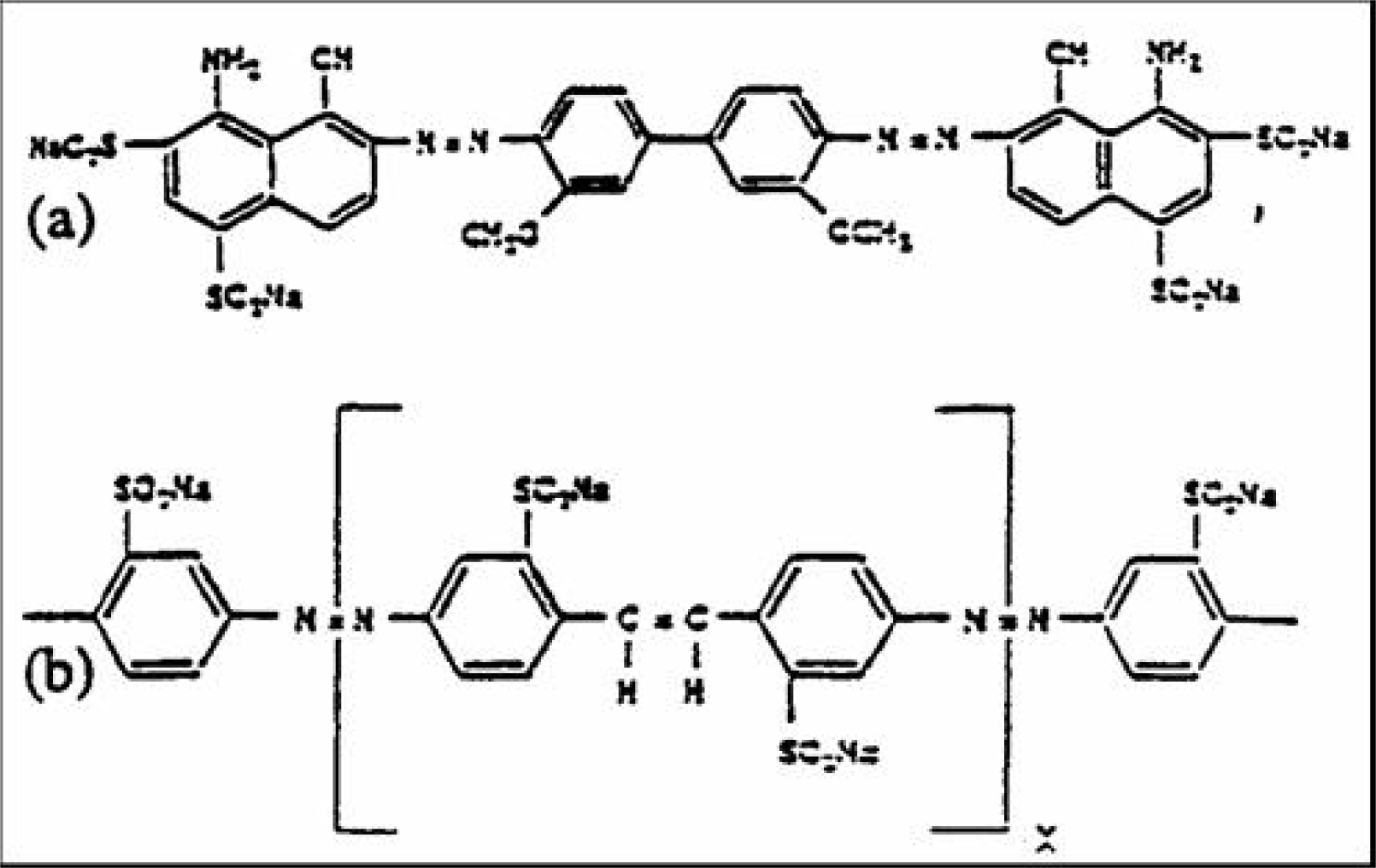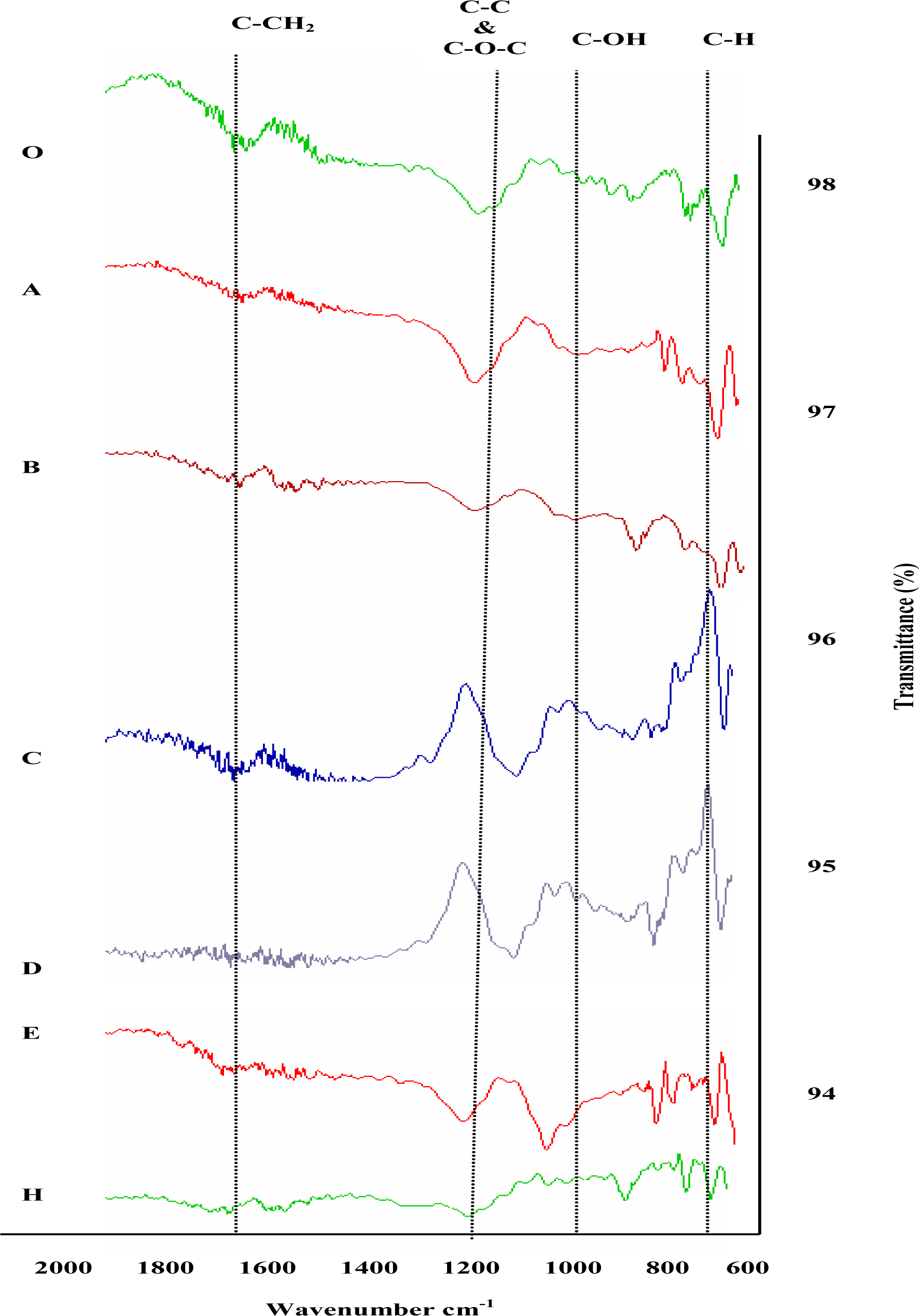 Table 1. The chemicals and their appropriate proportion mixtures (% by volume) for treating paper.

| Samples | H2O | EtOH | MeOH | NaOH |
| --- | --- | --- | --- | --- |
| 0 | - | - | - | - |
| A | 100 | - | - | - |
| B | | 100 | | |
| C | | | 100 | |
| D | | | | 100 |
| E | | 50 | | 50 |
| F | | 25 | | 75 |
| G | | 75 | | 25 |
| H | | | 50 | 50 |
| I | | | 25 | 75 |
| J | | | 75 | 25 |

Table 2. Application of Simons stain technique to paper samples treated by various solvent mixtures.
Table 2. Application of Simons stain technique to paper samples treated by various solvent mixtures.
Stained fiber color*
Samples
Dark Blue
Light blue-Orange
Intermediate Orange
Dark Orange
0

---

---

+++

---

---

---

---

1st wetting-drying cycle

---

---

A
+++
B
++
+
+
C
+++
D
+++
E
+
++
F
++
++
G
+
++
H
+++
I
++
++
J

---

---

---

+++

---

---

---

5th wetting-drying cycle

---

---

A
++
+
B
+++
C
++
+
D
++
++
E
+
++
F
++
++
+
G
++
++
H
++
+
I
++
+
+
J
++
+
*
+: seldom; ++: intermediate; +++: intensive