Open Access This article is
freely available
re-usable
Review
Genome Editing for Mucopolysaccharidoses
1
Gene Therapy Center, Hospital de Clinicas de Porto Alegre, Porto Alegre 90035-007, Brazil
2
Post-Graduate Program in Genetics and Molecular Biology, Universidade Federal do Rio Grande do Sul, Porto Alegre 91501-970, Brazil
3
Department of Pediatrics, Stanford University, Stanford, CA 94305, USA
*
Author to whom correspondence should be addressed.
Received: 1 November 2019 / Accepted: 9 January 2020 / Published: 13 January 2020
Abstract
:
Genome editing holds the promise of one-off and potentially curative therapies for many patients with genetic diseases. This is especially true for patients affected by mucopolysaccharidoses as the disease pathophysiology is amenable to correction using multiple approaches. Ex vivo and in vivo genome editing platforms have been tested primarily on MSPI and MPSII, with in vivo approaches having reached clinical testing in both diseases. Though we still await proof of efficacy in humans, the therapeutic tools established for these two diseases should pave the way for other mucopolysaccharidoses. Herein, we review the current preclinical and clinical development studies, using genome editing as a therapeutic approach for these diseases. The development of new genome editing platforms and the variety of genetic modifications possible with each tool provide potential applications of genome editing for mucopolysaccharidoses, which vastly exceed the potential of current approaches. We expect that in a not-so-distant future, more genome editing-based strategies will be established, and individual diseases will be treated through multiple approaches.
Keywords:
genome editing; gene therapy; mucopolysaccharidoses; lysosomal storage disease; CRISPR/Cas9; Hurler; Hunter; Zinc Finger Nucleases; viral vectors; non-viral vectors; hematopoietic stem cell transplantation
1. Introduction: Therapeutic Principles in Mucopolysaccharidoses
The mucopolysaccharidoses (MPSs) are a group of genetic disorders caused by deficiencies in lysosomal enzymes, whose function is to degrade glycosaminoglycans (GAGs). Depending on the missing enzyme, the degradation of specific GAG species is blocked, generating a distinctive constellation of clinical symptoms, characteristic of each MPS form. Most MPSs are inherited as autosomal recessive disorders, except MPSII, which is X-linked [
1
].
Most MPSs, except MPSIIIC [
2
], result from deficiencies in soluble lysosomal enzymes that are secreted continuously into the extracellular space and blood, where they are taken up by adjacent cells and tissues. Consequently, cells with restored enzymatic capacity can "cross-correct" cells with the deficiency, a property known as cross-correction that forms the basis for most established and experimental therapies for MPSs [
3
]. This process of cross-correction explains why enzyme, when delivered systemically (such as in enzyme replacement therapy, or "ERT") can improve symptomatology in some organs. Furthermore, cross-correction predicts that endogenous enzyme depots that could persistently produce enzymes could be effective at treating multiple affected tissues. Accordingly, cross-correction also explains why hematopoietic stem cell transplantation has been successful in some MPS diseases and why most viral and genome editing-based approaches aim to create such enzyme depots by targeting different organ systems [
4
].
An important property of MPSs is the relatively low therapeutic threshold, which is an essential consideration when developing gene therapy/gene editing-based therapeutic approaches for these disorders. Phenotypic characterization from healthy individuals with partial enzymatic activity and patients with mild phenotypes inform the target levels of enzymatic correction necessary for symptomatic relief. Though specific for every MPSs, restoration of enzyme level to approximately 10% of normal can be sufficient in most MPSs to produce clear benefit [
5
].
This ability to cross-correct the phenotype by targeting specific cell populations and organs, along with the low therapeutic threshold, has spurred development of a variety of therapeutic approaches for MPSs, and support the idea that in vivo and ex vivo gene editing approaches can be effective in this group of diseases. Genome editing, unlike ERT, has the promise of providing a one-time, definitive therapy for various genetic diseases. Compared to non-integrating viral therapy such as adeno-associated viruses (AAV), genome editing ensures that modifications are cemented into the genome, without risk of dilution with organ growth. In addition, ex vivo genome editing could circumvent some of the potential immunological complications of AAV. Finally, compared to randomly integrating viruses, e.g., lentiviruses, genome editing provides more specific (and therefore, more predictable) genetic modifications, and maintains the ability to preserve endogenous regulation of the corrected gene if desired.
2. Gene Editing: The basics
In this section, we present a brief description of the currently available genome editing platforms with a focus on those being developed for MPS. The discovery, evolution, and more technical aspects of each platform are not discussed here, as these have been extensively reviewed. A more in-depth discussion of each tool and its potential uses in MPS is provided elsewhere [
6
].
2.1. Genome Editing Platforms
2.2. Multiple Genetic Modifications and Their Therapeutic Applications
Once introduced into the cell, the ZNFs and Cas9/gRNA complexes translocate to the nucleus and cleave DNA at the intended sequences, generating a DSB, which triggers DSB-break repair mechanisms, primarily non-homologous end joining (NHEJ) or homologous recombination (HR) (
Figure 2
). NHEJ can result in imprecise repair, leading to small deletions or insertions (indels) at the break site (
Figure 2
). The therapeutic application of NHEJ-based genome editing is limited, particularly in diseases resulting from loss-of-function alleles and in which many pathogenic mutations have been reported, as in the MPSs disorders. Most commonly, NHEJ is used for the disruption of coding or regulatory sequences (
Figure 2
). Notably, this approach has reached clinical testing for hemoglobinopathies, such as sickle cell disease and beta-thalassemia, in which NHEJ-based genome editing is used to disrupt a regulatory sequence, to selectively turn off the expression of a repressor. This increases production of an alternative form of hemoglobin (fetal hemoglobin), which can ameliorate the phenotype [
18
]. In very specific circumstances, NHEJ can be used to create insertions or deletions of 1, 2, or 3 nucleotides that can restore the reading frame in a mutant gene (
Figure 2
). The efficacy of this approach depends on the frequency of the intended indel, compared to other potential indels and has been primarily aimed at targeting specific mutations in Duchenne muscular dystrophy [
19
,
20
], but not yet in MPSs.
In addition to NHEJ, repair of the DSB can be achieved by homology-directed repair (HDR). This type of repair is favored when the cell is supplied with an exogenous template containing the intended sequence changes and homology around the cut site (
Figure 2
). HDR allows for precise genetic changes with therapeutic potential, depending on the design of the exogenous homologous template. A common use of HDR is for single nucleotide variant (SNV) correction. This approach is particularly relevant in diseases with a common pathogenic mutation, and it is the most efficient HDR-based mechanism [
21
,
22
]. HDR can also be used to insert entire coding sequences under the control of endogenous promoters, thereby providing a single platform for all pathogenic variants. Coding sequences can also be integrated under alternate regulatory regions or under exogenous promoters, allowing for modifications to the temporal and spatial patterns of expression that might add therapeutic value [
23
]—an approach that is usually referred to as a "safe harbor" approach. Another therapeutic use of HDR is to perform partial cDNA insertions containing an abbreviated functional protein, or coding regions with mutational hot spots, a strategy that can be used in cases where the cDNA is long and full replacement is not feasible.
For most therapeutic applications, the desired outcome is for repair to be directed by a template DNA, resulting in precise edits. For genome editing that relies on DSBs (not CRISPR-mediated base editing or prime editing), outcomes of genome editing can have multiple byproducts, resulting in a mixture of NHEJ and HDR. In most cells, these processes are competing and NHEJ is generally the most efficient. This observation has been explained, at least in part, by the activation of DNA-damage responses such as the p53 activation resulting in cell cycle arrest or even apoptosis [
24
,
25
]. Much effort over the past few years has focused on shifting this balance from NHEJ to HDR [
26
,
27
,
28
,
29
,
30
,
31
,
32
,
33
,
34
]. Alternative strategies to achieve precise and efficient editing have relied on moving away from DSBs by using catalytically inactive Cas9 or Cas9 nickase, as in CRISPR-mediated base editing or prime editing. Both of these tools have a great therapeutic potential, but proof-of-concept studies of efficacy and safety are still lacking, particularly in MPS diseases.
2.3. Delivery Platforms: Ex Vivo vs. In Vivo Genome Editing
There are two primary approaches for targeting the genome editing components to the intended cells or tissues. In vivo approaches deliver the genome editing tools directly in the live organism, while in ex vivo delivery cells from the patient, suitable donor, or cell bank are modified outside of the body (
Figure 3
). With the in vivo approach, the correction of specific cells in the relevant organs depends highly on the tropism of the delivery vector used, the route of administration, and the physical as well as genomic accessibility of the target organ for genome editing. In the ex vivo approach, target cells with a regenerative potential must be isolated or be available for transplantation. Upon transplantation, these corrected cells could replace organs or migrate to the affected tissues (such as the brain). The choice of approach generally depends on the target organ. Advantages of the ex vivo approach include the control over which cells are targeted and the ability to fully characterize the editing outcomes, both intended (on-target) and unintended (off-target), in the targeted population. This approach has been extensively used in the hematopoietic system, where the isolation, culture, and transplantation of these cells is now routine [
35
,
36
]. However, not all organ functions can be replaced by transplantation of genome edited cells modified ex vivo. In these organs, e.g., the musculoskeletal and central nervous systems, an in vivo approach can be more effective.
3. Genome Editing vs. Other Therapeutic Approaches in MPS Disorders
4. From Proof of Concept Studies in Animal Models to Clinical Trials
For a complete summary of all preclinical and clinical studies using genome editing for MPSs, see
Table 1
.
4.2. Ex Vivo Approaches
Ideal candidate cells for ex vivo modification are tissue-specific stem cells. Among these, hematopoietic stem and progenitor cells have been heavily studied as clinicians and researchers have extensive experience with their isolation, ex vivo manipulation, and transplantation [
35
,
36
]. Furthermore, hematopoietic stem cell transplantation (HSCT) in the allogenic setting has been shown to be a feasible enzyme reservoir in several metabolic disorders and MPSs [
87
,
88
,
89
]. Specifically, for MPSI, allogeneic HSCT has been shown to expand life expectancy and halt neurological decline. It is also the standard of care for patients under two years of age, who have a severe form of the disease and show a normal developmental quotient at the time of the evaluation [
67
]. Accordingly, the first genome editing ex vivo approach using hematopoietic stem cells was first established for MPSI. The goal of this approach is to establish autologous transplantation of genetically corrected cells by targeting the patient's own hematopoietic stem cells and engineering them to produce high levels of the needed enzyme [
90
] (
Figure 4
). Compared to allogeneic HSCT, this overall strategy achieves higher levels of enzyme expression, eliminates the morbidity of graft-versus-host disease and immunosuppression, and can lead to earlier intervention by obviating the need for donor matching. Compared to ERT and the ZFN approaches described earlier, it provides enzymatic correction in the CNS.
In these studies, human hematopoietic stem and progenitor cells (HSPCs) were targeted using CRISPR-Cas9 to insert an IDUA expression cassette into the safe harbor locus,
CCR5
(
Figure 4
). The safe harbor allowed for expression of the enzyme outside the restrictions of the endogenous locus, as the goal was to engineer cells for supra-endogenous expression, which had been previously shown to enhance therapeutic potency [
74
]. A safe harbor also establishes a universal corrective approach for all patients with MPSI, as it circumvents the design for specific patient mutations. Finally, because the targeted locus does not change, the same genome-editing tools can be easily adapted to express other lysosomal enzymes, as there is no additional optimization of the gRNA and the donor repair template. To enhance the genome editing efficiency in human HSPCs, the researchers used gRNAs that were chemically modified with 2′-
O
-methyl 3′phosphorothioate [
91
] and
Streptococcus pyogenes
Cas9 protein complexed with the gRNA (RNP) and delivered into the cells by electroporation. The donor template for repair was delivered via adeno-associated virus 6 (AAV6) (
Figure 4
). When inserting an expression cassette where the IDUA expression was driven by the phosphoglycerate kinase (PGK) promoter, human HSPCs and the HSPCs-derived macrophages expressed 25-to-50-fold more IDUA than the unmodified cells. Serial transplantation studies showed that HSPCs modified in this manner retained the long-term repopulation and multilineage differentiation potential, confirming that this strategy can modify long-term stem cells and could constitute a one-time therapy for the disease. The efficacy of the edited HSPCs was examined in a model of MPSI capable of human cell engraftment. Transplantation of the edited cells led to a reconstitution of enzyme activity in serum, liver, spleen, and brain. GAG storage was also decreased in serum, liver, spleen, but not in brain. The transplanted mice demonstrated improvement in the bone pathology, neurobehavior (ambulation, short-term memory, and anxiety), and neuroinflammation. Together, this work provided specific evidence of safety and efficacy to support the optimization and development of this strategy into a clinical protocol to treat patients with MPSI and a platform approach to potentially treat other lysosomal storage disorders.
Other cell sources are beginning to be investigated. Induced pluripotent stem cells (iPSCs) are pluripotent stem cells generated directly from somatic tissues of patients and have the capacity to give rise to various cell types in the body (neurons, cardiomyocytes, immune cells, hepatocytes, skeletal muscle, etc.). These cells have been targeted in vitro in cellular models of MPSI, though efficacy studies are still lacking [
92
].
5. Challenges to the Clinical Adaptation of Genome Editing in MPSs
Many potential challenges still exist in the future application of therapeutic genome editing for MPSs. Within the preclinical stages of therapy development, appropriate assessment of efficacy and safety remains a challenge. Efficacy must be examined within the parameters of the intended therapeutic threshold in humans, as this might differ from current animal models, which is particularly important in MPSs, where murine models appear to have a lower threshold for biochemical correction and have a more permissible bone and CNS pathology. Not surprisingly, approaches that were shown to be effective in these models have failed to show results in humans. Challenges are specific to the delivery platform. For in vivo approaches, efficacy can be limited by the biodistribution of the available vectors and whether the vector biodistribution would be replicated in humans. Furthermore, genetic correction strategies that rely on HDR are less likely to work in post-mitotic tissues such as neurons. For ex vivo approaches, intrinsic challenges lie in the ability to find cells with a regenerative potential to target disease pathology. While this has been easy to conceive in the hematopoietic system, it has more challenging to achieve in the musculoskeletal and central nervous system.
Perhaps more importantly, there is a significant challenge in assessing the safety of therapeutic genome editing before translation to humans. Several aspects of safety that need to be evaluated, include specificity, tumorigenicity, and immunogenicity. A lingering concern of genome-editing technologies is their potential to create modifications at unintended genomic sites that could ultimately result in tumorigenicity. Many methods have been described to assess, in an unbiased manner the frequency of off-target modification and potential chromosomal abnormalities induced during the genome-editing process [
94
,
95
,
96
,
97
,
98
,
99
,
100
,
101
,
102
]. While studies have shown that the use of short-lived Cas9 (as protein) and mutant Cas9 with improved fidelity can significantly decrease and sometimes abrogate this off-target problem [
90
,
103
,
104
,
105
], there is still no gold-standard test or threshold. Ultimate assessment of tumorigenicity relies on pathological studies in animal models, but whether these studies accurately predict tumorigenicity is debated. Immunogenicity of the delivery vectors and Cas9 is another critical concern, particularly in the in vivo setting. Currently, most in vivo approaches rely on AAV for delivery of the genome editing tools. Specifically, AAV-neutralizing antibodies can reduce AAV-transduction, while CD8
+
T cells directed to AAV capsid antigens can cause rejection of the AAV-transduced cells [
59
]. Similarly, preexisting antibodies and primed cytotoxic T cells have been found in healthy human donors to the
S. aureus
and
S. pyogenic
Cas9 [
106
,
107
]. For ex vivo approaches, immunological challenges lie in the indissoluble relationship between the origin of the cells and the organism. The therapeutic potential of edited human cells, the ultimate intended target, can only be faithfully assessed in the context of a human organism and immune system.
6. Conclusions and Future Directions
Gene editing holds the promise for precise, definitive, and sometimes curative therapies for patients affected with genetic diseases. This is especially true for patients affected by mucopolysaccharidoses where disease pathophysiology is highly amenable to correction. Preclinical studies have shown efficacy of in vivo and ex vivo approaches with different genome editing platforms. Though still not shown to be effective in humans, the fact that in vivo genome editing was first-in-humans for MPSs diseases is highly encouraging. While ex vivo modification of hematopoietic stem cells is still in preclinical stages, the strategy is based on 30 years of clinical and research experience in MPSI, supporting its potential use in treating CNS and skeletal symptoms in other MPSs disease. Autologous transplantation of genetically engineered cells will be safer than the current allogeneic option, and with additional engineering, its therapeutic potential could be enhanced so as to be a viable alternative for MPS patients who are not routinely considered to be transplantable. Challenges remain regarding the safety and efficacy of these tools for clinical translation. Many are not specific to genome editing, so the concurrent advancement of viral-based therapies will improve the therapeutic application of genome editing as well.
Author Contributions
E.P. performed literature review, assisted with preparation of the manuscript, figures and table; G.B. performed literature review and assisted with manuscript preparation; N.G.-O. directed the project and organization, performed literature review, and assisted with manuscript and figure preparation. All figures are original work by E.P. and N.G.-O. All authors have read and agreed to the published version of the manuscript.
Funding
E.P. received funding from CAPES-PrInt, grant number 88887.364167/2019-00. N.G.-O was supported by a grant from the National Institute of Neurological Disorders and Stroke (NINDS, 1K08NS102398-01).
Conflicts of Interest
The authors declare no conflict of interest.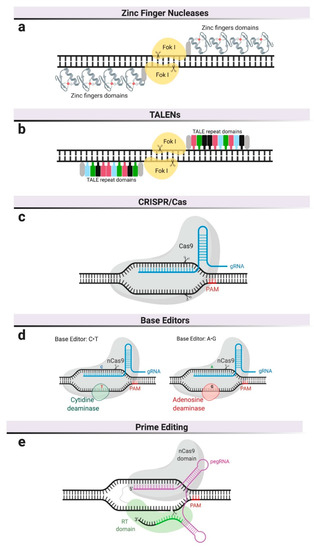 Figure 1. Genome editing platforms. (a) Zinc finger nucleases—zinc finger domains are fused to the restriction endonuclease, FokI, and require dimerization. (b) Transcription activator-like effector nucleases (TALENs) also use FokI as endonuclease but their DNA-binding domain is composed of repeats derived from transcription activator-like effectors (TALEs). (c) Clustered, regularly interspaced, short palindromic repeat (CRISPR)/Cas9 system uses a guide RNA (gRNA) to recognize specific DNA sequences and a Cas9 nuclease to cleave both DNA strands. DNA cleavage only occurs if the gRNA is adjacent to a Protospacer Adjacent Motif (PAM). (d) Base editors use inactive Cas9 or Cas9 nickase (nCas9), complexed with base-modifying enzymes and a gRNA. (e) Prime editors use a Cas9 nickase fused to reverse transcriptase and are complexed with pegRNA, which serves as gRNA and as template for reverse transcription.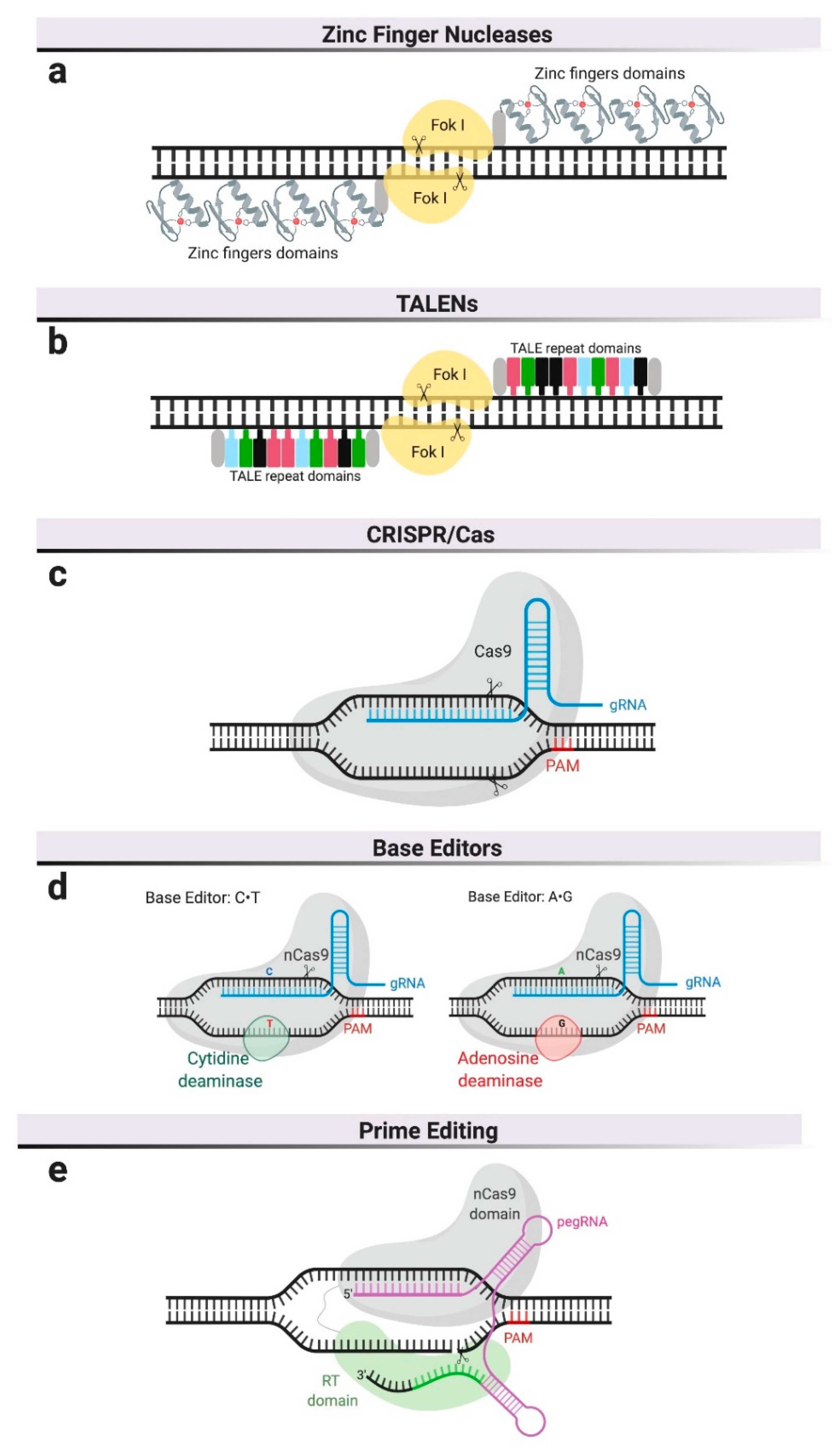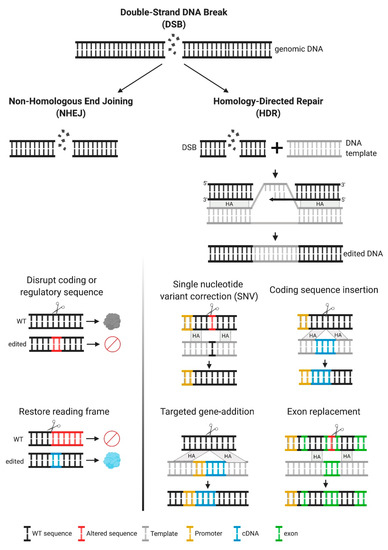 Figure 2. Multiple genetic modifications and their therapeutic applications. Upon a double-strand break (DSB), DNA can be repaired by two mechanisms, non-homologous end joining (NHEJ) or homology directed repair (HDR). The first mechanism frequently results in insertions or deletions (indels). Inducing indels can be used for disruption of coding sequences or to restore the reading frame, for frameshift mutations. For HDR to occur, a DNA template containing the desired modification, with homology arms flanking the target site is required. This approach is recommended when specific DNA modifications are intended, as this is an error-free repair mechanism. HDR can result in the following modifications, depending on the template used—single nucleotide variant (SNV), insertion of coding sequences under their own endogenous promoter control or alternative endogenous promoters, addition of genes (promoter + cDNA) in safe harbor loci, and replacement of partial coding sequences (one or multiple exons).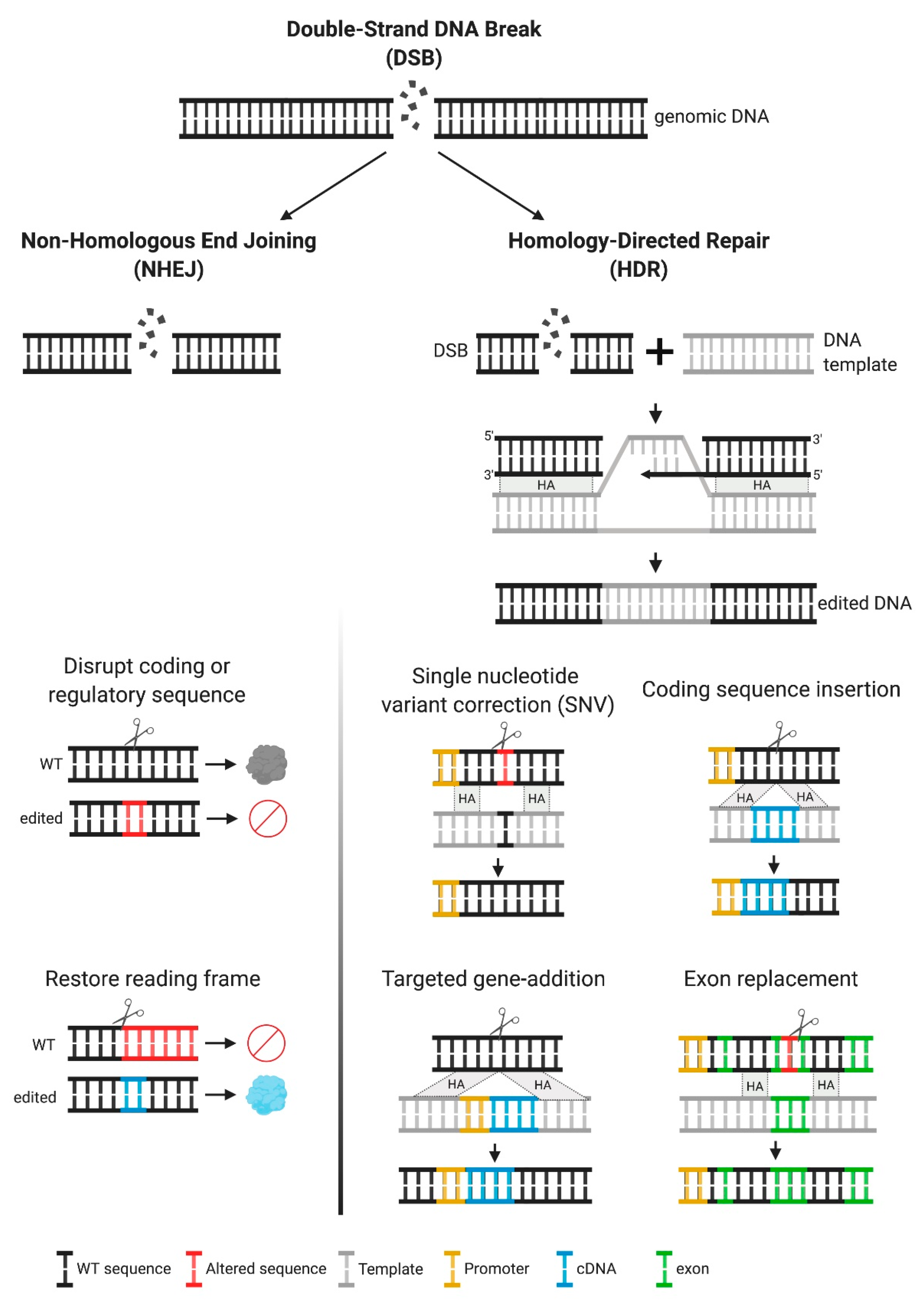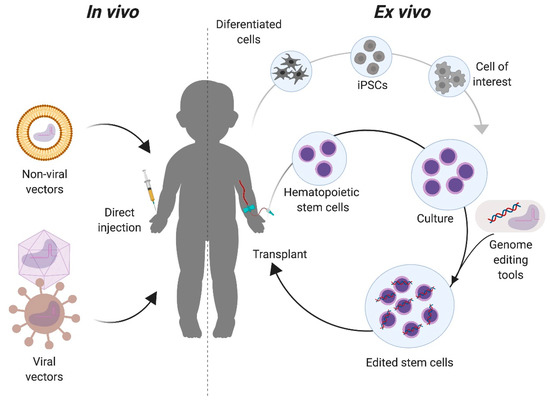 Figure 3. In vivo and ex vivo approaches for genome editing of Mucopolysaccharidoses. For in vivo strategies, the components required for the genome editing are complexed to delivery vectors that will be directly injected to the patient. These vectors can be non-viral, such as liposomes, or viral, such as adeno-associated virus. For ex vivo, cells with a regenerative potential, such as tissue stem cells (e.g., hematopoietic stem cells) or induced pluripotent stem cells (iPSCs) are collected from the patient and modified with the genome editing tools in vitro. Modified cells are then transplanted back to the patient for either autologous or allogeneic transplantation, depending on the cell source.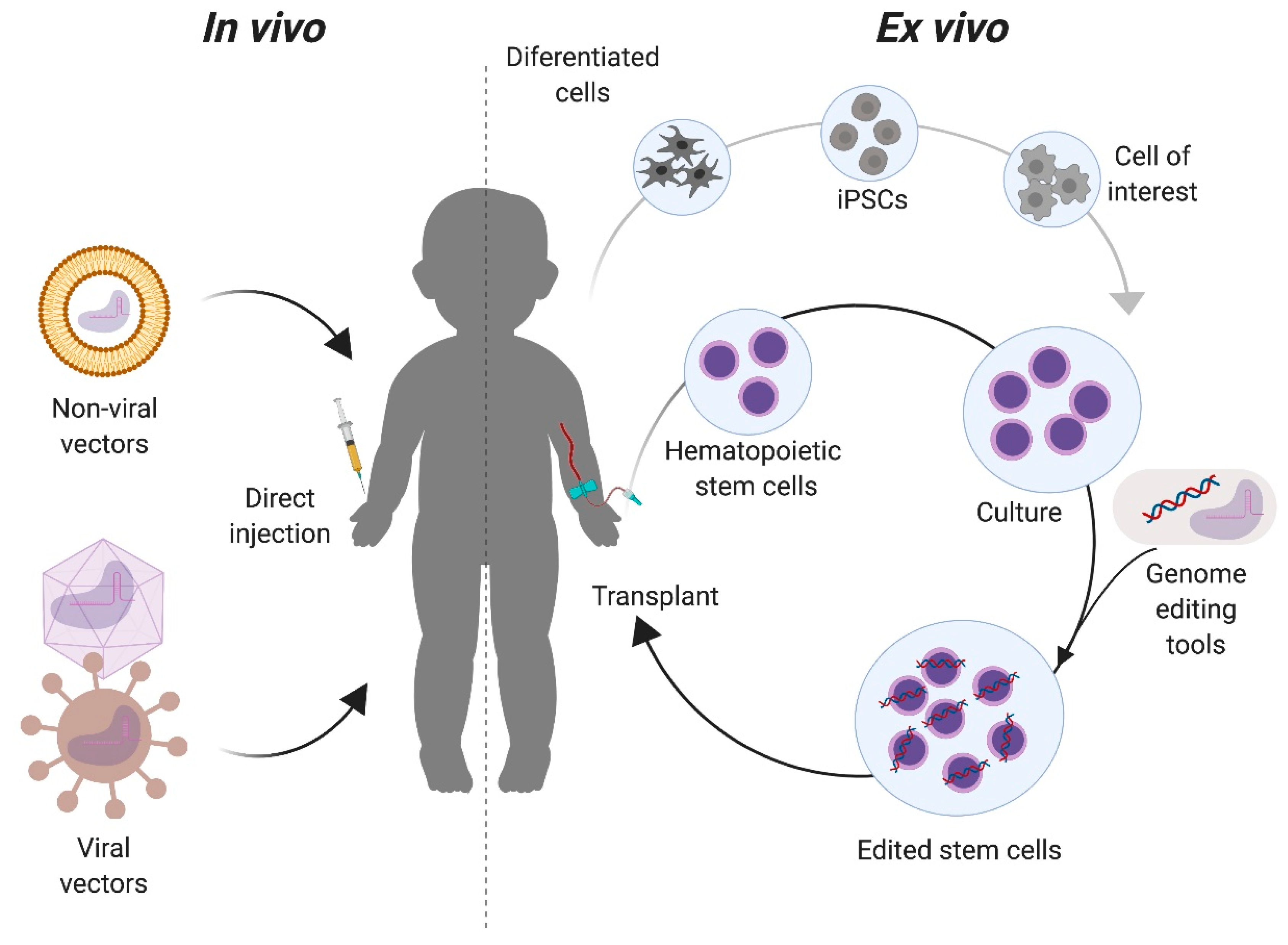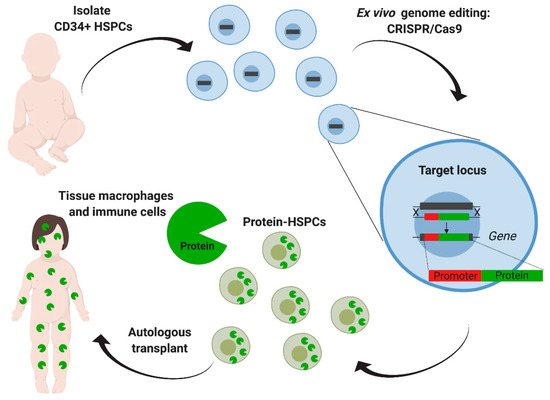 Figure 4.
Ex vivo genome editing of hematopoietic stem cells targeting a safe harbor locus. Hematopoietic stem and progenitors cells (HSPCs) derived from the patient are targeted with CRISPR/Cas9 aiming the addition of the deficient enzyme's coding sequence, driven by an exogenous constitutive promoter in the
CCR5
safe harbor locus. After transplantation, modified HSPCs will eventually engraft, reconstitute the hematopoietic system, and generate tissue macrophages and other immune cells that can produce and deliver the enzyme. This strategy eliminates the need for donor matching and decreases the risk of graft-versus-host disease. Furthermore, a safe harbor extends its applicability to other lysosomal diseases.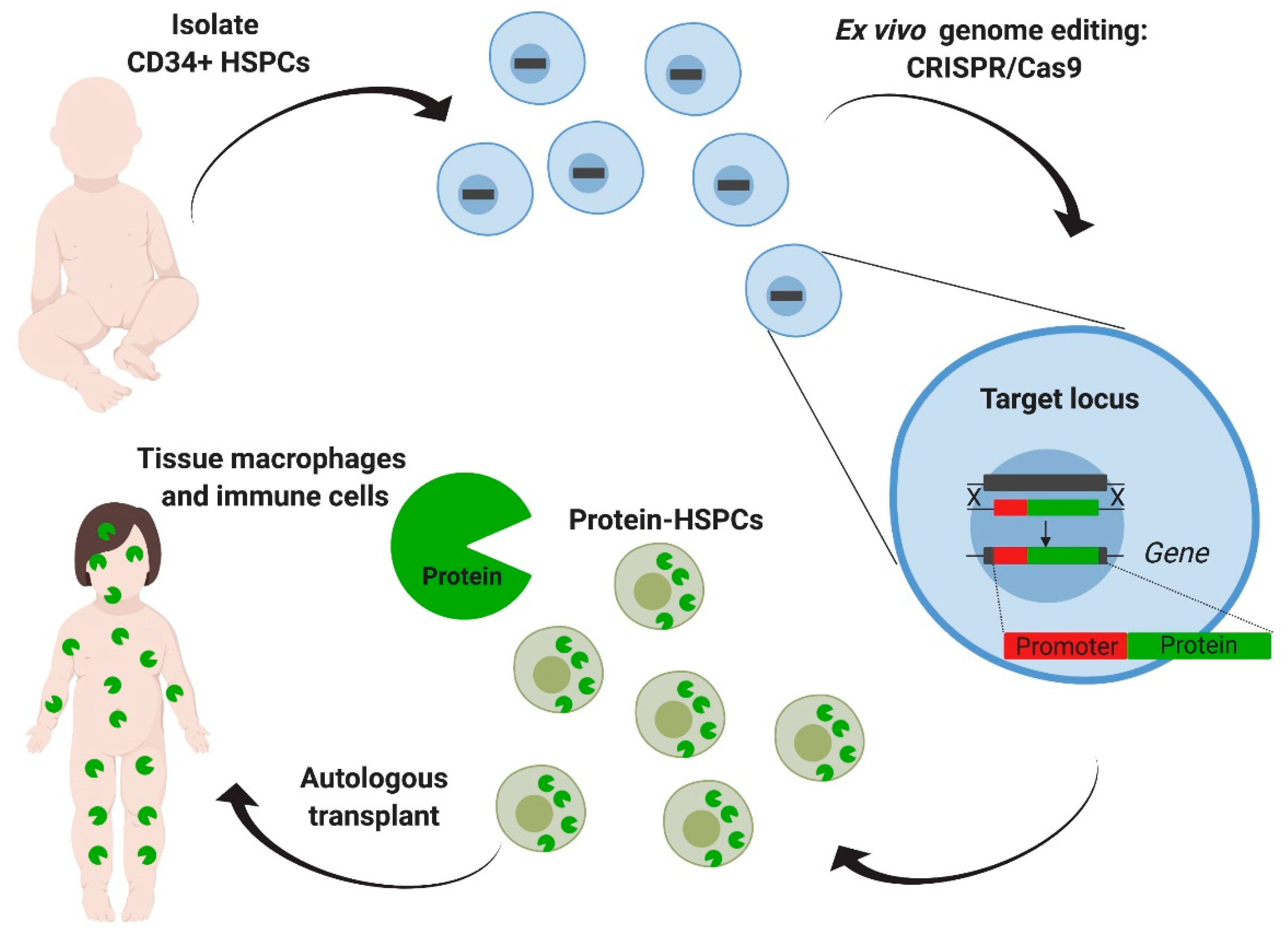 Pre-Clinical Studies in Cell Models
Disease
Affected Gene
Targeted Gene
Platform
Cell Type
Delivery Method
Genetic Modification
Reference
MPS I

IDUA

IDUA

CRISPR/Cas9
Human fibroblasts
Plasmid-Liposome complex
SNV correction
[82]
MPS I

IDUA

IDUA

CRISPR/Cas9
Human fibroblasts
Plasmid-Liposome complex
SNV correction
[93]
MPS I

IDUA

IDUA

CRISPR/Cas9
mouse iPSCs
Plasmid-Liposome complex
Precise deletion
[92]
Pre-Clinical Studies in Murine Models
Disease
Affected Gene
Targeted Gene
Platform
In Vivo Vs. Ex Vivo
Cargo and Vehicle
Genetic Modification
Reference
MPS I

IDUA

CCR5

CRISPR/Cas9
ex vivo
RNP/AAV6
Gene addition
[90]
MPS I

IDUA

ROSA26

CRISPR/Cas9
in vivo
Liposome and plasmid vectors, IV
Gene addition
[84]
MPS I

IDUA

IDUA

CRISPR/Cas9
in vivo
2 AAV9 vectors, IV
SNV correction
[86]
MPS I

IDUA

ALB

ZFNs
in vivo
3 AAV2/8 vectors, IV
Gene addition
[78]
MPS II

IDS

ALB

ZFNs
in vivo
3 AAV2/8 vectors, IV
Gene addition
[77]
Clinical Trials
Disease
Affected Gene
Targeted Gene
Platform
In Vivo vs. Ex Vivo
Cargo and Vehicle
Genetic Modification
Company
Trial Name
Clinicaltrials.gov Identifier
MPS I

IDUA

CCR5

CRISPR/Cas9
ex vivo
RNP/AAV6
Gene addition
Stanford University
in the pipeline
MPS I

IDUA

ALB

ZFNs
in vivo
3 AAV2/6 vectors, IV
Gene addition
Sangamo therapeutics
SB-318
NCT02702115
MPS II

IDS

ALB

ZFNs
in vivo
3 AAV2/6 vectors, IV
Gene addition
Sangamo therapeutics
SB-913
NCT3041324
IV: intravenous

© 2020 by the authors. Licensee MDPI, Basel, Switzerland. This article is an open access article distributed under the terms and conditions of the Creative Commons Attribution (CC BY) license (http://creativecommons.org/licenses/by/4.0/).