Open Access This article is
freely available
re-usable
Article
A Robust Model for Circadian Redox Oscillations
1
Institute for Theoretical Biology, Charité and Humboldt-Universität zu Berlin, 10115 Berlin, Germany
2
Laboratory of Chronobiology, Charité-Universitätsmedizin Berlin, 10117 Berlin, Germany
*
Authors to whom correspondence should be addressed.
Received: 26 March 2019 / Accepted: 8 May 2019 / Published: 13 May 2019
Abstract
:
The circadian clock is an endogenous oscillator that controls daily rhythms in metabolism, physiology, and behavior. Although the timekeeping components differ among species, a common design principle is a transcription-translation negative feedback loop. However, it is becoming clear that other mechanisms can contribute to the generation of 24 h rhythms. Peroxiredoxins (Prxs) exhibit 24 h rhythms in their redox state in all kingdoms of life. In mammalian adrenal gland, heart and brown adipose tissue, such rhythms are generated as a result of an inactivating hyperoxidation reaction that is reduced by coordinated import of sulfiredoxin (Srx) into the mitochondria. However, a quantitative description of the Prx/Srx oscillating system is still missing. We investigate the basic principles that generate mitochondrial Prx/Srx rhythms using computational modeling. We observe that the previously described delay in mitochondrial Srx import, in combination with an appropriate separation of fast and slow reactions, is sufficient to generate robust self-sustained relaxation-like oscillations. We find that our conceptual model can be regarded as a series of three consecutive phases and two temporal switches, highlighting the importance of delayed negative feedback and switches in the generation of oscillations.
Keywords:
redox; oscillations; mathematical modeling; negative feedback; fast vs. slow reactions; phases; switches
1. Introduction
The Earth's regular 24 h rotation has led to the evolution of circadian oscillators in all kingdoms of life. These oscillations control daily rhythms in metabolism, physiology, and behavior, and they allow organisms to adapt their physiological needs to the time of day in an anticipatory fashion [
1
,
2
]. When the internal clocks run in synchrony with the external world, they provide organisms with significant competitive advantages [
3
].
Although the molecular clockwork components have widely divergent origins and are not conserved across the main divisions of life, a common design principle has been applied to all organisms where circadian timing mechanisms have been investigated. This paradigm relies on a negative transcription-translation feedback loop (TTFL), where protein products of clock genes feed back periodically to regulate their own expression and drive rhythmic output pathways and physiology [
2
,
4
,
5
]. Mounting evidence suggests that transcription-based oscillators are not the only means by which cells track time. Some examples of non-transcriptional oscillators are (i) the cyanobacterial phosphorylation oscillator, which can be reconstituted in vitro [
6
]; (ii) the circadian photosynthetic rhythms that persist in green algae after enucleation and hence in the absence of nuclear transcription [
7
]; or (iii) the peroxiredoxin oxidation rhythms found in red blood cells [
8
], which are anucleate.
Peroxiredoxins (Prx) are a conserved family of antioxidant enzymes that maintain the cellular redox state by clearing the cell from reactive oxygen species (ROS). They reduce hydrogen peroxide (H
2
O
2
) to water with the use of reducing equivalents provided by other physiological thiols [
9
]. As a result ROS removal, Prxs become oxidized in their active site [
9
]. Interestingly, and in contrast to the divergent evolution of the TTFL, levels of oxidized Prx have been shown to oscillate with a circadian period in all kingdoms of life [
10
]. The exact mechanism that generates circadian Prx redox rhythms, however, still remains an open question, and it seems to be different in different cell types (
Figure 1
A). Sulfiredoxin (Srx), the enzyme that reduces oxidized Prx, is likely a key determinant of Prx3 hyperoxidation rhythms in mammalian adrenal gland, heart, and brown adipose tissue [
11
]. In red blood cells from Srx knockout mice, however, Prx redox oscillations persist, and rhythms have been shown to be dependent on the degradation of the oxidized enzyme by the proteasome [
12
]. Moreover, the presence of Prx oscillations in organisms that lack Srx homologs such as
C. elegans
or
N. crassa
indicates that Prx reduction is, at least in some cases, dispensable for the cycle to occur.
In this study, we use mathematical modeling to investigate the principles for Prx/Srx oscillations. Our results show that the combination of a fast Prx hyperoxidation event followed by a slow and delayed negative feedback loop is the minimal backbone that is required for the system to oscillate. We also find that this minimal motif produces relaxation-like oscillations with two temporal switch-like events, highlighting the importance of switches in the generation of oscillations.
2. Results
2.1. Derivation of a Kinetic Model for Circadian Redox Oscillations
Because of their potential to oxidize and damage cellular protein and lipids, ROS levels must be under tight regulation. Prx3 is one of the major antioxidant proteins involved in H
2
O
2
removal in mitochondria. A conserved cysteine (Cys) residue in its active site is oxidized by H
2
O
2
to Cys-sulfenic acid (Prx3-SOH, reaction in
Figure 1
B). This intermediate can react with a second conserved Cys from another Prx3 subunit to produce an intermolecular disulfide bond (reaction ), which can be reduced by the thioredoxin (Trx) system of the cell (reaction ). Alternatively, Prx3-SOH can undergo further oxidation, termed hyperoxidation, in an S-sulfinylation reaction, to form a sulfinic acid (Prx3-SO
2
H, reaction ) [
9
,
13
]. Prx3-SO
2
H is catalytically inactive [
9
,
13
], and in adrenal gland cells, brown adipocytes or cardiomyocytes, it can be reduced back to Prx3-SOH by action of sulfiredoxin (Srx) (reaction ) [
11
]. In other cell types and other model organisms, the Srx-mediated reduction of Prx-SO
2
H is not required for rhythm generation [
12
].
In mitochondria from brown adipose, adrenal gland and heart tissue, Prx3-SO
2
H and Srx levels oscillate with a circadian period [
11
]. H
2
O
2
increase results in the oxidation and inactivation of Prx3 (reactions and from
Figure 1
B). The consequence is the accumulation of H
2
O
2
inside mitochondria and its overflow to the cytosol ( in
Figure 1
B). Cytosolic H
2
O
2
activates pathways to control its own production. Among others, it stimulates Srx oxidation and intermolecular disulfide bridge formation with Hsp90 (reaction ) to promote translocation of Srx to the mitochondria (reaction ). Mitochondrial Srx can reduce and thus reactivate Prx3-SO
2
H (reaction ) [
11
]. Srx levels peak in mitochondria ∼8 h after Prx3-SO
2
H, and Srx becomes sensitive to degradation (reaction ) when Prx3-SO
2
H levels decrease [
11
]. The mitochondrial import of Srx thus constitutes a negative feedback that enables a new cycle of H
2
O
2
removal and Prx3-SO
2
H accumulation (
Figure 1
B).
In order to understand how fast biochemical redox reactions result in slow 24 h rhythms, we develop a deterministic model containing the biochemical species from the Prx3/Srx system shown in
Figure 1
B. The complete set of equations of this large model, which we refer to as
detailed model
, are found in
Appendix A
. Unfortunately, quantitative details of the kinetic processes are not known and thus estimating parameters in such a large model represents a challenge. For this reason, and in order to gain insight into the design principles of redox rhythms in the Prx3/Srx system, we simplify the detailed model to its core motif (
Figure 2
A). Details of the model reduction are found in
Appendix B
.
2.2. A Low Dimensional Model Represents the Core Prx3-SO2H/Srx Circadian Oscillator
We identify the
core
motif that is required for generation of Prx3-SO
2
H and mitochondrial Srx circadian oscillations by systematically changing parameters and clamping variables to their mean value [
14
] (
Appendix B
). The scheme and equations of this minimal model are shown in
Figure 2
. It only contains the variables, kinetic parameters, and reactions that are necessary and sufficient for self-sustained rhythm generation.
The core oscillator model consists of only five variables and just one oxidation event (
Figure 2
A).
A
represents the
active
but partially oxidized Prx3 (Prx3-SOH) that gets further hyperoxidized by the
danger 1
(, mitochondrial H
2
O
2
) to produce the
inactive
Prx3-SO
2
H,
I
. As the reaction occurs,
A
levels decrease. The result is that the ability of mitochondria to remove also decreases. When mitochondria can no longer eliminate the oxidant, accumulates and overflows to the cytosol, where it is referred to as
danger 2
(, cytosolic H
2
O
2
). activates the translocation of the
rescuer R
(mitochondrial Srx), that reduces
I
back to
A
, closing the negative feedback loop. The Prx3-SH oxidation to Prx3-SOH and the -induced oxidation of cytosolic Srx (reactions and in
Figure 1
B) were found to be dispensable for rhythm generation. Thus, these biochemical species, as well as the reactions they take part in, are omitted from the minimal model.
We formulate ordinary differential equations (ODEs) to describe the behavior of the system over time. Production and removal terms are modeled with mass action kinetics (
Figure 2
B). The nonlinear term in the model arises from the quasi-steady state approximation [
15
,
16
] performed on the equation for variable
A
, whose production and removal reactions are modeled as bilinear terms (details provided in
Appendix B
). We assume constant production (parameter
p
in the model) and constant Prx3 pool over time. Moreover, we only consider the negative feedback performed by
R
-induced reactivation of
A
, which is stimulated by the increase. However, other additional feedback loops might exist, as seen by studies that have shown that cytosolic H
2
O
2
can feed back and decrease production by activation of the stress-activated protein kinase p38 MAPK, among other pathways [
17
].
2.3. Design Principles of the Redox Oscillator: Fast
A

Inactivation Followed by a Slow Negative Feedback Loop

In order to obtain a reasonable set of parameters that satisfies the physiological constraints, we systematically vary all model parameters and perform bifurcation and sensitivity analyses. Bifurcation diagrams show under which parameter values the system oscillates and sensitivity analyses address how the oscillation period varies over the oscillatory range as a parameter is changed.
2.4. The Redox Oscillator is Characterized by Three Phases and Two Temporal Switches
4. Materials and Methods
All temporal simulations and model analyses have been performed with Python, using the odeint integrator from the scipy module.
Author Contributions
Conceptualization, M.d.O. and H.H.; Data curation, M.d.O. and H.H.; Formal analysis, M.d.O. and H.H.; Funding acquisition, A.K. and H.H.; Investigation, M.d.O. and H.H.; Methodology, M.d.O. and H.H.; Project administration, A.K. and H.H.; Resources, M.d.O. and H.H.; Software, M.d.O. and H.H.; Supervision, A.K. and H.H.; Validation, M.d.O. and H.H.; Visualization, M.d.O. and H.H.; Writing—original draft, M.d.O. and H.H.; Writing—review & editing, A.K. and H.H.
Funding
This research was supported by grants from the Deutsche Forschungsgemeinschaft (A17 278001972-TRR 186, GRK 1772) and the Integrative Research Institute for the Life Sciences at Humboldt Universität zu Berlin. We acknowledge support from the Open Access Publication Fund of Charité—Universitätsmedizin Berlin. The funders had no role in study design, data collection and analyses, decision to publish or preparation of the manuscript.
Acknowledgments
We are grateful for fruitful discussions with Bharath Ananthasubramaniam and Abhishek Upadhyay. We thank anonymous referees for helpful comments.
Conflicts of Interest
The authors declare no conflict of interest.
Abbreviations
The following abbreviations are used in this manuscript:
| | |
| --- | --- |
| A | Active Prx3 (Prx3-SOH) |
| A | Activation |
| Aqp | Aquaporin |
| a.u. | Arbitrary unit |
| Cys | Cysteine |
| d | Day |
| | Danger 1 (mitochondrial H2O2) |
| | Danger 2 (cytosolic H2O2) |
| h | Hour |
| H2O | Water |
| H2O2 | Hydrogen peroxide |
| I | Inactive Prx3 (Prx3-SO2H) |
| I/L | Inactivation-Leakage |
| MAPK | Mitogen-activated protein kinase |
| ODE | Ordinary differential equation |
| Prx | Peroxiredoxin |
| R | Rescuer (Srx) |
| ROS | Reactive oxygen species |
| Srx | Sulfiredoxin |
| Trx | Thioredoxin |
| TTFL | Transcription-translation feedback loop |

Figure 1. Peroxiredoxin (Prx) oxidation cycles occur with circadian periodicity in all kingdoms of life. (A) The mechanisms for 24 h rhythm generation in Prx hyperoxidation in mammals differ in different cell types. (B) Model for the mechanism underlying circadian oscillation of Prx3-SO2H and sulfiredoxin (Srx) levels in mitochondria of adrenal gland, heart, and brown adipose tissue. See text for details.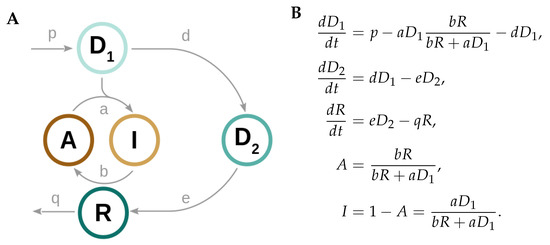 Figure 2.
Core model for redox circadian oscillations. Scheme (
A
) and equations (
B
) of the core redox oscillator model.
A
represents active peroxiredoxin 3 (Prx3-SOH);
I
, inactive Prx3 (Prx3-SO
2
H); , mitochondrial H
2
O
2
; , cytosolic H
2
O
2
; and
R
, mitochondrial Srx.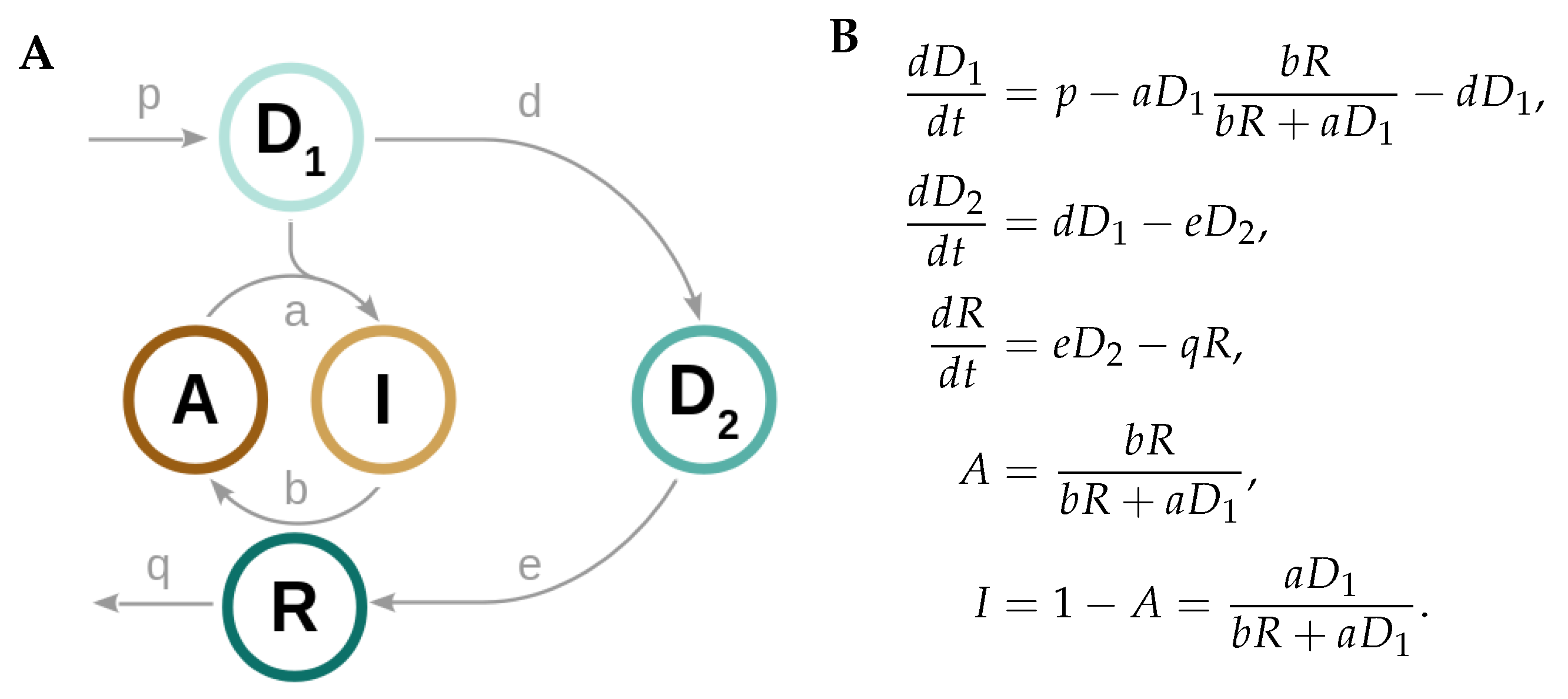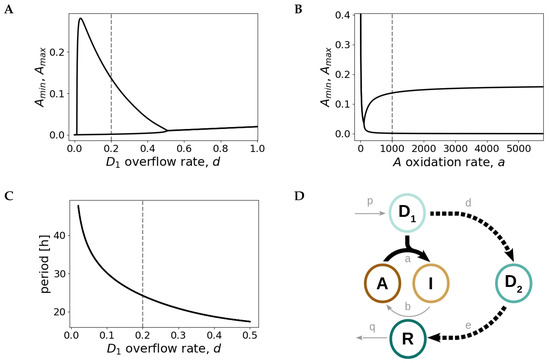 Figure 3.
Fast
A
inactivation followed by a slow negative feedback loop is the design principle of the Prx3/Srx redox oscillator. Bifurcation diagrams as a function of the model parameters
d
(
A
) and
a
(
B
). At and self-sustained oscillations emerge. and represent the minimum and maximum values of
A
in the oscillatory regime. (
C
) Variation of period as a function of
d
. The curves shown in panels (
A
–
C
) are obtained for the default parameter set given in the caption of
Figure 4
. The dashed gray lines depict the default parameter values given in the caption of
Figure 4
. (
D
) Sketch of the core backbone for
I
/
R
redox oscillations: fast -induced
A
inactivation (continuous thick line) followed by a slow negative feedback loop (dashed line).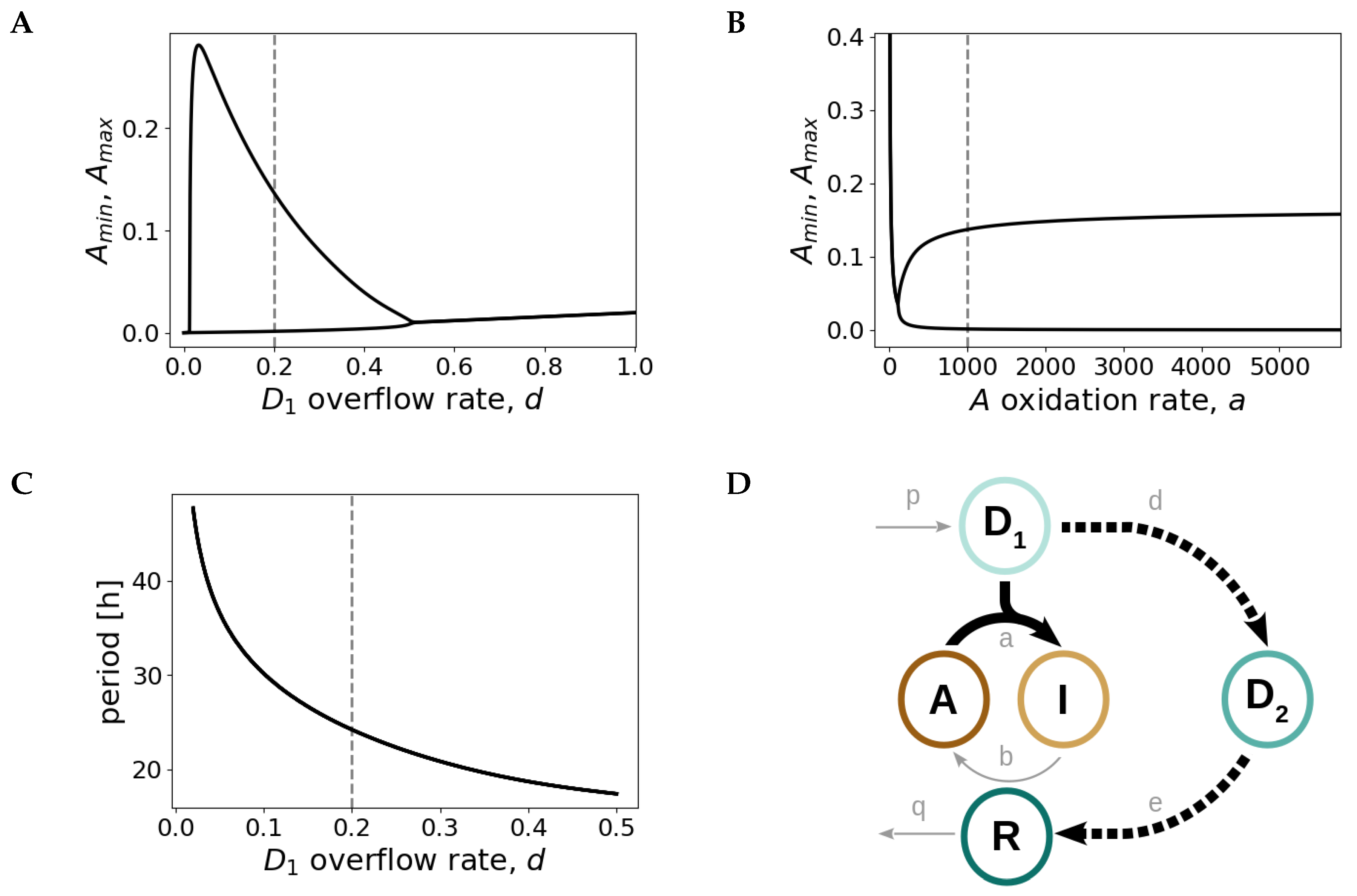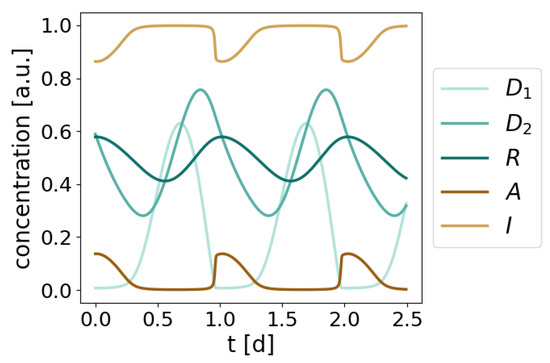 Figure 4.
Dynamics of the redox model. Limit cycle oscillations obtained by numerical integration of the equations shown in
Figure 2
B for the following parameter values (arbitrary units, a.u.): . Consistent with experimental data [
11
] and with the model constraints (
Table 1
), the resulting period is h and the phase shift between
I
and
R
is h.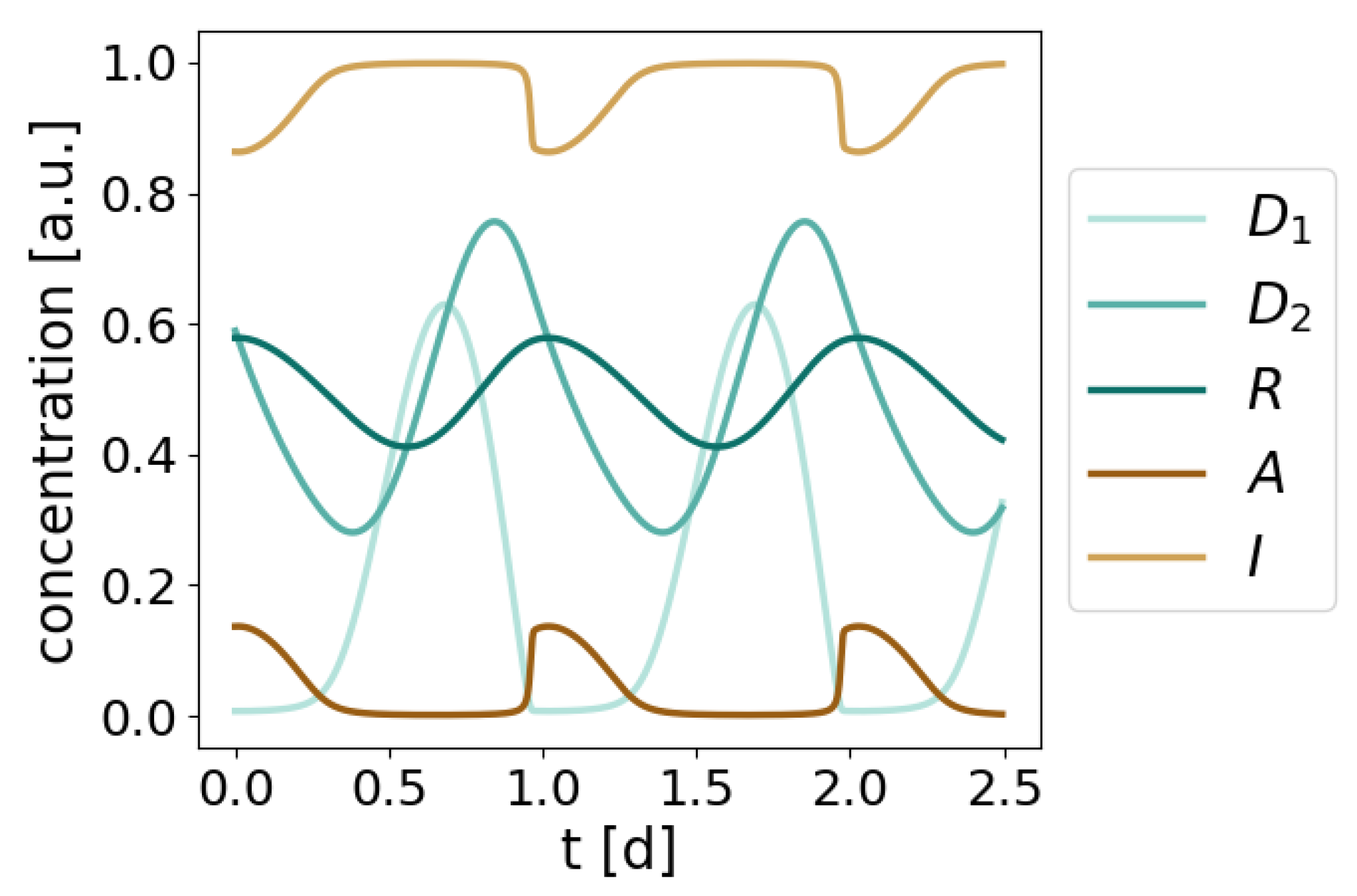 Figure 5. A series of three phases and two temporal switches can be regarded as the mechanism for generation of redox oscillations. (A) Division of the temporal dynamics of the system into three phases that explain the major transitions of the model components. (B) Scheme of the major events that take place in each phase (see main text for details).

Figure 6. Model for the mechanism underlying circadian oscillations of Prx3-SO2H and Srx in mitochondria of mammalian adrenal gland, heart, and brown adipose tissue. Three phases and two temporal switches conceptually explain the generation of oscillations. The switches are represented by the black/gray icons. The switch occurs from black to gray: the black circle represents the phase from which the system comes, and the gray circle depicts the phase it progresses to.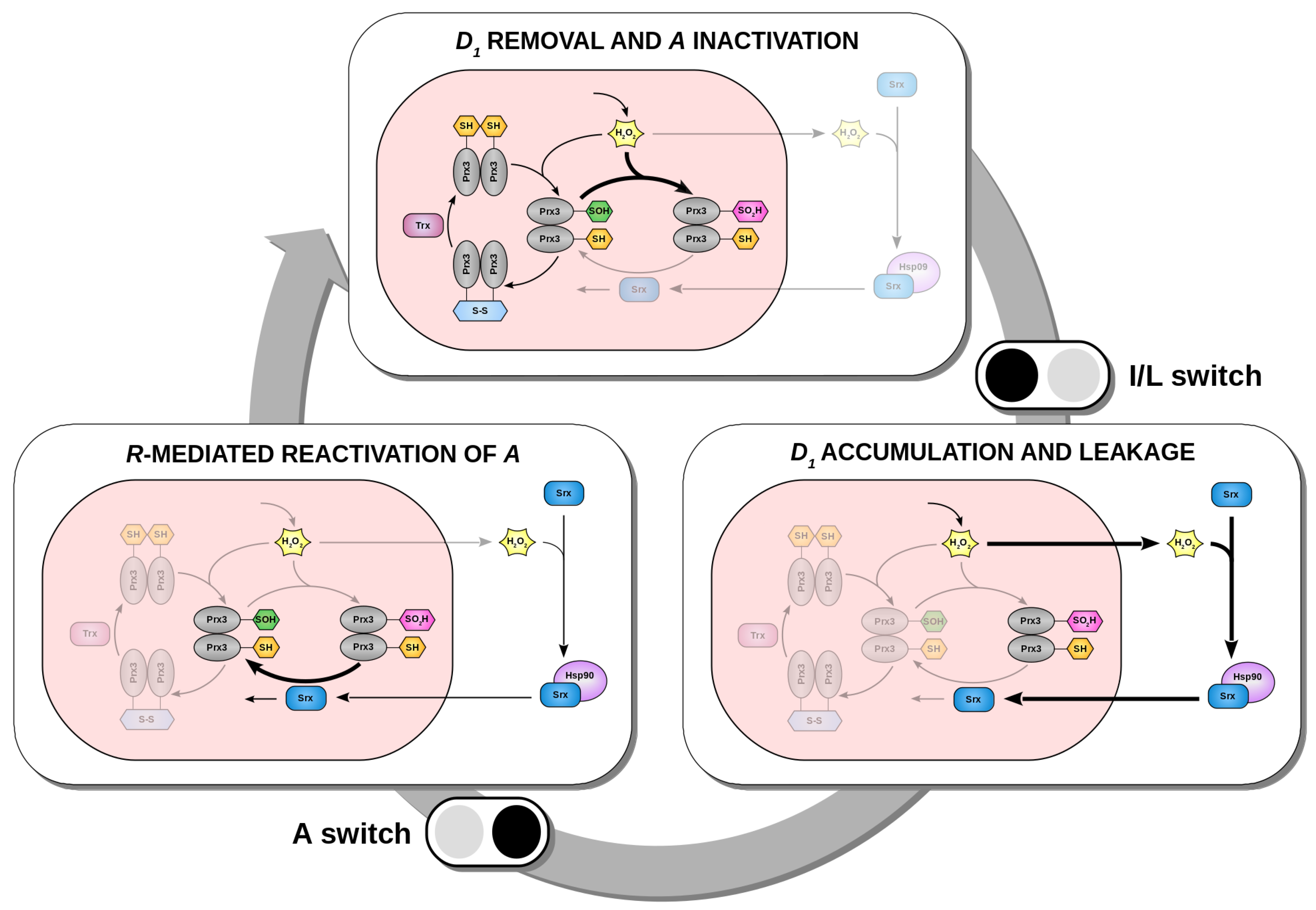 Table 1.
Physiological parameter constraints that allow finding plausible parameter ranges in the peroxiredoxin (Prx) 3/sulfiredoxin (Srx) oscillating system. The rates of Prx3 hyperoxidation (
I
formation), Srx-mediated Prx3 reduction (rescue of
A
), and Srx degradation (
R
removal) have been determined by enzymatic assays in previous studies. The rate of mitochondrial H
2
O
2
translocation* is estimated from experimental and theoretical studies that have focused on H
2
O
2
transport and signaling.
| Model Parameter | Reaction Rate | Physiological Values | References |
| --- | --- | --- | --- |
| p | mitochondrial H2O2 production | - | - |
| a | Prx3-SOH hyperoxidation (and Prx3 inactivation) | 104 M−1 s−1 | [18] |
| b | Prx3-SO2H reduction (and Prx3 reactivation) | 2 M−1 s−1 | [19] |
| d | H2O2 translocation to cytosol | 1 s−1 * | [20,21,22,23] |
| e | Srx translocation to mitochondria | - | - |
| q | mitochondrial Srx degradation | h−1 | [11,24] |
* H2O2 transport through biological membranes is thought to occur via aquaporins (Aqp) [20]. The typical diameter of an aquaporin is ∼20 Å [21] and biological membranes typically contain 30 Aqp/µm2 [22] (although this number might vary across cell and membrane types). Thus, the total Aqp area that can transport H2O2 out of the mitochondria is ∼100 nm2 per µm2 of membrane. In other words, 0.01% of the membrane area contains Aqp. Very generally, the probability of an H2O2 molecule to diffuse can be assumed to be in the same order of magnitude of its probability to get reduced by Prxs [23]. With the limitation that only 0.01% of the membrane allows H2O2 translocation, the probability of H2O2 being transported out of the mitochondria is 0.01% of its probability of getting reduced, i.e., 10,000-fold lower than its reduction rate

a

.

© 2019 by the authors. Licensee MDPI, Basel, Switzerland. This article is an open access article distributed under the terms and conditions of the Creative Commons Attribution (CC BY) license (http://creativecommons.org/licenses/by/4.0/).