Open Access This article is
freely available
re-usable
Review
Calcium-Binding Proteins in the Nervous System during Hibernation: Neuroprotective Strategies in Hypometabolic Conditions?
1
Department of Zoology, University of Cambridge, Downing Street, Cambridge CB2 3EJ, UK
2
Former Full Professor of Zoology, Neurogenesis and Comparative Neuromorphology, (Residence address) Viale Matteotti 73, I-27100 Pavia, Italy
*
Author to whom correspondence should be addressed.
Received: 14 April 2019 / Accepted: 11 May 2019 / Published: 13 May 2019
Abstract
:
Calcium-binding proteins (CBPs) can influence and react to Ca2+ transients and modulate the activity of proteins involved in both maintaining homeostatic conditions and protecting cells in harsh environmental conditions. Hibernation is a strategy that evolved in vertebrate and invertebrate species to survive in cold environments; it relies on molecular, cellular, and behavioral adaptations guided by the neuroendocrine system that together ensure unmatched tolerance to hypothermia, hypometabolism, and hypoxia. Therefore, hibernation is a useful model to study molecular neuroprotective adaptations to extreme conditions, and can reveal useful applications to human pathological conditions. In this review, we describe the known changes in Ca2+-signaling and the detection and activity of CBPs in the nervous system of vertebrate and invertebrate models during hibernation, focusing on cytosolic Ca2+ buffers and calmodulin. Then, we discuss these findings in the context of the neuroprotective and neural plasticity mechanisms in the central nervous system: in particular, those associated with cytoskeletal proteins. Finally, we compare the expression of CBPs in the hibernating nervous system with two different conditions of neurodegeneration, i.e., platinum-induced neurotoxicity and Alzheimer's disease, to highlight the similarities and differences and demonstrate the potential of hibernation to shed light into part of the molecular mechanisms behind neurodegenerative diseases.
Keywords:
calcium-binding proteins; hibernation; central nervous system; cytoskeleton proteins; neuroprotection; neurodegeneration
1. Introduction
The individual cells of an organism are not isolated in a stable medium, but are immersed in an ever-changing environment influenced by both the activity of surrounding cells and the external conditions in which the organism is living. Changes in the cell's environment and cell-to-cell interactions can lead to modifications in gene expression, enzyme activity, and ion exchange between the two sides of the plasma membrane, which are processes that must be strictly controlled to avoid damage, cell degeneration, and death. This is particularly true for neurons, which rely on transient changes in ion concentrations for the transmission of electric signals, and therefore need precise molecular mechanisms to restore and maintain the normal electric potential for transmitting new signals and avoiding the alteration of normal cell activities [
1
,
2
]. Moreover, the nervous system has very limited regenerative abilities in many animals; therefore, cell loss could lead to irreversible damage at the tissue level and compromised connectivity [
3
,
4
].
Calcium (Ca
2+
) has long been recognized as an indispensable ion in neurons, as it is involved in functions as diverse as membrane excitability, signal transduction, neurotransmitters release, synaptic plasticity, cell cycle regulation, cell migration, and axon growing [
5
,
6
,
7
,
8
]. A highly conserved signaling toolkit controls the level of intracellular Ca
2+
: Ca
2+
ions enter the cytoplasm through channels on the plasma membrane, or can be released from intracellular stores in the endoplasmic reticulum, Golgi apparatus, and mitochondria; then, through the activity of pumps and ion exchangers, the Ca
2+
concentration can return to lower steady-state levels [
8
,
9
,
10
]. These mechanisms allow the formation of Ca
2+
transients during which Ca
2+
can act directly or indirectly on several pathways by binding to calcium-binding proteins (CBPs), which interpret and respond to the transients [
10
,
11
].
CBPs have fundamental roles in animal nervous systems: from the regulation of cellular Ca
2+
concentration to cell signaling, cytoskeletal remodeling, and protein phosphorylation, which are activities that are modulated throughout the entire life cycle (from development to adulthood), both in homeostatic conditions and to react to changes in the external environment [
10
,
12
]. In this review, we provide an overview of the known changes in the detection and activity of CBPs that have been studied and reported in the nervous system during hibernation, which is a strategy used by several invertebrate and vertebrate animals to survive in cold conditions. (i). Our primary goal is to focus on four CBPs: the three main cytosolic buffers, i.e., calbindin (CB), parvalbumin (PV), and calretinin (CR), and the most studied Ca
2+
sensor, calmodulin (CaM), to shed light on their possible involvement in the molecular and cytological adaptations to hypometabolism and hypothermia that hibernators use to prevent freezing while minimizing energy loss in unfavorable conditions. (ii). Secondly, given the widespread role of calcium signaling, it is not surprising that several pathologies have been correlated to alterations of normal calcium homeostasis [
13
,
14
,
15
,
16
]; since neuroprotective mechanisms have been demonstrated during hibernation, we show that studying calcium regulation in this model could reveal interesting applications to tackle human pathological conditions such as neurodegenerative diseases. (iii). Furthermore, based on our expertise on the effects of cytotoxic drugs on nervous tissues [
17
,
18
,
19
], we try to clarify the alterations in CBPs in the case of the cytological and histological damage of the nervous system, and compare these models of neurodegeneration to the unmatched tolerance observed in the natural condition of hibernation, taking into consideration the relationship between the components of CBPs and the cytoskeleton.
2. CBPs in the Central Nervous System
CBPs are a large class of proteins involved in managing and reacting to Ca
2+
transients in cells. More than 200 proteins with the capacity to bind Ca
2+
ions have been identified with widespread roles that span from gene expression control to synaptic plasticity, indicating their fundamental importance for the survival of the cell [
20
,
21
] (
Figure 1
). These molecules can essentially be divided into two categories: buffer proteins exert a fine control over the calcium concentration within the cell, while sensor proteins can interact with a wide variety of specific targets depending on the information received through Ca
2+
signaling [
20
,
22
].
2.2. Calcium Sensors
Controlling Ca
2+
concentration buffers can have indirect effects on neurons' excitability and synaptic plasticity; on the other hand, Ca
2+
sensors can bind calcium and undergo conformational changes that reveal or activate binding sites for other proteins, and therefore directly regulate their functions. Moreover, if present in high concentrations, calcium sensors can also act as calcium buffers [
40
]. Several members of this class have been identified in the nervous system, including a large class of neuronal calcium sensors (NCS) [
41
], but by far the best studied and most important Ca
2+
sensor is the ubiquitous protein calmodulin (CaM). This small protein is conserved in all eukaryotes and consists of two domains, each with two EF-hand Ca
2+
-binding sites connected by a linker that ensures a great structural plasticity that is the secret to calmodulin's impressive ability to bind to a large number of targets depending on the concentration of Ca
2+
ions [
42
,
43
]. It is hard to underestimate the importance and the variety of calmodulin functions in the cell: dozens of targets have been identified, including enzymes, channels, pumps, transcription factors, and structural proteins [
44
,
45
,
46
,
47
,
48
,
49
,
50
]. One of the main ways in which calmodulin modulates cells' activities in response to Ca
2+
stimuli is by controlling protein phosphorylation though the regulation of kinases and proteases [
51
,
52
]. If a kinase is in an autoinhibited state, the binding with Ca
2+
/CaM can release the inhibition and activate different processes, including signal transduction, gene expression, and cytoskeletal remodeling [
52
,
53
]. Similarly, CaM can bind and regulate the activity of Ca
2+
channels or pumps, thereby influencing the intensity and/or duration of calcium transients [
8
,
23
,
54
].
Given their roles in the cell and their use as neuron markers, these CBPs have often been exploited to identify changes in the brain in pathological or stress conditions, which in many cases lead to significant alterations in the number of positive neurons and the amount of intracellular CBPs [
55
,
56
,
57
,
58
]. In the next sections of this review, we focus on the molecular and histochemical changes in CBPs activity in hibernation, which is a model of cell tolerance to hypometabolic and hypothermic conditions.
3. Hibernation: Who, How, and Why is it Interesting?
4. CBPs in the Hibernating Nervous System: A Role in Neuroprotection and Plasticity?
As the central nervous system (CNS) controls both fast responses to external stimuli and, through the regulation of hormone production and release, slower systemic reactions guided by endocrine organs, it has to influence any type of regulated change in animal physiology and behavior to ensure synchronization among different processes without damaging the organism. In hibernating animals, the nervous system needs to remain at least partially active to guide entrance into torpor and arousal, but at the same time, it requires neuroprotective strategies to survive in hypometabolic and hypothermic conditions in the same way as the rest of the organism [
73
]. Moreover, as several activities are suspended or greatly reduced, the connectivity of the CNS is expected to undergo passive and active remodeling, providing a unique opportunity to analyze molecular and functional aspects of neural plasticity.
4.2. CBPs and Cytoskeleton Components
5. Hibernation and Translational Medicine: the Case of Neurodegeneration
6. Conclusions and Future Directions
We still have much to learn about animal hibernation, especially regarding how the integration of different molecular and biochemical mechanisms facilitates a precise and harmless transition to and from hypometabolic states. Particular attention should be given to CBPs due to their roles in cell activities and because several studies have hinted at the numerous processes specific to this annual cycle phase that are influenced by them. The variations observed in the expression and localization of buffer and sensor CBPs are thought to affect the activity of kinases and phosphatases which consequently exert neuroprotective functions by regulating ionic balance and suppressing cell degeneration and death. Then, these mechanisms lead to unmatched tolerance to severe conditions that could potentially be exploited to tackle several human pathologies, including neurodegenerative diseases. That some of these changes can be found in all hibernating animals raises the captivating possibility of independently evolved strategies that arose from common and crucial aspects of cell resistance and neuroprotection. Several works have also found a correlation between CBPs and the changes in cytoskeletal proteins between active and inactive stages, which seems to indicate an essential and conserved role for CBPs in neural plasticity.
Since hibernation is a widespread adaptation, vertebrate and invertebrate models can be combined and compared, exploiting the advantages of each of them. In particular, mammals are more directly comparable with humans; their neuroanatomy is well known, and the roles of CBPs in normal and pathological conditions are established. On the other hand, invertebrate models can be used for the size of their neurons, the simplicity of their neural circuits, and the potential to correlate molecules and behaviors [
223
]. Finally, in light of the potential applications, numerous studies have tried to induce the hibernation-like state in non-hibernating or cellular models to exploit their amenability to numerous techniques and, for the latter, the possibility to study changes in the localization of various molecules within the cell [
108
,
174
,
224
,
225
]. One of the main limitations of these studies up until now is that it is difficult to distinguish real hibernation-induced protective strategies from passive reactions to hypothermia, hypoxia, or hypometabolism. A more comprehensive understanding of the processes that guide hibernation and the interactions between the protective strategies is needed before effectively using these models.
The information obtained up to this point on CBPs and hibernation opens exciting opportunities for both basic and applied research, and suggests that hibernation still has a lot to tell us about how cells work and adapt to different environmental conditions.
Author Contributions
Conceptualization: G.B.; Methodology: G.G. and G.B.; Project Administration: G.B. Investigation: G.G.; Interpretation of Data: G.G. and G.B.; Visualization: G.G.; Resources: G.G. and G.B.; Writing—Original Draft Preparation: G.G.; Writing—Review & Editing: G.B.; Supervision: G.B.
Funding
This research received no external funding.
Acknowledgments
The findings reported and discussed here were obtained at the Department of Biology and Biotechnology "Lazzaro Spallanzani", University of Pavia. In particular, the experiments carried out for this review were conducted by the authors at the Laboratory of Cell Biology and Neurobiology within the Department.
Conflicts of Interest
The authors declare no conflict of interest.
Abbreviations
AD
Alzheimer's disease
ARG
Autoradiography
CA1, 2

Cornu Ammonis

1, 2
CaM
Calmodulin
CAMK
Ca2+/calmodulin-dependent kinase
CAMKII
Ca2+/calmodulin-dependent kinase 2
CB
Calbindin
CBPs
Calcium-binding proteins
CC
Cell count
CisPt
Cisplatin
CNS
Central nervous system
CR
Calretinin
DADLE
[D-Ala2, D-Leu5]-enkephalin
DG
Dentate gyrus
ERK1
Extracellular regulated protein kinase 1
ERK2
Extracellular regulated protein kinase 2
GABA
γ-aminobutyric acid
HIT
Hibernation induction trigger
HP
Hibernation-specific protein
ID
Immunodot
IHC
Immunohistochemistry
ISH
In situ hybridization
MAP
Microtubule-associated protein
MAP-2
Microtubule-associated protein 2
NF-H
Heavy subunit of neurofilaments
NFT
Neurofibrillary tangles
P
Phosphorylated
P-NP
Phosphorylated and non-phosphorylated
P-Tau
Phosphorylated tau
PKA
Protein kinase A
pNF-H
Phosphorylated heavy subunit of neurofilaments
PP1
Protein phosphatase 1
PP2A
Protein phosphatase 2A
PP2C
Protein phosphatase 2C
PtAcacDMS
[Pt(

O,O′

-acac)(γ-acac)(DMS)]
PV
Parvalbumin
RIA
Radioimmunoassay
SAPK/JNK
Stress-activated protein kinase/Jun-amino-terminal kinase
SI
Signal intensity
WB
Western blot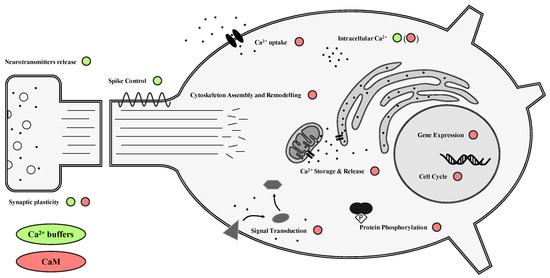 Figure 1. Schematic overview of the functions of buffer and sensor calcium-binding proteins (CBPs) in neurons. Ca2+ buffers directly control intracellular Ca2+ concentration during Ca2+ transients. As a consequence, they can indirectly influence spike duration and intensity, and therefore regulate the release and short-term synaptic plasticity of neurotransmitters. CaM and other Ca2+ sensors interact with a wide variety of intracellular proteins, often activating complex cascades of signal transduction through direct interaction or protein phosphorylation. These cascades control gene expression, cell cycle progression, apoptosis, and cytoskeletal remodeling, among other functions. Furthermore, CaM is known to affect the activity of ion channels that control Ca2+ uptake and storage, thereby modulating Ca2+ transients depending on external and internal signals, and can even act as a buffer at high concentrations. The overall effect on the intracellular Ca2+ dynamics of different CBPs influence all aspects of Ca2+ signaling, contributing to regulating cell homeostasis and reactions to changes in environmental conditions.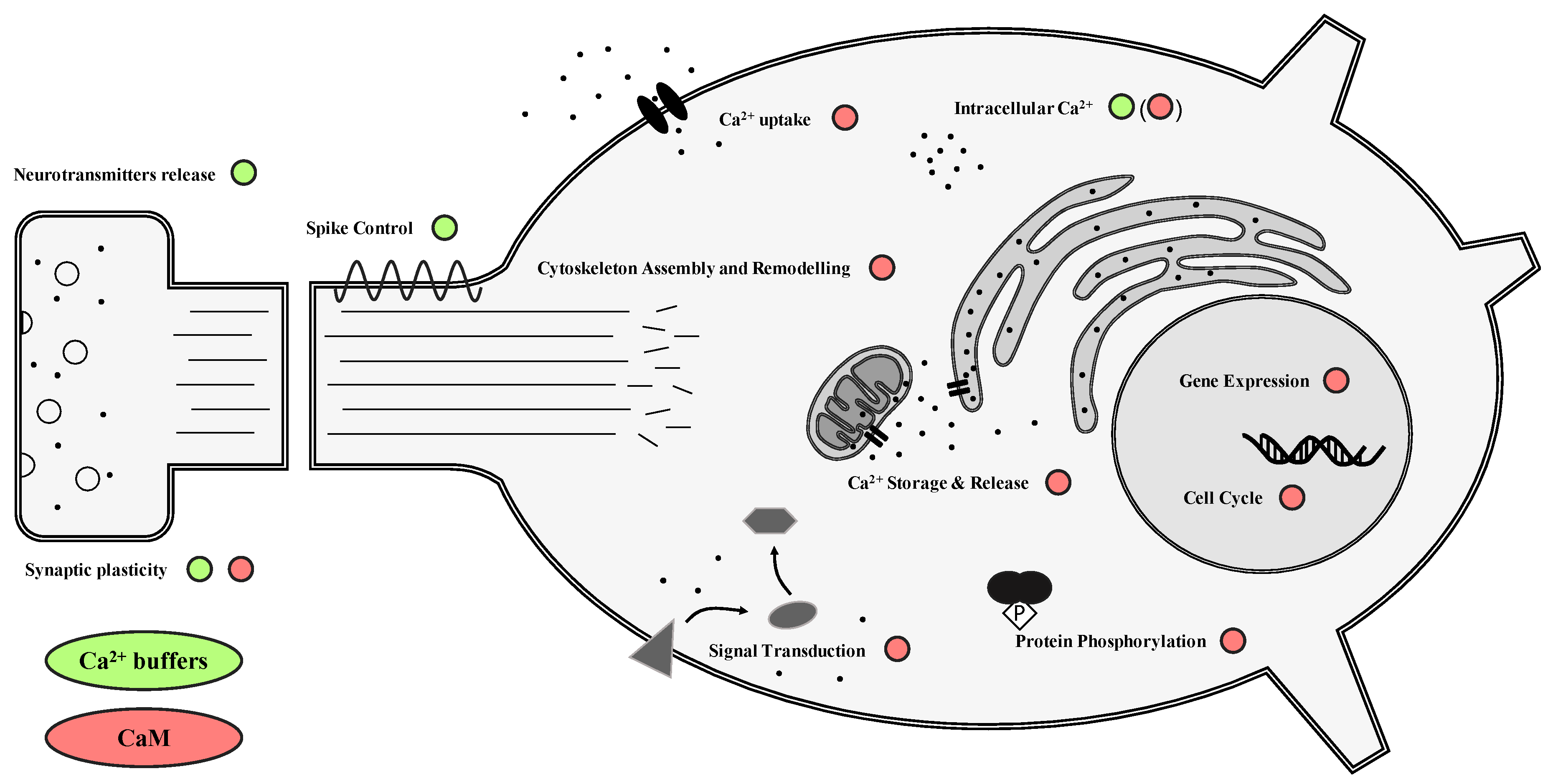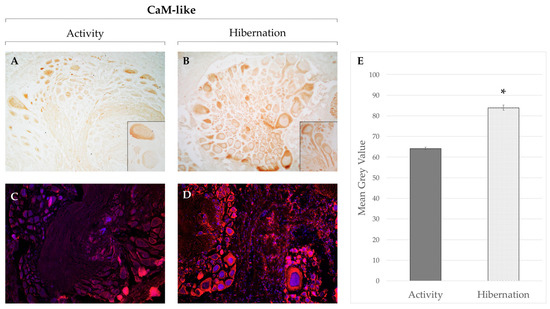 Figure 2.
Immunohistochemistry with light (
A
,
B
) and fluorescence (
C
,
D
) microscopy for the Ca
2+
-binding protein calmodulin-like (CaM-like) in the suboesophageal ganglia of
Cornu aspersum
during activity and hibernation. In active snails, pale CaM-like immunoreactivity was detected across the ganglion (
A
,
C
) with only few sparse cells showing strong staining in the cytoplasm (
A
, insert). Hibernating suboesophageal ganglia showed a stronger and more diffuse positivity to CaM-like in all panels evaluated (
B
,
D
). The signal could be detected in both the somata and axons of most neurons (
B
, insert). Quantitative analysis on immunofluorescence labeling demonstrated that the change between activity and hibernation is highly significant (asterisk: Student's
t
test,
p
value < 0.01) (
E
). Experiments were carried out as described in [
133
]. Magnification: 10× (A–D).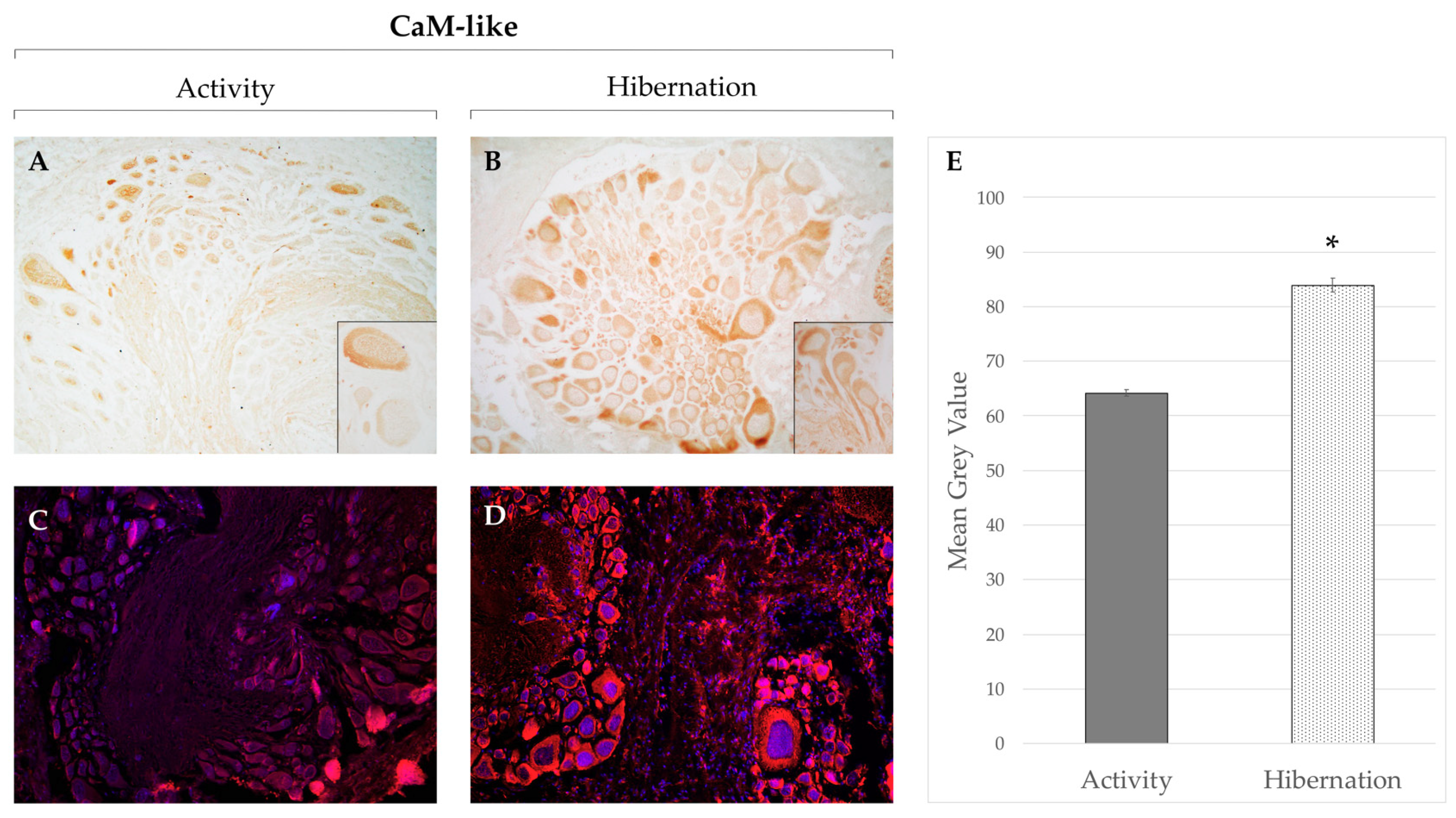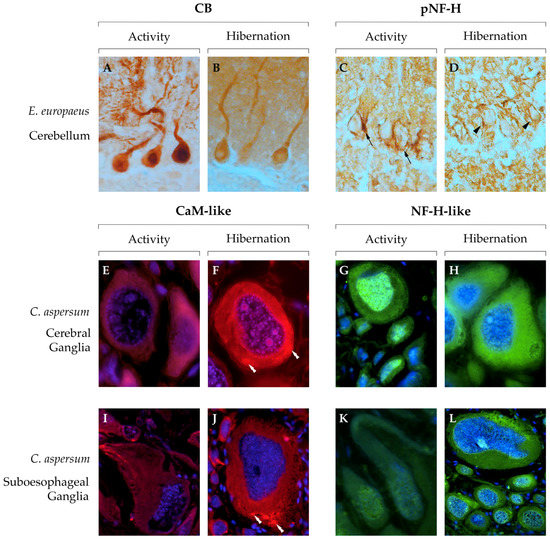 Figure 3.
Comparison of immunohistochemistry staining for CBPs and NF-H between activity and hibernation in vertebrate (European hedgehog,
A
–
D
) and invertebrate (garden snail,
E–L
) models. In the cerebellum of active hedgehogs, the cytoplasm and dendritic tree of Purkinje neurons showed strong CB labeling (
A
), while a visible decrease was detected after a long period of hibernation (
B
). NF-H immunopositivity was present in axons and terminals around Purkinje cells somata during activity (
C
, arrows), and strongly decreased after a long period of hibernation, when it was observed only in few terminals (
D
, arrowheads). In the cerebral (
E
–
H
) and suboesophageal (
I
–
L
) ganglia of the garden snail, a significant increase in the number of positive neurons and intensity of immunoreactivity for CaM-like during hibernation (
F
,
J
) was accompanied by an increased recognition of epitopes by anti-NF-H antibodies (
H
,
L
) with respect to activity (
E
,
I
and
G
,
K
, respectively). Throughout the snail CNS, several neurons showed hibernation-specific aggregates of CaM-like in the cytoplasm (
F
,
J
, double arrowheads). Experiments were carried out as described in [
127
,
133
]. Magnification: 40× (
A–D
,
I–L
); 60× (
G
); 100×(
E
,
F
,
H
).

Table 1. Changes in CBPs and cytoskeletal proteins during hibernation in vertebrates and invertebrates.
Species
Calcium-Binding Proteins
Cytoskeletal Proteins
Area
Ref.
CB
PV
CR
CaM
MAP-2
P-TAU
NF-H

Ictidomys tridecemlineatus

No change
No change
Decrease
No change
Decrease
Decrease
No change
Increase
No change
Cortex
Hypothalamus
[128]
Increase (P-NP)
Forebrain
[122]

Spermophilus citellus

Decrease
Increase
Brain
[134]
Increase
Forebrain
[135]

Spermophilus lateralis

Decrease
Brain (synapses)
[136]

Spermophilus parryii

Increase
Brain
[137]

Mesocricetus auratus

Increase
Forebrain
[138]
Increase
Brain
[137]
Increase
Brain
[71]
Increase
Hippocampus
[139]
Increase
Brain
[121]

Erinaceus europaeus

Decrease
Decrease
Decrease
Decrease
Decrease (P)
Cerebellum
[127]

Ursus americanus

Increase
Brain
[137]

Rana esculenta

Decrease
No change
Decrease (f)
Decrease
Decrease (P)
Decrease (P)
Cerebellum
Optic tectum
[126]

Cornu aspersum

Increase
Decrease (f)
Increase (P)
Cerebral ganglia
[95]
No change
Increase
Increase
Increase
Increase (P-NP)
Cerebral ganglia
[133]
Increase
Increase (P-NP)
Suboesophageal Ganglion
This work
CB: calbindin, PV: parvalbumin, CR: calretinin, CaM: calmodulin, P-TAU: high phosphorylated tau, NF-H: heavy subunit of neurofilaments.

Table 2.
Effect of platinum compounds treatment on CBPs localization and NF-H phosphorylation in the rat CNS. CisPt: cisplatin (CisPt), PtAcacDMS: [Pt(
O,O′
-acac)(-acac)(DMS)].
Calcium-Binding Proteins
pNF-H
Compound
Area
Reference
CB
PV
Decrease
Decrease
Increase
CisPt
Cerebellum
[18]
Decrease
Decrease
Increase
CisPt
Cerebellum
[188]
Decrease
Decrease + no change
CisPt
PtAcacDMS
Hippocampus
[186]
Decrease
No change
CisPt
PtAcacDMS
Cerebellum
[29]
Decrease
CisPt
Cerebellum
[39]

Table 3. Changes in the detection of CBPs associated with age and Alzheimer's disease in different mammal models.
Age
Species
CB
PV
CaM
Method
Area
Reference

Homo sapiens

Decrease
No effect
CC
Cortex, Hippocampus
[200]
Decrease
No effect
Decrease
tot mRNA
Frontal cortex
[197]

Mus musculus

Decrease
No effect
CC, WB
Striatum
[31]
Decrease
No effect
CC, WB
Somatosensory cortex
[30]
Decrease
No effect
SI
Hippocampus (CA1)
Hippocampus (CA3, DG)
[38]
Decrease
CC, SI
Brain
[201]
No effect
Increase
Decrease
RIA
Striatum
Cortex, Cerebellum
Diencephalon, Medulla
[196]

Rattus norvegicus

Decrease
No effect
WB, ID
Hippocampus
Cerebellum
[202]
Decrease
WB
Striatum
[28]
Decrease
CC, WB
Auditory system
[203]
Decrease
No effect
CC, WB
Striatum
[31]
Decrease
Increase
CC
Somatosensory cortex
[30]

Meriones unguiculatus

Decrease
SI, WB
Hippocampus
[204]
Decrease
No effect
CC, WB
Striatum
[31]
Decrease
Increase
CC, WB
Somatosensory cortex
[30]

Mesocricetus auratus

Decrease
No effect
ISH, ARG
Hippocampus, Striatum, Cerebellum
[205]
Alzheimer's Disease
Species
CB
PV
CaM
Method
Area
Reference

Homo sapiens

Decrease
Decrease
RIA
Frontal, Temporal, Parietal Cortex
[206]
Decrease
CC, SI
Cortex
[207,208]
Decrease
CC
Prefrontal cortex
[209]
Decrease
CC
Temporal cortex
[210]
Decrease
CC
Hippocampus
[195]
Decrease
CC
Temporal, Parahippocampal, Parietal cortex, Cerebellum
[211]
Decrease
No effect
CC
Hippocampus
[212]
Decrease
SI
Cortex
[213]

Mus musculus

Decrease
SI, WB, RT-PCR
Dentate gyrus
[214]
Decrease
CC, SI
Hippocampus
[215]
Decrease
SI, WB
Hippocampus
[216]
CC: cell count; WB: Western blot, SI: signal intensity; RIA: radioimmunoassay; ID: immunodot, ISH: in situ hybridization, ARG: autoradiography, CA1:

cornu Ammonis

1, CA2:

cornu Ammonis

2, DG: dentate gyrus.

© 2019 by the authors. Licensee MDPI, Basel, Switzerland. This article is an open access article distributed under the terms and conditions of the Creative Commons Attribution (CC BY) license (http://creativecommons.org/licenses/by/4.0/).