Open Access This article is
freely available
re-usable
Review
Molecular Mechanisms of Kidney Injury and Repair in Arterial Hypertension
1
Department of Nephrology and Medical Intensive Care, Charité-Universitätsmedizin Berlin, 13353 Berlin, Germany
2
Max-Delbrück Center for Molecular Medicine in the Helmholtz Association, 13125 Berlin, Germany
3
Experimental and Clinical Research Center, a joint cooperation of Max-Delbrück Center for Molecular Medicine and Charité-Universitätsmedizin Berlin, 13125 Berlin, Germany
4
Berlin Institute of Health (BIH), 10178 Berlin, Germany
*
Author to whom correspondence should be addressed.
Received: 27 March 2019 / Accepted: 28 April 2019 / Published: 30 April 2019
Abstract
:
The global burden of chronic kidney disease is rising. The etiologies, heterogeneous, and arterial hypertension, are key factors contributing to the development and progression of chronic kidney disease. Arterial hypertension is induced and maintained by a complex network of systemic signaling pathways, such as the hormonal axis of the renin-angiotensin-aldosterone system, hemodynamic alterations affecting blood flow, oxygen supply, and the immune system. This review summarizes the clinical and histopathological features of hypertensive kidney injury and focusses on the interplay of distinct systemic signaling pathways, which drive hypertensive kidney injury in distinct cell types of the kidney. There are several parallels between hypertension-induced molecular signaling cascades in the renal epithelial, endothelial, interstitial, and immune cells. Angiotensin II signaling via the AT1R, hypoxia induced HIFα activation and mechanotransduction are closely interacting and further triggering the adaptions of metabolism, cytoskeletal rearrangement, and profibrotic TGF signaling. The interplay of these, and other cellular pathways, is crucial to balancing the injury and repair of the kidneys and determines the progression of hypertensive kidney disease.
Keywords:
hypertension; kidney; molecular signaling
1. Introduction
Arterial hypertension has a large prevalence in the general population and is associated with a wide range of cardiovascular complications and chronic damage to the heart, brain, vasculature, eyes, kidney, and other organs. Hypertensive nephropathy is regarded as the second leading cause of end-stage renal disease (ESRD), outnumbered only by diabetic nephropathy. However, in many cases, it is hard to determine the primary underlying cause of chronic kidney disease (CKD). Arterial hypertension is a typical complication of CKD, irrespective of its etiology, and it is often difficult to differentiate whether increased blood pressure is the cause and/or consequence of impaired kidney function. In any case, coexisting arterial hypertension accelerates the progression of CKD and increases the cardiovascular risk in CKD patients [
1
]. The clinical course and histopathological characteristics of kidney injury in hypertensive kidney disease may vary, not only on comorbidities, but also in environmental factors and genetic predisposition. For example, patients of black ethnicity are at a much higher risk for rapidly progressing CKD. Given the importance of hypertension for the course of kidney disease, a thorough understanding of the molecular mechanisms of kidney injury and repair, in arterial hypertension, appears fundamental to the development of novel approaches against the progression of CKD worldwide. With the increasing availability of novel therapeutic strategies targeting molecular pathways, a classification of CKD, based on the predominant molecular pathology, rather than clinical correlations/etiologies might become a promising approach in the future.
Arterial hypertension is caused and sustained by a complex network of systemic signaling pathways. The renin-angiotensin-aldosterone-system (RAAS) is one important hormonal axis in hypertension. In addition, several other hormones, such as corticosteroids, catecholamines, thyroid hormones, sex hormones, and others contribute to the regulation of blood pressure. Furthermore, it has been shown that the immune system plays an important role in the development and maintenance of hypertension. For example, the balance between IL17 producing T lymphocytes (Th17) and regulatory T cells (Treg) is dysequilibrated in hypertensive patients, favoring Th17 cells. Other conditions favoring Th17 cells can drive hypertension. In this review we aim to provide a brief overview of clinical and histopathological characteristics of kidney injury in hypertensive kidney disease, and of the systemic signaling pathways and important aspects of the immune system, in arterial hypertension. Moreover, we will describe molecular mechanisms in hypertensive kidney injury and repair, including angiotensin II (Ang II) signaling in different cell types, hypoxia signaling, distinct pro-inflammatory pathways, and TGF-associated profibrotic signaling.
2. Clinical and Histopathological Characteristics of Kidney Injury in Arterial Hypertension
"Hypertensive nephropathy", also known as "hypertensive nephrosclerosis", is traditionally characterized by a combination of pathological changes of the pre- and intra-glomerular microvasculature and the tubulointerstitium. The histopathology can hardly distinguish whether arterial hypertension is the primary cause of kidney dysfunction or whether increased blood pressure occurs as a comorbidity, which drives CKD progression. Thus, the term hypertensive nephropathy summarizes both conditions. The severity of blood pressure elevation often correlates with the degree of renal damage. In many cases, hypertensive nephrosclerosis shows a slow progression, which is historically classified as "benign nephrosclerosis". In contrast, accelerated nephrosclerosis, histopathologically characterized by fibrinoid necrosis and/or myointimal cell proliferation, is classified as "malignant nephrosclerosis" and frequently leads to ESRD [
2
]. Hypertension-induced kidney damage involves different cell types and anatomical structures in the kidney, including the vasculature, glomeruli, tubulointerstitium, and immune cells. The muscular arteries and arterioles of the kidney parenchyma show progressive intimal thickening during aging, but besides age this process correlates with arterial hypertension [
3
]. The thickening is caused by collagen deposition and spreading of elastic fibers and myofibroblasts, and ultimately leads to more pulsatile blood flow in kidney arterioles [
3
]. Another histopathological characteristic of hypertensive nephrosclerosis is arteriosclerosis of the afferent arterioles, also referred to as "afferent arteriolar hyalinosis". These typical hyaline deposits are the consequence of a pathogenetic cascade of atrophy of vascular smooth muscle cells, increased endothelial leakiness and plasma protein extravasation, leading to sub-endothelial protein accumulation [
3
]. Although this process is associated with hypertension, to some extent, it occurs in all aging kidneys [
3
]. The glomerular involvement is heterogeneous; there is a side-by-side normal morphology, ischemic, obliterated glomeruli, with collapsed capillaries and focal-segmental-glomerular sclerosis-(FSGS)-like lesions, with partially sclerotic glomerular adhesions.
Another hallmark of hypertensive kidney injury is tubular atrophy, accompanied by interstitial fibrosis. Following a loss of functional nephrons, the surviving nephrons initially maintain total kidney function, but the concomitant hemodynamic adaptations results in an oxygen supply-demand mismatch and ultimately tubulointerstitial hypoxia [
4
]. Tubulointerstitial hypoxia presumably contributes to the progression of tubular damage and renal functional impairment [
5
,
6
]. This relative hypoxia is further aggravated by impaired oxygen delivery to the kidneys during hypertension, due to vasoconstriction hormones, including components of the RAAS, prostaglandins, and endothelin [
5
]. During the course of CKD, the loss of peritubular capillaries further aggravates tubulointerstitial hypoxia and damage. Hypoxic conditions trigger mitochondrial dysfunction [
4
] and can activate the transcription factor hypoxia-inducible factor (HIF) [
7
]. The signaling pathways which promote a maladaptive phenotype at the cellular level will be discussed below. Besides the characteristic vascular adaptations and glomerular pathology, kidney histology of hypertensive nephrosclerosis may also show trans-differentiation and apoptosis of tubular cells, increased peritubular fibrosis, fibroblasts proliferation, and increased interstitial inflammation.
3. Systemic Signaling Pathways and the Immune System in Arterial Hypertension
4. Molecular Mechanisms in Hypertensive Kidney Injury
5. Approaches to Foster Regeneration and Repair in Hypertensive Nephropathy
Despite recent advances in the understanding of molecular mechanisms, contributing to hypertensive nephropathy, the interplay between the different signaling networks in each cell type and—even more complex—between distinct cell types, is still incompletely deciphered. However, "omics" approaches such as single-cell proteomics and metabolomics, in conjunction with advanced imaging techniques, comprise excellent opportunities to gain further insight into this complex signaling network. So far, clinical management of hypertensive CKD focusses on the deceleration of CKD progression. A major aim is to stop all comorbidities, which are known to drive the progression of hypertensive CKD: Blood pressure should ideally be normalized, blood glucose control should be excellent, dietary salt may be restricted, and nephrotoxic medications are to be avoided. Further, pharmacological Ang II blockade has beneficial effects on the progression of hypertensive end-organ damage. Therapeutic approaches to other signaling pathways, such as HIF stabilization, ET1 blockade, anti-inflammatory therapy or immunosuppression, have so far either not been tested or not proven safe and efficient. In pre-clinical research, stem cell based approaches are evaluated to improve kidney regeneration in CKD. However, in nephrology in general, and especially with regard to hypertensive nephropathy, regenerative medicine techniques are still in their children's shoes. Studies are carried out with embryonic stem cells, mesenchymal stem cells, adipose stem cells, amniotic fluid stem cells, and renal progenitors, but also pluripotent cells. So far, the results from these studies are conflicting. However, even if stem cells and multipotent cells might not directly differentiate and replace damaged cells, they might produce protective and regenerative factors, and thereby enable functional improvement [
60
,
61
].
The bench-to-bedside transition of insight into the molecular mechanisms of CKD in hypertensive patients, and also a profound understanding of the molecular pathogenesis of CKD with other/mixed etiology, may lead to the development novel treatment approaches. Classifying CKD, based on the individual predominant molecular pathology, rather than traditional clinical etiologies would be an important step in developing focused molecular treatments. There is still a long way ahead, but once achieved, personalized medicine holds promise in CKD.
Author Contributions
Conceptualization, L.K.S.; data curation of references, L.K.S. and K.-U.E.; writing—original draft preparation, L.K.S.; writing—review and editing, L.K.S. and K.-U.E.; visualization, L.K.S.; supervision, K.-U.E.
Funding
L.K.S was partly funded by the Berlin Institute of Health (BIH), 10178 Berlin, Germany.
Acknowledgments
We acknowledge support from the German Research Foundation (DFG) and the Open Access Publication Fund of Charité–Universitätsmedizin Berlin.
Conflicts of Interest
The authors declare no conflict of interest.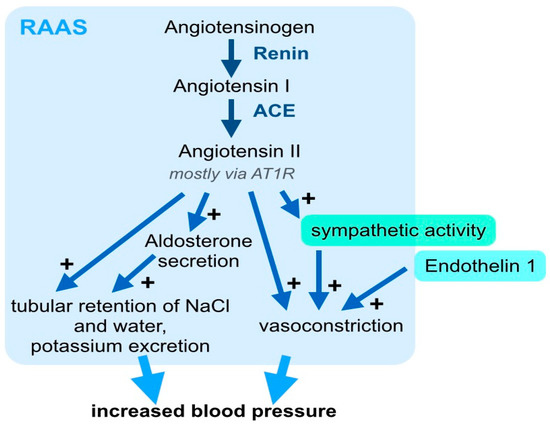 Figure 1. The renin-angiotensin-aldosterone system (RAAS) is a key hormonal axis in the pathogenesis of arterial hypertension. The RAAS combines a regulatory network, including angiotensin II (Ang II) and aldosterone, which increase systemic blood pressure through a concerted mechanism. Angiotensinogen is enzymatically cleaved by renin and angiotensin-converting enzyme (ACE) to generate Angiotensin II, which, mainly via the Ang II receptor 1 (AT1R), stimulates the secretion of aldosterone, acts as a vasoconstrictor and leads to renal tubular retention of NaCl and water. For simplification, the negative feedback loop, which physiologically limits an excess activation of these pathways, is not included in this graph. Besides Ang II, endothelin 1 and increased sympathetic activity, which may be induced by RAAS activation or independent stimuli, also contribute to systemic vasoconstriction and increased peripheral resistance.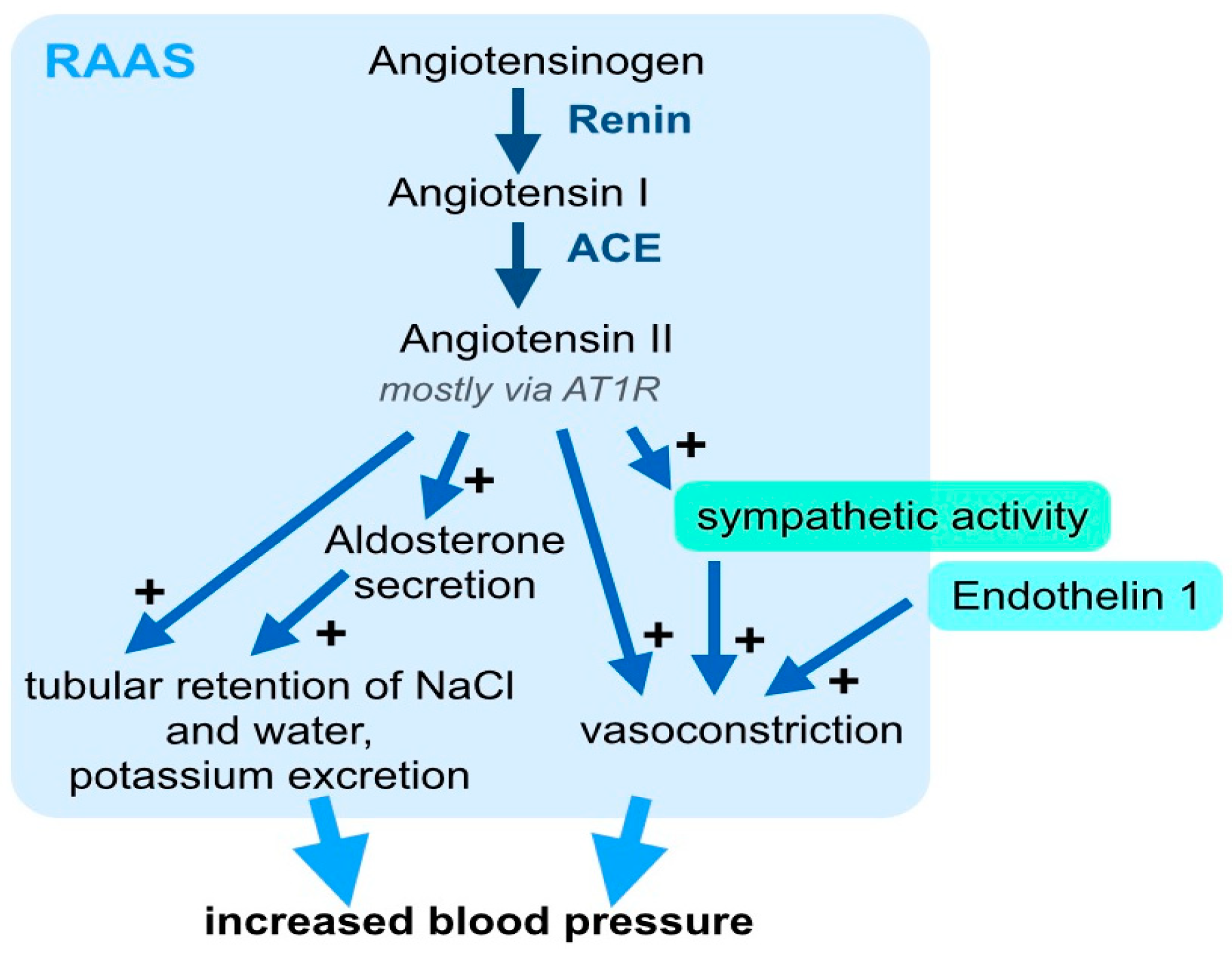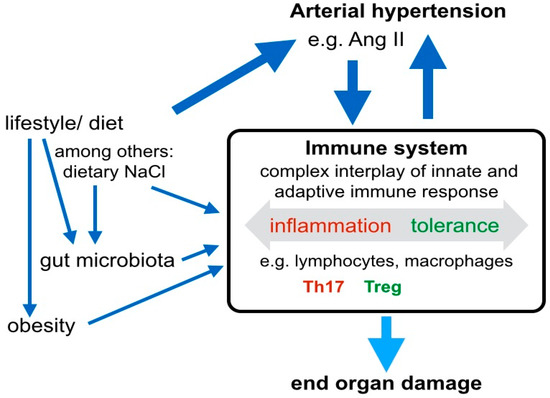 Figure 2. The immune system closely interacts with hormonal and environmental modifiers to control blood pressure. The immune system plays an important role in the pathogenesis of arterial hypertension and hypertensive end-organ damage. Lifestyle factors, such as the dietary nutrient composition and sodium intake directly, and via alterations in the gut microbiome, have influence on the cellular compositions of the immune system. Distinct immune cell subtypes, such as IL17 producing Th17 lymphocytes contribute to increased blood pressure. In parallel, existing arterial hypertension and Ang II favor Th17 polarization of T lymphocytes. Besides the effect of immune cells on blood pressure, the balance of various cells from the adaptive and innate immune system, including lymphocytes and macrophages is critical for end organ damage.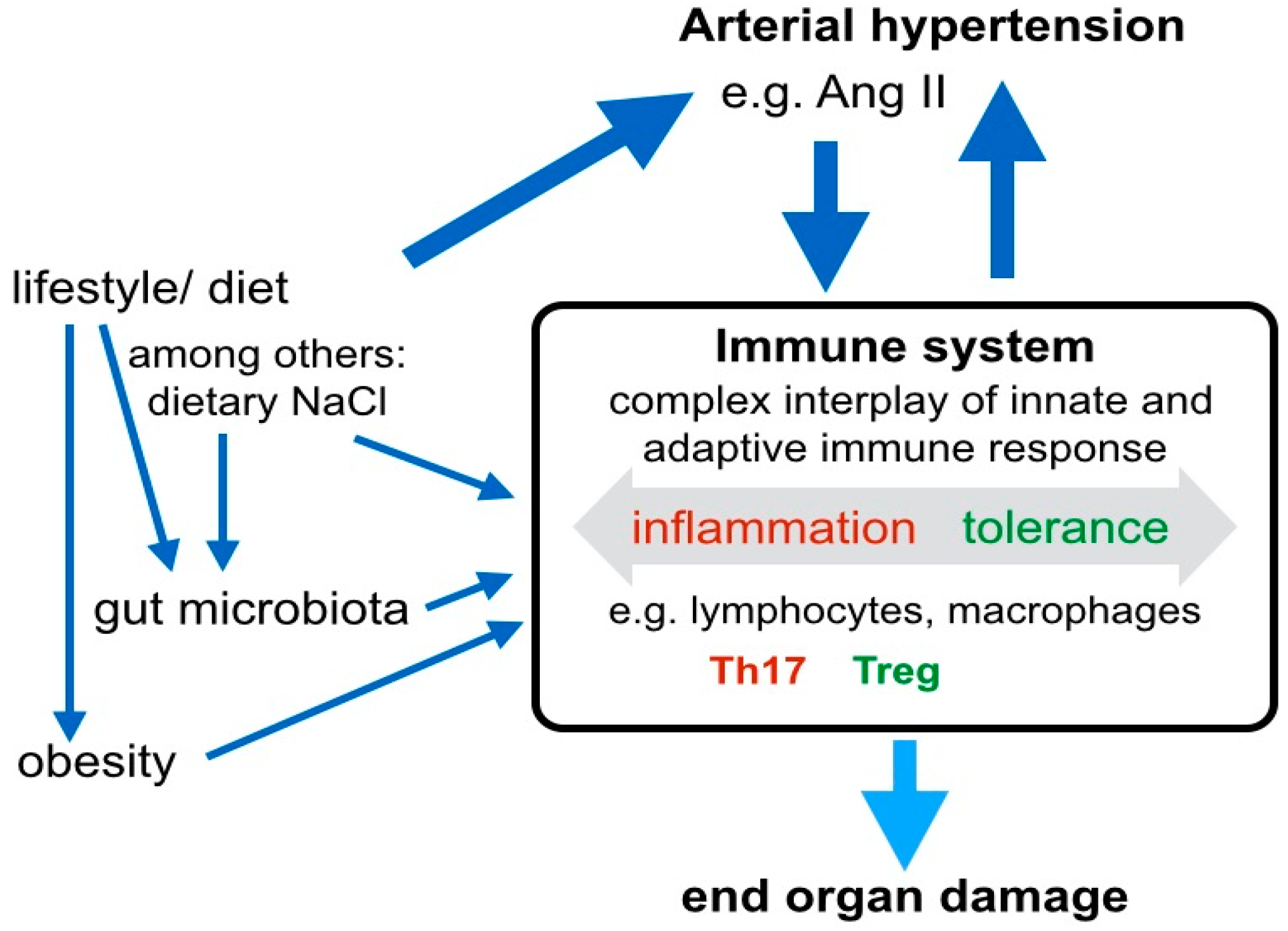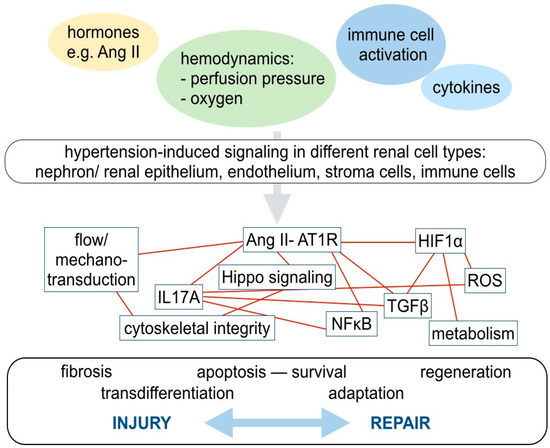 Figure 3. A complex network of various molecular pathways contributes to cellular adaptions, injury, and regenerative capacity in hypertensive kidney injury. In arterial hypertension, the cells in the kidney are exposed to various extracellular stimuli, including hormones, such as Ang II, altered hemodynamics with increased perfusion pressure, and potentially decreased oxygen supply and activated immune cells, which in turn secrete different cytokines. These stimuli affect all renal cell types: Nephron forming renal epithelial cells, endothelial cells, stroma, and immune cells. Although the net effect on injury and repair is highly cell type- and context-dependent, there are several parallels regarding the involved molecular signaling pathways. These pathways, or rather, signaling networks, are highly interrelated. For example, AT1R-mediated Ang II signaling, the Hippo pathway, pro- inflammatory signaling, including IL17 secretion and activation of TGFβ associated profibrotic signaling closely interact. Mechano-transduction and Hippo signaling, among others, influence the cytoskeletal integrity. Hypoxia-inducible factor (HIF) is stabilized by hypoxia, induces metabolic adaptions and may increase TGFβ- associated profibrotic pathways.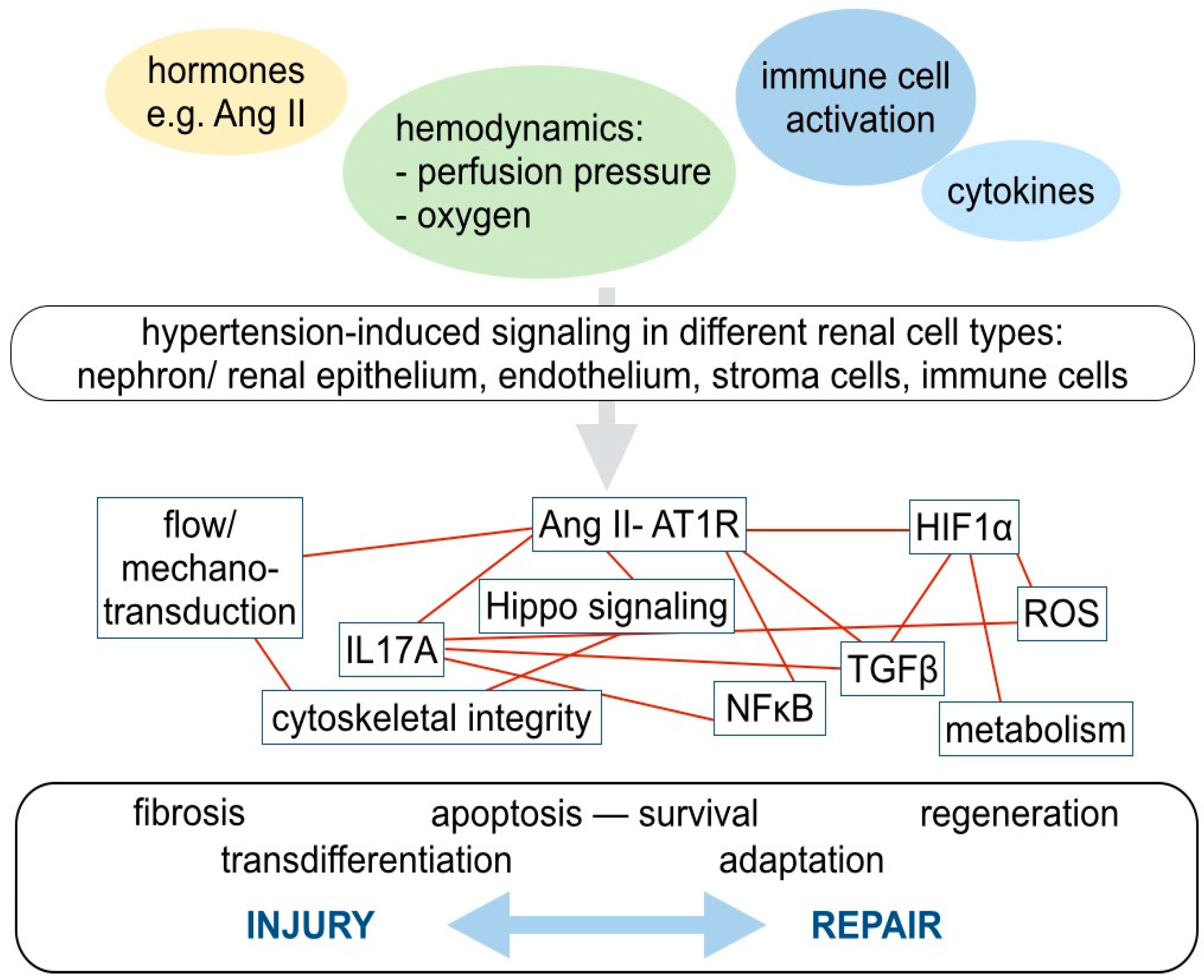 © 2019 by the authors. Licensee MDPI, Basel, Switzerland. This article is an open access article distributed under the terms and conditions of the Creative Commons Attribution (CC BY) license (http://creativecommons.org/licenses/by/4.0/).