Transcriptional Regulation Factors of the Human Mitochondrial Aspartate/Glutamate Carrier Gene, Isoform 2 (
SLC25A13

): USF1 as Basal Factor and FOXA2 as Activator in Liver Cells

1

Department of Science, University of Basilicata, 85100 Potenza, Italy

2

Department of Biosciences, Biotechnologies and Biopharmaceutics, University of Bari, 70125 Bari, Italy

3

Bristol Heart Institute, Bristol Medical School, University of Bristol, Bristol BS2 8HW, UK

4

Department of Molecular and Cellular Biochemistry, University of Kentucky, Lexington, KY 40536, USA

*

Author to whom correspondence should be addressed.

Received: 30 March 2019 / Revised: 12 April 2019 / Accepted: 14 April 2019 / Published: 16 April 2019
Abstract
Mitochondrial carriers catalyse the translocation of numerous metabolites across the inner mitochondrial membrane, playing a key role in different cell functions. For this reason, mitochondrial carrier gene expression needs tight regulation. The human
SLC25A13
gene, encoding for the mitochondrial aspartate/glutamate carrier isoform 2 (AGC2), catalyses the electrogenic exchange of aspartate for glutamate plus a proton, thus taking part in many metabolic processes including the malate-aspartate shuttle. By the luciferase (LUC) activity of promoter deletion constructs we identified the putative promoter region, comprising the proximal promoter (−442 bp/−19 bp), as well as an enhancer region (−968 bp/−768 bp). Furthermore, with different approaches, such as in silico promoter analysis, gene silencing and chromatin immunoprecipitation, we identified two transcription factors responsible for
SLC25A13
transcriptional regulation: FOXA2 and USF1. USF1 acts as a positive transcription factor which binds to the basal promoter thus ensuring
SLC25A13
gene expression in a wide range of tissues. The role of FOXA2 is different, working as an activator in hepatic cells. As a tumour suppressor, FOXA2 could be responsible for
SLC25A13
high expression levels in liver and its downregulation in hepatocellular carcinoma (HCC).
View Full-Text
►

▼

Figures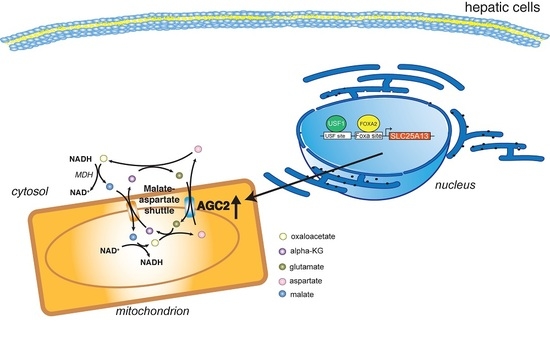 Graphical abstract
This is an open access article distributed under the
Creative Commons Attribution License
which permits unrestricted use, distribution, and reproduction in any medium, provided the original work is properly cited (CC BY 4.0).

Share & Cite This Article
MDPI and ACS Style
Convertini, P.; Todisco, S.; De Santis, F.; Pappalardo, I.; Iacobazzi, D.; Castiglione Morelli, M.A.; Fondufe-Mittendorf, Y.N.; Martelli, G.; Palmieri, F.; Infantino, V. Transcriptional Regulation Factors of the Human Mitochondrial Aspartate/Glutamate Carrier Gene, Isoform 2 (SLC25A13): USF1 as Basal Factor and FOXA2 as Activator in Liver Cells. Int. J. Mol. Sci. 2019, 20, 1888.
Note that from the first issue of 2016, MDPI journals use article numbers instead of page numbers. See further details here.
Related Articles
Comments
[Return to top]