Nuclear Peroxisome Proliferator-Activated Receptors (PPARs) as Therapeutic Targets of Resveratrol for Autism Spectrum Disorder
1
Child Neurology and Psychiatry Unit, Department of Clinical and Experimental Medicine, University of Catania, 95123 Catania, Italy
2
Referral Centre for Inborn Metabolic Diseases, Department of Clinical and Experimental Medicine, University of Catania, 95123 Catania, Italy
3
Institute for Polymers, Composites and Biomaterials (IPCB), National Research Council (CNR), 95126 Catania, Italy
4
Institute of Crystallography (IC), National Research Council (CNR), 95126 Catania, Italy
5
Laboratory of Neurobiology, Centro Investigación Príncipe Felipe, 46012 Valencia, Spain
6
Research Center "The Great Senescence", University of Catania, 95123 Catania, Italy
7
Barrow Neurologic Institute at Phoenix Children's Hospital, Phoenix, AZ 85016, USA
8
Department of Child Health, University of Arizona College of Medicine, Phoenix, AZ 85016, USA
9
Centre de Recherche des Cordeliers, 75006 Paris, France
10
Sorbonne Université, USPC, 75006 Paris, France
11
Université Paris Descartes, 75006 Paris, France
12
Université Paris Diderot, 75006 Paris, France
13
INSERM UMR-S 1138, 75006 Paris, France
*
Author to whom correspondence should be addressed.
†
These authors contributed equally to this work.
Received: 22 February 2019 / Revised: 5 April 2019 / Accepted: 12 April 2019 / Published: 16 April 2019
Abstract
Autism spectrum disorder (ASD) is a neurodevelopmental disorder characterized by defective social communication and interaction and restricted, repetitive behavior with a complex, multifactorial etiology. Despite an increasing worldwide prevalence of ASD, there is currently no pharmacological cure to treat core symptoms of ASD. Clinical evidence and molecular data support the role of impaired mitochondrial fatty acid oxidation (FAO) in ASD. The recognition of defects in energy metabolism in ASD may be important for better understanding ASD and developing therapeutic intervention. The nuclear peroxisome proliferator-activated receptors (PPAR) α, δ, and γ are ligand-activated receptors with distinct physiological functions in regulating lipid and glucose metabolism, as well as inflammatory response. PPAR activation allows a coordinated up-regulation of numerous FAO enzymes, resulting in significant PPAR-driven increases in mitochondrial FAO flux. Resveratrol (RSV) is a polyphenolic compound which exhibits metabolic, antioxidant, and anti-inflammatory properties, pointing to possible applications in ASD therapeutics. In this study, we review the evidence for the existing links between ASD and impaired mitochondrial FAO and review the potential implications for regulation of mitochondrial FAO in ASD by PPAR activators, including RSV.
View Full-Text
►

▼

Figures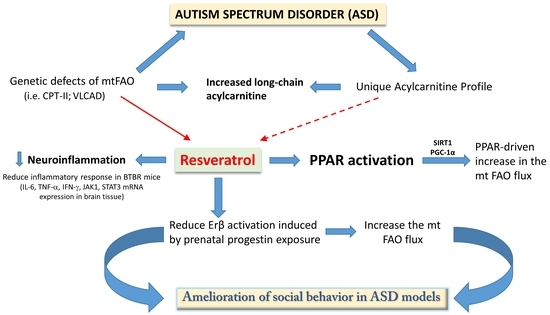 Graphical abstract
This is an open access article distributed under the
Creative Commons Attribution License
which permits unrestricted use, distribution, and reproduction in any medium, provided the original work is properly cited (CC BY 4.0).

Share & Cite This Article
MDPI and ACS Style
Barone, R.; Rizzo, R.; Tabbì, G.; Malaguarnera, M.; Frye, R.E.; Bastin, J. Nuclear Peroxisome Proliferator-Activated Receptors (PPARs) as Therapeutic Targets of Resveratrol for Autism Spectrum Disorder. Int. J. Mol. Sci. 2019, 20, 1878.
Note that from the first issue of 2016, MDPI journals use article numbers instead of page numbers. See further details here.
Related Articles
Comments
[Return to top]