MicroRNA-214-3p Targeting Ctnnb1 Promotes 3T3-L1 Preadipocyte Differentiation by Interfering with the Wnt/β-Catenin Signaling Pathway
1
Key Laboratory of Animal Genetics, Breeding and Reproduction of Shaanxi Province, Yangling, Xianyang 712100, China
2
Laboratory of Animal Fat Deposition & Muscle Development, College of Animal Science and Technology, Northwest A&F University, Yangling, Xianyang 712100, China
*
Author to whom correspondence should be addressed.
Received: 17 March 2019 / Revised: 4 April 2019 / Accepted: 10 April 2019 / Published: 12 April 2019
Abstract
Differentiation from preadipocytes into mature adipocytes is a complex biological process in which miRNAs play an important role. Previous studies showed that miR-214-3p facilitates adipocyte differentiation of bone marrow-derived mesenchymal stem cells (BMSCs) in vitro. The detailed function and molecular mechanism of miR-214-3p in adipocyte development is unclear. In this study, the 3T3-L1 cell line was used to analyze the function of miR-214-3p in vitro. Using 5-Ethynyl-2′-deoxyuridine (EdU) staining and the CCK-8 assay, we observed that transfection with the miR-214-3p agomir visibly promoted proliferation of 3T3-L1 preadipocytes by up-regulating the expression of cell cycle-related genes. Interestingly, overexpression of miR-214-3p promoted 3T3-L1 preadipocyte differentiation and up-regulated the expression of key genes for lipogenesis: PPARγ, FABP4, and Adiponectin. Conversely, inhibition of miR-214-3p repressed 3T3-L1 preadipocyte proliferation and differentiation, and down-regulated the expression of cell cycle-related genes and adipogenic markers. Furthermore, we proved that miR-214-3p regulates 3T3-L1 preadipocyte differentiation by directly targeting the 3′-untranslated regions (3′UTR) of Ctnnb1, which is an important transcriptional regulatory factor of the Wnt/β-Catenin pathway. Taken together, the data indicate that miR-214-3p may positively regulate preadipocyte proliferation and enhance differentiation through the Wnt/β-Catenin signaling pathway.
View Full-Text
►

▼

Figures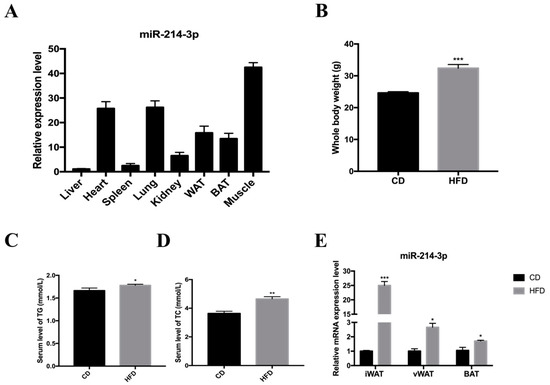 Figure 1
This is an open access article distributed under the
Creative Commons Attribution License
which permits unrestricted use, distribution, and reproduction in any medium, provided the original work is properly cited (CC BY 4.0).

Share & Cite This Article
MDPI and ACS Style
Xi, F.-X.; Wei, C.-S.; Xu, Y.-T.; Ma, L.; He, Y.-L.; Shi, X.-E.; Yang, G.-S.; Yu, T.-Y. MicroRNA-214-3p Targeting Ctnnb1 Promotes 3T3-L1 Preadipocyte Differentiation by Interfering with the Wnt/β-Catenin Signaling Pathway. Int. J. Mol. Sci. 2019, 20, 1816.
Note that from the first issue of 2016, MDPI journals use article numbers instead of page numbers. See further details here.
Related Articles
Comments
[Return to top]