Evolutionary Toxicogenomics of the Striped Killifish (
Fundulus majalis

) in the New Bedford Harbor (Massachusetts, USA)

1

Marine Biology and Ecology, Rosenstiel School of Marine and Atmospheric Science, University of Miami, 4600 Rickenbacker Causeway, Miami, FL 33149, USA

2

Dipartimento di Scienze della Vita e dell'Ambiente, Universita' Politecnica delle Marche, Via Brecce Bianche, 60131 Ancona, Italy

3

Laboratory of Integrative Biology of Marine Models, CNRS-Sorbonne University, Station Biologique de Roscoff, Place Georges Teissier, 29680 Roscoff, France

*

Author to whom correspondence should be addressed.

Received: 17 January 2019 / Revised: 18 February 2019 / Accepted: 23 February 2019 / Published: 5 March 2019
Abstract
In this paper, we used a Genotyping-by-Sequencing (GBS) approach to find and genotype more than 4000 genome-wide SNPs (Single Nucleotide Polymorphisms) from striped killifish exposed to a variety of polychlorinated biphenyls (PCBs) and other aromatic pollutants in New Bedford Harbor (NBH, Massachusetts, USA). The aims of this study were to identify the genetic consequences of exposure to aquatic pollutants and detect genes that may be under selection. Low genetic diversity (
H
E
and π) was found in the site exposed to the highest pollution level, but the pattern of genetic diversity did not match the pollution levels. Extensive connectivity was detected among sampling sites, which suggests that balanced gene flow may explain the lack of genetic variation in response to pollution levels. Tests for selection identified 539 candidate outliers, but many of the candidate outliers were not shared among tests. Differences among test results likely reflect different test assumptions and the complex pollutant mixture. Potentially, selectively important loci are associated with 151 SNPs, and enrichment analysis suggests a likely involvement of these genes with pollutants that occur in NBH. This result suggests that selective processes at genes targeted by pollutants may be occurring, even at a small geographical scale, and may allow the local striped killifish to resist the high pollution levels.
View Full-Text
►

▼

Figures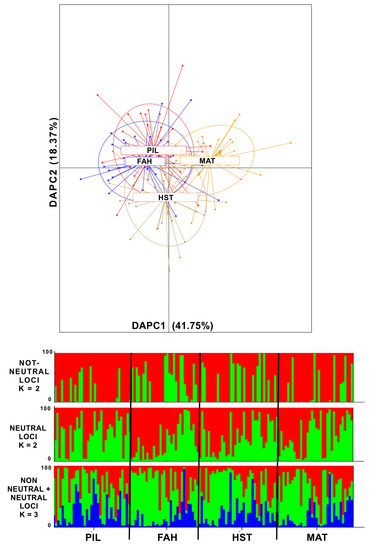 Figure 1
This is an open access article distributed under the
Creative Commons Attribution License
which permits unrestricted use, distribution, and reproduction in any medium, provided the original work is properly cited (CC BY 4.0).

Share & Cite This Article
MDPI and ACS Style
Ruggeri, P.; Du, X.; Crawford, D.L.; Oleksiak, M.F. Evolutionary Toxicogenomics of the Striped Killifish (Fundulus majalis) in the New Bedford Harbor (Massachusetts, USA). Int. J. Mol. Sci. 2019, 20, 1129.
Note that from the first issue of 2016, MDPI journals use article numbers instead of page numbers. See further details here.
Related Articles
Comments
[Return to top]