Open Access This article is
freely available
re-usable
Review
A Review of Curcumin and Its Derivatives as Anticancer Agents
1
Department of Chemical and Biological Engineering, University of Sheffield, Sheffield S1 3JD, UK
2
School of Pharmaceutical Engineering and Life Science, Changzhou University, Changzhou 213164, China
*
Author to whom correspondence should be addressed.
Received: 6 February 2019 / Accepted: 21 February 2019 / Published: 27 February 2019
Abstract
:
Cancer is the second leading cause of death in the world and one of the major public health problems. Despite the great advances in cancer therapy, the incidence and mortality rates of cancer remain high. Therefore, the quest for more efficient and less toxic cancer treatment strategies is still at the forefront of current research. Curcumin, the active ingredient of the
Curcuma longa
plant, has received great attention over the past two decades as an antioxidant, anti-inflammatory, and anticancer agent. In this review, a summary of the medicinal chemistry and pharmacology of curcumin and its derivatives in regard to anticancer activity, their main mechanisms of action, and cellular targets has been provided based on the literature data from the experimental and clinical evaluation of curcumin in cancer cell lines, animal models, and human subjects. In addition, the recent advances in the drug delivery systems for curcumin delivery to cancer cells have been highlighted.
Keywords:
curcumin; anticancer; structure activity relationship; cellular pathway; mechanism of action; delivery system
1. Introduction
Cancer is the second most life-threatening disease and one of the main public health problems worldwide. In 2018, there were around 1.73 million new cases of cancer and more than 609,000 deaths in the United States alone [
1
]. Despite the tangible advances in cancer therapy, the reported incidence of the disease and the mortality have not declined in the past 30 years [
2
]. Understanding the molecular alterations that contribute to cancer development and progression is a key factor in cancer prevention and treatment. There are several common strategies for targeting specific cancer cells to inhibit tumor development, progression, and metastasis without causing severe side effects [
3
]. In addition to the chemically synthesized anticancer agents, several anticancer compounds with different modes of action have been extracted from plant sources, such as
Taxus brevifolia
,
Catharanthus roseus
,
Betula alba
,
Cephalotaxus
species,
Erythroxylum previllei
,
Curcuma longa
, and many others [
4
]. Among them, curcumin is the most important component of the rhizomes of
Curcuma longa
L. (turmeric) [
5
] and was extracted from turmeric plant in a pure crystalline form for the first time in 1870 [
6
]. Curcumin and its derivatives have received immense attention in the past two decades due to their biofunctional properties such as anti-tumor, antioxidant, and anti-inflammatory activities [
7
]. These properties are attributed to the key elements in the curcumin structure [
8
]. Therefore, a great deal of scientific work has shed light on the structure activity relationship (SAR) of curcumin in an attempt to improve its physiochemical and biological properties. Due to the importance of cancer as a leading cause of death and the ongoing quest for more efficient and less toxic anticancer agents, this review has mainly focused on the anticancer activity of curcumin. The applications of curcumin in other diseases are beyond the scope of this review and have been reviewed elsewhere [
4
,
9
].
The main mechanisms of action by which curcumin exhibits its unique anticancer activity include inducing apoptosis and inhibiting proliferation and invasion of tumors by suppressing a variety of cellular signaling pathways [
10
]. Several studies reported curcumin's antitumor activity on breast cancer, lung cancer, head and neck squamous cell carcinoma, prostate cancer, and brain tumors [
11
], showing its capability to target multiple cancer cell lines. In spite of all the above mentioned advantages, curcumin's applications are limited due to its low water solubility which results in poor oral bioavailability and also low chemical stability [
7
]. Another obstacle is the low cellular uptake of curcumin. Due to its hydrophobicity, the curcumin molecule tends to penetrate into the cell membrane and bind to the fatty acyl chains of membrane lipids through hydrogen binding and hydrophobic interactions, resulting in low availability of curcumin inside the cytoplasm [
12
,
13
]. To overcome these obstacles and improve the overall anticancer activity of curcumin, several structural modifications have been suggested to enhance selective toxicity towards specific cancer cells [
14
], increase bioavailability, or enhance stability [
4
,
15
]. Another approach is to use different delivery systems to improve curcumin's physiochemical properties and anticancer activity. This review focuses on the recent literature on the SAR of curcumin and its analogues and their anticancer activity in different cancer cell lines, animal models, and human clinical trials as well as different types of curcumin delivery systems that have been used for cancer therapy.
2. Structure Activity Relationship of Curcumin and Its Derivatives
3. Different Types of Curcumin Delivery Systems Used in Cancer Therapy
Various delivery systems for curcumin have been formulated using different nanotechnologies in order to improve curcumin properties and targetability. For the rational design of the nanoformulations, several factors should be considered in order to enhance the efficacy and improve the cellular targeting of the anticancer agents. These factors include the nanoparticle size and shape, surface properties, and nanoparticle targeting ligands [
49
], as illustrated in
Figure 2
. A summary of the most commonly used curcumin delivery systems is introduced in this section.
4. Anticancer Activity of Curcumin
One of the main causes of cancer is the loss of balance between cell proliferation and cell death [
88
]. When the cells skip death due to the absence of the apoptotic signals, uncontrolled cell proliferation occurs, leading to different types of cancer [
89
]. The apoptotic signals are generated through two major pathways: the intrinsic pathway and the extrinsic pathway. The intrinsic pathway works through stimulating the mitochondrial membrane to inhibit expression of antiapoptotic proteins Bcl-2 and Bcl-Xl [
90
]. Curcumin disturbs the balance in the mitochondrial membrane potential, leading to enhanced suppression of the Bcl-xL protein [
91
]. The extrinsic apoptotic pathway works through increasing the death receptors (DRs) on cells and triggering the tumor necrosis factor (TNF)-related apoptosis. Curcumin also contributes to this pathway by upregulating the expression of death receptors DR 4 and DR 5 [
92
,
93
,
94
]. In vitro studies showed a remarkable ability of curcumin and its derivatives to induce apoptosis in different cell lines by inhibiting or downregulating intracellular transcription factors. These factors include NF-κB, activator protein 1 (AP-1), cyclooxygenase II (COX-2), nitric oxide synthase, matrix metalloproteinase-9 (MMP-9), and STAT3 [
33
,
73
]. A recent work has found a new anticancer mechanism for curcumin by decreasing the glucose uptake and lactate production (Warburg effect) in cancer cells via downregulation of pyruvate kinase M2 (PKM2). The inhibition of PKM2 was achieved by suppressing the mammalian target of rapamycin-hypoxia-inducible factor 1α (TOR-HIF1α) [
95
]. Several studies have investigated the ability of curcumin and its derivatives to suppress multiple different carcinomas by interacting with different molecular targets (
Figure 6
).
4.1. In Vitro and In Vivo Studies
Curcumin has shown very promising results in suppressing cancer cell growth and proliferation in several different types of cancer, such as prostate, colorectal, breast, pancreatic, brain, head, and neck cancers. What comes next is a summary of the anticancer activity of curcumin and its derivatives in different types of cancer based on the data from in vitro studies in different cancer cell lines and animal studies.
4.2. Clinical Studies
In addition to the studies carried out in human cell cultures or in animal models, there have been several clinical studies carried out in human subjects to evaluate the efficacy and safety of treatment with curcumin in different types of cancer either alone or in combination with other chemotherapy agents. A summary of an excerpt of these clinical studies is provided in
Table 3
.
5. Conclusions and Future Perspectives
Curcumin, the active ingredient of the
Curcuma longa
extract, has been studied widely over the past few decades for its anti-inflammatory, antioxidant, anticancer, and antiandrogenic effects. Curcumin has shown considerable anticancer effects against several different types of cancer, including prostate cancer, breast cancer, colorectal cancer, pancreatic cancer, and head and neck cancer both in vitro and in vivo. Furthermore, its efficacy and safety in cancer patients either alone or in combination with other anticancer agents has been proven in several clinical studies with human subjects. Curcumin is believed to exert its anticancer activity via multiple mechanisms, interfering with different cellular pathways and inducing/inhibiting the production of various types of cytokines, enzymes or growth factors such as MAPK, EGF, NFκB, PKD1, COX-2, STAT3, TNF-α, and IκKβ. However, the anticancer application of curcumin has been limited mainly due to its low water solubility, which results in low cellular uptake and poor oral bioavailability, as well as low chemical stability. In order to overcome these limitations, different approaches have been made, such as structural modification and the use of drug delivery systems. The key pharmacophores contributing to the biological activity of curcumin are known to be the hydrogen donor group, the β-diketone moiety, the phenyl rings, and the substituent groups on them. Chemical modification of these moieties has led to curcumin derivatives with higher efficacy and/or enhanced water solubility or stability. In addition, various types of delivery systems have been developed for curcumin delivery to cancer cells or animal xenografts using a variety of natural or synthetic polymers, lipids, or proteins, some of which have improved the stability and/or cellular uptake of curcumin, thus giving rise to a stronger anticancer response.
In spite of the tremendous effort to improve the physicochemical and biological properties of curcumin, there are still several issues to be addressed in regard to its bioavailability, potency, and specificity for the target tissue. The medicinal chemistry approaches to improving the pharmacological properties of curcumin have not managed to increase its potency significantly, and the curcumin derivatives are not more potent than curcumin itself. Due to the low potency of curcumin and its derivatives, higher doses are required to see a therapeutic response, which increases the adverse effects and reduces the patient compliance. Another drawback of the structural modification is that it is difficult to achieve a balance between efficacy and solubility, and in most cases, one has been sacrificed in favor of the other. Most of the structural modifications that improve curcumin efficacy make the molecule more hydrophobic and reduce its solubility. Therefore, more work has to be done in this regard to overcome this problem. Although various types of drug delivery systems have been used to enhance the cellular uptake and efficacy of curcumin, most of these formulations have remained at the proof of concept level and have not been evaluated in clinical trials. There is a lack of clinical studies to evaluate the safety and efficacy of these curcumin delivery systems in humans before they can find their way to the pharmaceutical market. Moreover, most of the currently developed drug delivery systems for curcumin lack specificity for the target tissue. Hence, there is still much room for improvement in the curcumin delivery systems in terms of selectivity for specific tumor tissues. Tissue-specific curcumin delivery enhances the local drug concentrations in the site of action and therefore results in higher efficacy (with lower doses of curcumin) and less adverse effects.
Funding
This research was funded by EPSRC, grant numbers EP/N007174/1 and EP/N023579/1; The Royal Society, grant numbers RG160662 and IE150457; and Jiangsu specially appointed professors program. R.H. was funded by the University of Sheffield studentship.
Conflicts of Interest
The authors declare no conflict of interest.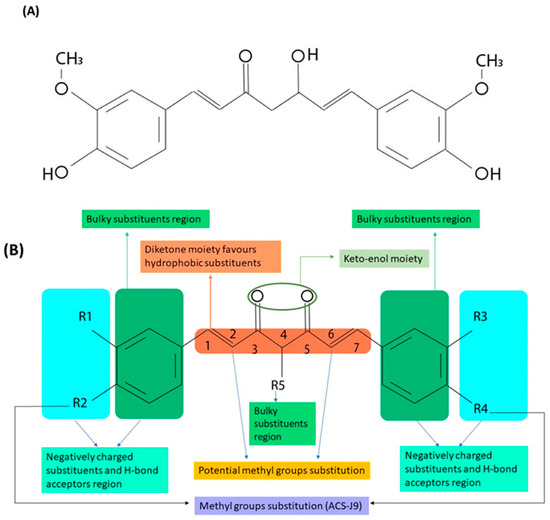 Figure 1. (A) Chemical structure of curcumin. (B) The main pharmacophores and potential substitution positions.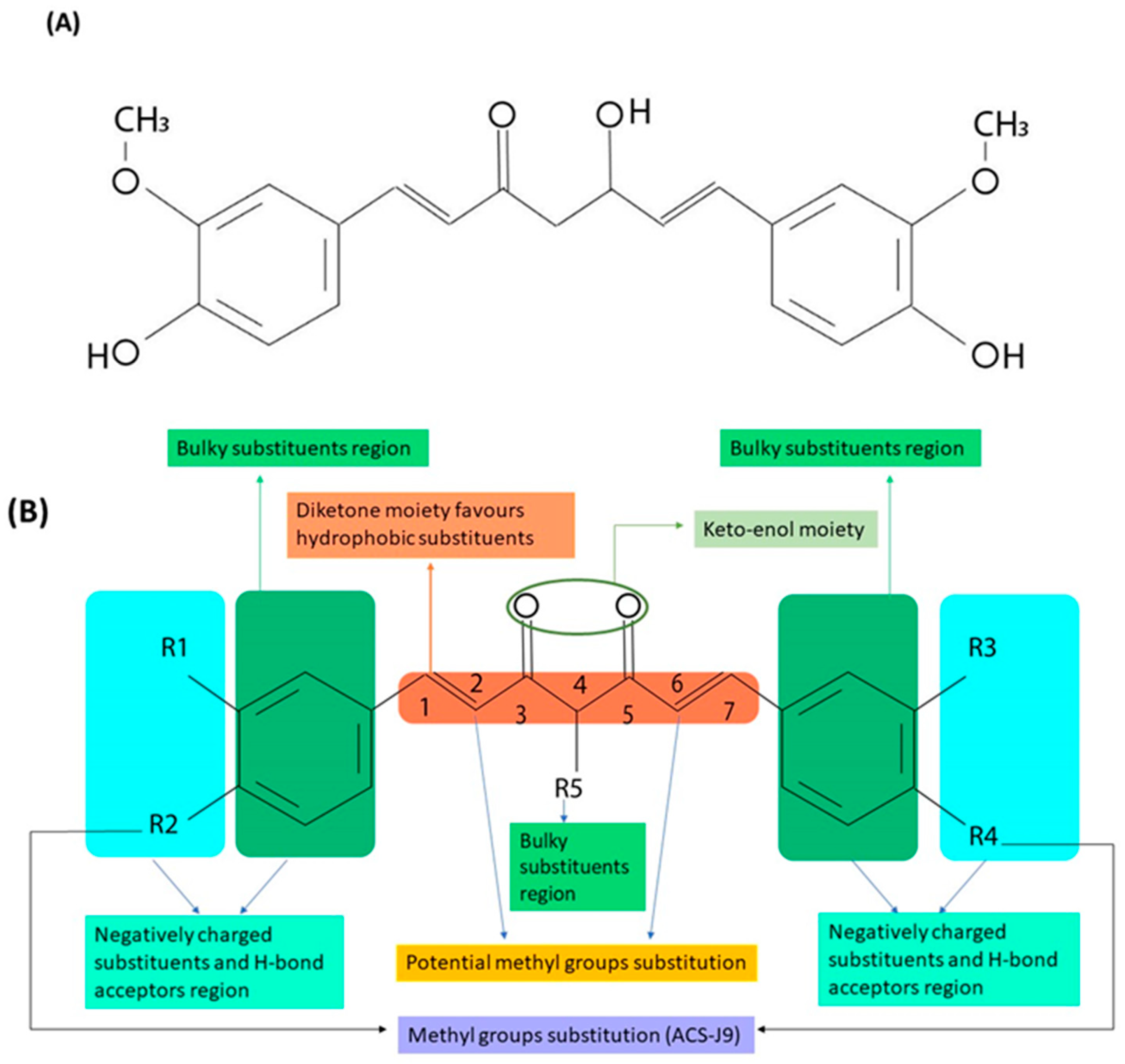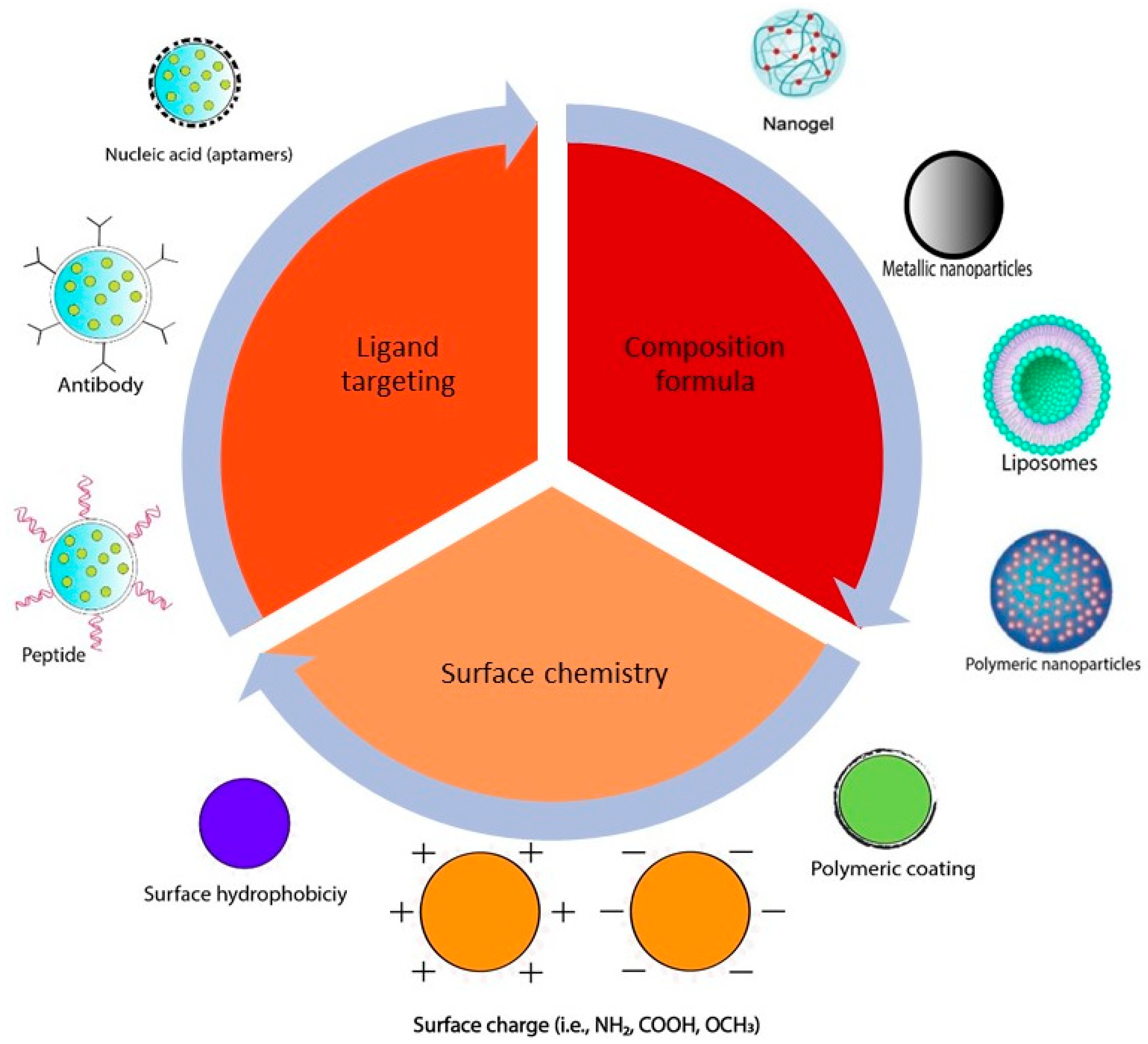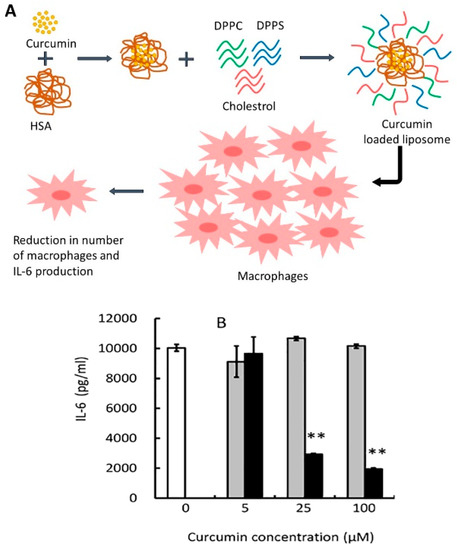 Figure 3.
(
A
) Schematic representation of curcumin-loaded liposomes inducing a reduction in the number of macrophages [
62
]. HSA: human serum albumin; DPPC: 1, 2-dipalmitoyl-sn-glycero-3-phosphocholine; DPPS: 1, 2-dipalmitoyl-sn-glycero-3-phospho-L-serine. (
B
) curcumin-loaded liposomes inhibit production of IL-6; white, grey, and black columns represent control, unloaded liposomes, and curcumin-loaded liposomes respectively. Reprinted from Amano et al. [
62
].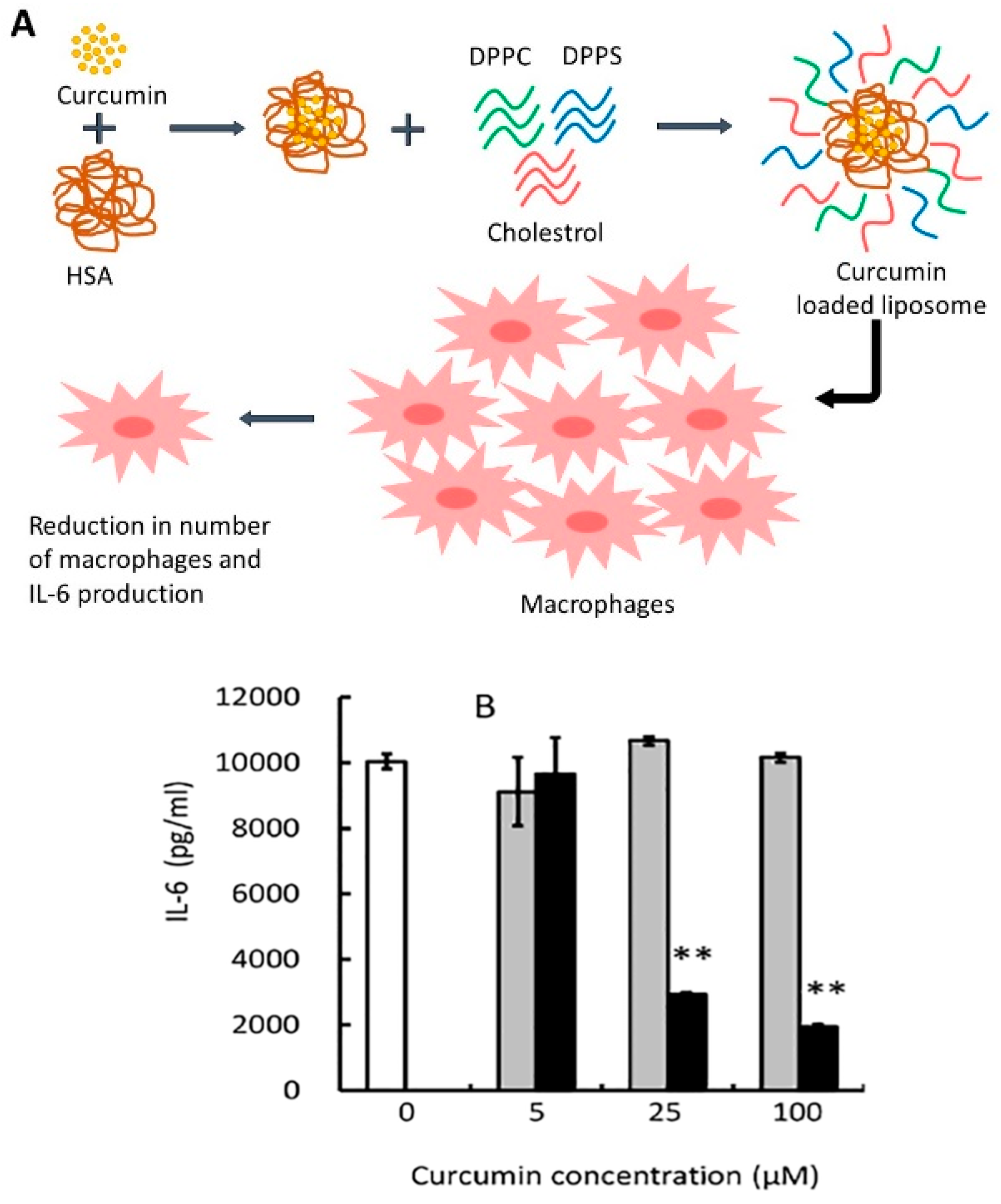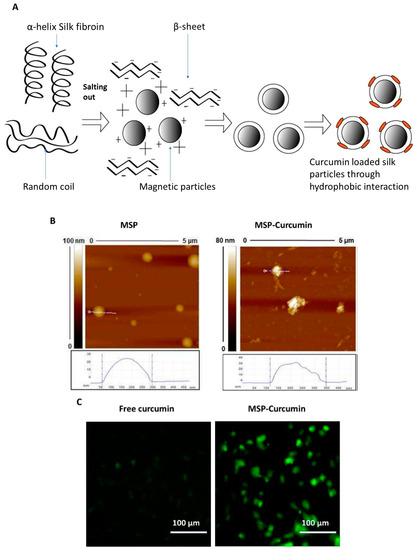 Figure 4.
(
A
) Fabrication of magnetic silk particles (MSP) for curcumin delivery. (
B
) Atomic force microscopy (AFM) images of MSP before and after curcumin loading. (
C
) Representative microscopic images of MDA-MB-231 cells incubated with free curcumin and curcumin-loaded MSP showing a significant improvement of curcumin cellular uptake. Reprinted from Song et al. [
54
], copyright © 2017 ACS.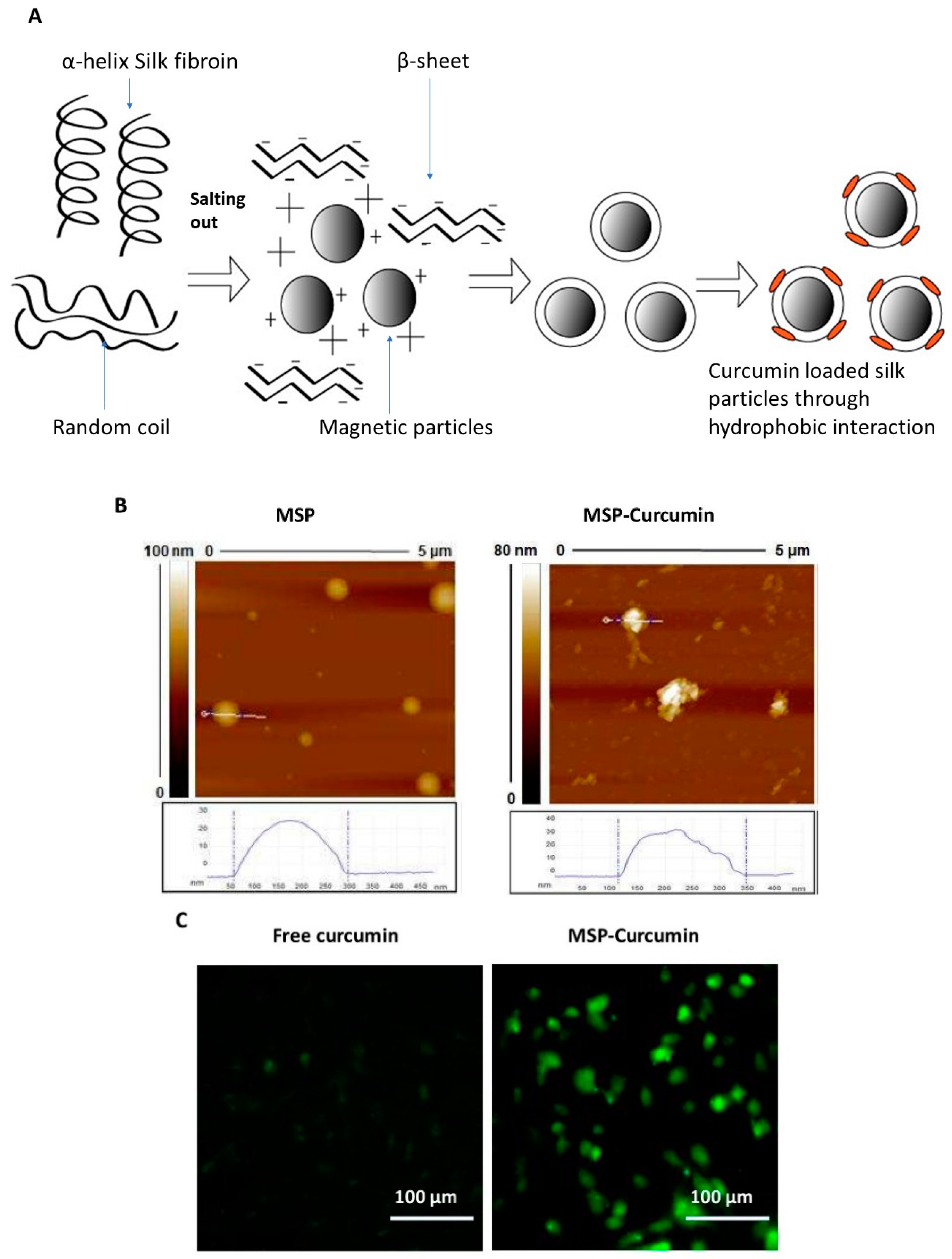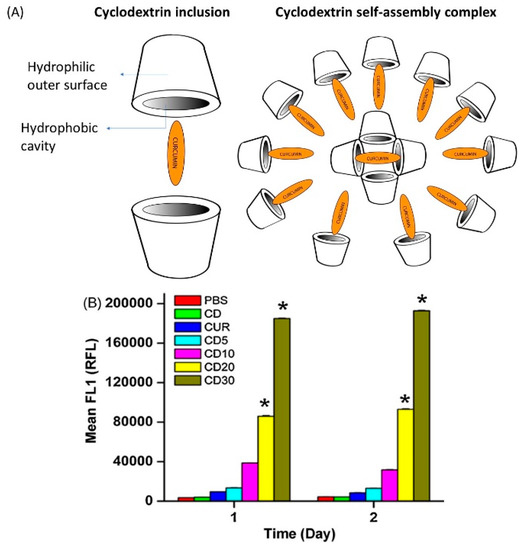 Figure 5.
(
A
) Schematic structure of cyclodextrin–curcumin (CD–CUR) inclusion and self-assembled complexes (
B
) Fluorescence-activated cell sorting (FACS) analysis for cellular uptake of curcumin and different CD–CUR (CD5, CD10, CD20, and CD30) inclusion complexes treated in DU145 prostate cancer. *
p
< 0.05 represents significant difference from the curcumin uptake. Reprinted from Yallapu et al. [
86
] with permission from the copyright holder Elsevier.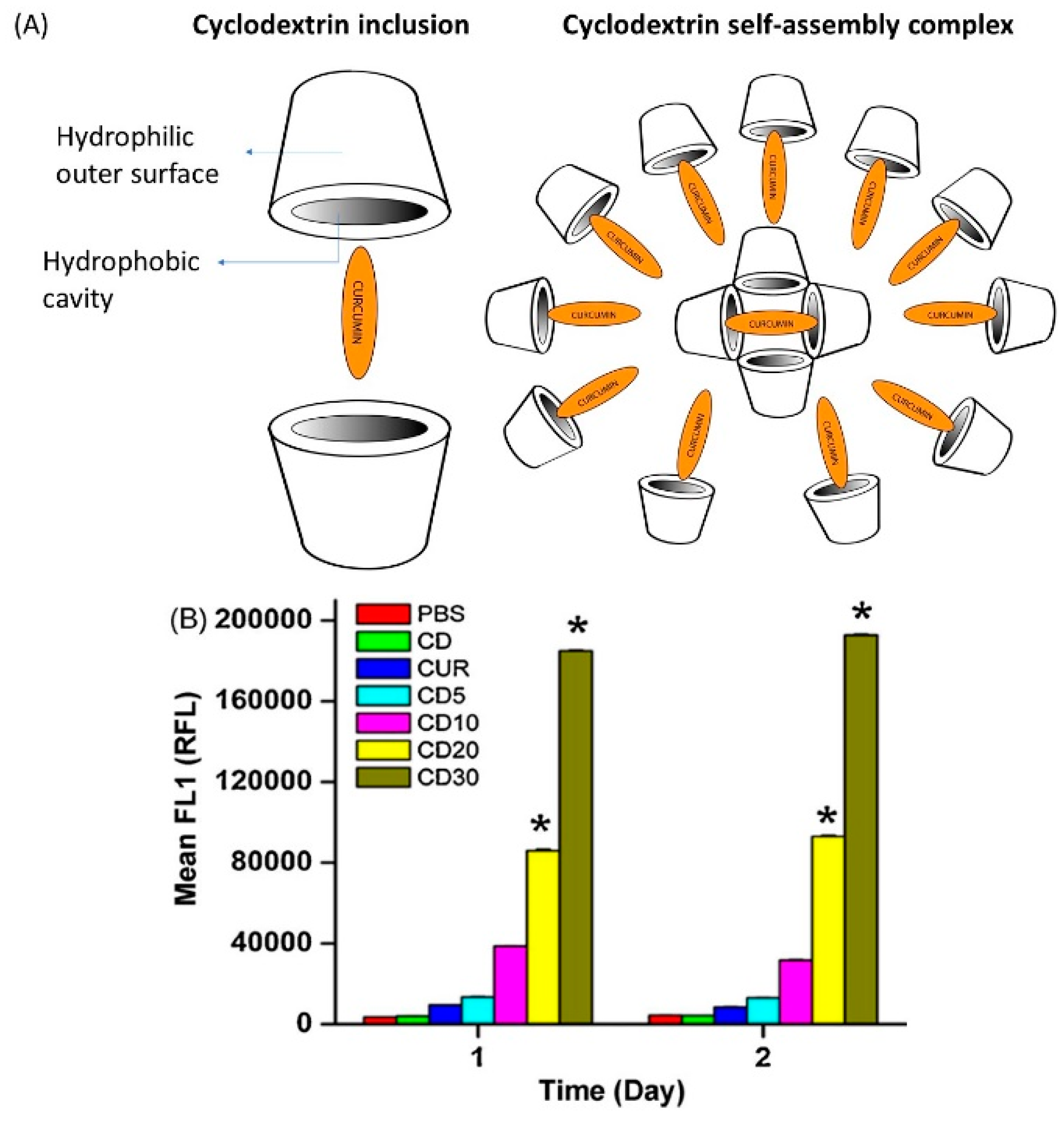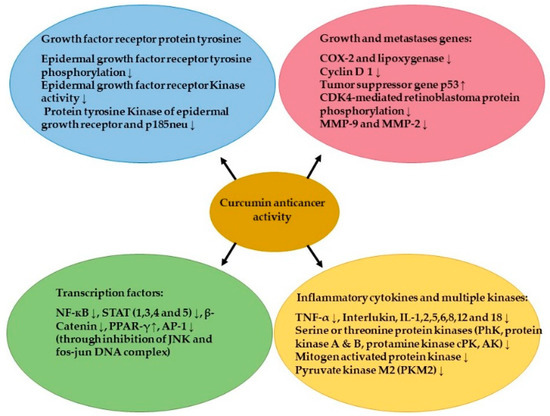 Figure 6. The main molecular targets of curcumin in cancer cells. ↑: Increase; ↓: Decrease; MMP: Matrix metalloproteinase; AP-1: Activation protein-1.
| Curcumin Derivative | Chemical Modification | Activities | References |
| --- | --- | --- | --- |
| Dimethyl curcumin (ASC-J9) | Methyl groups substitution on R2 and R4 | Enhanced activity toward prostate and breast cancer | [20,21,22,38] |
| Vanadium, gallium, and indium complexes | Metal complexation by the β-diketones | Enhanced cytotoxic activity | [39] |
| Tetrahydrocurcumin (THC) | Hydrogenated diketone moiety | Enhanced antioxidant activity but loss of DNA binding and STAT3 a inhibition properties | [31,33] |
| Modified aromatic rings curcumin compounds | Introduction of cyclohexane bridge | Improved mitochondrial membrane permeability during lymphoma therapy | [40] |
| Metallo-curcumin (Cu2+/Ni2+/Zn2+) | Metal complexation by the β-diketones | Enhanced water-solubility and improved DNA binding | [34] |
| Glycosylated curcumin derivative | Glycol groups substitution on the aromatic rings | Higher potency, aqueous solubility, and chelating properties | [41] |
| Cu2+ conjugate of synthetic curcumin analogues | Conjugation reaction on the keto-enol moiety | Stronger inhibition of TNF b-induced NF-κB c activation in leukemic KBM-5 cells | [42] |
| Cyclic curcumin derivatives | Boron trioxide-mediated aldol condensation | Enhanced cytostatic, antitumor, and antioxidant activity | [43] |
| Curcumin carbocyclic analogues | Introducing carboxyl group at the diketone moiety | Enhanced antioxidant activity and stronger inhibition of HIV d 1 protease | [44] |
| Hydrazinocurcumin | Replacing the diketone moiety with hydrazine derivative | Higher efficacy in inhibition of colon cancer progression via antagonism of Ca2+/CaM e function | [45,46] |
| Semicarbazone | Introducing NNHCONH2 at the keto-enol moiety | Enhanced antioxidant, antiradical, and antiproliferative activity | [47] |
a STAT3: signal transducer and activator of transcription 3; b TNF: Tumor necrosis factor; c NF-κB: nuclear factor κ-light-chain-enhancer of activated B cells; d HIV: Human immunodeficiency virus; e Ca2+/CaM: calcium/calmodulin.
| Nanoformulation | Particle Size | Application | Outcome | Reference |
| --- | --- | --- | --- | --- |
| Curcumin-loaded liposomal PMSA a antibodies | 100–150 nm | Human prostate cancer (LNCa, C4-2B) | Enhanced antiproliferative efficacy and targeting | [63] |
| Curcumin-loaded magnetic silk nanoparticles | 100–350 nm | Human breast cancer (MDA-MB-231) cells | Enhanced cellular uptake and growth inhibition | [54] |
| Curcumin/MPEG b-PCL c micelles | 27 ± 1.3 nm | Colon carcinoma (C-26) cells | Enhanced cancer growth inhibition | [64] |
| Curcumin nanoemulsion | <200 nm | Human ovarian adenocarcinoma cells (SKV3) | Increased cytotoxicity | [65] |
| Curcumin loaded liposomes coated with N-dodecyl chitosan-HPTMA d chloride | 73 nm | Murine fibroblasts (NIH3T3) and murine melanoma (B16F10) cells | Specific toxicity in murine melanoma (but not in fibroblasts) | [66] |
| Curcumin-PLGA e nanoparticles | 248 ± 1.6 nm | Erythroleukemia type 562 cells | Improved clinical management of leukemia | [65] |
| Curcumin loaded lipo-PEG f-PEI g complexes | 269 nm | Melanoma (B16F10) and colon carcinoma (CT-26) cells | Increased cytotoxicity | [67] |
| Curcumin–chitosan nanoparticles | 100–250 nm | Melanomas | Enhanced antitumor effect | [68] |
| ApoE h peptide-functionalized curcumin-loaded liposomes | 132 nm | RBE4 cell monolayer | Increased accumulation in brain capillary endothelium | [69] |
| Curcumin-crosslinked polymeric Nanogels | 10–200 nm | Breast and pancreatic cancers | Higher stability and enhanced antitumor effect | [70] |
| Curcumin-loaded chitin nanogels | 70–80 nm | Human skin melanoma (A385) and human dermal fibroblasts (HDF) | Specific toxicity in skin melanoma (lower toxicity in HDF) | [70] |
| Curcumin-loaded lipid-core nanocapsules | 196 ± 1.4 nm | Rat C6 and U251MG glioma cell lines | Decreased tumor size and prolonged survival | [71] |
| Liposome-encapsulated curcumin | Not reported | Head and neck squamous cell carcinoma (HNSCC) cell lines (CAL27 and UM-SCC1) | Cancer growth suppression both in vitro and in vivo | [72] |
a PMSA: Prostate membrane specific antigen; b MPEG: Monomethoxy poly ethylene glycol; c PCL: Poly(ε-caprolactone); d HPTMA: N-[(2-hydroxy-3-trimethylamine) propyl; e PLGA: Polylactic-co-glycolic acid; f PEG: Poly ethylene glycol; g PEI: Polyethyleneimine; h ApoE: Apolipoprotein E.
Type of Cancer
Type of Study
No of Patients
Dose of Curcumin
Endpoints
Results
References
BPH a
Pilot product evaluation study
61
1g/day for 24 weeks
Signs and symptoms, quality of life
Reduced signs and symptoms, improved quality of life
[127]
Breast
Phase I clinical trial
14
0.5–8 g/day for 7 days plus docetaxel
Maximal tolerated dose of curcumin, toxicity, safety, efficacy, levels of VEGF b and tumor markers
No cancer progression, partial response in some patients, low frequency of toxic effects, decreased levels of VEGF
[128]
CML c
Randomized controlled trial
50
5 g TID d for 6 weeks plus imatinib (400 mg BD e)
Plasma nitric oxide levels
Reduced nitric oxide levels
[129]
Colorectal
dose-escalation pilot study
15
40–200 mg/day for 29 days
Blood COX-2 f activity and PGE2 g levels
Dose-dependent decrease in PGE2 levels
[130]
Phase I does-escalation trial
15
0.45–3.6 g/day for 4 months
Levels of curcumin and its metabolites in plasma urine, and feces; levels of PGE2 and glutathione

S

-transferase activity in blood
Dose-dependent decrease in PGE2 levels, low concentrations of curcumin and its metabolites in plasma and urine
[131]
Phase I does-escalation trial
12
0.45 g, 1.8 g, 3.6 g per day for 7 days
Concentration of curcumin and its metabolites in plasma and colorectal tissue
Biologically active concentrations of curcumin in the colorectal tissue
[105]
Phase I clinical trial
126
360 mg TID for 10–30 days
Serum levels of TNF-α h,

p53

expression in tumor tissue
Decreased serum levels of TNF-α, increased expression of

p53

in colorectal tissue
[132]
Phase II clinical trial
44
2 g/day and 4 g/day for 1 month
Concentration of PGE2 and 5-HETE i within ACF j and normal mucosa, total ACF number
Reduced number of ACF with dose of 4 g
[133]
Pilot study
26
2.35 g/day for 14 days
Safety, tolerance, levels of curcumin in colonic mucosa
Safe and well tolerated, Prolonged biologically active levels of curcumin achieved in colon tissue
[134]
HNSCC k
Pilot study
21
1 g single dose
IκKβ l kinase activity, cytokine levels in saliva
Reduced IκKβ activity in the salivary cells
[135]
Intestinal Adenoma
Randomized controlled trial
44
1.5 g BID for 12 months
total number of polyps, mean polyp size, adverse effects
No significant clinical response, very few adverse effects
[136]
Pancreatic
Phase II clinical trial
25
8 g/day for 8 weeks
Tumor response, tumor markers, adverse effects
Poor oral bioavailability, biological response in only 2 patients, no toxicities
[137]
Phase II clinical trial
17
8 g/day for 4 weeks
Time to tumor progression (TTP) and toxicity profile
TTP of 1–12 months (median 2 months), high frequency of side effects
[138]
Phase I/II clinical trial
21
8 g/day for 14 days plus gemcitabine
patient compliance, toxicity, efficacy
Safe and well tolerated, median overall survival time of 161 days
[139]
Phase I clinical trial
16
200–400 mg/day for 9 months
Safety, pharmacokinetics, NF-κB m activity, cytokine levels, efficacy and quality of life
Safe, highly bioavailable, no significant changes in NF-κB activity or cytokine levels, improved quality of life
[140]
Prostate
Randomized controlled trial
85
100 mg plus 40 mg soy isoflavones for 6 months
Serum PSA n levels
Decreased levels of PSA in patients with an initial PSA ≥ 10 µg/mL
[141]
Randomized controlled trial
40
3 g/day for 3 months as a supplement to radiotherapy
biochemical and clinical progression-free survivals, alterations in the activity of antioxidant enzymes
Considerable antioxidant effect, decreased levels of PSA
[142]
Solid tumors
Randomized controlled trial
80
180 mg/day for 8 weeks
Changes in quality of life, serum levels of inflammatory mediators
Improved quality of life, reduced levels of inflammatory mediators
[143]
a BPH: benign prostatic hypertrophy; b VEGF: vascular endothelial growth factor; c CML: chronic myeloid leukemia; d TID: three times daily; e BD: Twice daily; f COX-2: cyclooxygenase-2; g PGE2: Prostaglandin E2; h TNF-α: tumor necrosis factor α; i 5-HETE: 5-hydroxyeicosatetraenoic acid; j ACF: aberrant crypt foci; k HNSCC: Head and neck squamous cell carcinoma; l IκKβ: IκB kinase β; m NF-κB: Nuclear factor κB; n PSA: prostate-specific antigen.

© 2019 by the authors. Licensee MDPI, Basel, Switzerland. This article is an open access article distributed under the terms and conditions of the Creative Commons Attribution (CC BY) license (http://creativecommons.org/licenses/by/4.0/).