The HslV Protease from
Leishmania major

and Its Activation by C-terminal HslU Peptides

1

Centre de Recherche en Biologie cellulaire de Montpellier (CRBM), CNRS, Université de Montpellier, 34090 Montpellier, France

2

Institut des Biomolécules Max Mousseron (IBMM), CNRS, Université de Montpellier, ENSCM, Faculté de Pharmacie, 34090 Montpellier, France

3

Centre de Biochimie Structurale (CBS), INSERM, CNRS, Université de Montpellier, 34090 Montpellier, France

4

PIBBS, Biocampus Montpellier, CNRS, INSERM, Université de Montpellier, 34000 Montpellier, France

5

Laboratory of Parasitology-Mycology, MIVEGEC, CNRS, IRD, Université de Montpellier, 34000 Montpellier, France

6

Institut de Biologie Computationnelle, Université de Montpellier, 34000 Montpellier, France

*

Authors to whom correspondence should be addressed.

†

These authors contributed equally to this work.

Received: 11 January 2019 / Revised: 11 February 2019 / Accepted: 20 February 2019 / Published: 26 February 2019
Abstract
HslVU is an ATP-dependent proteolytic complex present in certain bacteria and in the mitochondrion of some primordial eukaryotes, including deadly parasites such as
Leishmania
. It is formed by the dodecameric protease HslV and the hexameric ATPase HslU, which binds via the C-terminal end of its subunits to HslV and activates it by a yet unclear allosteric mechanism. We undertook the characterization of HslV from
Leishmania major
(LmHslV), a trypanosomatid that expresses two isoforms for HslU, LmHslU1 and LmHslU2. Using a novel and sensitive peptide substrate, we found that LmHslV can be activated by peptides derived from the C-termini of both LmHslU1 and LmHslU2. Truncations, Ala- and D-scans of the C-terminal dodecapeptide of LmHslU2 (LmC12-U2) showed that five out of the six C-terminal residues of LmHslU2 are essential for binding to and activating HslV. Peptide cyclisation with a lactam bridge allowed shortening of the peptide without loss of potency. Finally, we found that dodecapeptides derived from HslU of other parasites and bacteria are able to activate LmHslV with similar or even higher efficiency. Importantly, using electron microscopy approaches, we observed that the activation of LmHslV was accompanied by a large conformational remodeling, which represents a yet unidentified layer of control of HslV activation.
View Full-Text
►

▼

Figures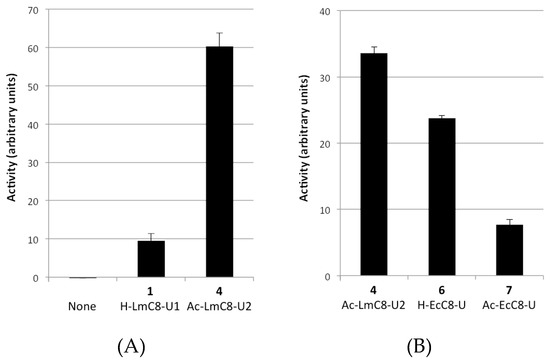 Figure 1
This is an open access article distributed under the
Creative Commons Attribution License
which permits unrestricted use, distribution, and reproduction in any medium, provided the original work is properly cited (CC BY 4.0).

Share & Cite This Article
MDPI and ACS Style
Kebe, N.M.; Samanta, K.; Singh, P.; Lai-Kee-Him, J.; Apicella, V.; Payrot, N.; Lauraire, N.; Legrand, B.; Lisowski, V.; Mbang-Benet, D.-E.; Pages, M.; Bastien, P.; Kajava, A.V.; Bron, P.; Hernandez, J.-F.; Coux, O. The HslV Protease from Leishmania major and Its Activation by C-terminal HslU Peptides. Int. J. Mol. Sci. 2019, 20, 1021.
Note that from the first issue of 2016, MDPI journals use article numbers instead of page numbers. See further details here.
Related Articles
Comments
[Return to top]