High-Throughput Virtual Screening, Molecular Dynamics Simulation, and Enzyme Kinetics Identified ZINC84525623 as a Potential Inhibitor of NDM-1
1
Department of Pharmacognosy, College of Pharmacy, King Saud University, Riyadh 11451, Saudi Arabia
2
Rutgers Cancer Institute of New Jersey, Rutgers, The State University of New Jersey, New Brunswick, NJ 08901, USA
3
Program in Translational Medicine, Peter Gilgan Centre for Research and Learning, The Hospital for Sick Children, Toronto, ON M5G 0A4, Canada
*
Authors to whom correspondence should be addressed.
Received: 23 January 2019 / Accepted: 10 February 2019 / Published: 14 February 2019
Abstract
The bacteria expressing New Delhi Metallo-β-lactamase-1 (NDM-1) can hydrolyze all β-lactam antibiotics including carbapenems, causing multi-drug resistance. The worldwide emergence and dissemination of gene
bla
NDM-1
(produces NDM-1) in hospital and community settings, rising problems for public health. Indeed, there is an urgent need for NDM-1 inhibitors to manage antibiotic resistance. Here, we have identified novel non-β-lactam ring-containing inhibitors of NDM-1 by applying a high-throughput virtual screening of lead-like subset of ZINC database. The screened compounds were followed for the molecular docking, the molecular dynamics simulation, and then enzyme kinetics assessment. The adopted screening procedure funnels out five novel inhibitors of NDM-1 including ZINC10936382, ZINC30479078, ZINC41493045, ZINC7424911, and ZINC84525623. The molecular mechanics-generalized born surface area and molecular dynamics (MD) simulation showed that ZINC84525623 formed the most stable complex with NDM-1. Furthermore, analyses of the binding pose after MD simulation revealed that ZINC84525623 formed two hydrogen bonds (electrostatic and hydrophobic interaction) with key amino acid residues of the NDM-1 active site. The docking binding free energy and docking binding constant for the ZINC84525623 and NDM-1 interaction were estimated to be −11.234 kcal/mol, and 1.74 × 10
8
M
−1
respectively. Steady-state enzyme kinetics in the presence of ZINC84525623 show the decreased catalytic efficiency (i.e.,
k
cat
/
K
m
) of NDM-1 on various antibiotics. The findings of this study would be helpful in identifying novel inhibitors against other β-lactamases from a pool of large databases. Furthermore, the identified inhibitor (ZINC84525623) could be developed as efficient drug candidates.
View Full-Text
►

▼

Figures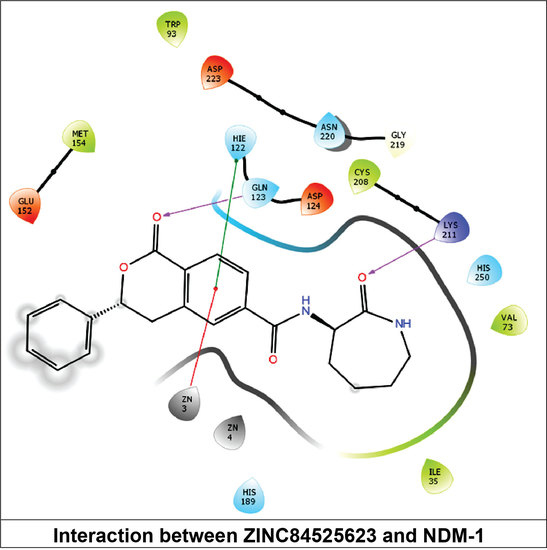 Graphical abstract
This is an open access article distributed under the
Creative Commons Attribution License
which permits unrestricted use, distribution, and reproduction in any medium, provided the original work is properly cited (CC BY 4.0).

Share & Cite This Article
MDPI and ACS Style
Rehman, M.T.; AlAjmi, M.F.; Hussain, A.; Rather, G.M.; Khan, M.A. High-Throughput Virtual Screening, Molecular Dynamics Simulation, and Enzyme Kinetics Identified ZINC84525623 as a Potential Inhibitor of NDM-1. Int. J. Mol. Sci. 2019, 20, 819.
Note that from the first issue of 2016, MDPI journals use article numbers instead of page numbers. See further details here.
Related Articles
Comments
[Return to top]