Identification of Key Aroma Compounds in Type I Sourdough-Based Chinese Steamed Bread: Application of Untargeted Metabolomics Analysisp
1
State Key Laboratory of Food Science and Technology, Jiangnan University, Wuxi 214122, China
2
School of Food Science and Technology, Jiangnan University, Wuxi 214122, China
3
Suzhou Tourism and Finance Institute., Suzhou 215104, China
4
National Engineering Research Center for Functional Food, Jiangnan University, Wuxi 214122, China
5
Beijing Innovation Centre of Food Nutrition and Human Health, Beijing Technology and Business University (BTBU), Beijing 100048, China
*
Author to whom correspondence should be addressed.
Received: 17 January 2019 / Revised: 2 February 2019 / Accepted: 12 February 2019 / Published: 14 February 2019
Abstract
Untargeted metabolomics is a valuable tool to analyze metabolite profiles or aroma fingerprints of different food products. However, less attention has been paid to determining the aroma characteristics of Chinese steamed breads (CSBs) by using this approach. The aim of this work was to evaluate the key aroma compounds and their potential generation pathway in Chinese steamed bread produced with type I sourdough by a metabolomics approach. Based on the aroma characteristics analysis, CSBs produced with type I sourdough and baker's yeast were clearly distinguishable by principal component analysis (PCA) scores plot. A total of 13 compounds in sourdough-based steamed breads were given the status of discriminant markers through the untargeted metabolomics analysis. According to the odor activity values (OAVs) of discriminant aroma markers, ethyl acetate (fruity), ethyl lactate (caramel-like), hexyl acetate (fruity), (E)-2-nonenal (fatty) and 2-pentylfuran (fruity) were validated as the key volatile compounds in the breads produced with type I sourdough as compared to the baker's yeast leavened steamed bread. The metabolite analysis in proofed dough indicated that esters are mainly generated by the reaction between acid and alcohol during steaming, and aldehydes are derived from the oxidation of palmitoleic acid and linoleic acid during proofing and steaming.
View Full-Text
►

▼

Figures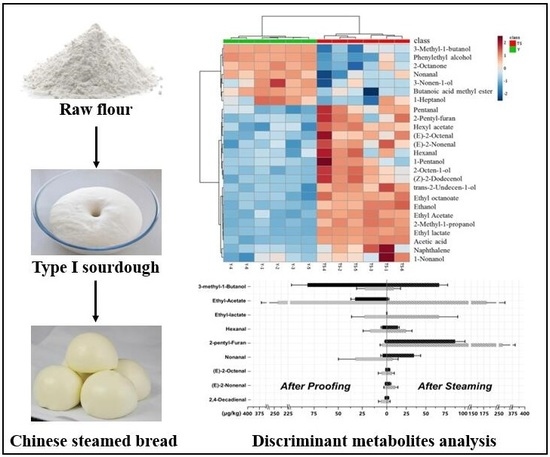 Graphical abstract
This is an open access article distributed under the
Creative Commons Attribution License
which permits unrestricted use, distribution, and reproduction in any medium, provided the original work is properly cited (CC BY 4.0).

Share & Cite This Article
MDPI and ACS Style
Yan, B.; Sadiq, F.A.; Cai, Y.; Fan, D.; Zhang, H.; Zhao, J.; Chen, W. Identification of Key Aroma Compounds in Type I Sourdough-Based Chinese Steamed Bread: Application of Untargeted Metabolomics Analysisp. Int. J. Mol. Sci. 2019, 20, 818.
Note that from the first issue of 2016, MDPI journals use article numbers instead of page numbers. See further details here.
Related Articles
Comments
[Return to top]