Mitochondrial Dysfunction and Aging: Insights from the Analysis of Extracellular Vesicles
1
Università Cattolica del Sacro Cuore, Institute of Internal Medicine and Geriatrics, 00168 Rome, Italy
2
Fondazione Policlinico Universitario "Agostino Gemelli" IRCSS, 00168 Rome, Italy
3
Department of Biological and Environmental Sciences and Technologies, University of Salento, 73100 Lecce, Italy
4
Università Cattolica del Sacro Cuore, Institute of Neurology, 00168 Rome, Italy
5
Applied Kinesiology Laboratory–LCA, School of Physical Education, University of Campinas, 13.083-851 Campinas-SP, Brazil
*
Authors to whom correspondence should be addressed.
Received: 18 January 2019 / Revised: 5 February 2019 / Accepted: 12 February 2019 / Published: 13 February 2019
Abstract
The progressive decline of cell function and integrity, manifesting clinically as increased vulnerability to adverse outcomes and death, is core to biological aging. Mitochondrial dysfunction, oxidative stress, altered intercellular communication (including chronic low-grade inflammation), genomic instability, telomere attrition, loss of proteostasis, altered nutrient sensing, epigenetic alterations, and stem cell exhaustion have been proposed as hallmarks of aging. These "aging pillars" are not mutually exclusive, making the matter intricate and leaving numerous unanswered questions. The characterization of circulating extracellular vesicles (EVs) has recently allowed specific secretory phenotypes associated with aging to be identified. As such, EVs may serve as novel biomarkers for capturing the complexity of aging. Besides the mitochondrial–lysosomal axis, EV trafficking has been proposed as an additional layer in mitochondrial quality control. Indeed, disruption of the mitochondrial–lysosomal axis coupled with abnormal EV secretion may play a role in the pathogenesis of aging and several disease conditions. Here, we discuss (1) the mechanisms of EV generation; (2) the relationship between the mitochondrial–lysosomal axis and EV trafficking in the setting of mitochondrial quality control; and (3) the prospect of using EVs as aging biomarkers and as delivery systems for therapeutics against age-related conditions.
View Full-Text
►

▼

Figures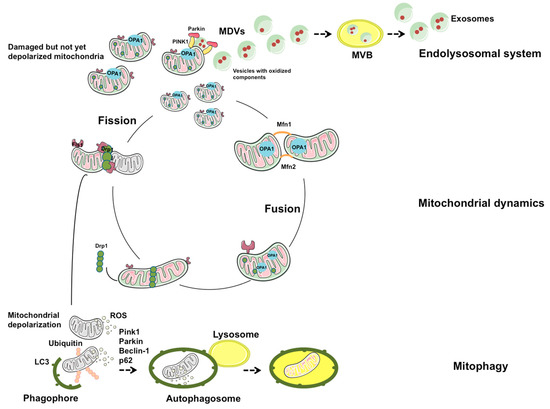 Figure 1
This is an open access article distributed under the
Creative Commons Attribution License
which permits unrestricted use, distribution, and reproduction in any medium, provided the original work is properly cited (CC BY 4.0).

Share & Cite This Article
MDPI and ACS Style
Picca, A.; Guerra, F.; Calvani, R.; Bucci, C.; Lo Monaco, M.R.; Bentivoglio, A.R.; Coelho-Júnior, H.J.; Landi, F.; Bernabei, R.; Marzetti, E. Mitochondrial Dysfunction and Aging: Insights from the Analysis of Extracellular Vesicles. Int. J. Mol. Sci. 2019, 20, 805.
Note that from the first issue of 2016, MDPI journals use article numbers instead of page numbers. See further details here.
Related Articles
Comments
[Return to top]