Open Access This article is
freely available
re-usable
Article
Synthesis, Characterization, and Bacterial Fouling-Resistance Properties of Polyethylene Glycol-Grafted Polyurethane Elastomers
Department of Chemistry, Sapienza University of Rome, 00185 Rome, Italy
*
Authors to whom correspondence should be addressed.
Received: 25 January 2019 / Accepted: 20 February 2019 / Published: 25 February 2019
Abstract
:
Despite advances in material sciences and clinical procedures for surgical hygiene, medical device implantation still exposes patients to the risk of developing local or systemic infections. The development of efficacious antimicrobial/antifouling materials may help with addressing such an issue. In this framework, polyethylene glycol (PEG)-grafted segmented polyurethanes were synthesized, physico-chemically characterized, and evaluated with respect to their bacterial fouling-resistance properties. PEG grafting significantly altered the polymer bulk and surface properties. Specifically, the PEG-grafted polyurethanes possessed a more pronounced
hard/soft
phase segregated microstructure, which contributed to improving the mechanical resistance of the polymers. The better flexibility of the
soft
phase in the PEG-functionalized polyurethanes compared to the pristine polyurethane (PU) was presumably also responsible for the higher ability of the polymer to uptake water. Additionally, dynamic contact angle measurements evidenced phenomena of surface reorganization of the PEG-functionalized polyurethanes, presumably involving the exposition of the polar PEG chains towards water. As a consequence,
Staphylococcus epidermidis
initial adhesion onto the surface of the PEG-functionalized PU was essentially inhibited. That was not true for the pristine PU. Biofilm formation was also strongly reduced.
Keywords:
segmented polyurethanes; polyethylene glycol; microbial biofilm; antifouling materials; medical device-related infections; wound dressings
2. Results and Discussion
Specifically, three PEG:PEUA molar ratios (2:1, 3:1, and 5:1) were employed during synthesis, and an excess of PEG was chosen to reduce the probability of PEUA cross-linking by the bi-functional PEG. Among the three obtained PEG-functionalized polymers, the one resulting from a 2:1 PEG:PEUA molar ratio was found to be insoluble in organic solvents, and it also precipitated during functionalization, suggesting a high degree of polymer cross-linking. In contrast, a good degree of solubility in all common organic solvents (tetrahydrofurane, dimethyl formamide, and dimethyl sulfoxide) was shown by the polymer obtained from a 5:1 molar ratio while the polymer obtained with a 3:1 molar ratio showed intermediate behavior, resulting in only partial solubility in some solvents, specifically in di-methylformamide.
3. Materials and Methods
3.1. Materials
Polyethylene glycol (PEG, Mn = 1000 g/mol) (Sigma Aldrich s.r.l., Milan, Italy) was used as received. Methylene bis-phenyl-diisocyanate (MDI) (Sigma Aldrich s.r.l.) was distilled before use. Polypropylene oxide (PPO) (1200 g·mol−1, Sigma Aldrich s.r.l.) was degassed under vacuum at 60 °C for 12 hr. Di-hydroxymethyl propionic acid (DHMPA) (Sigma Aldrich s.r.l.), dicyclohexylcarbodiimide (DCC) (Sigma Aldrich s.r.l.) and 4-dimethylaminopyridine (DMAP) (Sigma Aldrich s.r.l.) were used as received.
3.2. Polymer Synthesis and Functionalization
A carboxylated segmented polyurethane, PEUA (one carboxyl group per repetitive unit, Mw = 40,000 g·mol
−1
, M
w
/M
n
= 1.6,
Figure 1
) was synthesized by a two-step condensation of MDI, PPO, and DHMPA in a 2:1:1 stoichiometric ratio, as previously described [
43
].
Functionalization of PEUA with PEG was achieved by a DCC-activated esterification of polymer carboxylic acids, by using DMAP as an accelerator [
59
]. Specifically, DMAP and DCC, in equimolecular amounts with respect to the polymer carboxyl groups, were added to a 5% (
w
/
v
) solution of PEUA in dichloromethane at 0 °C. After 20 min, PEG was added in molar excess (2:1, 3:1 and 5:1) with respect to PEUA to avoid polymer crosslinking. Temperature was then raised to 25 °C and the solution was left under stirring for 24 hr. After the reaction, dicyclohexylurea precipitate during polymer functionalization was filtered. Then, the polymer was recovered by precipitation in hexane, and washed in water to eliminate the unreacted PEG. The polymer, whose repetitive unit is reported in
Figure 1
, was named PEUA-PEG
X,
where x is the functionalization degree.
3.3. Polymer Characterization
1H-NMR and 13C-NMR spectra were performed, employing a Varian XL 300 instrument (Varian Inc., Palo Alto, CA, USA) and deuterated di-methylformamide (DMF-d7) as the solvent.
Differential scanning calorimetry (DSC) was performed from −100 to +150 °C under N2 flux by using a Mettler TA-3000 DSC apparatus (Mettler Toledo, Columbus, Ohio, US). The scan rate used for the experiments was 10 °C·min−1 and the sample weight was 6–7 mg. Thermo-gravimetric analysis (TGA) was carried out employing a Mettler TG 50 thermobalance at a heating rate of 10 °C·min−1 under N2 flow in the temperature range 25–600 °C.
Swelling measurements of both the pristine and functionalized polyurethanes were performed at room temperature in water. For such experiments, circular test samples (1 cm in diameter and 100 µm in thickness) were obtained by cutting cast films of the polymers. Polymer films were obtained by dissolving the polymer in tetrahydrofuran (5%
w
/
v
) and layering such a solution on circular Teflon plates, 5 cm in diameter. After solvent evaporation at room temperature, polymer films were detached from the Teflon plates with the aid of tweezers. The polyurethane samples were then immersed in water. At the determined times, specimens were removed from the water and weighed, after removal of the excess of the solvent using filter paper. The analysis was repeated until a constant weight (equilibrium swelling) was reached. The swelling degree, SD, was calculated by applying the following equation:
where
Wt
is the weight of the sample after swelling at time
t
, and
W0
was the initial weight of the film. Five parallel swelling experiments were performed for each sample, and data were reported as the average value ± standard deviation.
The dynamic contact angle was performed by using a Dynamic Contact Angle Analyzer Cahn DCA 312 (CAHN Instruments, Inc, South Carmenita Road, Cerritos, CA, USA), on the basis of the Wilhelmy balance method. Such a method consists of detecting by a balance the change in the weight of a thin vertical plate when it is brought in contact with a liquid. The detected weight change is a combination of the buoyancy and the wetting force, while the gravity force remains the same. Since the wetting force (
Fw
) is defined as:
where
γlv
is the liquid surface tension,
p
is the perimeter of the sample, and
θ
is the contact angle, the force change (
F
) detected by the balance is:
where
V
is the volume of the displaced liquid,
Δρ
is the difference in density between the liquid and air, and
g
is the acceleration of gravity. Thus, as long as
γlv
and the solid perimeter (
p
) are known, the contact angle value can be determined.
Contact angle measurements were performed with an immersion rate of 20 µm/s, carrying out two consecutive immersion cycles. In the second immersion cycle, the immerged area of the sample was greater than that of the first cycle, in order to verify the absence of the release of substances from the sample into water. The analyses were performed on samples obtained by layering the polymer on rectangular glass coverslide (1 cm × 2 cm) by solvent casting. When the sample was immersed into the liquid, the advancing contact angle (θ
adv
) was recorded, while when the sample was emerging, the receding contact angle (θ
rec
) was measured (
Figure 8
). The difference between the advancing and the receding angles is called the contact angle hysteresis (H = θ
adv
− θ
rec
), which mainly arises from surface roughness and/or chemical heterogeneity [
60
]. However, other factors, including liquid adsorption and retention, or molecular rearrangement on wetting, can contribute to hysteresis [
61
].
The mechanical properties of the pristine and functionalized polyurethanes were studied by tensile tests, which were carried out with an ISTRON 4502 instrument (Instorn Inc., Norwood, MA, USA). Measurements were performed on rectangular polymer films (50 mm long × 6 wide × 0.2 thick), by employing a 10 N load cell and a deformation rate of 50 mm·min−1.
3.4. Bacterial Strains and Culture Medium
For an evaluation of the antifouling features of polymers, the oxacillin-resistant
Staphylococcus epidermidis
ATCC 35984, a strong exopolysaccharide producer [
62
], was routinely grown in tryptic soy agar (TSA) and tryptic soy broth (TSB). Biofilm production was assessed according to the protocol described by Francolini et al. [
63
].
3.5. Assessment of the Polymer Ability to Prevent Bacterial Adhesion and Biofilm Formation
To evaluate the effect of polyurethanes on bacterial adhesion and biofilm formation, test tubes were filled with 2.5 mL of a bacterial suspension (0.5 McFarland) and grown at 37 °C in TSB supplemented with 1% glucose, to promote massive exopolysaccharide production. One tube was used as a reference (control), while polymer discs (1 cm in diameter, 100 μm in thickness) were introduced into the other tubes. Tubes were incubated at 37 °C for 30 min to assess early bacterial adhesion, or for 24 h to assess late bacterial adhesion [
64
,
65
].
After incubation, bacterial adhesion and biofilm formation were assessed by scanning electron microscopy (SEM, Assing, Rome, Italy). Specifically, polymer discs were collected, washed twice with PBS (pH 7.4) to remove loosely adherent cells, fixed with 2.5% glutaraldehyde in 0.1 M cacodylate buffer (pH 7.4) at room temperature for 30 min, dehydrated through graded ethanol, treated with hexamethyldisilazane for 20 min, and gold-sputtered for SEM observation.
Polymer discs incubated with bacterial suspension for 24 h (biofilm formation) were also submitted to colony forming unit (CFU) counts. Specifically, disks were put into test tubes with 10 mL of phosphate buffer, and sonicated for 5 min to remove the adherent cells. Six 10-fold dilutions were prepared, and three 10 μL aliquots of each dilution were plated onto TSA plates. Plates were then incubated at 37 °C for 18 hr, and CFUs were counted and referred to the polymer surface unit (CFUs/cm2).
3.6. Statistics
Analysis of variance comparisons were performed using Mini-Tab. Differences were considered significant for
p
< 0.05. Data are reported as means ± SD.
4. Conclusions
This study confirms the strong antifouling ability of polyethylene glycol materials, and shows the great potential for PEG-grafting to confer bacterial resistance properties to segmented polyurethanes. Indeed, the functionalization of a thermoplastic polyurethane with PEG resulted in a material with superior elastomeric properties, and the ability to prevent the adhesion of the Gram-positive
S. epidermidis
, a microbial pathogen that is commonly isolated in medical device-related infections. Additionally, since the developed antifouling material is intrinsically active, it does not exhaust its activity over time, and it could provide long-term protection, at least in principle. Under an applicative point of view, the PEG-functionalized polyurethane obtained in this study could find a role in several biomedical applications, spanning from intravascular medical device manufacturing to wound dressings, where it could be applied as an antifouling coating, or incorporated within the bulk structure.
Author Contributions
Conceptualization, I.F. and A.P.; Methodology I.F., A.M. and A.P.; Formal Analysis, I.S. and V.D.L., Investigation, I.S. and V.D.L.; Data Curation, A.M. and V.D.L.; Writing—Original Draft Preparation, I.F.; Writing—Review & Editing, A.P.; Funding Acquisition, I.F. and A.P.
Funding
This research was funded by Sapienza University of Rome, through a grant to I.F.
Acknowledgments
The authors would like to thank Sapienza University for funding the research.
Conflicts of Interest
The authors declare no conflict of interest.

Figure 2. Numeration of methylene bis-phenyl-diisocyanate (MDI) carbons in PEUA (A); 13C-NMR spectrum of PEUA (B) and PEUA-PEG obtained with a 5:1 PEG:PEUA molar ratio (C). In the inset of B, the magnification of the signal at 175 ppm, attributed to the PEUA carboxylic group, is reported.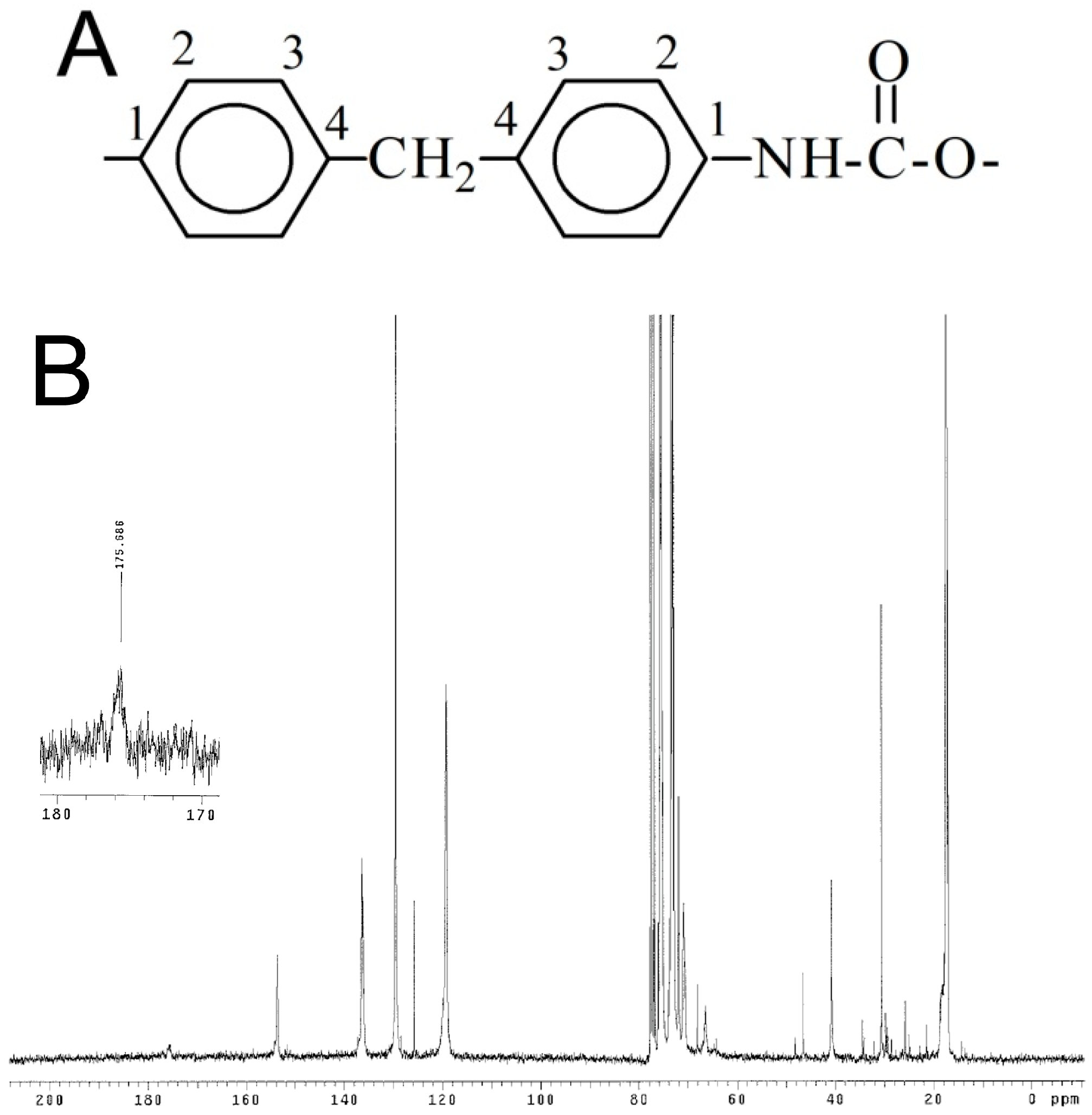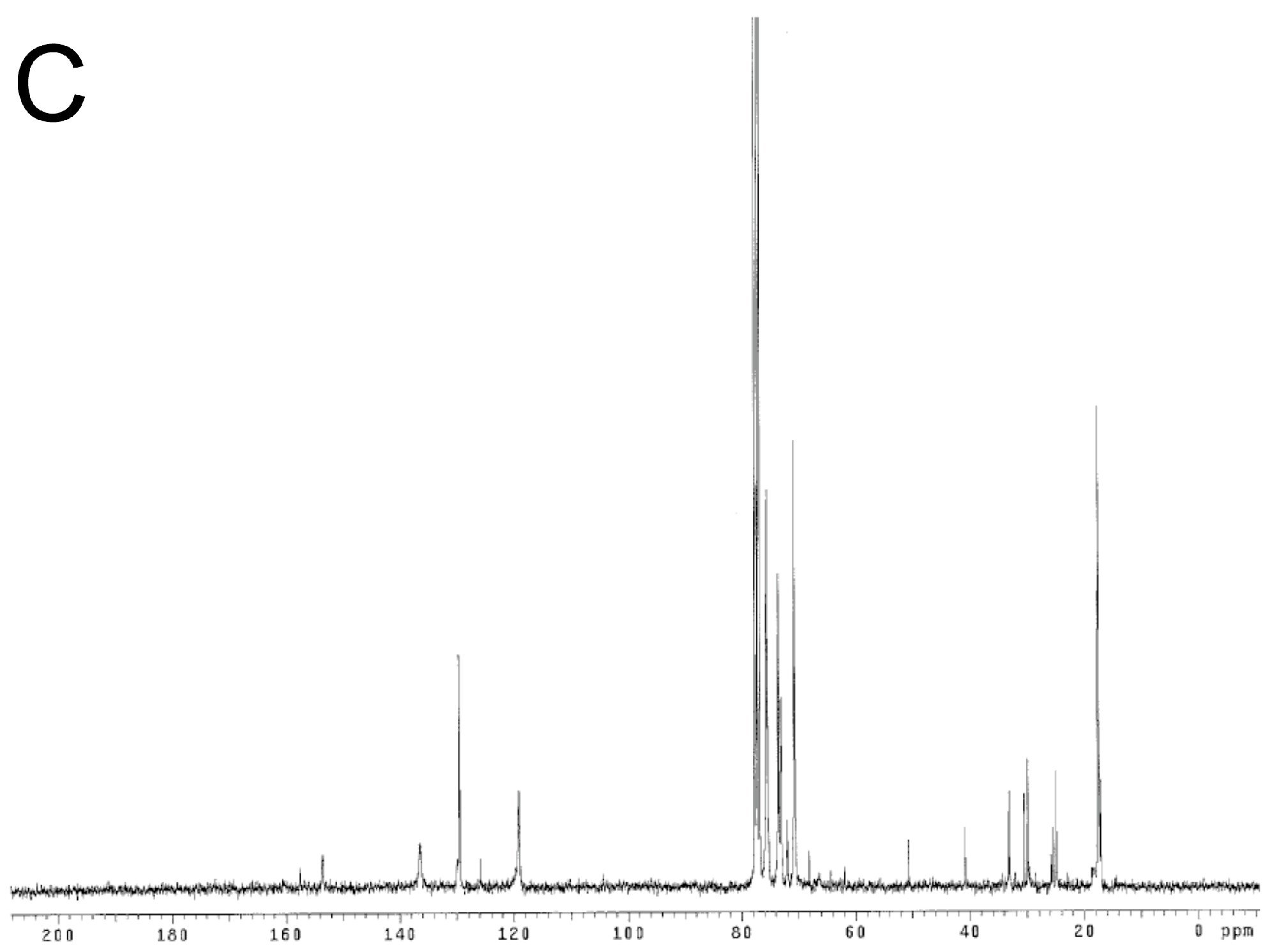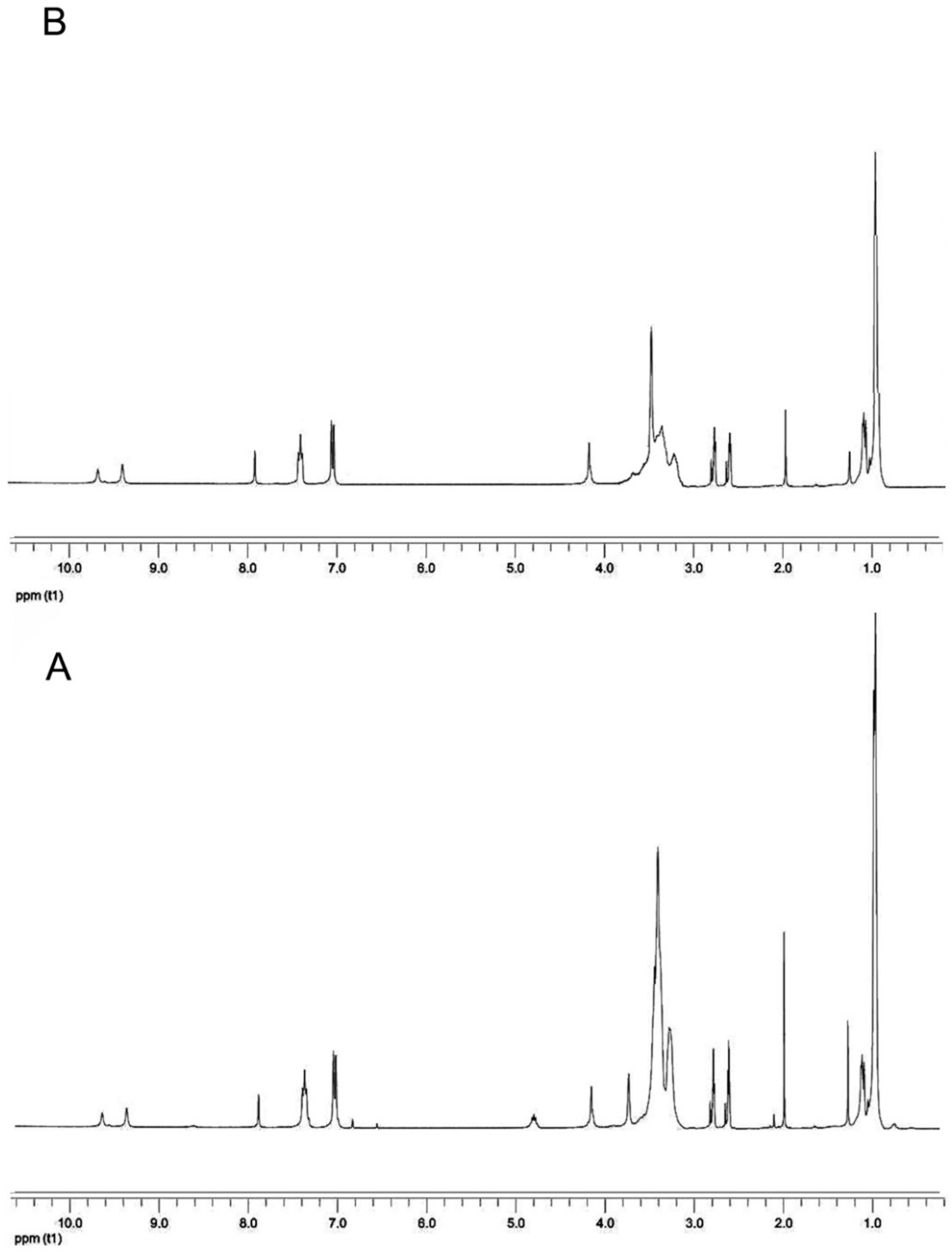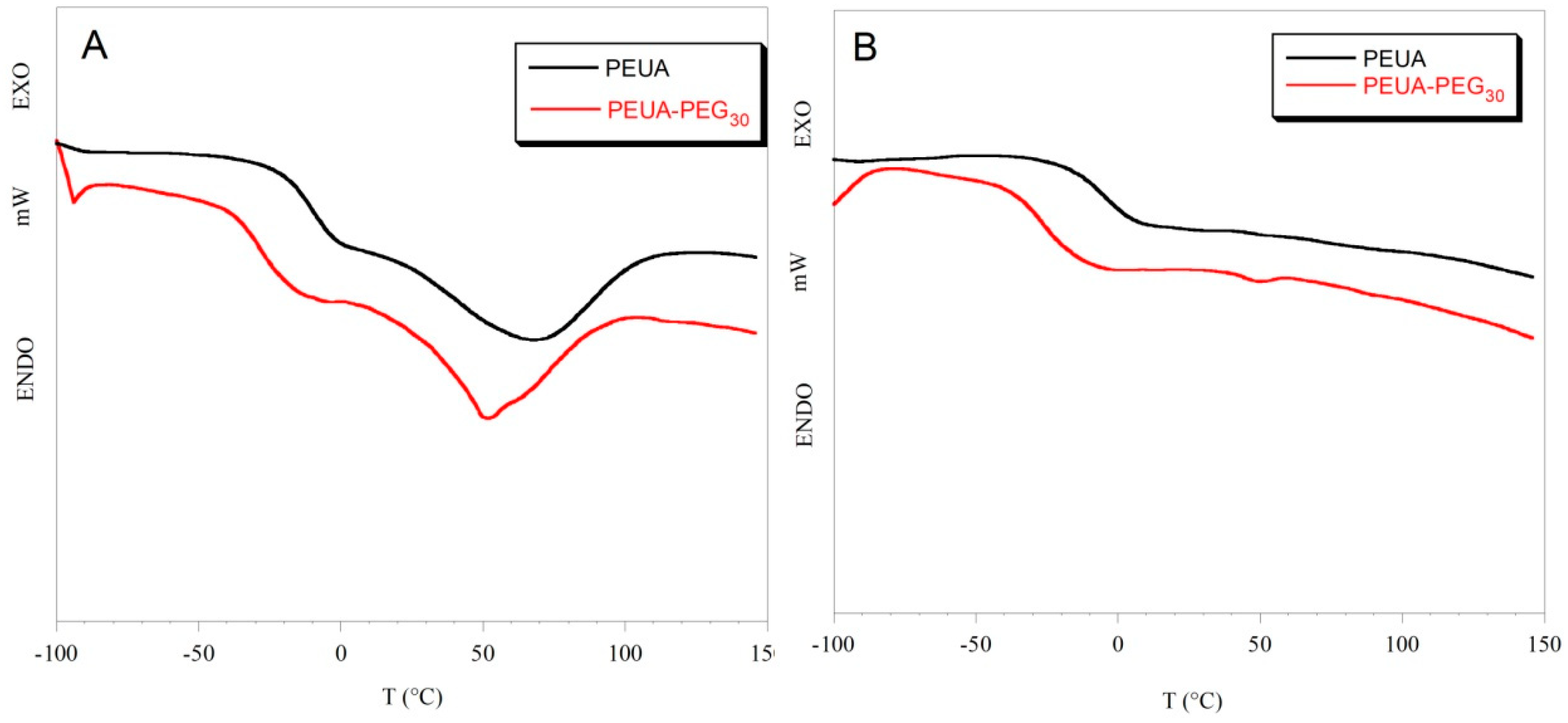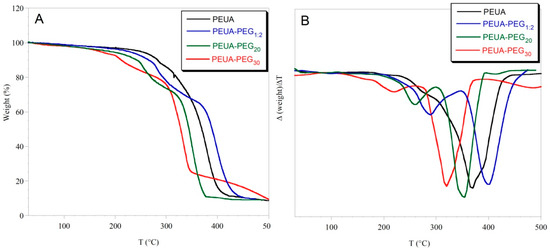 Figure 5. Thermogravimetric curves of PEUA, PEUA-PEG1:2, PEUA-PEG20, and PEUA-PEG30 (A); first derivative (Δ(weight)/ΔT) of the thermogravimetric curves (B). The subscript 1:2 on PEUA:PEG1:2 indicates the molar ratio employed during functionalization.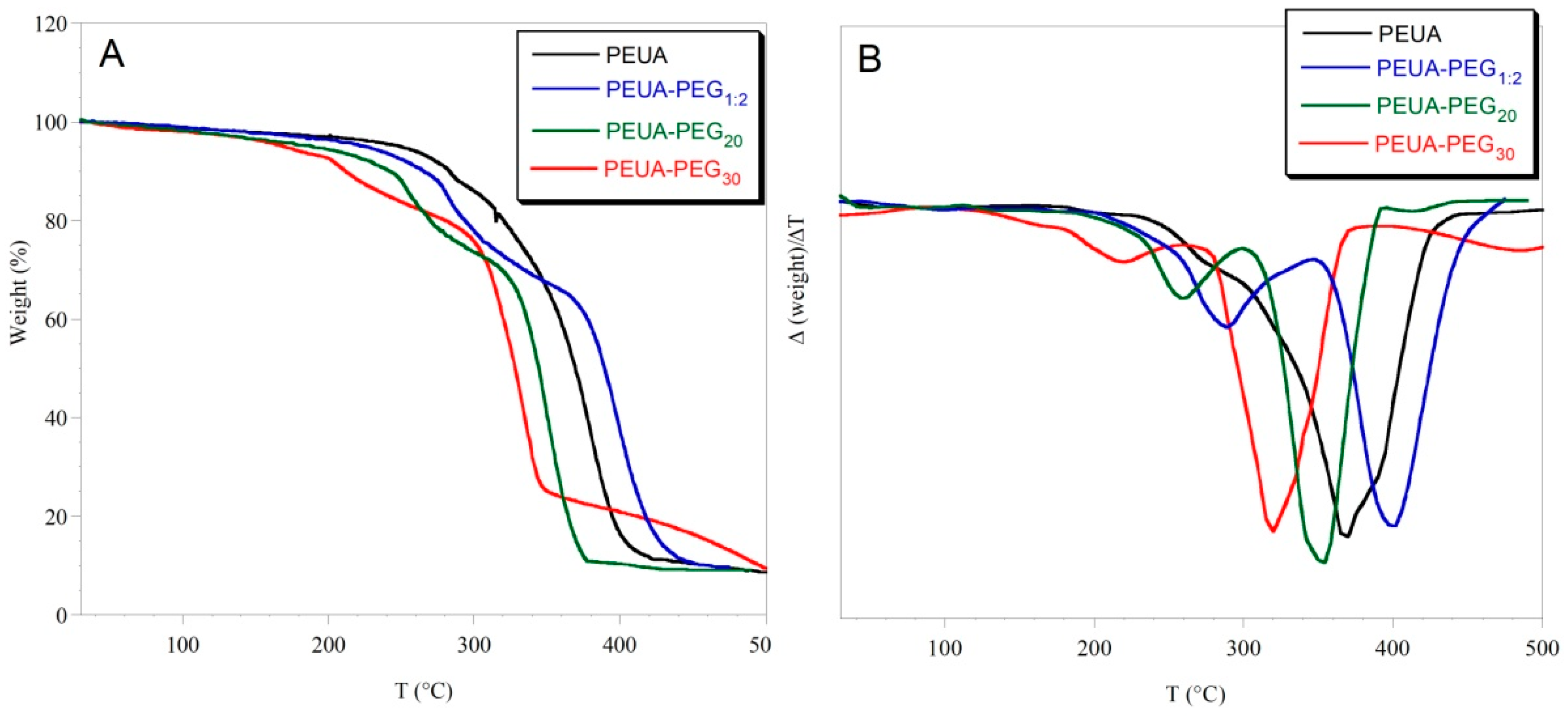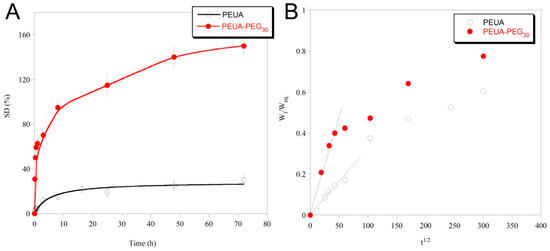 Figure 6.
Swelling curves of PEUA and PEUA-PEG
30
(
A
); Ratio between the swollen polymer mass at time
t
, and at the equilibrium (W
t
/W
eq
), as a function of the ratio of the square root of time (
B
). The diffusion coefficient was extrapolated by the slope of the linear fitting of the initial points.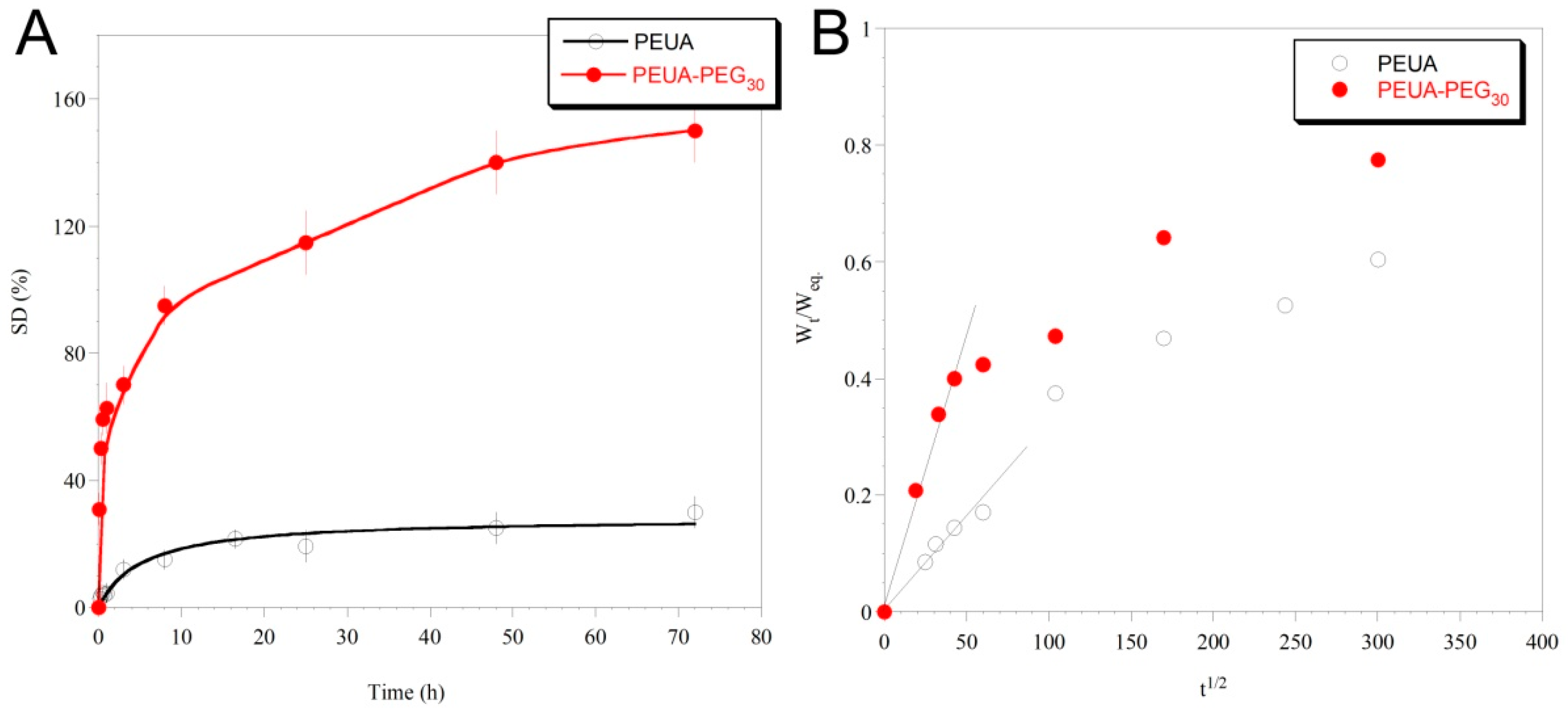 Figure 7. DCA cycles of immersion for PEUA-PEG30 by using the Wilhelmy plate method. In the figure, numbers 1 to 4 indicate the position of the plate with respect to the liquid, as shown in the image below the figure. 1—Out of the liquid; 2—point of touch of the sample with the liquid; 3—Immersion into the liquid (θadv); 4—Emersion from the liquid (θrec).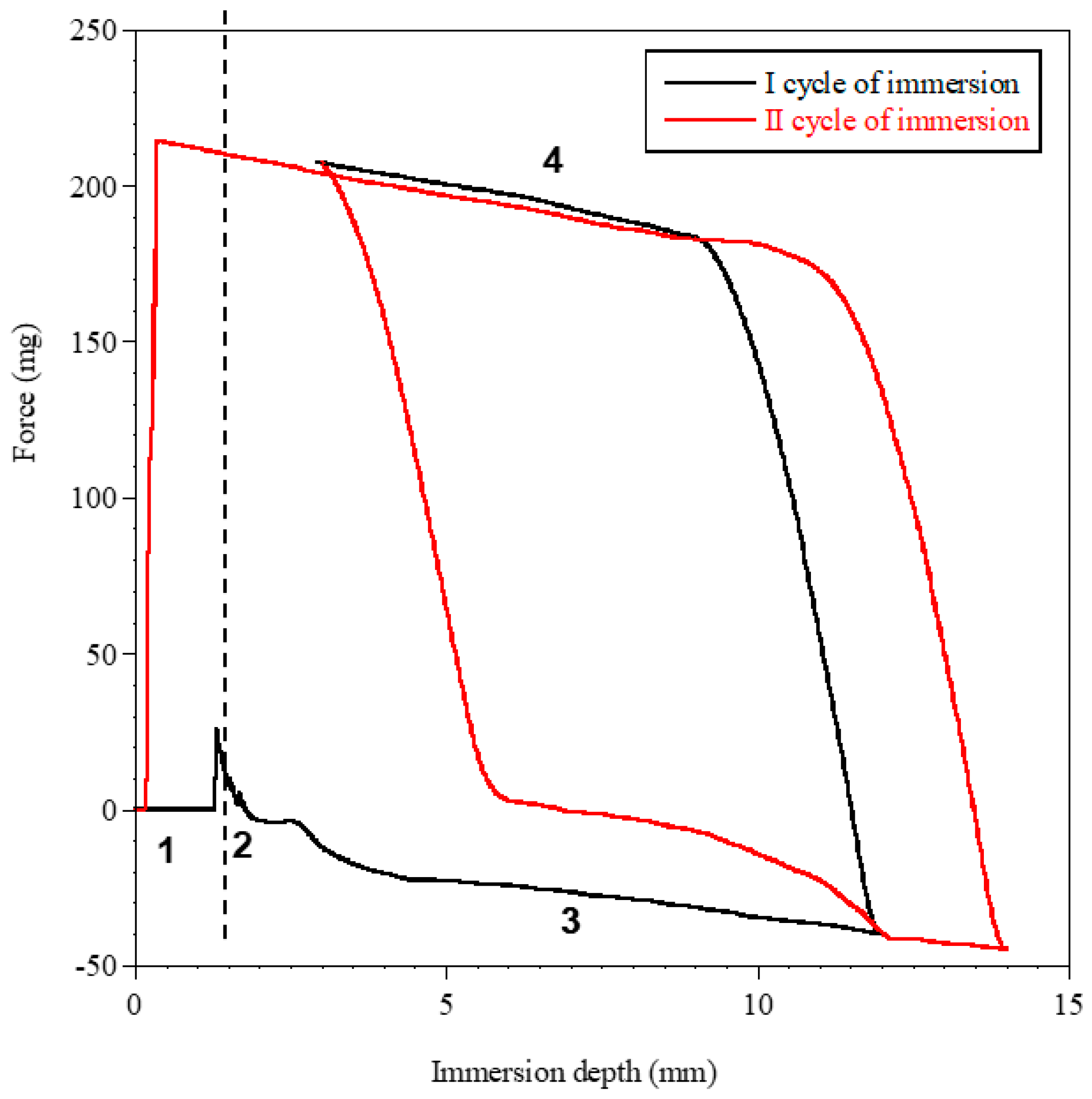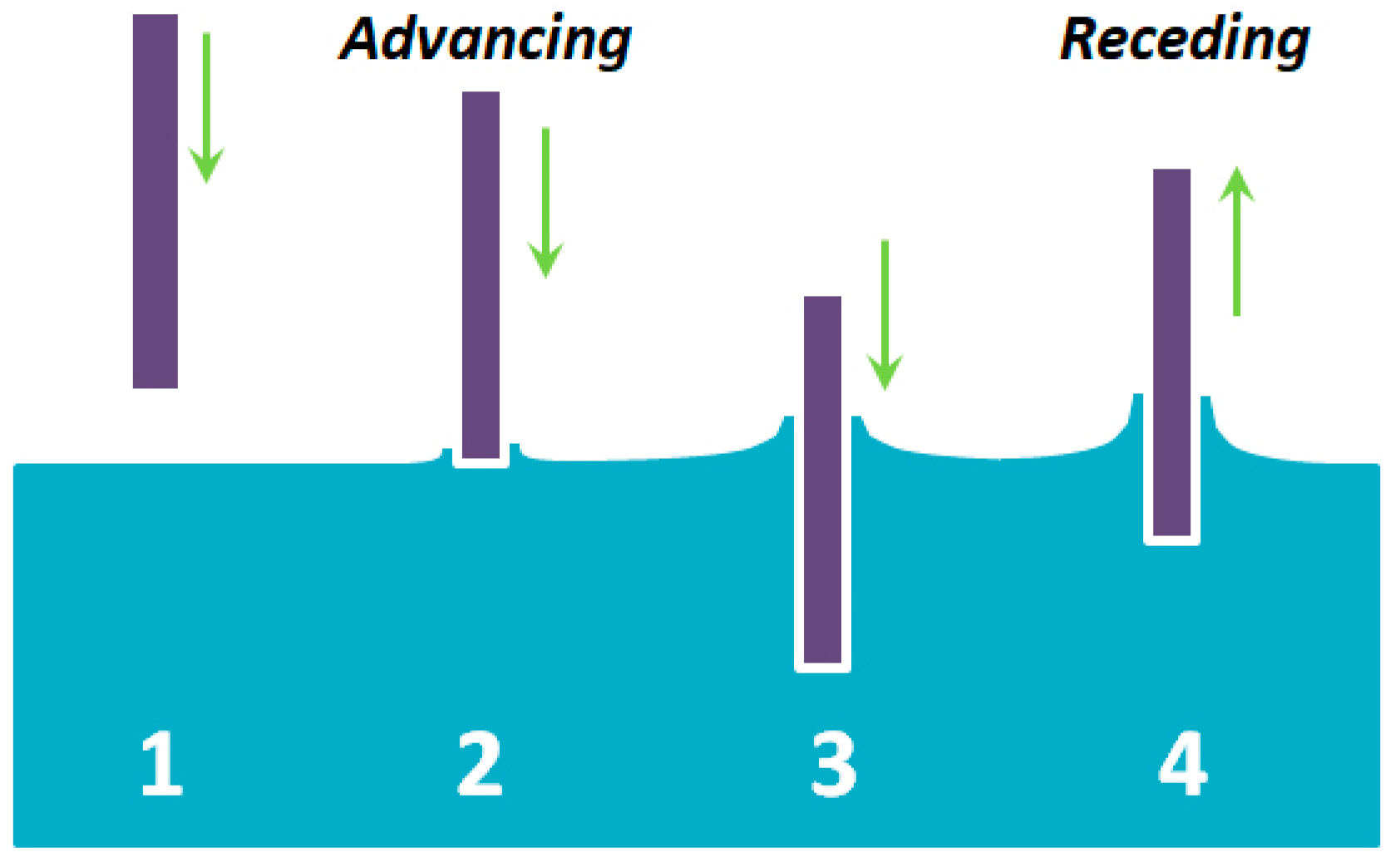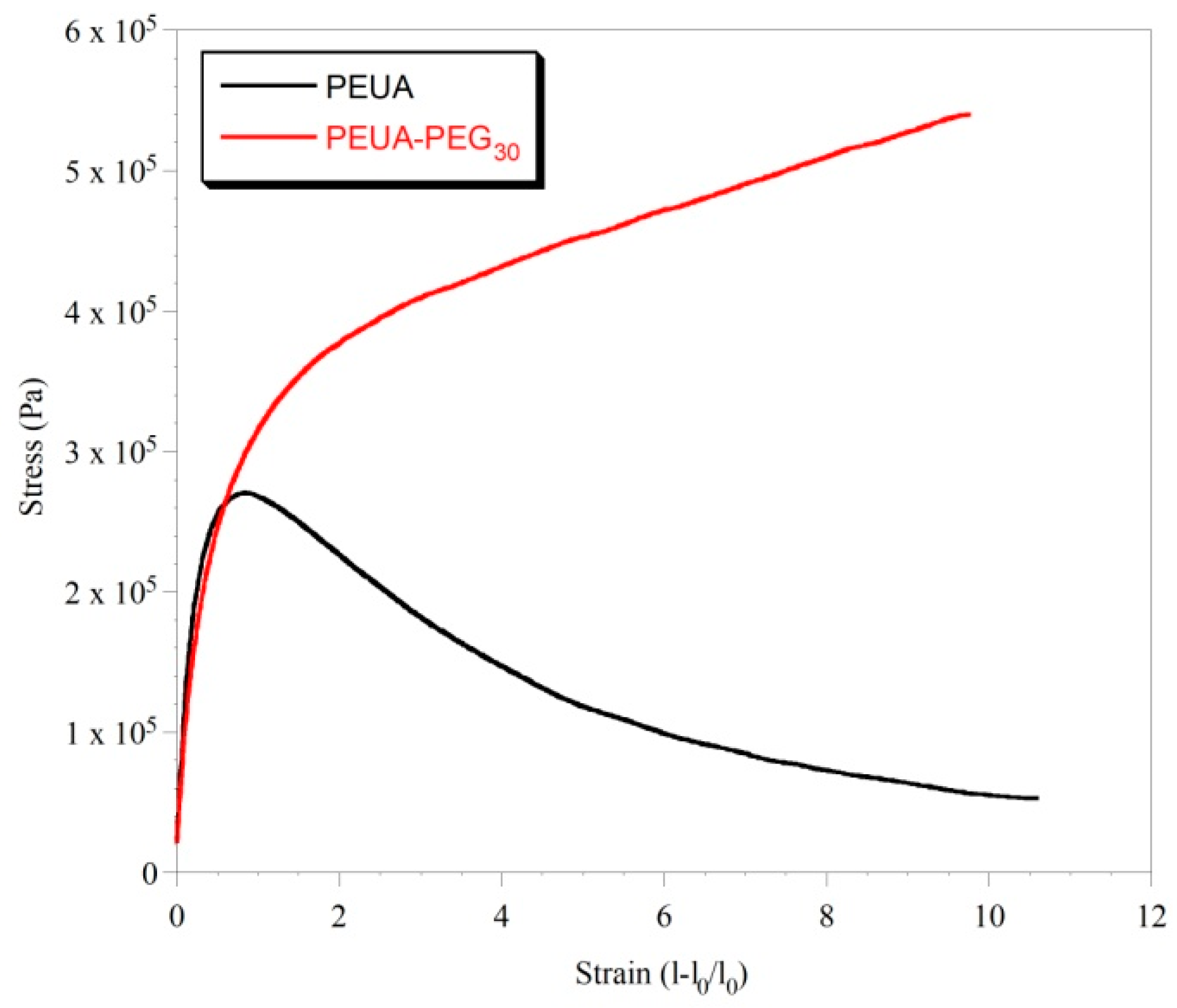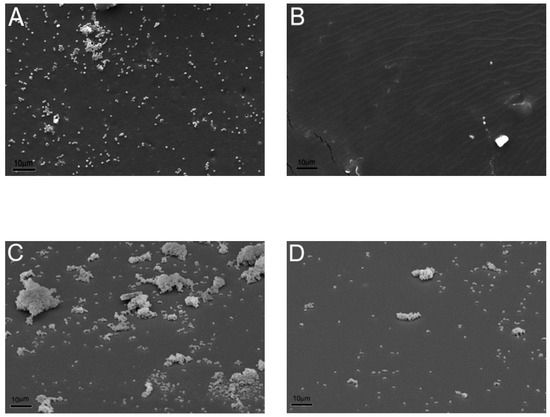 Figure 9. Initial bacterial adhesion after 30 min incubation on PEUA (A) and PEUA-PEG30 (B). Biofilm formation after 24 h incubation on PEUA (C) and PEUA-PEG30 (D). Scale bar = 10 µm.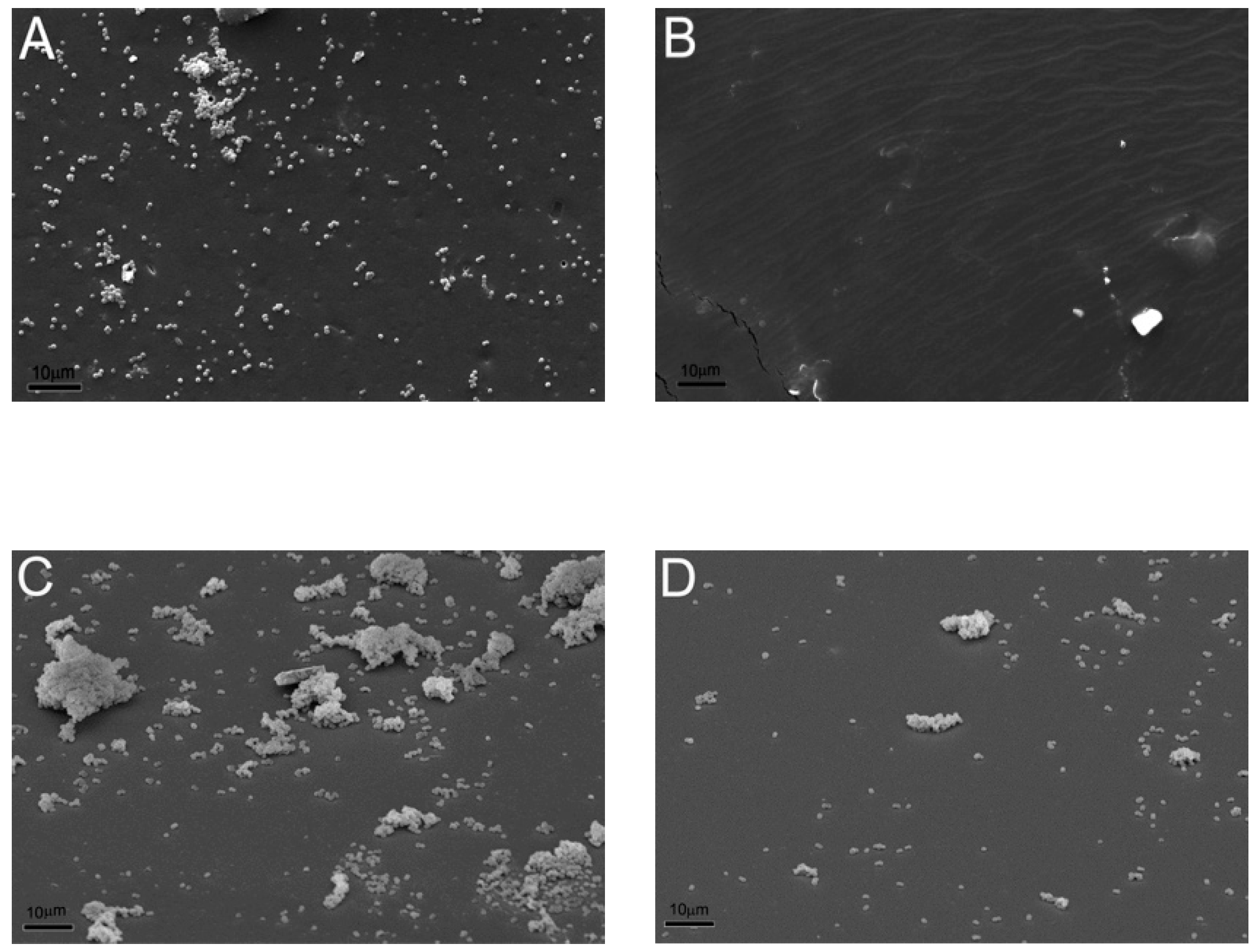 Table 1.
Glass transition temperature (T
g
) and variation of specific heat (ΔC
p
) at the glass transition temperature for PEUA and PEG-functionalized polyurethanes. The glass transition temperature of the free
soft
phase (PPO) is also reported, for comparison.
(*)
The subscript indicates that the PEUA:PEG molar ratio employed during functionalization. Indeed, it was not possible to determine the functionalization degree for this polymer, as it is insoluble in common solvents.
Polymer
Tg (°C)
ΔCp (J/g*K)
PEUA
−11 ± 2
0.50 ± 0.02
PEUA-PEG1:2 (*)
−33 ± 2
0.39 ± 0.02
PEUA-PEG20
−29 ± 2
0.40 ± 0.03
PEUA-PEG30
−27 ± 2
0.43 ± 0.03

Soft

phase (PPO)
−67
-

Table 2. Contact angle values (θadv and θrec) and hysteresis (H) for PEUA and PEUA-PEG30 in the first and second cycles of immersion.
Polymer
I cycle
II cycle
H
(I cycle)
H
(II cycle)
Θadv
Θrec
Θadv
Θrec
PEUA
93 ± 3
47 ± 3
92 ± 1
50 ± 3
46
42
PEUA-PEG30
94 ± 2
35 ± 3
83 ± 2
37 ± 1
59
46

© 2019 by the authors. Licensee MDPI, Basel, Switzerland. This article is an open access article distributed under the terms and conditions of the Creative Commons Attribution (CC BY) license (http://creativecommons.org/licenses/by/4.0/).