Fluoxetine Induces Apoptosis through Extrinsic/Intrinsic Pathways and Inhibits ERK/NF-κB-Modulated Anti-Apoptotic and Invasive Potential in Hepatocellular Carcinoma Cells In Vitro
1
Department of Medical Imaging and Radiological Sciences, Central Taiwan University of Science and Technology, Taichung 406, Taiwan
2
Department of Psychiatry, Zuoying Branch of Kaohsiung Armed Forces General Hospital, Kaohsiung 813, Taiwan
3
Department of Physical Therapy, Shu-Zen Junior College of Medicine and Management, Kaohsiung 821, Taiwan
4
Department of Biological Science and Technology, China Medical University, Taichung 404, Taiwan
5
Department of Radiation Oncology, Chang Bing Show Chwan Memorial Hospital, Changhua 505, Taiwan
6
Department of Radiation Oncology, Show Chwan Memorial Hospital, Changhua 500, Taiwan
7
Department of Surgery, Show Chwan Memorial Hospital, Changhua 500, Taiwan
8
Division of Endocrinology and Metabolism, Department of Medicine, National Yang-Ming University Hospital, Yilan 260, Taiwan
*
Authors to whom correspondence should be addressed.
†
These authors contributed equally to this work.
Received: 25 November 2018 / Revised: 9 January 2019 / Accepted: 30 January 2019 / Published: 11 February 2019
Abstract
The aim of the present study was to verify the effects of fluoxetine on dysregulation of apoptosis and invasive potential in human hepatocellular carcinoma (HCC) SK-Hep1 and Hep3B cells. Cells were treated with different concentrations of fluoxetine for different times. MTT (3-(4,5-Dimethylthiazol-2-yl)-2,5-Diphenyltetrazolium Bromide) assays were used for testing the effects of fluoxetine on cell viability. The regulation of apoptosis signaling, and anti-apoptotic, proliferation, and metastasis-associated proteins after fluoxetine treatment were assayed by flow cytometry and Western blotting assay. The detection of nuclear factor kappa-light-chain-enhancer of activated B cells (NF-κB) activation after fluoxetine treatment was performed by NF-κB reporter gene assay. The results demonstrated that fluoxetine significantly reduced cell viability, cell migration/invasion, NF-κB, extracellular signal-regulated kinases (ERK) activation, and expression of anti-apoptotic (Cellular FLICE (FADD-like IL-1β-converting enzyme)-inhibitory protein (C-FLIP), Myeloid cell leukemia-1 (MCL-1), X-Linked inhibitor of apoptosis protein (XAIP), and Survivin), proliferation (Cyclin-D1), angiogenesis (vascular endothelial growth factor (VEGF)), and metastasis-associated proteins (matrix metalloproteinase-9 (MMP-9)). Fluoxetine also significantly induced apoptosis, unregulated extrinsic (activation of first apoptosis signal protein and ligand (Fas/FasL), and caspase-8) and intrinsic (loss of mitochondrial membrane potential (ΔΨm) pathways and increased Bcl-2 homologous antagonist killer (BAK) apoptosis signaling. Taken together, these results demonstrated that fluoxetine induced apoptosis through extrinsic/intrinsic pathways and diminished ERK/NF-κB-modulated anti-apoptotic and invasive potential in HCC cells in vitro.
View Full-Text
►

▼

Figures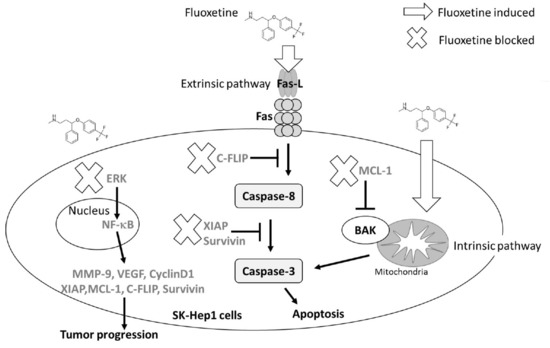 Graphical abstract
This is an open access article distributed under the
Creative Commons Attribution License
which permits unrestricted use, distribution, and reproduction in any medium, provided the original work is properly cited (CC BY 4.0).

Share & Cite This Article
MDPI and ACS Style
Chen, W.-T.; Hsu, F.-T.; Liu, Y.-C.; Chen, C.-H.; Hsu, L.-C.; Lin, S.-S. Fluoxetine Induces Apoptosis through Extrinsic/Intrinsic Pathways and Inhibits ERK/NF-κB-Modulated Anti-Apoptotic and Invasive Potential in Hepatocellular Carcinoma Cells In Vitro. Int. J. Mol. Sci. 2019, 20, 757.
Note that from the first issue of 2016, MDPI journals use article numbers instead of page numbers. See further details here.
Related Articles
Comments
[Return to top]