Parkin Interacts with Apoptosis-Inducing Factor and Interferes with Its Translocation to the Nucleus in Neuronal Cells
1
Institute for Biomedicine, Eurac Research, Affiliated Institute of the University of Lübeck, Via Galvani 31, 39100 Bolzano, Italy
2
Department of Cellular, Computational and Integrative Biology and Dulbecco Telethon Institute, University of Trento, via Sommarive 9, 38123 Povo, Italy
3
Institute of Neurogenetics, University of Lübeck, Maria-Goeppert-Straße 1, 23562 Lübeck, Germany
4
Department of Neurology, University of Lübeck, Ratzeburger Allee 160, 23538 Lübeck, Germany
*
Author to whom correspondence should be addressed.
†
These authors contributed equally.
Received: 30 November 2018 / Revised: 31 January 2019 / Accepted: 4 February 2019 / Published: 11 February 2019
Abstract
Mutations in the
PRKN
gene (encoding parkin) have been linked to the most frequent known cause of recessive Parkinson's disease (PD), and parkin dysfunction represents a risk factor for sporadic PD. Parkin is widely neuroprotective through different cellular pathways, as it protects dopaminergic neurons from apoptosis in a series of cellular and animal models of PD. The mitochondrial protein apoptosis-inducing factor (AIF) is an important cell death effector, which, upon cellular stress in many paradigms, is redistributed from the mitochondria to the nucleus to function as a proapoptotic factor, mostly independent of caspase activity, while in normal mitochondria it functions as an antiapoptotic factor. AIF is known to participate in dopaminergic neuron loss in experimental PD models and in patients with PD. We, therefore, investigated possible crosstalk between parkin and AIF. By using immunoprecipitation and proximity ligation assays, we demonstrated a physical interaction between the two proteins. Nuclear AIF translocation was significantly reduced by parkin expression in neuroblastoma SH-SY5Y cells after exposure to an apoptogenic stimulus. These results were confirmed in primary murine cortical neurons, which showed a higher nuclear translocation of AIF in parkin-deficient neurons upon an excitotoxic stimulus. Our results indicate that the interaction of parkin with AIF interferes with the nuclear translocation of AIF, which might contribute to the neuroprotective activity of parkin.
View Full-Text
►

▼

Figures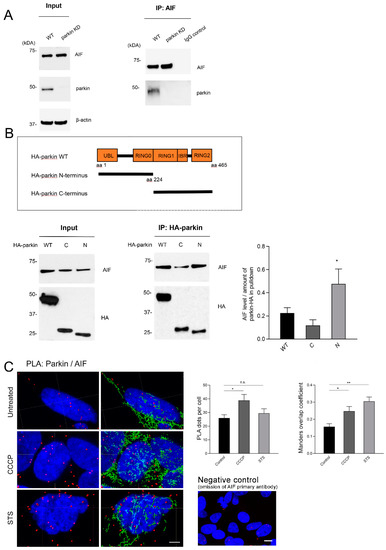 Figure 1
This is an open access article distributed under the
Creative Commons Attribution License
which permits unrestricted use, distribution, and reproduction in any medium, provided the original work is properly cited (CC BY 4.0).

Share & Cite This Article
MDPI and ACS Style
Guida, M.; Zanon, A.; Montibeller, L.; Lavdas, A.A.; Ladurner, J.; Pischedda, F.; Rakovic, A.; Domingues, F.S.; Piccoli, G.; Klein, C.; Pramstaller, P.P.; Hicks, A.A.; Pichler, I. Parkin Interacts with Apoptosis-Inducing Factor and Interferes with Its Translocation to the Nucleus in Neuronal Cells. Int. J. Mol. Sci. 2019, 20, 748.
Note that from the first issue of 2016, MDPI journals use article numbers instead of page numbers. See further details here.
Related Articles
Comments
[Return to top]