Placental CX3CL1 is Deregulated by Angiotensin II and Contributes to a Pro-Inflammatory Trophoblast-Monocyte Interaction
1
Division of Cell Biology, Histology and Embryology, Gottfried Schatz Research Centre for Cell Signaling, Metabolism and Ageing, Medical University of Graz, 8010 Graz, Austria
2
Experimental and Clinical Research Center, A Joint Cooperation Between the Charité Medical Faculty and the Max-Delbrueck Center for Molecular Medicine, 13125 Berlin, Germany
3
Max-Delbrueck Center for Molecular Medicine in the Helmholtz Association, 13125 Berlin, Germany
4
Berlin Institute of Health (BIH), 13125 Berlin, Germany
5
Institute of Molecular Biology and Genetic of National Academy of Sciences of Ukraine, 03680 Kyiv, Ukraine
6
Femina Med Center, 8010 Graz, Austria
*
Author to whom correspondence should be addressed.
Received: 4 January 2019 / Revised: 23 January 2019 / Accepted: 29 January 2019 / Published: 2 February 2019
Abstract
CX3CL1, which is a chemokine involved in many aspects of human pregnancy, is a membrane-bound chemokine shed into circulation as a soluble isoform. Placental CX3CL1 is induced by inflammatory cytokines and is upregulated in severe early-onset preeclampsia. In this study, the hypothesis was addressed whether angiotensin II can deregulate placental CX3CL1 expression, and whether CX3CL1 can promote a pro-inflammatory status of monocytes. qPCR analysis of human placenta samples (
n
= 45) showed stable expression of CX3CL1 and the angiotensin II receptor AGTR1 throughout the first trimester, but did not show a correlation between both or any influence of maternal age, BMI, and gestational age. Angiotensin II incubation of placental explants transiently deregulated CX3CL1 expression, while the angiotensin II receptor antagonist candesartan reversed this effect. Overexpression of recombinant human CX3CL1 in SGHPL-4 trophoblasts increased adhesion of THP-1 monocytes and significantly increased IL8, CCL19, and CCL13 in co-cultures with human primary monocytes. Incubation of primary monocytes with CX3CL1 and subsequent global transcriptome analysis of CD16
+
subsets revealed 81 upregulated genes, including clusterin, lipocalin-2, and the leptin receptor. Aldosterone synthase, osteopontin, and cortisone reductase were some of the 66 downregulated genes present. These data suggest that maternal angiotensin II levels influence placental CX3CL1 expression, which, in turn, can affect monocyte to trophoblast adhesion. Release of placental CX3CL1 could promote the pro-inflammatory status of the CD16
+
subset of maternal monocytes.
View Full-Text
►

▼

Figures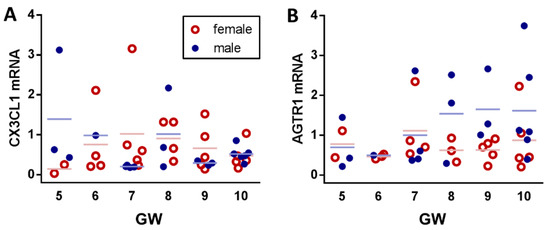 Figure 1
This is an open access article distributed under the
Creative Commons Attribution License
which permits unrestricted use, distribution, and reproduction in any medium, provided the original work is properly cited (CC BY 4.0).

Share & Cite This Article
MDPI and ACS Style
Nonn, O.; Güttler, J.; Forstner, D.; Maninger, S.; Zadora, J.; Balogh, A.; Frolova, A.; Glasner, A.; Herse, F.; Gauster, M. Placental CX3CL1 is Deregulated by Angiotensin II and Contributes to a Pro-Inflammatory Trophoblast-Monocyte Interaction. Int. J. Mol. Sci. 2019, 20, 641.
Note that from the first issue of 2016, MDPI journals use article numbers instead of page numbers. See further details here.
Related Articles
Comments
[Return to top]