Open Access This article is
freely available
re-usable
Review
Biomaterials: Foreign Bodies or Tuners for the Immune Response?
1
Laboratorio di Immunoreumatologia e rigenerazione tissutale, IRCCS Istituto Ortopedico Rizzoli, Via di Barbiano 1/10, 40136 Bologna, Italy
2
Dipartimento di Scienze Mediche e Chirurgiche, University of Bologna, Via Massarenti 9, 40138 Bologna, Italy
*
Author to whom correspondence should be addressed.
Received: 27 December 2018 / Accepted: 28 January 2019 / Published: 1 February 2019
Abstract
:
The perspectives of regenerative medicine are still severely hampered by the host response to biomaterial implantation, despite the robustness of technologies that hold the promise to recover the functionality of damaged organs and tissues. In this scenario, the cellular and molecular events that decide on implant success and tissue regeneration are played at the interface between the foreign body and the host inflammation, determined by innate and adaptive immune responses. To avoid adverse events, rather than the use of inert scaffolds, current state of the art points to the use of immunomodulatory biomaterials and their knowledge-based use to reduce neutrophil activation, and optimize M1 to M2 macrophage polarization, Th1 to Th2 lymphocyte switch, and Treg induction. Despite the fact that the field is still evolving and much remains to be accomplished, recent research breakthroughs have provided a broader insight on the correct choice of biomaterial physicochemical modifications to tune the reaction of the host immune system to implanted biomaterial and to favor integration and healing.
Keywords:
biomaterials; immune response; macrophages; scaffold; foreign body reaction; extra-cellular matrix
1. Introduction
Biomaterials play a central role in a wide variety of healthcare issues and have fostered great improvements in different biomedical fields, such as tissue engineering, medical implants, drug delivery, and immunotherapies [
1
,
2
,
3
,
4
,
5
]. This wide applicative potential relies on the ability of these materials to provide biocompatible supports (i.e., scaffolds, devices), to encapsulate and protect biological active products (i.e., cells, chemicals, and proteins), and to allow easy modification of chemical and physicochemical properties [
5
,
6
,
7
,
8
,
9
,
10
]. Biomaterials include a broad range of compounds that widely differ in function and structural features, ranging from naturally occurring biological macromolecules to fully synthetic coatings.
However, one common property of biomaterials is the induction of adverse immune reactions resulting in excessive inflammation, impairment of healing, fibrotic encapsulation, tissue destruction, or even isolation and rejection of medical devices.
A more in depth understanding of the material/biological environment interplay is greatly needed, in order to develop strategies and solutions to overcome side effects in the use of these devices, which still represent an important challenge in the biomedical field.
In this review, we detail the different cellular and molecular events characterizing biomaterial-immune system interactions. Then, we discuss how the immune response can be tuned by biomaterial properties (such as surface chemistry and topography) and by decellularized extracellular matrix. Finally, we highlight how the specific features of the different biomaterials could be exploited to control the inflammatory-immune response to implanted biomaterials and to promote tissue regeneration.
2. Immune System—Biomaterial Interplay
The immune response is a biological network in charge of protecting the host from foreign threats and maintaining homeostasis.
In addition to the above reported cells and mechanisms, whose involvement in the response to biomaterials is well-described even if not exhaustively explained, other cells have been suggested to play roles in the timely resolution of inflammation and successful regeneration process.
3. Immunological Profile of Biomaterials
Metal materials are mainly used in the manufacture of prostheses or implants for orthopedics and dentistry, as parts of composite implants. The most used metals are stainless steels, cobalt alloys, titanium and its alloys. However, metals have problems concerning biocompatibility in relationship to bone-metal interface processes and ion release, so metal-based implants must be treated to prevent the onset of inflammatory processes. Moreover, from the point of view of tissue engineering, the use of these materials is very limited.
Composite materials, consisting of two or more types of materials, are each identifiable for the presence of interfaces between the components. The peculiarity of composite materials is that, being the combination of several components, they can provide better overall properties than individual constituents.
PGA degrades almost completely within a few months under an in-vivo condition. It is a good material used for bone tissue engineering applications.
Natural polymers include materials made from many polysaccharides (such as agarose, alginate, chitosan, hyaluronan, glycosaminoglycans) and proteins (such as collagen, fibrin, silk).
Silk can participate in the composition of hydrogels, which are an important class of polymers characterized by highly hydrophilic properties.
4. Tunable Properties of Biomaterials
Increasing knowledge on the host responses to biomaterials, the processes of healing, and the potential of biomaterials to modulate immune cells, clearly points out two main developing strategies: the need for testing biomaterial effects on both innate and adaptive immune responses and the design of biomaterials capable of tuning appropriate immune responses at implantation sites [
167
,
168
]. Current strategies of such biomaterial design start from the surface properties, shown to be central to the immune response, and intervene either passively on the physicochemical characteristics or actively by incorporating molecules or coating matrices.
4.1. Surface Chemistry: Hydrophobicity, Chemical Moieties, and Charge Characteristics
Alginate and hyaluronic acid are naturally derived, negatively charged biomaterials, that have been highly studied as scaffold materials. The opposite results derived from these studies, on the effect of the negatively charged surface on immune responses, highlight the need for more detailed studies, to fully understand how to take advantage of surface charge and material formulation in supporting regenerative outcomes.
Overall results have revealed that protein binding kinetics and conformations on implant surfaces are dependent on surface chemistry. Hence, the initial cell response is triggered by the adsorbed protein, rather than by the surface itself. The pattern in which adhesion proteins and other bioactive molecules adsorb elicits cellular reactions that are specific to the underlying material physicochemical properties. If on one hand, these aspects point out the difficulty in decoupling related properties, on the other hand, they highlight opportunities to modulate immune cell phenotypes by altering the hydrophobicity, charge, or surface chemical functional groups of materials used for tissue engineering constructs.
4.2. Topography: Size, Shape, and Surface Texture
These data point out that the surface nanostructure and nanometric scale represent the relevant morphological characteristics regulating the protein adsorption process and that nanostructures are parameters that must be taken into account in the biomaterial design.
Various data are available for titanium implants for orthopedic and dental applications. Titanium, even if more biocompatible than other metals, induces remarkably strong inflammatory responses which represent important aspects of implant failure. The decrease of the immune response to titanium can be obtained by modifying titanium surfaces with nano/micro-structures or with chemical processes changing the surface roughness.
These examples collectively indicate that initial cellular activation can be modulated by nanoscale surface topography alone and highlight how the multitude of techniques and topographies can differentially affect cell responses.
Overall, these studies reveal that the inflammasome can be modulated by simply altering the particle shape. Since tissue engineering can use biological or synthetic polymers, enabling a variety of shapes, the knowledge of how this parameter promotes or diminishes inflammasome activation could allow biocompatible and tolerated constructs to be produced. However, since these effects occur with some material shapes and not with others, more studies are necessary to fully understand the biology of this behavior.
5. Immune-Interactive Strategies
For several decades, the design of biomaterials has been specially dedicated to the development of "passive" biomaterials, with the aim of limiting immune adverse reactions. Emphasis on enhancing tissue repair by downregulating an unwanted host inflammatory response to implants has led to the identification of strategies to hide implant surfaces such as immune-isolating coatings to passively prevent/reduce protein adhesion to the implanted biomaterial surface and the resulting leukocyte activation or hydrogels to isolate implants from immune cells and thus to limit the inflammatory response [
259
]. However, it has now become clear that the immune system is fundamental in orchestrating and defining the nature of the repair process [
260
,
261
]. Indeed, the inflammatory response is not an adverse reaction but a crucial gateway in tissue repair and regeneration [
262
] and allowing specific biological responses is beneficial for both biomaterial integration and performance [
105
].
The link between the immune response and repair is complex and the current challenge is the development of biomaterials and delivery systems able to modulate the immune system as a way of stimulating the repair of tissues and organs [
263
]. Accordingly, the concept of ideal biomaterial is moving from ''immune-evasive" aiming at decreasing host responses to ''immune-interactive" triggering desired immunological responses, therefore enabling biomaterial integration and subsequent tissue repair [
1
,
19
,
264
,
265
]. The numerous studies attempting to modulate biomaterial-immune system interaction by tuning the surface chemical properties and/or changing the topographical characteristics of biomaterials are mostly focused on macrophages, as previously reported. In addition, different strategies, such as the incorporation of bioactive molecules (adhesion sites, drugs, cytokines, growth factors, or pro-resolution mediators either alone or combined) [
266
], have provided rather interesting results.
The following examples will focus on structures/molecules that are characteristic of the immune response, but are not exhaustive of the entire range of opportunities available for modulating interactions between the implanted biomaterial and the receiving host.
5.1. Immune Modulation by Decellularized ECM
The ECM is the non-cellular milieu spread within all tissues and organs that supplies both the fundamental physical framework for the cellular components and fundamental biochemical and biomechanical signals that regulate morphogenesis, differentiation, and homeostasis of the tissues.
5.2. Immunomodulation by Pro-Inflammatory Molecules
Since the inflammatory response is the starting point of the tissue healing program, the use of pro-inflammatory molecules, including danger signals, to treat tissue damage, has been considered. Different studies highlight that targeting specific TLR pathways can force a desired response. Indeed, the HSP (heat shock protein)-70 endogenous agonist of TLR2/TLR4 [
286
] up-regulated macrophage-mediated phagocytosis [
287
], thus aiding healing; macrophage-activating lipopeptide-2, a TLR2/6 agonist, increased the vascularization of porous polyethylene without causing any local or systemic side effects [
288
] and CpG (cytosine-phosphorothioate-guanine) oligodeoxynucleotides designed to trigger human immune cells via TLR9 promoted skin repair [
289
].
Prostaglandin E2 (PGE2) belonging to a family of pro-inflammatory lipid molecules [
290
] has been involved in both pro- and anti-regenerative functions and it has also been shown to inhibit proliferation and skew the immune response to Th2 [
290
] by inhibiting IL-12 [
291
], IFN-γ, and IL-2 [
292
] secretion by human lymphocytes. While being beneficial for tissue healing, PGE2 administration requires multiple doses and presents significant side effects [
293
,
294
]. Therefore, the biomaterial-mediated local delivery of PGE2 would be better than repeated systemic administrations, as demonstrated in a mouse model [
295
]. A further improvement has been obtained by using an agonist specifically binding one of the four PGE2 receptors and slowly released via biomaterial [
294
,
296
].
Furthermore, the inflammatory and pro-angiogenic CXCL-12 chemokine has been shown to play an important role in the tissue repair process [
297
], in particular for its ability to mobilize progenitor cells [
298
] expressing the CXCR (CX chemokine receptor) 4 cognate receptor [
299
,
300
]. The usefulness of biomaterials delivering CXCL-12 has been demonstrated in different tissues, such as tendons [
301
], cardiac muscle [
302
], skin [
303
], and liver models [
298
].
5.3. Immunomodulation by Anti-Inflammatory Molecules
The use of anti-inflammatory factors represents another way to obtain immunomodulatory biomaterials.
5.4. Immunomodulation by Integrins, Pro-Resolving Mediators, Cells, and Regulatory Pathways
The previous examples have been mostly focused on structures/molecules that are characteristic of the immune response, but they are not exhaustive of the whole range of opportunities available for modulating interactions between implanted biomaterial and the receiving host.
6. Concluding Remarks and Open Questions
The immune system, for its central role in strategic regulatory processes, remains the most significant critical issue for the development of tissue engineering. On the one hand, the innate immune system capability to monitor, recognize, and clear foreign bodies activates a response that is unaware of the therapeutic potential of implanted biomaterials; on the other hand, biomaterial possesses characteristics that "irritate" the immune system. Although the inflammatory response is the first step of wound/tissue healing, it is also the underlying reason for the failure of many implanted scaffolds. The failure or the success of this match is determined by the ability of biomaterials to negotiate body sharing.
Many immune cell subpopulations and immuno-modulating factors are involved in the different phases of healing and, despite advancing knowledge and innovative approaches, we are far from having clarified the complex mechanisms by which the immune system orchestrates various organs. In addition, even ongoing studies, targeted to investigate the impact of material properties on immune activation, have yet to fully elucidate the mechanisms through which this activation occurs.
It is important to achieve a detailed understanding of the innate immune inflammatory processes by which neutrophils and monocytes/macrophages can be activated by biomaterial surfaces in the absence of any specific cell surface receptor or cytosolic receptor signaling.
The control of neutrophil mobilization and functions might be an interesting strategy to promote/modulate tissue regeneration. They are the first circulating cells of the innate immune response migrating after tissue injury, likely involved in macrophage polarization, but it is still unknown how exactly this happens.
In addition, the reasons for which macrophages shift from an inflammatory into an anti-inflammatory phenotype in certain types of tissues, while a distinct population of anti-inflammatory macrophages is mobilized in others, are not clarified. Therefore, another key aspect could be to disclose the regulatory processes driving the increase of anti-inflammatory/anti-fibrotic macrophages in vivo and to further bring these mechanisms into regenerative strategies. Immune modulators administered through biomaterials and drug delivery systems promoting M2 (IL-4)-like phenotypes are currently being studied; however, it must be considered that M2-type macrophages are also involved in the development of fibrotic diseases.
The growing evidence that T cell subsets can have both anti-regenerative and pro-regenerative properties indicates these cells as possible cellular targets for intervention, possibly modulating T cell mobilization, activation, and conversion into Tregs.
The limited success of non-fouling coatings and surface functionalization methods, as well as the ECM biology still in its infancy, despite promising results of decellularized materials, together with the pioneering biomimetic strategies, represent further targets of future research in tissue engineering.
Moreover, 3D printing of tissue-engineered constructs is a new flexible system to create biomaterial-based scaffolds. This technique allows the custom "printing" of precise shapes and architectures, eventually encapsulating cells, but the elicited crosstalk between the host immune system and the printed materials has yet to be investigated.
Another important variable not to be underestimated is age. If on the one hand, we can obtain answers from observing newborns whose macrophage populations display pro-regenerative capacities, on the other hand, with increasing frequency, tissue engineering approaches are considered among the therapeutic alternatives for diseases that instead occur more frequently in the elderly. Ageing is accompanied by phenotypic and functional changes of the immune system and by low-grade inflammatory activity reflected by increased circulating levels of pro-inflammatory cytokines. Epidemiological studies have suggested this chronic low-grade inflammation as related to several age-related diseases, sharing an inflammatory pathogenesis. Consequently, the baseline characteristics of immune cells and the surrounding immune environment might be different among these subjects and also different from those of young adult populations, thus adding a further biological variable to the study of the biomaterial design and to the chance of integration and tissue regeneration. However, despite the increasing use of implantable medical devices in aged patients, few studies are available that examine the effects of aging upon the host response to biomaterials and the implications of this response for long-term integration and function.
Increasing knowledge and awareness deriving from biological systems and new structural, chemical, and physical understandings of human-derived biomaterials, together with recent advances in synthesis technology, will open the way to new and more sophisticated biomaterial designs and prospects in the near scaffold technology. The future of this field will continue to grow and evolve with the collaborative development of tissue-engineered products that offer simple solutions to complex problems. Nevertheless, we should also be interested in knowing what the safety of immune-engineered biomaterials and their long-term efficacy will be.
Funding
This paper was partially supported by Italian Health Ministry 5x1000 Fund and Bologna University RFO fund.
Acknowledgments
The authors thank Patrizia Rappini for her assistance in the preparation of the manuscript and Silvia Bassini (Laboratorio di Biomeccanica e innovazione tecnologica, IRCCS Istituto Ortopedico Rizzoli) for the illustrative contribution to the paper.
Conflicts of Interest
The authors declare no conflict of interest.
Abbreviations
| | |
| --- | --- |
| aAPCs | artificial antigen presenting cells |
| Arg | arginase |
| Arg1 | Arginase 1 |
| CCL | C chemokine ligand |
| CD | cluster of differentiation |
| CH3 | methyl |
| CO2 | carbon dioxide |
| COOH | carboxyl |
| CR | complement receptor |
| CXCL | CX chemokine ligand |
| DAMPs | damage-associated molecular patterns |
| DCs | dendritic cells |
| ECM | extra-cellular matrix |
| EDC | 1-ethyl-3-(3-dimethylaminopropyl) carbodiimide |
| FBGC | foreign body giant cell |
| FBR | foreign body reaction |
| GAG | glycosaminoglycans |
| IFN | interferon |
| Ig | immunoglobulin |
| IL | interleukin |
| iNOS | inducible nitric oxide synthase |
| lPS | lipopolysaccharide |
| MBVs | microvesicles |
| MHC | Major histocompatibility complex |
| miRNA | micro RiboNucleic Acid |
| NETs | neutrophil extracellular traps |
| NH2 | amino |
| NO | nitric oxide |
| NOS | nitric oxide synthase |
| OH | hydroxyl |
| PAMPs | pathogen-associated molecular patterns |
| PCL | poly(caprolactone) |
| PDGF | platelet-derived growth factor |
| PEEK | poly(ether ether ketone) |
| PEG | poly(ethylene glycol) |
| PEO | poly(ethylene oxide) |
| PGA | poly(glycolic acid) |
| PLA | poly(lactic acid) |
| PLGA | poly(lactic-co-glycolic acid) |
| PPF | poly(propylene fumarate) |
| PRRs | pattern recognition receptors |
| ROS | reactive oxygen species |
| SF | silk fibroin |
| SIS | small intestine submucosa |
| SLA | sand-blasted, acid etched |
| TGF | transforming growth factor |
| Th | T helper |
| Ti | titanium |
| TLR | Toll-like receptors |
| TNF | tumor necrosis factor |
| VEGF | vascular endothelial growth factor |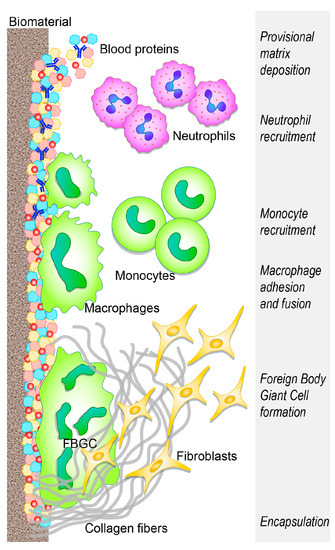 Figure 1. Innate immune response to biomaterials: the development of the foreign body reaction. The main cellular players in the biomaterial-immune system interaction are represented. The main events, from the initial biomaterial implantation to fibrous encapsulation, are schematically described.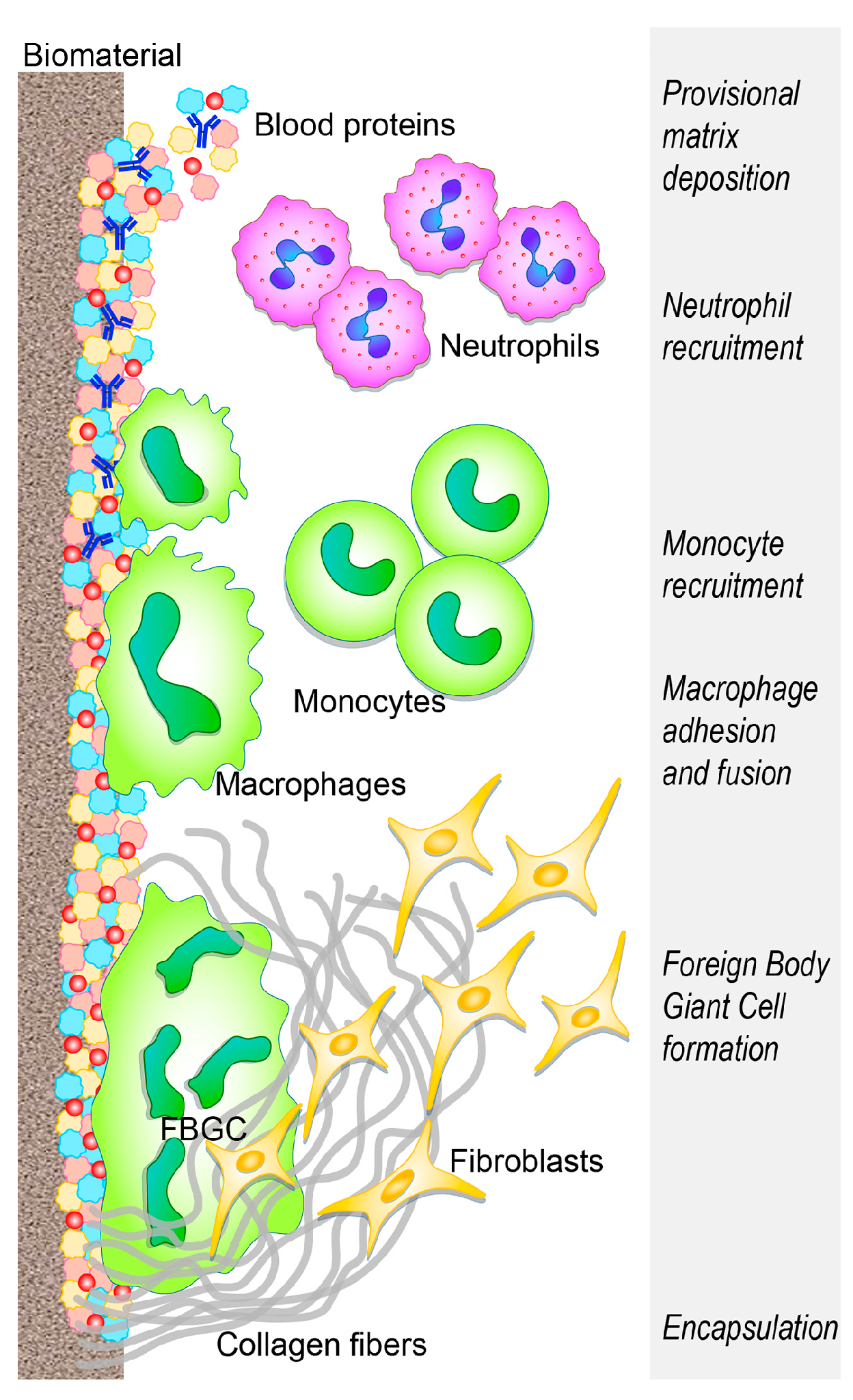 Characteristics
Synthetic
Natural
Polymer Types
Poly(anhydride),
Poly(propylene fumarate) (PPF),
Poly(caprolactone) (PCL),
Poly(phosphazene),
Poly(lactic acid) (PLA),
Poly(ether ether ketone) (PEEK)
poly(glycolic acid) (PGA)
poly(lactic-co-glycolic acid) (PLGA)
agarose
alginate
collagen
fibrin,
glycosaminoglycans
hyaluronic acid,
chitosan
silk
Advantages
inert,
high reproducibility,
availability on demand,
reduced costs,
constant quality supporting industrial scale production,
possibility to design or tune, mechanical properties,
composition adaptable to needs,
possibility to fabricate complex shapes,
controlled degradation rate,
long shelf life,
cell attachment improvement,
potential to deliver soluble molecules
readily available,
mass producible,
large quantities constantly available,
cost,
low immunogenicity,
bioactive properties,
binding sites for cells and adhesion molecules
Drawbacks
immune response,
lower ability to interact with cells,
strong inflammasome reaction
sterilization cost,
in vivo source natural variability,
lot-to-lot variability,
limited mechanical properties,
degradation rate difficult to control,
unwanted immune reactions due to impurities
Host Innate Immune response
high
low
Host Adaptive Immune response
not applicable
low
Based on data from [2,3,4,5,8,19,141,142]
Groups
-NH2 (Amino)
-OH (Hydroxyl)
-COOH (Carboxyl)
-CH3 (Methyl)
Surfaces
hydrophilic
hydrophilic
hydrophilic
hydrophobic
Charges
positive
neutral
negative
neutral
Focal adhesions
medium
high
medium
low
Ability to access fibronectin domains, integrin binding, cell adhesion
medium
high
medium
low
Inflammatory cell infiltration
high

(in vivo)

high

(in vivo)

low
high

(in vitro)

Macrophage response
anti inflammatory
low inflammatory
inflammatory
low inflammatory
low inflammatory promoting regulatory T cell phenotypes

(mouse model)

Thickness of fibrotic capsules around the implant
high

(in vivo)

high

(in vivo)

low
high

(in vitro)

Cell differentiation pathways
medium (osteoblasts)
high (osteoblasts)
medium (osteoblasts)
low (osteoblasts and myoblasts)
Size
Cell Types
Findings
Nano scale
Platelets

36 nm particles: induced activation and cell flattening

56 nm particles: decreased platelet activation

Macrophages

smooth surfaces 50nm to 200nm nanodots: increased IL-6 secretion

50 nm nanodots: induced maximum cell spreading, focal adhesion, cell density

reduced migration and activation on nanostructured titanium

inhibition of iNOS (inducible nitric oxide synthase), NO (nitric oxide) and pro-inflammatory cytokines

decreased migration on surfaces

Dendritic cells

3 nm: enhanced activation, increased IL-12 and IFN-γ production

increased pro-inflammatory T cell activity in co-culture

12 nm: increased IL-4 secretion

skewed T cell immune responses toward wound healing

Nano-
submicron
scale
Macrophages

reduced initial adhesion on titanium surface

less differentiated morphology

reduced adhesion and pro-inflammatory cytokine release

Micron scale
Macrophages

micropatterning controlled cell shape

stimulated cell elongation up-regulated M2 markers

reduced inflammatory cytokine secretion

protected cells from M1-inducing stimuli LPS (lipopolysaccharide) and IFN-γ

2–40 μm particles: size-dependent production of IL-10 and TNF-α

involved TLR-2 stimulation

largest particles: did not induce cytokines

Meso scale
Macrophages

0.5 mm diameter particles: intraperitoneal fibrotic growth (mouse)

1.5–2 mm diameter particles: reduced fibrotic tissue formation in mice and non-human primates

medium particles biased responses toward M1 inflammatory phenotypes

larger particles caused a shift toward M2 immune regulatory and wound healing phenotypes
Cell Types
Findings
Macrophages

internalization of gold nanorods was stronger compared to that of nanospheres owing to preferential uptake of the former via micropinocytosis

the shape dependence of macrophage behavior was investigated by testing these cells with rods of varying lengths

shorter rods were more rapidly internalized

longer rods induced enhanced inflammatory mediators (IL-1α and TNF-α) since not readily phagocytosed

the different shaped cross-sections of rods extruded from medical-grade materials affected the FBR extent: circular cross-sections induced the least-extensive reaction compared to pentagonal and triangular ones

smooth surfaces led to less acute reactions than sharp; corners, acute angle surfaces

Neutrophils

the rough rather than smooth surface of polystyrene-polyethylene oxide particles boosted neutrophil recruitment and IL-1β production

rough particles: preferentially taken up by macrophages, increased activation of inflammasome

Dendritic cells

titanium dioxide shaped as particles (diameters of 7–10 nm or 15–20 nm), or as nanotubes (diameters of 10–15 nm and lengths of 70–150 nm): induced shape dependent cytokine secretion, reactive-oxygen specie production, DCs maturation

the shape dependence of DCs response was confirmed with antigen-coated gold spherical, rod-shaped or cubical nanostructures that elicited differential cytokine secretion and antibody production

rod-shaped particles induced IL-1β, spherical and cubical ones induced TNF-α, leading to a less specific inflammatory response

T lymphocytes

collagen ECM scaffolds: critical role of Th2 cells in wound healing, induced a regenerative microenvironment

supporting role of T CD8 and B cells

© 2019 by the authors. Licensee MDPI, Basel, Switzerland. This article is an open access article distributed under the terms and conditions of the Creative Commons Attribution (CC BY) license (http://creativecommons.org/licenses/by/4.0/).