Steam Reforming of Model Bio-Oil Aqueous Fraction Using Ni-(Cu, Co, Cr)/SBA-15 Catalysts
Chemical and environmental group, Rey Juan Carlos University, c/ Tulipán, s/n, Mostoles 28933, Spain
*
Authors to whom correspondence should be addressed.
Received: 26 October 2018 / Revised: 27 December 2018 / Accepted: 22 January 2019 / Published: 25 January 2019
Abstract
Hydrogen obtained from biomass derivatives is considered a promising alternative to fossil fuels. The aim of this work is to test the viability of Ni-M/SBA-15 (M: Co, Cu, Cr) catalysts for the hydrogen production from bio-oil aqueous fraction reforming. Tests were performed in a fixed-bed reactor at 600 °C and atmospheric pressure. Firstly, the steam reforming (SR) of acetic acid, hydroxyacetone, furfural and phenol, as representative constituents of the bio-oil aqueous fraction, was carried out. Lower reactivity with increasing carbon number and decreasing steam-to-carbon ratio was observed. Coking rate during SR is a consequence of carbon number and aromaticity of the reactant, as well as the steam-to-carbon ratio. However, deactivation also depends on the graphitization degree of carbon filaments, higher in the case of coke formed from phenol. Then, the performance of the Ni-M/SBA-15 catalysts was studied in the reforming of a bio-oil aqueous fraction surrogate containing the four model compounds. Ni-Co/SBA-15 and Ni-Cr/SBA-15 samples were the most active because Co also catalyze the steam reforming reactions and Cr promotes the formation of very small Ni crystallites accounting for high conversion and the low coke deposition (~8 times lower than Ni/SBA-15) in the form of poorly condensed carbon filaments.
View Full-Text
►

▼

Figures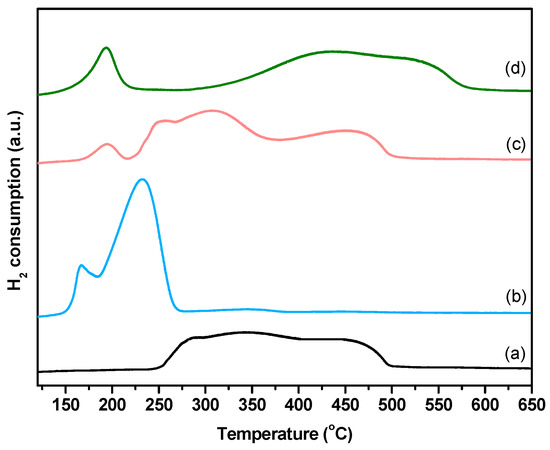 Figure 1
This is an open access article distributed under the
Creative Commons Attribution License
which permits unrestricted use, distribution, and reproduction in any medium, provided the original work is properly cited (CC BY 4.0).

Share & Cite This Article
MDPI and ACS Style
Calles, J.A.; Carrero, A.; Vizcaíno, A.J.; García-Moreno, L.; Megía, P.J. Steam Reforming of Model Bio-Oil Aqueous Fraction Using Ni-(Cu, Co, Cr)/SBA-15 Catalysts. Int. J. Mol. Sci. 2019, 20, 512.
Note that from the first issue of 2016, MDPI journals use article numbers instead of page numbers. See further details here.
Related Articles
Comments
[Return to top]